Affordable Destination Micro Weddings by the Sea
Within 20 minutes of San Diego International Airport, Crown City holds a variety of wide sandy beaches, accentuated by iconic hotels. A Coronado Beach Wedding is situated at the intersection between picturesque nature and old-world charm—with sparkling waters, breathtaking scenes of Point Loma and San Clemente Island and of awesome garden mansions and the Hotel del Coronado. With luck, your wedding photo may include a family of dolphins.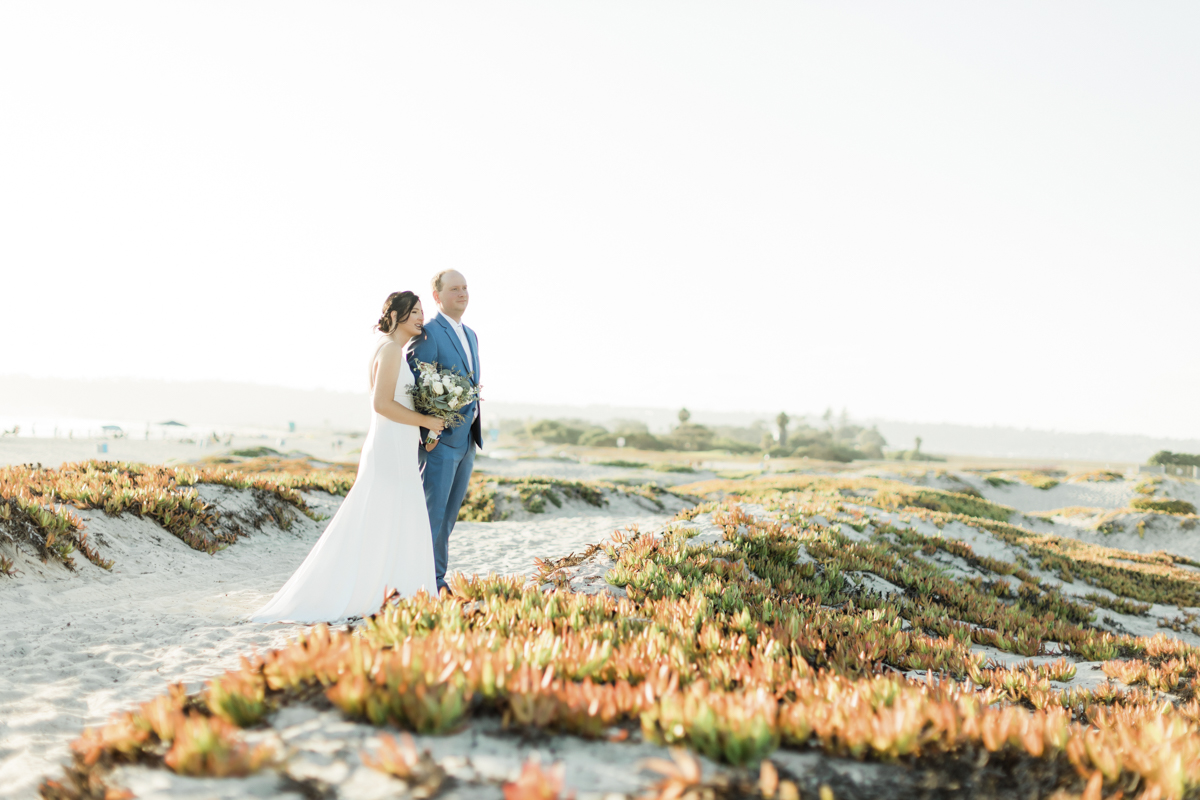 Book Any of These Beautiful Beaches
The white sandy shores of Coronado Central Beach
The wide shores of Coronado Shores Beach (aka South Beach)
The dog-friendly North Beach
Why Coronado Beach Is Perfect for Elopements and Micro Weddings
Great photo opportunities (ie. by the shores, the North Pacific Ocean or with the historic Hotel del Coronado)
The perfect venue for casual, relaxed weddings
Less than a 20-minute drive from San Diego International Airport
Multiple choices for guest accommodation and reception among surrounding hotels and restaurants
Free street parking along Ocean Boulevard for your guests
Nearby affordable lodging, providing the option for guests' accommodation
LGBTQI+ friendly venue
About Our Coronado Beach Wedding Packages
Plan your perfect wedding without compromise with Cactus Collective Weddings. We work with each couple individually to make sure all big and small details are arranged for your wedding.
We'll handle the professional photography, officiant, bouquet and boutonnière, and the wedding permit along with the wedding venue so you don't have to. Planning a wedding has never been more convenient.
Just the Two of Us
Days: Monday-Thursday
Guests: 0
Photo: 60 Minutes + Editing + Image Rights
Modern Minister
Bouquet and Boutonnière
On-Site Host
Ocotillo
Everything in Just The Two of Us, plus

• Friday, Saturday, Sunday availability

• Up to 12 guests

• 90-minute photography session
Saguaro
Everything in Ocotillo, plus

• 13-50 guests

• Choice of either: custom designed, leather bound 12x10 wedding album or 12x12 hand-painted wedding portrait
Mojave
Ceremony essentials and personalizations for one price.

You pay the cost of the package and get all of the things in that package, plus five credits to spend on a combination of added extras. The value of these credits is included in the package cost.

This is great if you want to know exactly how much your ceremony will cost but still have the freedom to personalize your service.
About Coronado Beach
Coronado city is a small island sitting across the San Diego city proper. It is connected to San Diego by an isthmus called the Silver Strand. Coronado is one of the most popular wedding destinations because of its beautiful expansive beach. Coronado Beach, undoubtedly Coronado's crowning glory, is a 1.5-mile-long beach with white sands that sparkles against the sun because of the natural mica powder mixed in it. Its breathtaking views of Californian sunsets on the oceanfront side and of the San Diego skyline on the other side complete the backdrop for romantic beach weddings.
Couples planning a wedding on the beach have three equally exquisite options: Coronado Central Beach, Coronado Shores Beach or South Beach, and Coronado Dog Beach or North Beach. Each of these beaches has its charms. Coronado Central Beach has beautiful white sand and unobstructed views of the historic Hotel del Coronado where newlyweds can hold receptions or their honeymoons. The Coronado Shores Beach is known for its flat beach area. If you tie the knot here, your pictures may even include the shipwrecked SS Monte Carlo that only emerges during the low tide season. Couples planning to include their pets in the festivities would love Coronado Dog Beach or North Beach. This pet-friendly beach is just as quaint as the other two beaches but it allows you to have your furry friends beside you while you say 'I do.'
Personalize Your Collection with Extra Touches
A cake and champagne mini reception, live acoustic ceremony music and eco-friendly décor. These are just a few of the extra flourishes you can book through us so your special day feels extra special. See the full list of options.