Intimate And Stylish Outdoor Weddings For Adventurous Souls
Red Rock Canyon is the adventure-lover's dream wedding venue. Say your vows surrounded by the most unique background of grasslands, desert views, mountains, cacti and other desert greenery, colorful rock formations, wildlife, and stunning sunset views, barely needing decorations.
Couples can choose from a variety of trails and spots, each one featuring stunning perspectives of Red Rock Canyon. Red Rock Canyon weddings give couples and their guests an abundance of latitude for romance, fun, and, of course, lots of photos.
Although only twenty minutes away from The Strip, this venue is remote and quiet enough for an intimate wedding with your closest family and friends.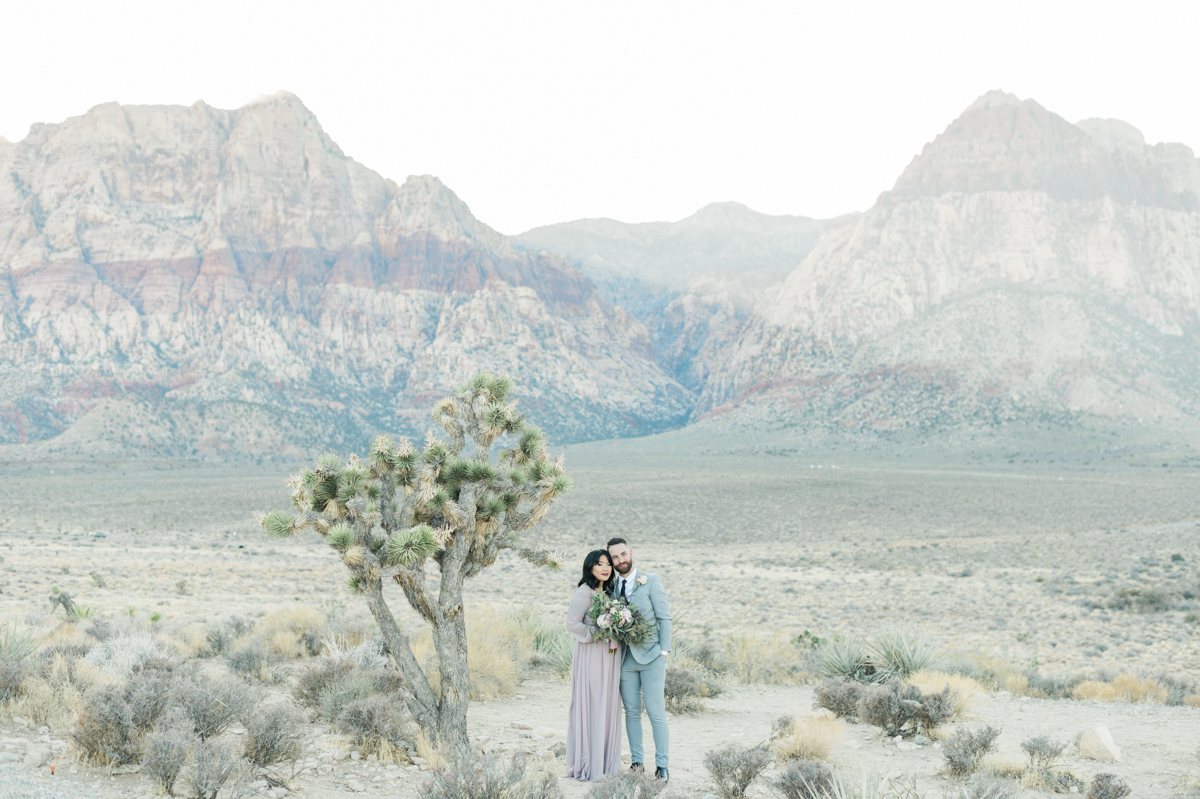 Why Red Rock Canyon is Perfect for Micro Weddings and Elopements
A private and remote location
Eco-friendly venue
Ideal for intimate elopements with few guests
Venue accepts up to 50 guests
Choose from a variety of spots
Unique backgrounds featuring nature
Pet-friendly
LGBTQ+ friendly venue
About Our Red Rock Canyon Wedding Packages
Plan your perfect wedding without compromise with Cactus Collective Weddings. We work with each couple individually to make sure all big and small details are arranged for your wedding.
We'll handle the professional photography, officiant, bouquet and boutonnière, and the wedding permit along with the wedding venue so you don't have to. Planning a wedding has never been more convenient.
Just the Two of Us
Days: Monday - Thursday
Guests: 0
Photo: 60 Minutes + Editing + Image Rights
Modern Minister
Bouquet and Boutonnière
On-Site Host
Ocotillo
Everything in Just The Two of Us, plus

• Monday - Sunday availability

• Up to 12 guests

• 90-minute photography session
Agave
Everything in Ocotillo, plus

• 13-30 guests
Saguaro
Everything in Agave, plus

• 31-50 guests

• 105-minute photography session
About Red Rock Canyon
Red Rock Canyon is a popular hiking and rock-climbing destination among adventure enthusiasts.
The canyon is a breath-taking respite from urban life, and certainly a unique wedding venue.
Within its vast area, Red Rock Canyon features the La Madre Mountain, standing at over 8,000 feet, which brides and grooms can see from almost any spot. Atop the rust-colored Calico hills is the Overlook where you can see the vastness of the canyon and the various greenery in it.
From the overlook, you can also peep the iconic Keystone Thrust, a unique geological phenomenon, which makes for a picturesque background for your micro-wedding.
Red Rock Canyon has over thirty hiking trails that lead to many other unexpected scenes such as the Lost Creek and the neighboring Willow Springs, both of which you can hear and view if you hold your elopement at the boardwalk.
Further in the Lost Creek trail is the Lost Creek Waterfall filling a spring below it with clear water.
There's also the amazing seasonal waterfalls in Ice Box Canyon. Among the rocks and trails are desert shrubs, pines, and oaks, which not only add shade but also a cool touch to wedding ceremonies held at the canyon.
With its unique geological features and diverse environment, Red Rock Canyon is also home to wild burros, hawks, sparrows, foxes, deer, bighorn sheep, and many more.
Red Rock Canyon is nothing but stunning nature that's the picture-perfect backdrop for destination weddings and elopements.
Personalize Your Collection with Extra Touches
A cake and champagne mini reception, live acoustic ceremony music and eco-friendly décor. These are just a few of the extra flourishes you can book through us so your special day feels extra special. See the full list of options.