Elegant Wedding In The Heart Of Vegas
Sitting at the heart of the Vegas Strip where all the action happens is the ever-elegant Bellagio Las Vegas. Weddings at the Bellagio are as quintessentially Vegas as it can get. Inspired by the romantic Italian village of Bellagio, this luxury hotel hosts charming venues, both indoor and outdoor, fit for a storybook wedding. After your wedding ceremony, you are but a few steps from the best Vegas attractions. The best part? You don't need to leave the Bellagio to have fun—you can have it all here!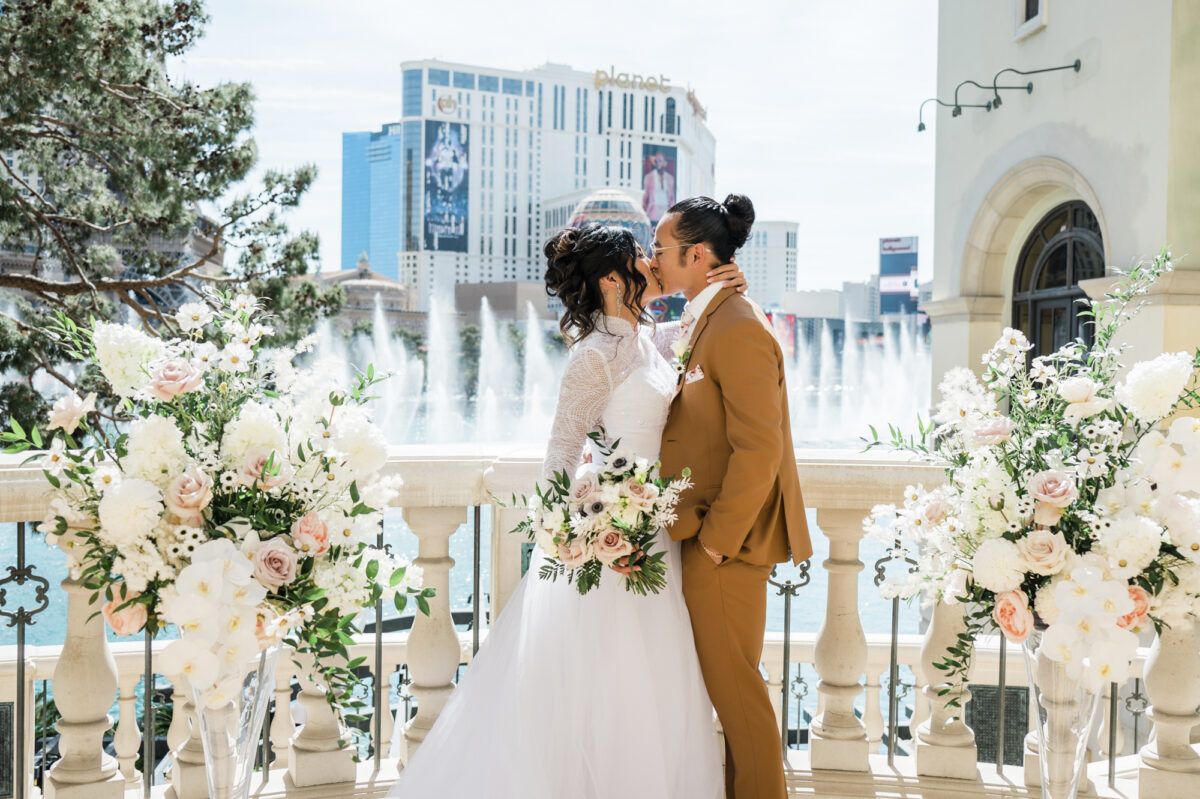 There's a Lot to Love About Weddings at the Bellagio
10 minutes away from the airport
Located right at The Strip
Iconic fountains and elegant architecture perfect for photos
All-in-one venue for accommodation, food, and entertainment
Venue doubles as a romantic honeymoon getaway for the newlyweds
LGBTQI+ friendly venue
About Our Bellagio Wedding Packages
Plan your perfect wedding without compromise with Cactus Collective Weddings. We work with each couple individually to make sure that every detail, big and small, are arranged for your wedding. We'll handle the professional photography, officiant, bouquet and boutonnière, and the wedding permit along with the wedding venue so you don't have to. Planning a wedding has never been more convenient.
Just the Two of Us
Days: Monday - Thursday
Guests: 0
Photo: 60 Minutes + Editing + Image Rights
Modern Minister
Bouquet and Boutonnière
On-Site Host
Ocotillo
Everything in Just The Two of Us, plus

• Monday - Sunday availability

• Up to 12 guests

• 90-minute photography session
Agave
Everything in Ocotillo, plus

• 13-30 guests
Saguaro
Everything in Agave, plus

• 31-50 guests

• 105-minute photography session
About The Bellagio
The Strip, along Las Vegas blvd, is the center of entertainment in Las Vegas, Nevada. This strip is known for being lined with luxurious hotel-casinos that tourists and couples about to get married frequent. One of the most iconic hotel-casinos here is The Bellagio Las Vegas. This majestic resort hotel, managed by MGM Resorts, is inspired by quaint Italian villages. It shares its name, in fact, with an Italian village by Lake Como. It is no surprise, then, that the Bellagio is famed for its elegant and romantic scenery.
While Vegas is often associated with hard partying and casinos, The Bellagio remains a monument to romance. Its entrance exhibits an awe-inspiring dancing water fountain that is synchronized to music and lighting, as well as a Conservatory and Botanical Gardens whose displays change with the seasons and an impressive collection of paintings, all within the Bellagio Gallery of Fine Art.
Couples planning a wedding at the Bellagio will find that it is an all-in-one wedding site. The hotel-casino has plenty of cozy rooms for you and your guests and a few elegant indoor and outdoor ceremony and wedding reception venues to fit your dream wedding. You could also hold pre and post-wedding activities such as bachelor or bachelorette parties, rehearsal dinners, the reception, after-party, the post-wedding brunch, and even the newlywed's honeymoon. Besides those, the Bellagio carries several restaurants and high-end boutiques to occupy your guests' free time.
Personalize Your Collection with Extra Touches
A cake and champagne mini reception, live acoustic ceremony music and eco-friendly décor. These are just a few of the extra flourishes you can book through us so your special day feels extra special. See the full list of options.