Disclosure: This post may contain affiliate links. Please see our full disclaimer to learn more.
Hint: It's not as pricey as you think.
Updated June 2023
How much your Las Vegas wedding costs depends on the bells and whistles you want.
It's possible to have a large, traditional wedding with big guest numbers, mountains of decorations and lots of extra touches. Spending a small fortune on your wedding is just one option.
It's also possible to have a very affordable Las Vegas wedding. One that's small, intimate and won't suck your bank account dry.
The latter option is what we specialize in. So, if you want to know the cost of a classy Las Vegas desert elopement, you're in the right place.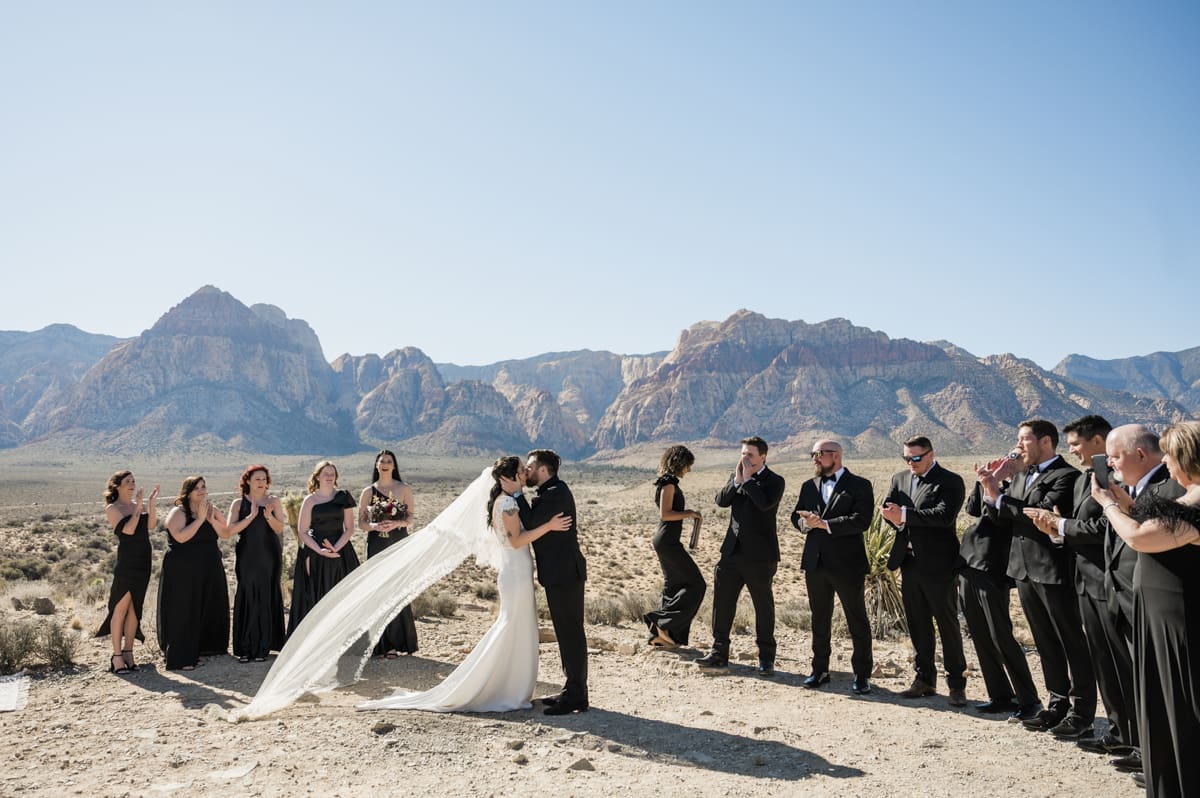 Pricing a wedding
There are many variables when planning and adding up the cost of a wedding. Every couple is different. For this reason prices in this article are taken from recent wedding report data and uses costs from our preferred vendors. Use these figures as a guide, a starting point. It is, of course, possible to find these services at higher and lower prices.
Let's begin with the big figures.
The average cost of a Las Vegas wedding
According to The Wedding Report, couples who married in Nevada in 2022 spent an average of $24,097 on their wedding. This is a few thousand dollars less than the US national average which, according to the same report, was just over $29,000. 
So, where's the money going?
Marriage license
🤑 Cost: $102
Before getting married in Las Vegas you need a marriage license from County Clark Wedding Bureau. It takes around 15 minutes and costs a mere $102 bucks to get one.
In our Ultimate Guide to Eloping in Vegas you'll find a step-by-step rundown on the license process along with a handy tip on jumping the queue.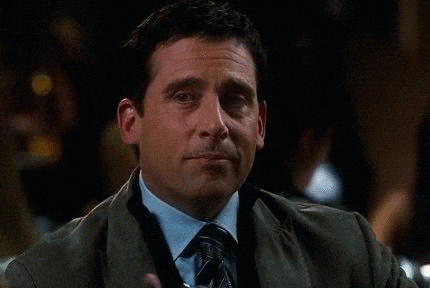 Scenic Ceremony Location and Venue Permit Costs
🤑 Cost: From $100
Venue prices and permits are influenced by:
season,
venue amenities,
indoor or outdoor venue,
size of the wedding party and
promotions or arrangements the venue may has with vendors.
I suggest having $100 minimum set aside for your ceremony venue or permit. This figure is based on the wedding venues you'll find in our micro wedding and elopement collections. The price covers your exclusive use of the venue for the allotted two hours.
Celebrant
🤑 Cost: $150-$250
Most elopement ceremonies are 10-15 minutes long. From our experience, celebrants charge somewhere between $150 to $250 for this simple service.
Personalized ceremonies that include readings or special requests (such as cultural inclusions if you're coming from overseas, or vow writing assistance) are known as 'custom ceremonies.' Prices for a custom ceremony start at $400.
Wedding Planner or Day of Coordinator
🤑 Cost: Wedding planners between $4,500-$8,000, and Day of Coordinator approximately $1,500
There are slight differences between a wedding planner and a day of coordinator, but both roles have the same goal: to make your wedding day the best ever.
So what's the difference?
A wedding planner takes care of the extra touches for your day. They'll arrange transport, book your reception venue, and organize entertainment. You can also ask for their help with event design, sourcing decorations, booking the catering and choosing your flowers. Quotes are always customized to your needs depending on how much you want them to handle.
In contrast, a day of coordinator has fewer responsibilities so they're more affordable. With this service you research and book vendors. You pass this list to your day of coordinator and they arrange logistics and timings, making sure everything runs like clockwork on the day itself.
Accommodation
Average room rates in Vegas are around $220 per night. Of course, you can find hotel rates that are more or less than this.
For example, according to Booking.com you can get a slice of 5-star hotel luxury for around $290 per night. But why stop there? If you're going all in consider the three-night honeymoon package at the Paris Las Vegas Hotel and Casino. Gift baskets, champagne breakfasts, fresh flowers, spa gift cards and a two-hour limo service are just a taste of what you get. All for the cool price of $3,200.
Quite honestly, there are more accommodation options than we can squeeze into this guide, but here are some of our favorites (and a few famous names) that work well when getting married at one of our suggested alternative Las Vegas wedding venues.*
| | |
| --- | --- |
| Hotel | 2022 Avg Room Rate per night |
| Bellagio Las Vegas | $782 |
| Aria Resort & Casino | $502 |
| Red Rock Casino Resort & Spa | $427 |
| The Cosmopolitan | $525 |
| Downtown Grand Hotel & Casino | $142 |
| Golden Nugget | $114 (excl tax or fees) |
Hopefully this gives you a flavor of Vegas room rates and a few ideas of where you might like to stay.
Extra tip: reserve your room in advance. Many Vegas hotels offer attractive discounts for early bookings and direct transactions through their site, rather than a hotel search engine.
*Prices are for 2022 and taken from each hotel's official site. They are for the most affordable double room for two people, staying for a weekend in October — the height of wedding season.
Wedding Photography
🤑 Cost: $550 per hour
As a photography specialist I'm adamant that couples have amazing professional photos, edited and perfected by experienced photographers. It's why we include ceremony photography in all our elopement collections. But the ceremony is only part of your day.
Photography beyond the ceremony is $550 per hour with Cactus Collective Weddings, but can range anywhere from $100-$1000 per hour. (Or even higher!)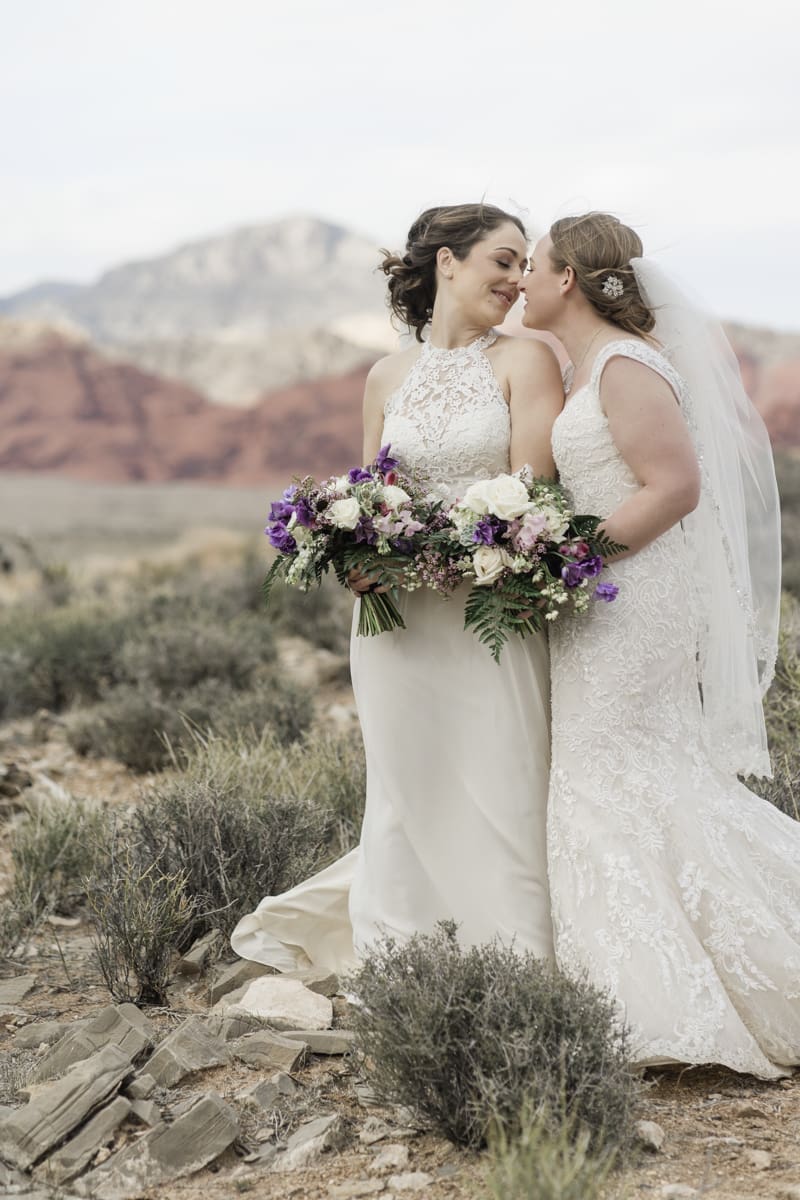 Bride's Hair and Makeup
🤑 Cost: $200-$250 for bride. Around $170 for bridal party
Hiring a professional makeup artist and hair stylist is a nice-to-have, but what it can save you in time and stress-levels makes it worth it. According to our preferred vendors, the bride's hair and makeup is $200-$250. For your maids and mother of the bride — who are likely to have simpler styles — the investment is a little less at $170.
Bouquets and Boutonnière
🤑 Cost: $200-$400
A simple and elegant bouquet and matching boutonnière costs around $200. The price increases the larger and more complex the arrangement. For example, the luxe florals we offer generally cost around $400 and price can vary depending on the seasonality of the flowers you've chosen.
Extra florals
Extra florals are the bouquets or corsages for bridesmaids and extra boutonnières for groomsmen. You may also want centerpieces for table decorations at your reception venue.
Here's a quick rundown of some of the extra florals you might want arranged, along with estimated prices from our preferred florist.
| | |
| --- | --- |
| Arrangement | Estimated Price |
| Bridesmaid bouquet + matching boutonnière | $100 per set |
| Corsage | $75 each |
| Flower crown | From $100 |
| Centerpieces | From $150** |
**Depends on size of the center piece and seasonality of floral choices
Cake and Champagne
🤑 Cost: Starts at $750 for up to 12 guests. Investment is adjusted accordingly for larger parties so all guests are catered for.
This is a Cactus Collective Weddings service and one of our favorite extra touches. Partly because it's so decadent and partly because it looks great in photos. Plus, we're pretty sure there aren't many other elopement companies who offer to serve cake and champagne in the Nevada desert.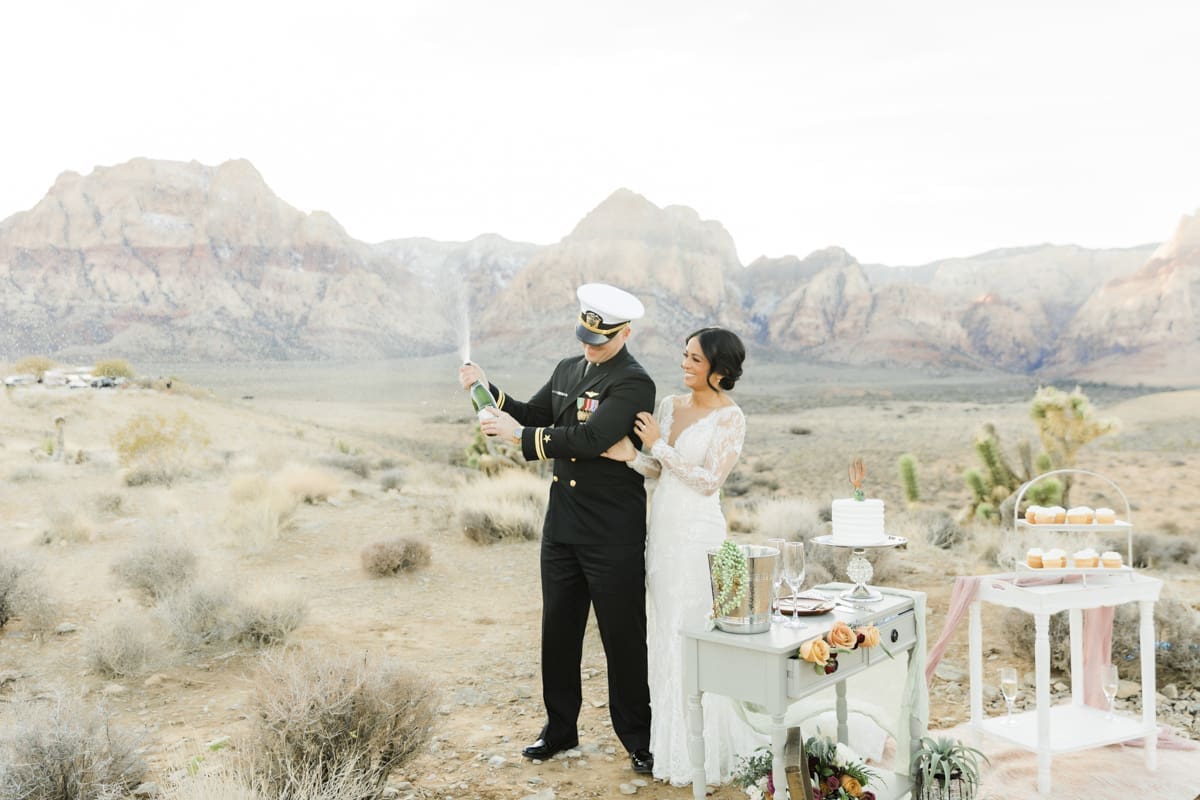 All set up, cakes, cupcakes, glasses and chilled champagne is arranged and delivered to your wedding venue. The smallest cake and champagne reception serves up to ten people, but you can still book if there's just the two of you. Simply save what's left of your wedding cake for later on.
Get more inspiration on customizing your wedding with our Extra Touches
Reception Costs
After the service comes the party and the cost of this can vary wildly. The number of guests, where you have it, entertainment and food service all affects the price. The best I can do to help is give you ballpark figures based on recent bookings made with our preferred vendors and looking at The Wedding Report.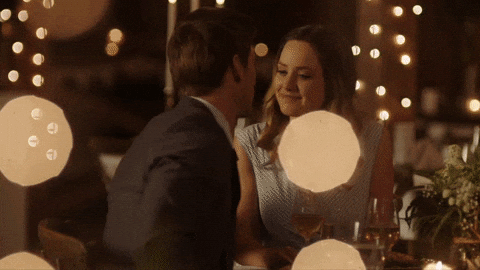 Venue hire
Figures from The Wedding Report refers to this as 'event location.' It doesn't state whether venue hire is referring to the ceremony venue or the reception venue, but the average spend given is $3,482. This figure drops by about half if your wedding party is less than 25 guests, becoming $1,142.
Entertainment
According to The Wedding Report, the average couples spend on a live band in Nevada is $1,740. A musician, soloist or ensemble is much less at $629. And a DJ or MC is around $575. From my first-hand experience, this is pretty much what you can expect to pay.
Food and drink
Let's get a bit more granular with this one, because many Las Vegas elopements include 20 people or less (including the couple). When booking food and drink for our couples the price we get most consistently is $100 per person and according to our preferred vendors if you're covering reception dinner and drinks, you can expect to pay between $65-$120 per person.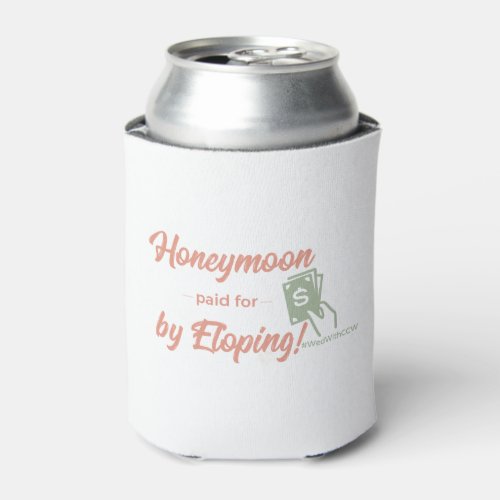 Honeymoon Paid for Foam Can Cooler
Just the two of you?
You may be eloping in secret or wanting a wedding without guests. In which case, booking a private table in a restaurant that serves your favorite cuisine may be the perfect way to celebrate your marriage. We're more than happy to provide recommendations.
Finding the Cost of Your Las Vegas Wedding
All of the prices you've seen are based on our experience of working with vendors and looking at wedding industry price trends in Nevada. You can get a more accurate idea of how much your Cactus Collective Weddings ceremony will cost by reaching out to us using the form below.

McKenzi Taylor
McKenzi Taylor is America's go-to elopement and micro wedding expert, often featured in small and major media outlets, such as the New York Times. With over 15 years of wedding photography experience, it was after planning her own Las Vegas elopement in 2016 that McKenzi felt her purpose shift into elopement coordination. She started Cactus Collective Weddings soon after in 2017. Since then, she's become a WIPA board member, and has helped well over 1000 couples get hitched in style around Las Vegas, San Diego and Black Hills.