Intimate Micro Weddings Among Romantic Scenery
Get married in one of the most stunning locations in the Mojave Desert. Less than an hour away from the Las Vegas Strip sits the Valley of Fire abounding with historic sandstone formations that look like they are on fire.
Valley of fire weddings can be held in either of two awesome spots to choose from, each one undoubtedly showcasing the beauty of the Valley of Fire. By no means a conventional venue, this location is secluded enough so you can enjoy a private ceremony away from tourists. Couples who will book this unique venue will find that there is no shortage of romantic scenery in this intimate venue. We have obtained all the permits needed for this exclusive location so you can just sit back, relax, and enjoy the view!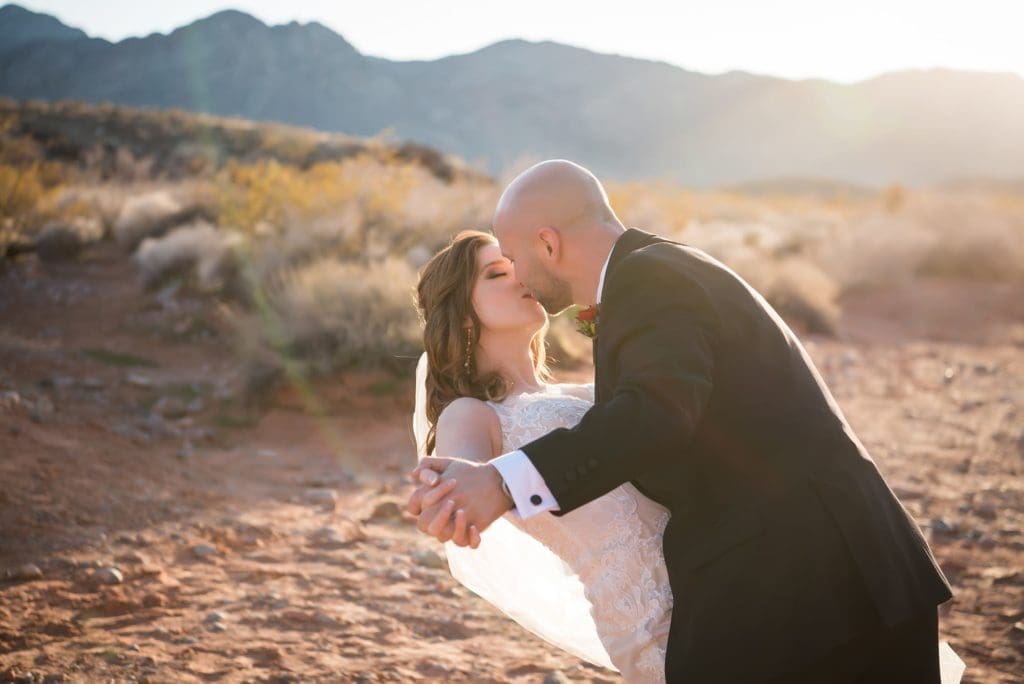 Why Valley of Fire is Perfect for Micro Weddings and Elopements
We provide venue permit
Breathtaking views without the touristy vibes
Fiery sandstone formations as backdrop for endless photo opportunities
Two intimate venue options:

Seven Sisters
Visitor's Center

Venue accepts up to 50 guests
Quiet and private, perfect for intimate weddings
Eco-friendly venue
Pet-friendly location
LGBTQI+ friendly venue
About Our Valley of Fire Wedding Packages
Plan your perfect wedding without compromise with Cactus Collective Weddings. We work with each couple individually to make sure all big and small details are arranged for your wedding.
We'll handle the professional photography, officiant, bouquet and boutonnière, and the wedding permit along with the wedding venue so you don't have to. Planning a wedding has never been more convenient.
Just the Two of Us
Days: Monday - Thursday
Guests: 0
Photo: 60 Minutes + Editing + Image Rights
Modern Minister
Bouquet and Boutonnière
On-Site Host
Ocotillo
Everything in Just The Two of Us, plus

• Monday - Sunday availability

• Up to 12 guests

• 90-minute photography session
Agave
Everything in Ocotillo, plus

• 13-30 guests
Saguaro
Everything in Agave, plus

• 31-50 guests

• 105-minute photography session
About Valley of Fire
Hold your wedding ceremony in a location that reflects the passion of your love for each other. Interesting and stunning at the same time, the Valley of Fire is the most daring outdoor wedding ceremony venue yet. The red sandstone formations dating all the way back to the Jurassic period surround this valley. Each one of them has unique shapes and waves. The Valley of Fire has great views. Two spots that stand out for Valley of Fire weddings are the Seven Sisters–a group of towering, red boulders that make the best backdrops for elopements–and the Visitor's Center–an intimate location with desert views. Whichever spot you choose for your ceremony and wedding photos, these locations will surely highlight the gorgeous newlyweds.
The Valley of Fire is one of the largest and oldest state parks in Nevada, but only the most adventurous go to climb or camp here. Still, fewer couples have tied the knot here. It is not the type of venue you can take a cab to, but it is one of the most beautiful places to get married. Aside from the stunning views, its vastness alone will give couples the privacy they crave for their romantic wedding. It is truly the place where you can achieve the unique wedding you dreamed of.
Personalize Your Collection with Extra Touches
A cake and champagne mini reception, live acoustic ceremony music and eco-friendly décor. These are just a few of the extra flourishes you can book through us so your special day feels extra special. See the full list of options.