Disclosure: This post may contain affiliate links. Please see our full disclaimer to learn more.
Are You and a Nevada Desert Wedding a Match?
A small intimate, destination elopement isn't for everyone. And eloping to the Nevada desert to have this small, intimate destination wedding definitely isn't for everyone.
I've noticed over the years what type of lovebirds become Cactus Collective Couples. They have certain characteristics, traits and ideas about what their perfect elopement looks like. These couples take to Cactus Collective Weddings like a… Well, like a cactus takes to a desert.
So, what are the telltale signs of a Cactus Collective Couple?
I'll share all six of them with you. And I'm curious to know how many of these you see in yourself.
1. You love the big outdoors
You enjoy being amongst nature and grab any opportunity you can for an outdoor adventure, be it a walk, picnic, mountain biking or surfing. The big outdoors is one of your happy places.
As such, you're excited by the idea of a desert wedding in Nevada because it means having an outdoor ceremony in a remote part of the freakin' desert. And ya know what? The weather will take care of itself. You're OK with the fact a clever person hasn't yet invented a do-hicky that lets wedding coordinators control the weather for the hour during your ceremony and photoshoot. You get that the show goes on come rain or shine.
2. You live for the here and now
Mobile signal, schmobile signal. You're in the desert! With the person you love! Who cares if the cell signal is sketchy? You're the kinda couple that thrives on the here and now. Live streaming or posting your wedding to Insta a second after it's happened, hasn't crossed your mind.
3. You respect the environment
You appreciate the desert's natural beauty and see it as being the perfect backdrop to your day. Trying to overdress it with extra decorations and a seat for everyone isn't on your wedding checklist. In fact, an eco wedding that leaves no trace is a theme you're toying with.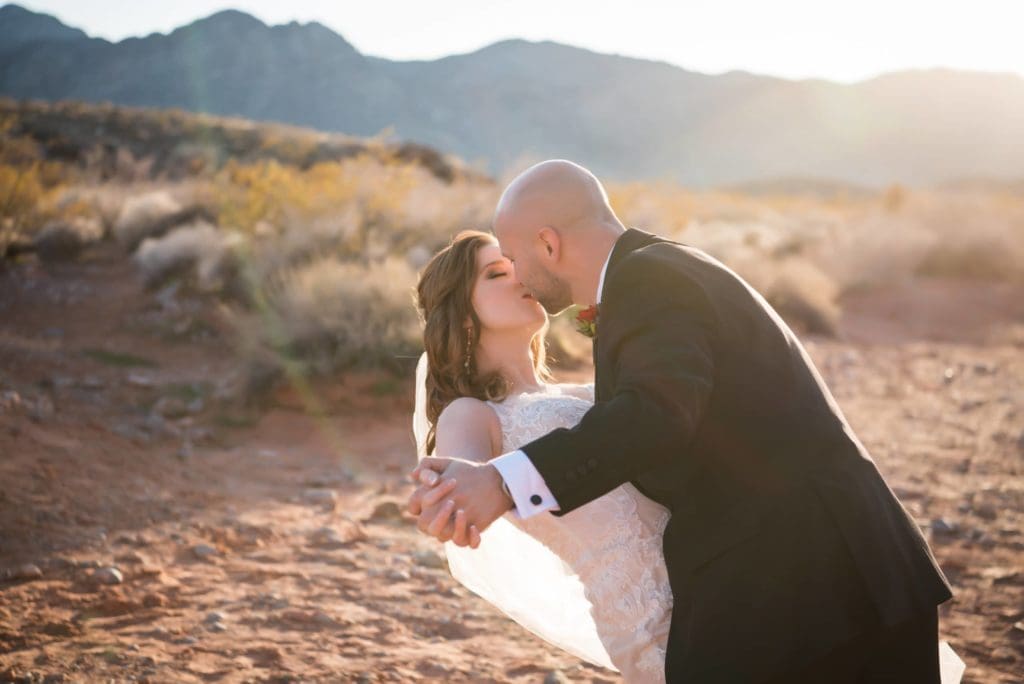 4. You trust your wedding company and their vendors
Destination weddings are an adventure. A chance to experience the unexpected. Coming from out of town means you'll see your wedding venue and all the parts of your special day once you get here. But that's part of the thrill. When hiring your vendors, you trust them to make decisions on your behalf, knowing they're experienced, are familiar with the area, and have your best interests at heart.
5. You realize planning a whole wedding day requires organization
The ceremony, which we arrange, is just one part of your special day. So, unless you're hiring a personal wedding planner for a total hands-off experience, you understand there's some wedding planning you need to handle. Your marriage license, transport, hair and makeup services, and booking a reception event (if you're having one) are good examples.
6. You want a small, intimate elopement
A desert wedding isn't your traditional wedding, and shouldn't be approached as such. We cater for couples who want to do away with the frills and fuss, but still have a beautiful celebration. As a Cactus Collective Couple you're looking to keep your destination wedding simple and elegant. It's an exclusive event for just the two of you or up to 50 of your nearest and dearest.
Are you destined for a desert wedding in Nevada?
I'm curious, how many of the points you just read did you find yourself nodding along with?
If it was three or more, I reckon we could be a great match. Maybe we're the wedding company for you and you are a Cactus Collective Couple.
You can make certain one of two ways.
The first is checking out all the information about how a Nevada desert wedding works in our Ultimate Guide to Eloping in Las Vegas. It answers a lot of FAQs and it's packed with inspiration.
The second way you can make certain is by dropping us a line. Tell us a bit about the desert wedding you have in mind and we can at least put together a wedding proposal for you to mull over.

McKenzi Taylor
McKenzi Taylor is America's go-to elopement and micro wedding expert, often featured in small and major media outlets, such as the New York Times. With over 15 years of wedding photography experience, it was after planning her own Las Vegas elopement in 2016 that McKenzi felt her purpose shift into elopement coordination. She started Cactus Collective Weddings soon after in 2017. Since then, she's become a WIPA board member, and has helped well over 1000 couples get hitched in style around Las Vegas, San Diego and Black Hills.