Weddings at Rita Deanin Abbey Art Museum
We Are The Exclusive Weddings Partner of this One-of-a-Kind Art Museum
Celebrate your multifaceted love amongst the work of multi-talented artist Rita Deanin Abbey. The "most important unknown artist in Southern Nevada" personally designed the spaces at the Las Vegas museum that now bears her name. The prolific artist would probably identify with eloping couples, as she liked to stay out of the public eye herself. Her southwestern themed abstract art is now on display and makes for a lovely setting for micro weddings and elopements.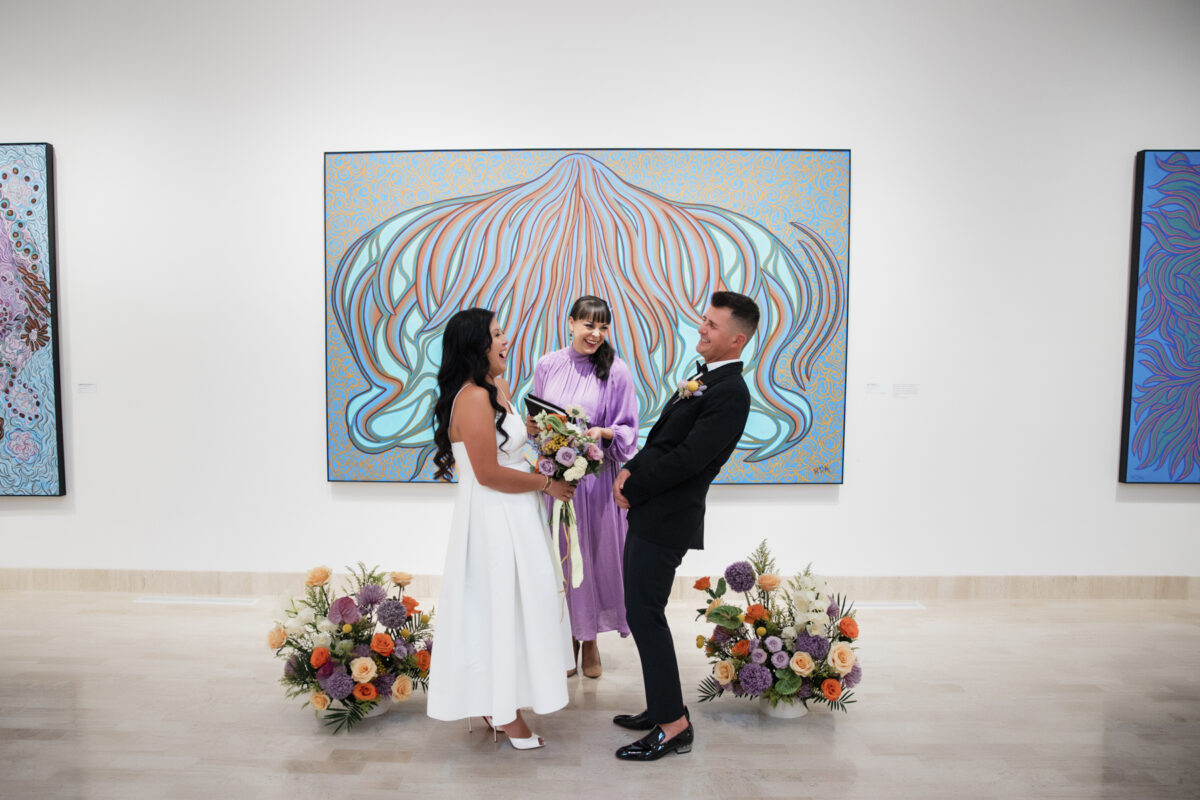 Why Rita Deanin Abbey Art Museum is Perfect for Elopements and Micro Weddings
Full of colorful and vibrant photo possibilities
Many eras of modern art represented
20 minutes from downtown Las Vegas
Venue accepts up to 50 guests
Desert and southwest inspired artwork
Inspiring history of a local legend
Comfortable indoor space good for all seasons
LGBTQIA+ friendly venue
About Our Rita Deanin Abbey Art Museum Wedding Packages
Plan your perfect wedding without compromise with Cactus Collective Weddings. We work with each couple individually to make sure all big and small details are arranged for your wedding.
We'll handle the professional photography, officiant, bouquet and boutonnière, and the wedding permit along with the wedding venue so you don't have to. Planning a wedding has never been more convenient.
Just the Two of Us
Days: Monday - Thursday
Guests: 0
Photo: 60 Minutes + Editing + Image Rights
Modern Minister
Bouquet and Boutonnière
On-Site Host
Ocotillo
Everything in Just The Two of Us, plus

• Monday - Sunday availability

• Up to 12 guests

• 90-minute photography session
Agave
Everything in Ocotillo, plus

• 13-30 guests
Saguaro
Everything in Agave, plus

• 31-50 guests

• 105-minute photography session
About Rita Deanin Abbey Art Museum
This 10,500 square foot museum showcases a little known Las Vegas super star and draws artistic couples to the northwest corner of the Las Vegas Valley.
It's hard to ignore her compositions while posing for your wedding day photographs.
Known locally and internationally for her art, Rita Deanin Abbey exhibited pieces at and completed commissions for libraries, temples, galleries and universities.
Inspired by nature and the great outdoors, her work and her museum are relatable to couples sharing her affinity for desert landscapes, wide open spaces and infinite skyscapes.
Dedication to craft emerges from every piece of her art and creates an unmatched collection of pieces to explore on your wedding day.
The work of this inspiring artist spanned eight decades, and will live on for even longer thanks to the dedication of her husband, Robert Bealleveau, and the efforts of the Rita Deanin Abbey Foundation.
Personalize Your Collection with Extra Touches
A cake and champagne mini reception, live acoustic ceremony music and eco-friendly décor. These are just a few of the extra flourishes you can book through us so your special day feels extra special. See the full list of options.