A one-of-a-kind venue for elegant micro weddings
The majestic Mediterranean-style JW Marriott Resort and Spa is a stone's throw from Red Rock Canyon and just 20 minutes from The Strip. This venue's power lies in its ability to deliver a classic, traditional-style wedding vibe without the overwhelm. Carefully selected locations within the grounds lend themselves perfectly to just the two of you for elopements and micro weddings.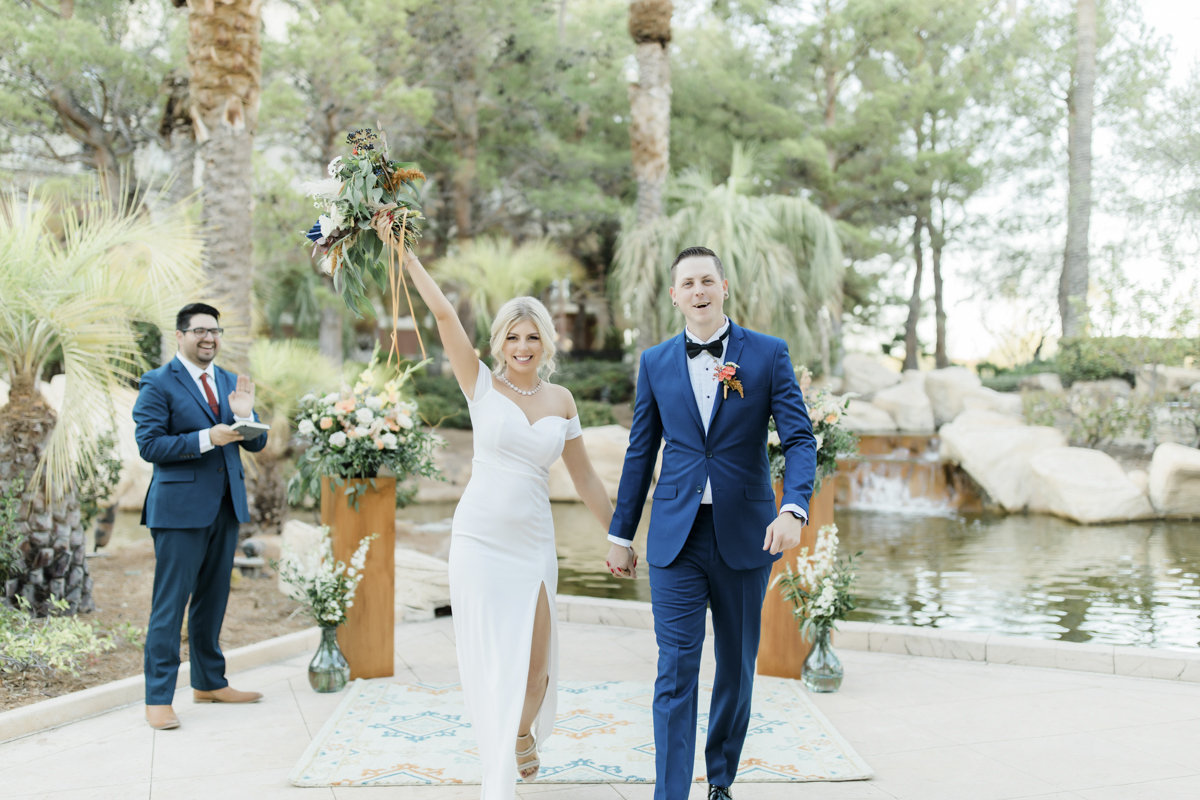 There's a Lot to Love about Weddings at JW Marriott
Get the look and feel of a classic, traditional wedding while keeping it intimate and affordable.
Surrounded by the Mojave Desert mountains, JW Marriott is an oasis of water features, palm trees and pristine lawns.
Ceremonies can be held at any time of day, giving you greater wedding day timeline flexibility.
Keep things simple. Hold the ceremony and reception at the one venue.
Go from wedding to honeymoon and enjoy the JW Marriott resort and spa accommodation options.
Close to Red Rock Canyon for adventurous and visiting couples wanting to explore more of the Vegas desert.
LGBTQI+ friendly venue
About Our JW Marriott Wedding Packages
Plan your perfect wedding without compromise with Cactus Collective Weddings. We work with each couple individually to make sure all big and small details are arranged for your wedding.
We'll handle the professional photography, officiant, bouquet and boutonnière, and the wedding permit along with the wedding venue so you don't have to. Planning a wedding has never been more convenient.
Just the Two of Us
Days: Monday - Thursday
Guests: 0
Photo: 60 Minutes + Editing + Image Rights
Modern Minister
Bouquet and Boutonnière
On-Site Host
Ocotillo
Everything in Just The Two of Us, plus

• Monday - Sunday availability

• Up to 12 guests

• 90-minute photography session
Agave
Everything in Ocotillo, plus

• 13-30 guests
Saguaro
Everything in Agave, plus

• 31-50 guests

• 105-minute photography session
About The JW Marriott
With over 1000 locations worldwide, the JW Marriott hotels are one of the most sought-after luxury hotels for weddings and elopements. This Mediterranean-style hotel is nestled just at the edge of the Red Rock Canyon and the Spring Mountains in the posh Summerlin area in Las Vegas, providing the resort with ample breathtaking views. JW Marriott weddings relish in the beautiful views of Las Vegas' nature while being comfortable in one of the numerous elegant event venues within JW Marriott. It's the perfect setting for both intimate weddings and large weddings.
What makes JW Marriott one of the best wedding venues in Las Vegas is its impeccable architecture and interiors and the location's versatility. The resort and spa has beautiful spots for both indoor and outdoor weddings. JW Marriott's grounds consist of an impressive array of outdoor pools, cascading waterfalls, and lush gardens. Their options for outdoor wedding venues allow for quaint gardens or a warm tropical oasis where you can hold the wedding ceremony or the reception. Meanwhile, JW Marriott offers a myriad of rooms and halls for indoor celebrations. These rooms are adorned with exquisite décor from floor to ceiling that you will need minimal additions to make the venue picture-perfect.
Personalize Your Collection with Extra Touches
A cake and champagne mini reception, live acoustic ceremony music and eco-friendly décor. These are just a few of the extra flourishes you can book through us so your special day feels extra special. See the full list of options.