Disclosure: This post may contain affiliate links. Please see our full disclaimer to learn more.
You have the ring, you have the date, and you are more than excited to have a Vegas wedding in one of our breathtaking venues.
All of the details are covered except the most important—the marriage license.
It seems so daunting if you are getting married in a city and state that's not your own.
Where do you even start to look for information on how to get a marriage license in Las Vegas?
Have no fear because we are here to help walk you through it in our quick, and very useful, guide to getting your marriage license in Las Vegas.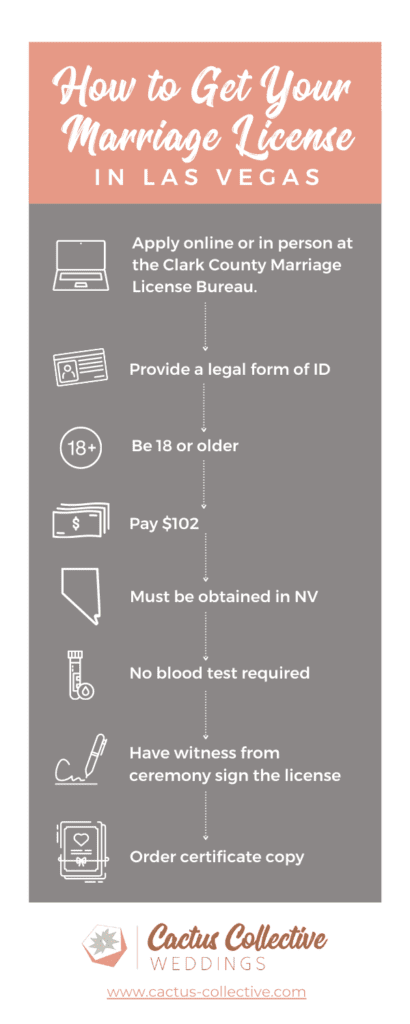 You will first need to apply for your marriage license in one of two ways. You can apply online and then go pick up your marriage license in person, or you can go directly to the Clark County Marriage License Bureau. Their hours are 8am-Midnight everyday including holidays.

You will need to provide your Social Security number (not the actual card) and a valid form of ID like a driver's license, birth certificate or passport to apply. Keep in mind that they will legally register you under the name as it appears on your ID.

The marriage license will cost $102 so make sure you have cash or credit with you.

You must be 18 or older to get your license without parental consent. If you are 16-17 you can get a license by either having a parent or legal guardian with you in person or by bringing in a notarized written consent form from them. Anybody the age of 16 or under will need to get their parent's consent and authorization from the Nevada District Court. In order to do this a parent must file a court action and show a court order to the Marriage License Bureau.

There is no blood test required in the state of Nevada nor is there a waiting period making spontaneous adventures possible.

You don't need to provide a copy of your divorce decree if you are divorced. The only exception to this is if the decree gives you permission to use a name that's different to what's on your current government-issued photo ID.

A witness is also required to be present to sign the marriage license. The photographer we provide here at Cactus Collective Weddings will be able to serve as a witness if you don't have one present.

Once you have received your valid marriage license you must present it to us when you arrive for your ceremony so we can make sure it's filled out and signed by a witness.

Make sure your marriage license is not from out of state as they won't be accepted. It must be obtained in the state of Nevada. However, once you get your license, you have within a year to use it in Nevada so you have plenty of time to plan your special day.


The only stipulations are that you are not related any closer than second cousins or cousin-inlaws and you can't be currently married to someone else. Hopefully this isn't an issue!

After your ceremony the officiant will take your signed paperwork and file it with the clerk's office for you. Within about 10 days you can order your certified marriage certificate for your personal records. Either order it online and download it, or request for it to be sent by post.

Once you receive your certified copy of your license you can then go to your local Social Security office and file for your new card using your married name. When you receive your new Social Security issued id you can then go to the DMV to obtain your new driver's license and then proceed to change your legal name on all of your other important personal and business accounts.
Watch our Video for Tips on Getting a Las Vegas Marriage License
All in all you can see it's a pretty quick and simple procedure. We here at Cactus Collective Weddings are able to answer any other questions you may have to make your day go as smoothly as possible so you can just focus on the good stuff! Cheers to having a fabulous wedding beautiful Las Vegas!

McKenzi Taylor
McKenzi Taylor is America's go-to elopement and micro wedding expert, often featured in small and major media outlets, such as the New York Times. With over 15 years of wedding photography experience, it was after planning her own Las Vegas elopement in 2016 that McKenzi felt her purpose shift into elopement coordination. She started Cactus Collective Weddings soon after in 2017. Since then, she's become a WIPA board member, and has helped well over 1000 couples get hitched in style around Las Vegas, San Diego and Black Hills.