Disclosure: This post may contain affiliate links. Please see our full disclaimer to learn more.
It's no big surprise that Las Vegas remains one of the most popular wedding destinations in the world. It's got so much to offer, from amazing venues to year-round sun.
So don't let those old myths about Vegas weddings deter you.
Here are 10 reasons why a Las Vegas destination wedding is a great choice.
1. It's Convenient
In Las Vegas, you can make a lot happen in a short period of time. That includes a wedding.
Las Vegas has no waiting period or residency requirements for a marriage license, which means you can fly in, pick up your license and get married at your convenience — even if that means the same afternoon.
You'll need to visit the Clark County Marriage License Bureau to get the license. The office is open every day of the week from 8 a.m. to midnight. Just remember to bring a form of identification for both you and your partner.
If you are arriving from overseas, we always encourage you to check on regulations that might be required in your country.
For instance, if you're coming from the United Kingdom, your marriage in Las Vegas will be recognized once you get back home, but it won't be "registered."
Don't forget to create a record of your marriage at the General Register Office.
2. It's Affordable
In the United States, the average cost of a traditional wedding is about $27,000. And that doesn't include the honeymoon.
In Las Vegas, many micro wedding or elopement packages will cost you less than $2,500. That's huge savings!
3. All-in-One Location
One of the best things about a Las Vegas wedding? You don't have to go anywhere else for a honeymoon.
You can get married and enjoy a luxurious honeymoon all within a few square miles.
Plan a honeymoon filled with concerts, great meals, luxurious spa days and more without ever leaving the city limits.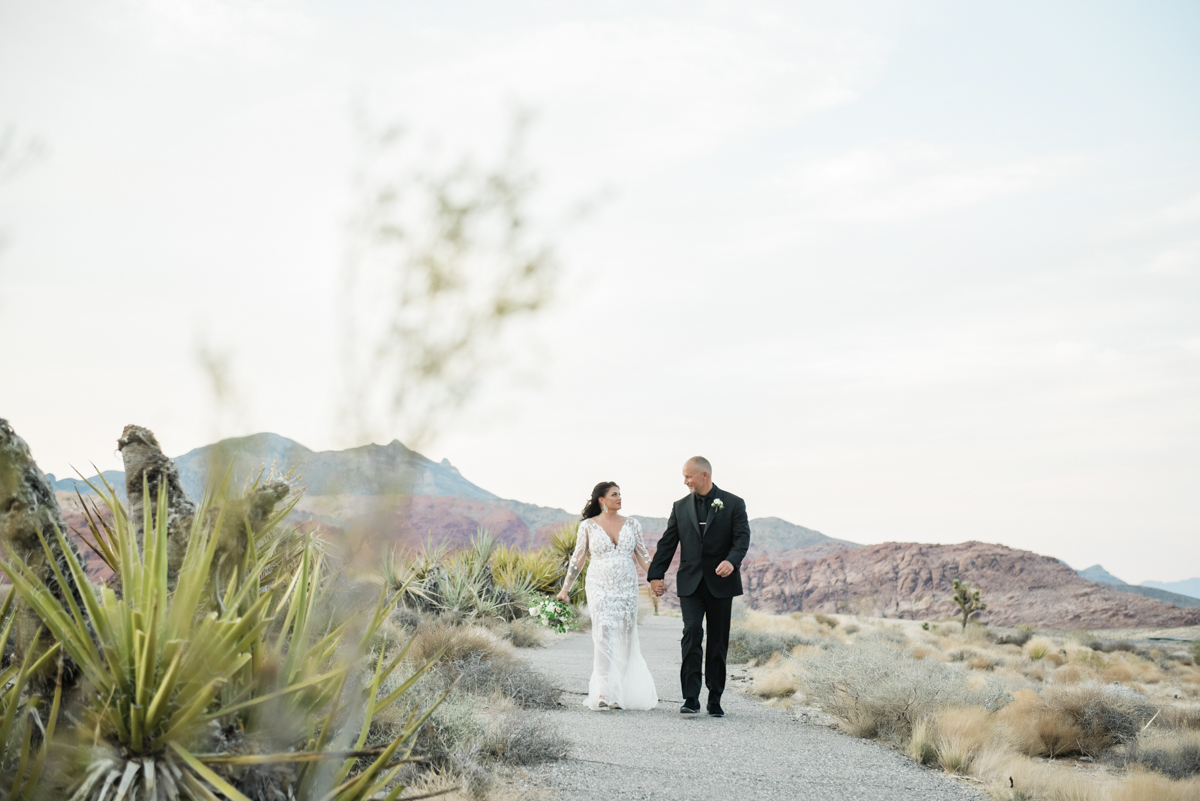 4. Any Season Is the Right Season for a Wedding
Las Vegas boasts more than 300 days of sunshine each year, with the average high ranging between 58 degrees in January to 104 degrees in July.
You'll never have to worry about frigid temps ruining your day.
5. A Guest List You'll Love
You know how traditional wedding guest lists can sometimes get out of hand — your old neighbor invited your parents to their daughter's wedding so they feel obligated to do the same.
Before you know it, you have a full house of people you don't recognize.
With a destination wedding in Las Vegas, it's much easier to keep your guest list just the way you'd like it.
6. Stunning Scenery for Photos
Las Vegas is much more than the Strip. It is surrounded by some of the most beautiful scenery anywhere. Your photos will be amazing!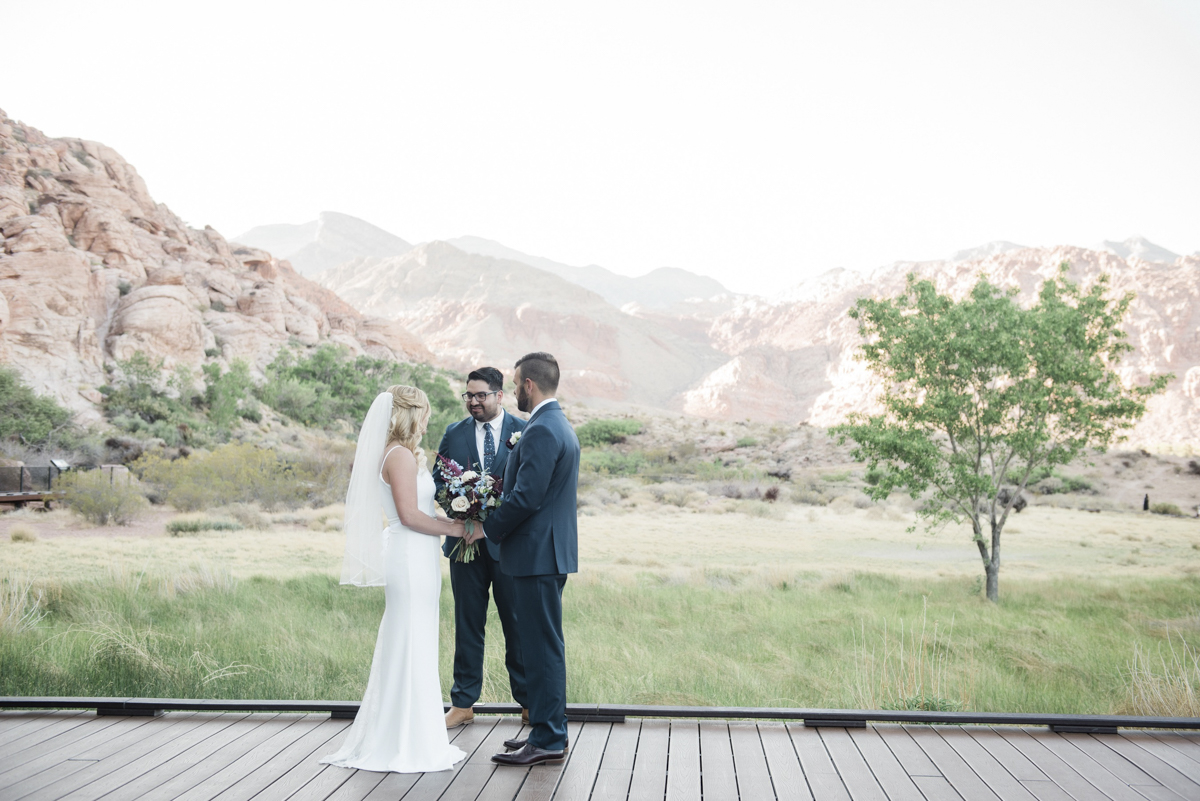 7. Less Stress Is Best
If planning and managing a wedding sounds like a nightmare to you, never fear.
In Las Vegas, you can hire wedding companies offering packages that include everything: ceremony, flowers, transportation, photography, reception, music…you name it!
8. Easy to Get There
It doesn't matter where you're coming from; you can get to Las Vegas McCarran International Airport from there.
You can expect good availability for flights year-round and plenty of shuttles and other transportation to get you to and from your venue.
9. Keeping Your Guests Entertained
Have we mentioned that there is lots to do in Las Vegas?
From gambling and fine dining to concerts and outdoor adventures, your guests will never be bored, and you won't have to feel obligated to keep them entertained.
There's really something for everyone in Sin City and the surrounding areas.
10. Short Drive to Cool Destinations
While Las Vegas may be the primary location, that doesn't mean that it's the only location for you and your guests.
Las Vegas is a reasonable drive to some of the most amazing locations anywhere.
Think Joshua Tree National Park in California or Zion National Park in Utah.
The Grand Canyon west rim is a little longer drive at 4 1/2 hours but still well worth it.
If a destination wedding is what you want, Las Vegas should be on your list!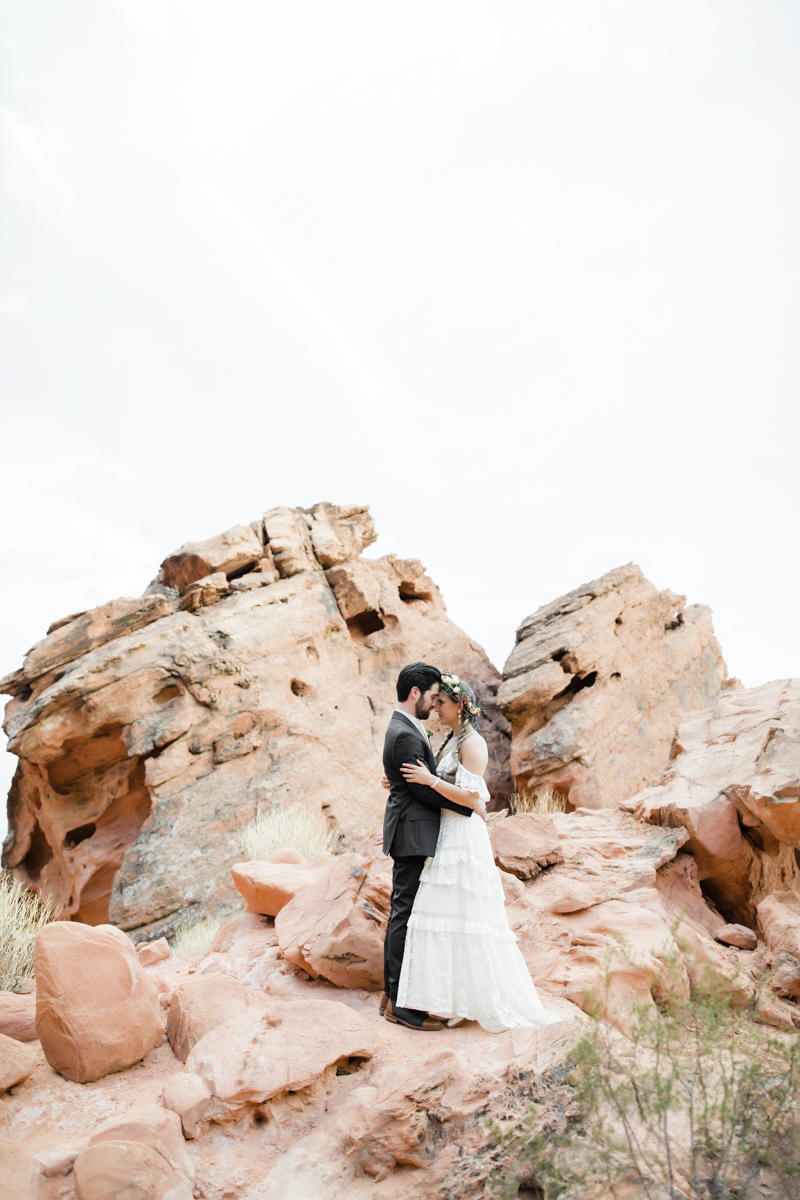 Download the Ultimate Destination Wedding Checklist for Couples

McKenzi Taylor
McKenzi Taylor is America's go-to elopement and micro wedding expert, often featured in small and major media outlets, such as the New York Times. With over 15 years of wedding photography experience, it was after planning her own Las Vegas elopement in 2016 that McKenzi felt her purpose shift into elopement coordination. She started Cactus Collective Weddings soon after in 2017. Since then, she's become a WIPA board member, and has helped well over 1000 couples get hitched in style around Las Vegas, San Diego and Black Hills.