This truly unique location is home to many eclectic tastes, including vintage cars, barns and trinkets. Picturesque and quirky, with plenty of great photo opportunities, you're sure to fall in love with the breathtaking beauty of the amazing Cholla Cactus Field.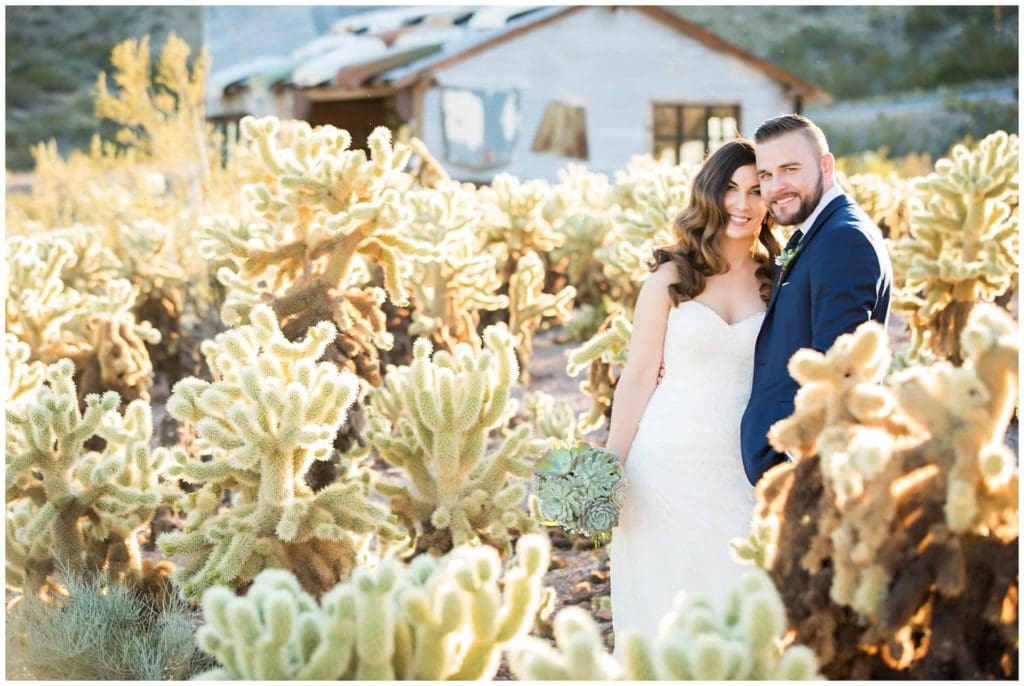 Located just 45 minutes from Las Vegas, you'll arrive in style on your wedding day by choosing from our vast and iconic pick of wedding wheels. A booking often overlooked, it's best to secure your transport at least three months in advance to ensure that things go smoothly and that you and your guests get there on time! As there's no electricity available, this location suits an acoustic guitarist or violinist to serenade you on your day!
Our Locations For Eldorado Canyon Weddings
Cholla Cactus Field
One of the unique features is the very special Cholla Cactus Field. Just imagine saying your vows underneath a beautiful solid wood, stained glass arbor with a sea of cholla cacti as your backdrop! What stunning ceremony photos they will be!
Chapel
Modern, yet rustic, cool yet classic, this recently built chapel is an idyllic spot to say your vows. Invite an intimate group of your nearest and dearest to bring love and joy to your ceremony. Set in front of a large rock face, your chapel photos will be an epic reminder of the unique day you step into your new life.
Big Barn
As a modern Wild West treat, Eldorado Canyon features a place called Nelson's Landing, aka Ghost Town. We love the perfect variety of rustic barns in the location and think it's a stunning place to hold your nuptials. Plenty of couples take advantage of the beautiful space to capture incredible wedding photos. And we think you should too!
Personalize Your Collection with Extra Touches
A cake and champagne mini reception, live acoustic ceremony music and eco-friendly décor. These are just a few of the extra flourishes you can book through us so your special day feels extra special. See the full list of options.