Majestic Micro Weddings in the Tranquil Mountains
Lee Canyon is the surprising mountain retreat you'd never expect to be so close to the dry and hot Mojave Desert. At an elevation above 8,600 feet you'll feel like you've left the scorching desert and entered a mountain lover's paradise. In summer you'll say "I do" amongst blooming endemic wildflowers, while 160 inches of snow a year provide a beautiful winter backdrop just an hour from the Las Vegas Strip.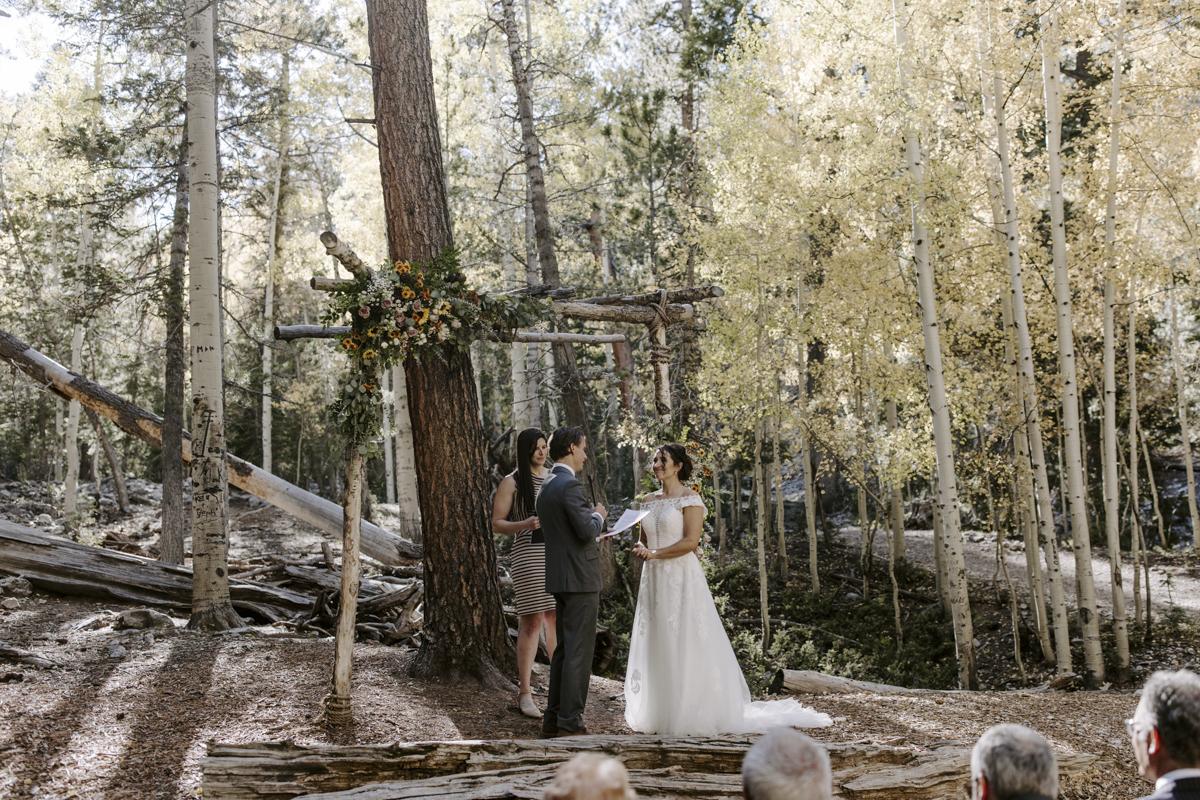 Why Lee Canyon is Perfect for Micro Weddings and Elopements
Mountainous scenery for beautiful wedding photographs
Rustic, woodsy and down to earth
60-minute scenic drive from the Strip
Secluded and intimate
Hiking trails and ski slopes for active adventurers
Newly opened mountain bike trails
Sprawling meadows
Possible wildlife sightings
LGBTQIA+ friendly venue
About Our Lee Canyon Wedding Packages
Plan your perfect wedding without compromise with Cactus Collective Weddings. We work with each couple individually to make sure all big and small details are arranged for your wedding.
We'll handle the professional photography, officiant, bouquet and boutonnière, and the wedding permit along with the wedding venue so you don't have to. Planning a wedding has never been more convenient.
Just the Two of Us
Days: Monday - Thursday
Guests: 0
Photo: 60 Minutes + Editing + Image Rights
Modern Minister
Bouquet and Boutonnière
On-Site Host
Ocotillo
Everything in Just The Two of Us, plus

• Monday - Sunday availability

• Up to 12 guests

• 90-minute photography session
Agave
Everything in Ocotillo, plus

• 13-30 guests
Saguaro
Everything in Agave, plus

• 31-50 guests

• 105-minute photography session
About Lee Canyon
Mountain weddings are popular among outdoor enthusiasts and couples who are drawn to nature. Lee Canyon in the Spring Mountain National Recreation Area is a perfect venue for mountain lovers. Just an hour from the hectic casinos of Las Vegas you'll find an elevated oasis in the desert. The wide open spaces offer seclusion and isolation and lots of room to roam. Let your love fill the fresh mountain air as you celebrate your special day at one of our most special venues.
Personalize Your Collection with Extra Touches
A cake and champagne mini reception, live acoustic ceremony music and eco-friendly décor. These are just a few of the extra flourishes you can book through us so your special day feels extra special. See the full list of options.