The Wedding Bowl Weddings
An Intimate Micro Wedding Overlooking The Beach
The Wedding Bowl at Cuvier Park is one of the most coveted wedding venues in San Diego. Located on the corner of Coast Boulevard and Cuvier Street, The Wedding Bowl is surrounded by the shorelines of La Jolla. It's a quaint patch of grass, sitting just below street level. The intimacy the location offers is just the cherry on top of this breathtaking, romantic venue.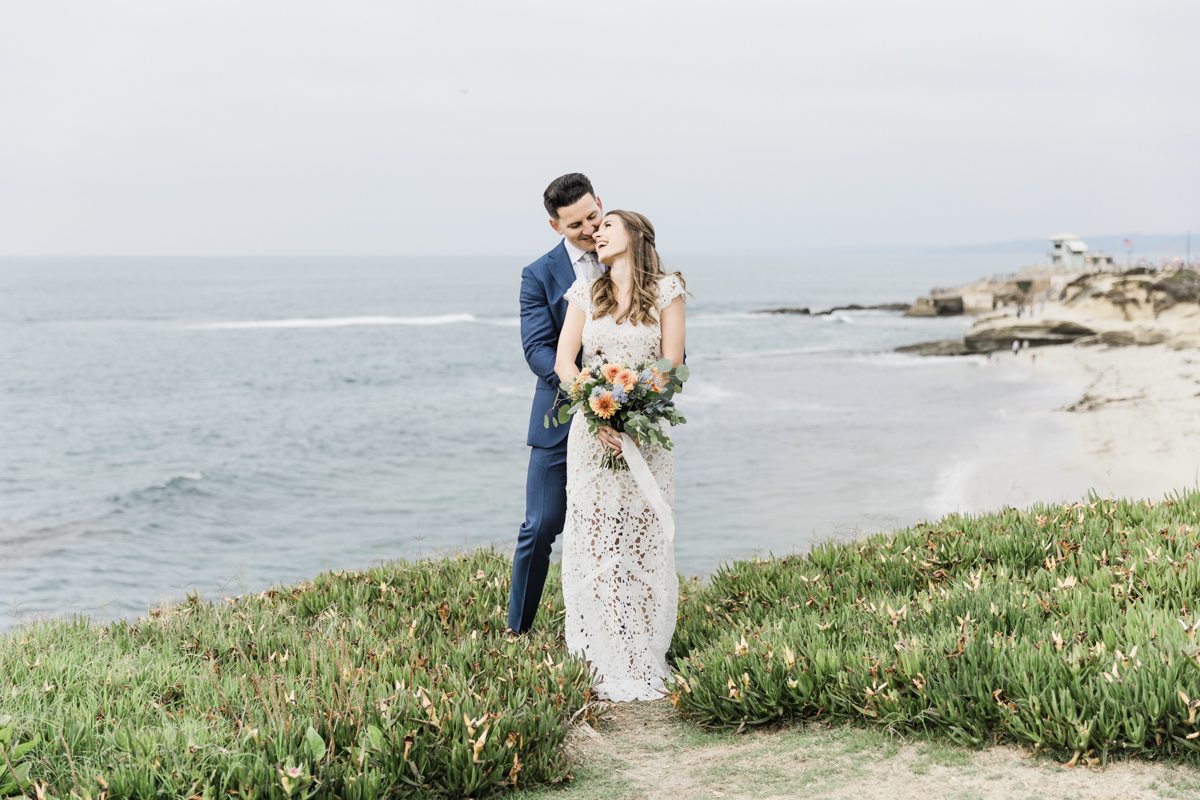 Why the Wedding Bowl Is Perfect for Elopements and Micro Weddings
20-minute drive from the San Diego International Airport
Surrounded by the coastline of La Jolla Beach, perfect for pictures
Ideal for short, simple weddings or elopements
An intimate location, being below street level and above beach level
A variety of reception options
Take pictures on the beach or at Whale View Point
LGBTQI+ friendly venue
About Our Wedding Bowl Packages
Plan your perfect wedding without compromise with Cactus Collective Weddings. We work with each couple individually to make sure all big and small details are arranged for your wedding.
We'll handle the professional photography, officiant, bouquet and boutonnière, and the wedding permit along with the wedding venue so you don't have to. Planning a wedding has never been more convenient.
About The Wedding Bowl
Although San Diego is a popular wedding location, not many may be aware of the existence of The Wedding Bowl at Cuvier Park.
It is a rounded patch of grass that is situated five feet below the street level on the Western side of Coast Boulevard, overlooking the La Jolla coastline.
Indeed, this small, lush area will make you feel like you are stepping into a kind of wedding oasis.
Planning your wedding here is simple as nature will make your location picture-perfect.
The green grass on the ground is contrasted by the deep blue of the Pacific Ocean, and all this beautiful scenery is accentuated by beautiful sunrises or sunsets.
The La Jolla beach itself, a mere few steps from The Wedding Bowl, and the Whale View Point provide great spots for the newlyweds and their wedding guests to take elegant wedding photos with the sunset or possibly with a few whales in the backdrop.
If you want the breathtaking views of a beach wedding but don't want to get sand between your toes, The Wedding Bowl is the location to book.
With its unique position, The Wedding Bowl affords couples privacy that is rare in outdoor weddings.
Personalize Your Collection with Extra Touches
A cake and champagne mini reception, live acoustic ceremony music and eco-friendly décor. These are just a few of the extra flourishes you can book through us so your special day feels extra special. See the full list of options.