Disclosure: This post may contain affiliate links. Please see our full disclaimer to learn more.
Weddings are glorious days filled with enchantment no matter how big or small the ceremony. However, they are also full of a lot of waste! It is very easy to get carried away planning your big day and forget about the aftermath that our nuptials have on the Earth.
As we get more and more Earth-conscious, couples are opting for green weddings but sometimes it's overwhelming trying to figure out where to begin. Have no fear! We are here to show you easy ways to create a ceremony as loving to the Earth as it is to your partner and guests. Not only will you have fun planning it but you'll breathe a sigh of relief when it's over knowing that you've done your part to minimize our carbon footprint!
Venue
The venue will set the tone for the entire event so it's always best to get that nailed down first. Here are some things to consider when choosing your venue.
Location
Though we love a good destination wedding, one of the biggest ways you can help the Earth is by choosing a location nearby. The emissions that all of your flights, car travel, etc take a huge toll on the environment if you have a large guest list. You can go one step further and hold the ceremony and reception in the same area so guests aren't having to travel back and forth.
Furnishings
Look for a space that comes equipped with furnishings. By renting a space that already provides you with all the accouterments, you cut down on a ton of your costs as well as the pollution to the environment hauling rented goods back and forth.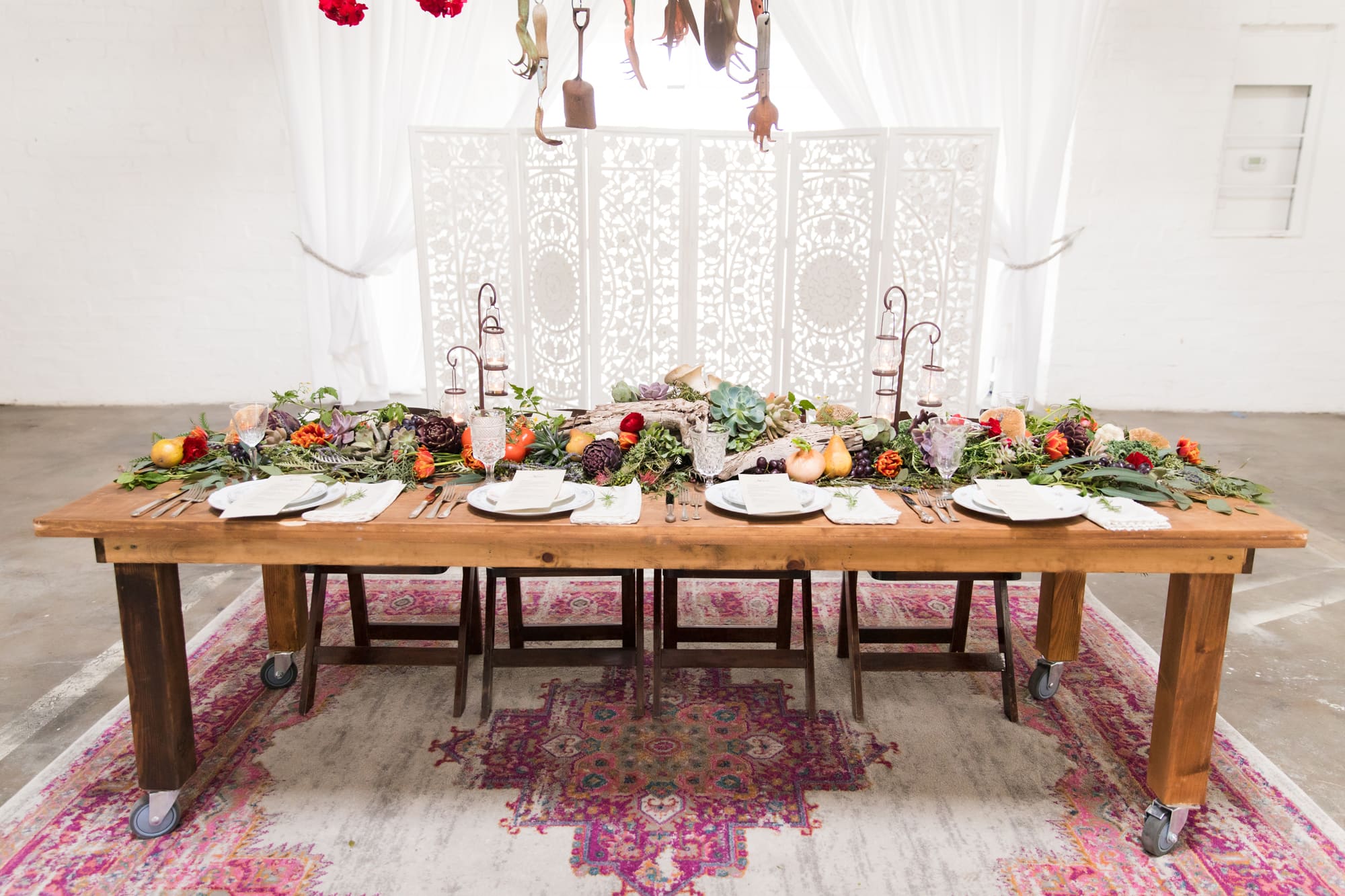 Waste Management
Ask your venue about how they handle waste after the ceremony. Do they recycle? Do they give leftover food to local food banks? Do they compost left-over greenery? Ask your wedding venue all the important questions!
Lighting
If possible choose a location that is outdoors. Indoor lighting for a wedding ceremony can have a huge environmental impact. Let Mother Nature provide her own gorgeous natural light for your nuptials.
Wedding Dress & Tux
Most people don't even think about the outfits they wear for their I-Do's contributing to any environmental impact. However, the fashion industry is one of the industries most guilty of waste. Here are ways you can cut down on some of this waste.
Buy Used
The idea behind buying a used dress and repurposing is that you are saving another bundle of fabric from ending up in a landfill. After the wedding there are also several options of how to give your repurposed dress another life:
If you are planning to have kids, you can use the dress to make a christening gown.
You can donate your dress to an organization that makes burial outfits for babies/children.
You can donate your dress to organizations that help fund weddings for military couples, couples facing a serious illness, or couples facing a life-altering circumstance.
There are also several bridal gown resale shops across the country that will re-sell a dress and donate a portion of the proceeds to various charities.
Rent
There are more and more sites available like Rent The Runway that let you rent a fab dress or tuxedo so take advantage of this hassle-free option!
Choose Wisely
If you prefer to wear a new wedding dress for your special day try using sustainable fabrics like organic cotton, silk, or hemp. The average wedding dress is made using an extreme chemical dyeing process and is often made overseas with questionable labor practices so ask your dress shop if they can research the origins of the dress for you before you jump in!
Flowers
Most everything in wedding ceremonies winds up in the trash after and the events business is the second largest in terms of waste after the construction industry.
Cut flowers are usually not grown organically so ask your florist about in-season locally grown flowers.
Even simply foraging the local neighborhoods for overgrown bushes and untamed trees that are in need of a haircut can provide some great foliage. Most people are happy to have someone clean up their yard so-to-speak so it's a win-win all around.
Repurposing what would otherwise contribute to this problem and making it live again in an artful manner is such a gratifying accomplishment.
Finding alternatives to cut flowers is also an amazing and fun option. You can use potted living plants and even make them party favors for guests to take home to remember your special day forever!
Makeup & Hair
Even when choosing make-up for your perfect look, you can look for makeup artists who use cruelty-free only brands or even small, local brands. Hair products can be incredibly toxic to the environment so ask your hairstylist if they come equipped with styling products that are eco-friendly. Even if they usually don't, they might consider purchasing a few special products to accommodate you if you compensate them accordingly. It never hurts to ask!
Food
Catering is one of the largest contributors of waste in many aspects. Here are a few ways to make your menu yummy in the eco-friendly category!
Farm to Table
Find a caterer who uses seasonal local produce to create your wedding day eats. This ensures that your ingredients are fair-trade and ethically produced.
Vegetarian/Vegan Options
This one needs no explanation. Serving vegetarian or vegan options greatly reduces your impact to the environment. Even making your menu 50% vegetarian helps immensely.
Leftover Donations
We all know that after a wedding there is usually a plethora of extra food that needs a home. Find a catering company that gives extra food to homeless shelters, food banks, or local farms that repurpose it into feed for their animals. We all know you can't feast on leftovers for 2 weeks so why not think ahead and find a home for your delicious leftovers to cut down on your food waste!
Preparation
Most caterers make an extra 10-15% of food than what you are requesting to make sure they cover their butts. If you are comfortable, tell them to reduce this is maybe 5% at most to cut down on waste. Trust us, guest will have PLENTY to eat by the time the night is said and done.
25 Tips for Having a Sustainable Wedding
Dessert
Find a bakery that sources organic, local and Fairtrade ingredients, and incorporates seasonal fruits in the recipe. A vegan option will have less of an environmental impact, and it's also a good idea to source reusable décor like ribbons and DIY items readily available.
Wedding Favors
There are so many ways to get creative with your wedding favors. Here are just a few!
Charity Gifts
Instead of giving physical gifts, let your guests know that their attendance is donating "x" amount to your favorite charity. Guests will be blown away by the gesture and will leave feeling great about their contribution!
Gifts that Grow
A fun way to spice up your gift-giving and make it memorable is to give guests something they can add to the planet when they leave. Seed balls are all the rage right now as well as self-contained grow kits. Your loved ones will walk away with something that will last for a long time and give back to Mother Earth.
Edible Gifts
Send your favorite people home with a bag of fair-trade coffee or locally made jams. You can easily find items that fit the theme of your wedding so get creative.
Memory Builders
Sometimes the best gifts aren't "things". Make a slideshow of fun memories for your guests to download once they get home or create personalized letters to each guests telling them what they mean to you. These are the types of gifts you remember well past a regular run-of-the-mill wedding.
Wedding Invitations
Using recycled paper for your invitations is one of the easiest ways to help Mother Earth. Most invitation companies offer them now so don't be shy to ask. You can also find a local calligrapher to hand write your invites saving on the toxic waste of printing if you have a smaller wedding party. If you aren't attached to tradition the best way to cut down your carbon footprint is to send electronic save the dates and invitations. Tell friends and family that you are being Earth-friendly and they'll jump on board with the excitement of that notion!
Natural Locations
Holding your ceremony and reception in an outdoor location greatly cuts down on energy use. From lighting to air conditioning, your energy waste is reduced to almost nothing. Another huge help you get from using a natural setting is that you no longer need to rent or purchase a lot of decor. Nature becomes your decoration so all you need to do at that point is add a few special detailed accessories to finish the look. This saves you time and money as well so its a win-win-win!
Tableware and Linens
There are hundreds of companies out there that rent everything from linens to glassware so take advantage of them. Not only do they deliver the items to you, but once the ceremony is over, they pick your dirty glassware and linens up and handle everything after that. The peace of mind you will have will far out weigh the temporary joy you might have from purchasing your own.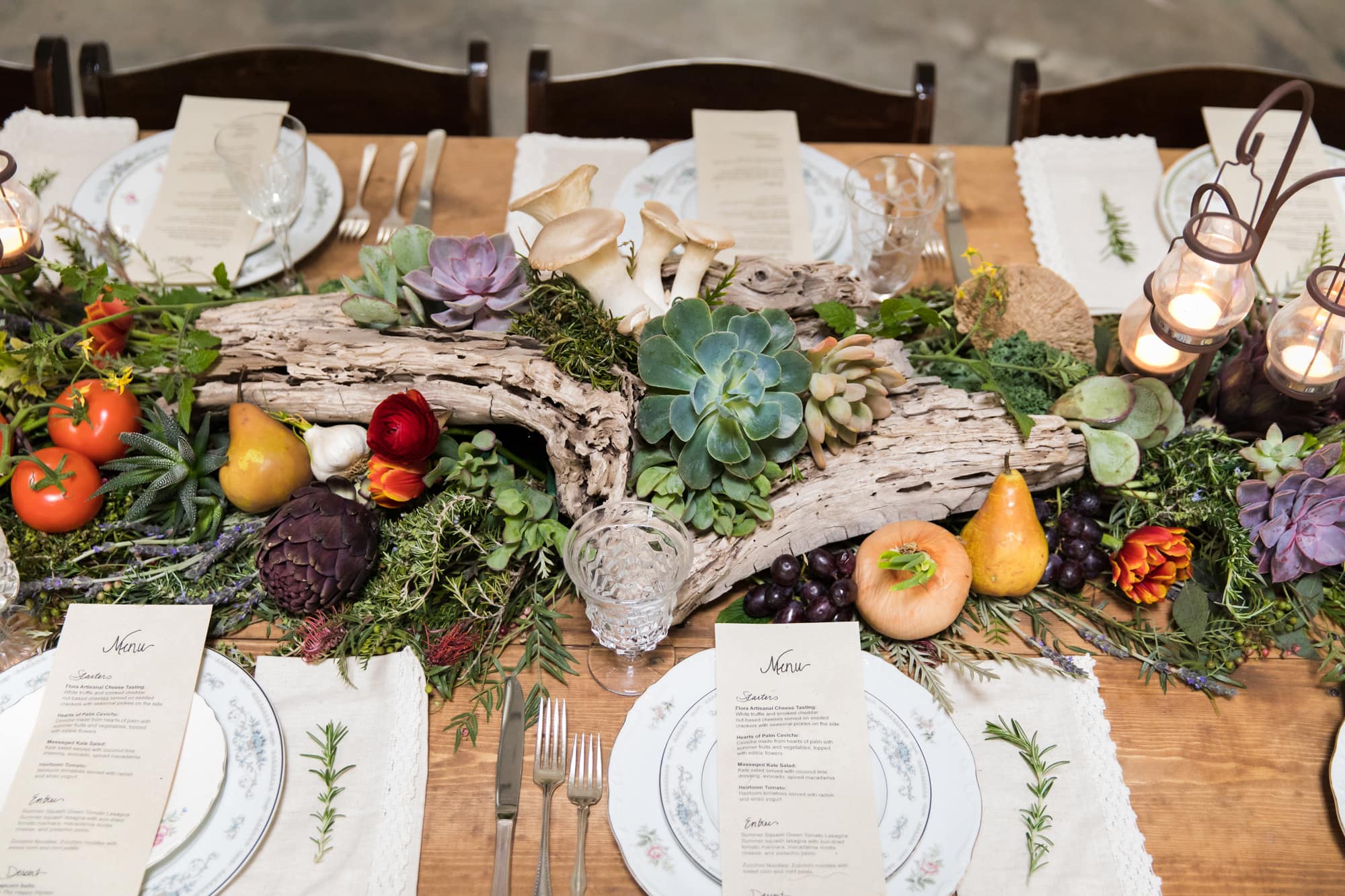 Leftover recyclables
Organic food waste – Donate captured food waste to local micro-farms, food shelters, and compost sites.
Greenery
Donate all greenery to recycle sites, compost bins or compost yourself through vermicomposting as home.
Flowers
Flowers can be recycled through goat consumption, composting or paper making.
Aluminum Cans and Plastic Bottles
Both can be donated to the homeless to sell for profit.
Plastic Packaging and Aluminum Baking Dishes
Both of these items can be used as starter containers for seeds, arts and crafts, or fixer upper projects around your house.
Miscellaneous
Outside of the main categories there are many small ways in which you can think outside of the box and get your carbon footprint down on your big day. Don't be afraid get creative!
Reusable Straws
Opt for metal straws for your cocktails or perhaps forgo straws altogether. Entire states are banning straws so guests won't question it if you have a sans-straw wedding.
Eco-Friendly Hotels
Loads of hotels are opting into a more Earth-conscious approach to how they handle their every day activities so ask around when reserving accommodations for your guests.
Recycles Plastics
Beyond just recycles plastics you do use during your reception you can opt to use plastics that you know are already recycled from the get-go! Why not start off on the right foot?
Bachelorette and Bachelor Parties
Choose outings that are local and don't require a lot of travel. Groomsmen love a good golf day at a local golf course and a staycation at a local Day Spa and salon followed by some fierce karaoke is always fun for your working gal bridesmaids on a strict timeline and budget.
Shop Small
When picking out bridesmaid and groomsmen gifts and also gifts for guests help support your local retailers, especially if they offer locally made products. Nothing says you care like supporting the town you live in. That's something everyone can feel good about.
At Cactus Collective we don't shy away from the idea of eco-friendly weddings. The wedding industry in general can be a very discard-happy business but it doesn't have to be that way.
The biggest problem is that words like "green," "earthy," "sustainable," and "eco" aren't sexy. They tend to evoke visions of a thrifty, hodgepodge wedding which is the furthest thing from the truth. A low-footprint wedding doesn't have to be all or nothing. You can select the pieces and small things that are of highest importance to you.
You can create less environmental impact by doing even one or two things.
Everything from up-cycling a dress, using wedding invitations and paper products made from recycled paper, or even requesting ethical makeup products makes a huge difference.
Your wedding day is what you make of it and friends and family will feel great knowing they are taking part in something so Earth-friendly. We hope this has inspired you to try out some of your own ideas. We here are always excited to collaborate and make this dream a reality.
The Story Behind Our Sustainable Wedding Photoshoot
VENDORS:
Dessert: The Curious Confectionary
Animals: The Doyle
Furniture: The Doyle
Plan your ultimate sustainable wedding in Las Vegas

McKenzi Taylor
McKenzi Taylor is America's go-to elopement and micro wedding expert, often featured in small and major media outlets, such as the New York Times. With over 15 years of wedding photography experience, it was after planning her own Las Vegas elopement in 2016 that McKenzi felt her purpose shift into elopement coordination. She started Cactus Collective Weddings soon after in 2017. Since then, she's become a WIPA board member, and has helped well over 1000 couples get hitched in style around Las Vegas, San Diego and Black Hills.