Disclosure: This post may contain affiliate links. Please see our full disclaimer to learn more.
The perfect reception venue following your wedding or Las Vegas elopement is something every couple dreams of. Let's be honest; this is where the fun goes down, and the true celebration kicks in.
You're definitely in the right town. You've chosen our beautiful resort city that skirts the grand Mojave Desert, and no other place delivers colorfully brilliant sunsets quite like Las Vegas.
We've discovered some gem locations.
Featured
T-Bones Chophouse at Red Rock Casino
The classic American chophouse is hard to beat with exquisite cuts of juicy beef, the freshest seafood in town, sinfully delicious desserts and a uniquely personalized atmosphere for a wedding reception.
T-Bones Chophouse offers lovely options like their elegant private dining room for up to 30 guests and their main dining room that can accommodate more than 60 and still keep it cozy with a beautiful fireplace and furnishings.
There is also T-Bones Patio or T-Bones Bar for a glamorous cocktail reception. The restaurant boasts an incredible 7,500-bottle wine loft for plenty of wedding toasts to consider.
Contact:
Michelle Lee
[email protected]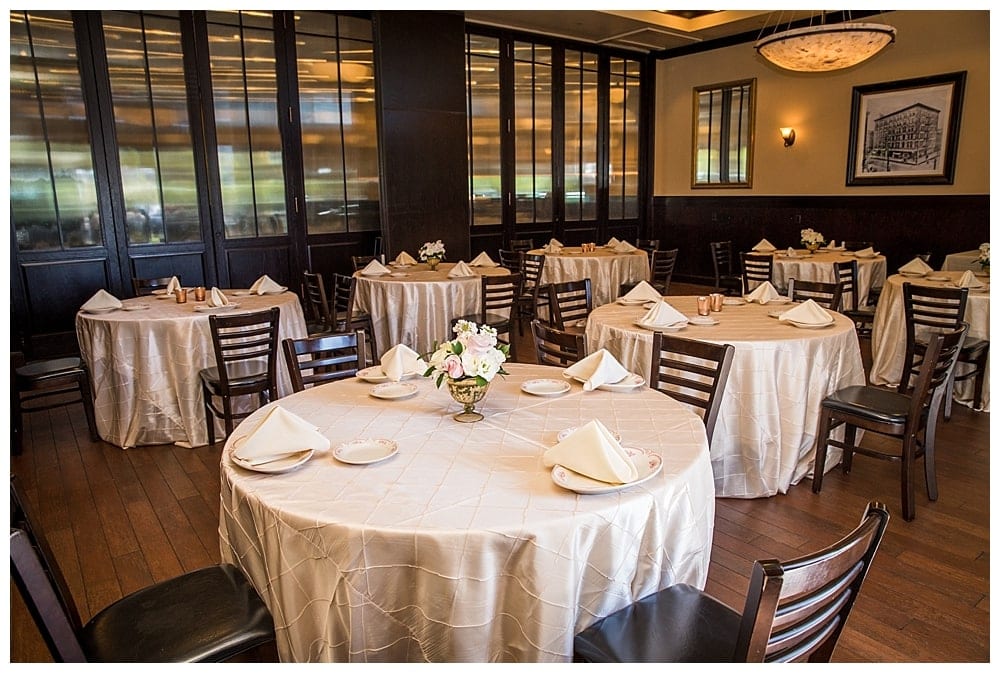 Maggiano's Little Italy at Downtown Summerlin
Sometimes, your getaway wedding celebration involves a little Italian culture and cuisine. Fans of Maggiano's call their food "deliciously insane" and brimming with the homemade flavors of southern Italian cooking. Freshly-made pasta, signature dishes with prime steaks, seafood and chicken and incredible salads make for a hearty reception meal.
At Maggiano's Little Italy, there's a strong family vibe as you enjoy a romantic dining experience surrounded by a graceful decor.
The restaurant has private rooms for a small reception following a Las Vegas elopement. There's also a large banquet room. The establishment features wedding reception packages that include the wedding cake.
Contact:
Lindsay Kleinholz
[email protected]
Carson Kitchen
Talk about a hip and trendy atmosphere, this venue has it with delightful options for your wedding reception. At Carson Kitchen, you can celebrate your sky-high love on their rooftop patio with a private bar for a small, intimate group.
The John E. Carson mid-century hotel courtyard also makes for that "classic Vegas throw-back space." Your wedding guests will enjoy a garden party atmosphere before heading inside for dining.
At Carson Kitchen, guests are not committed to a preselected entree. Their talented chef provides "table-center offerings" like scrumptious gyro tacos, veal meatballs and "killer" shrimp.
Canaletto Ristorante Veneto
For the ultimate in Venetian dining, Canaletto's is ideal for tiny wedding receptions to much larger ones. Their beautiful private dining rooms can accommodate from 6 to 80 guests in a sophisticated atmosphere boasting 16-foot ceilings and unforgettable balcony views of the Grand Canal and passing gondolas.
The menu's designed around a gorgeous selection of entrees like Scaloppine Milanese Con Insalata Toscana, Salmone Alla Griglia and Cannelloni di Pollo. The wine list is impressive, and the ambiance is old-world Italy with a touch of modernity.
Wedded couples rave about Canaletto's exquisite food, service and surroundings.
Contact:
Wedding Planner
[email protected]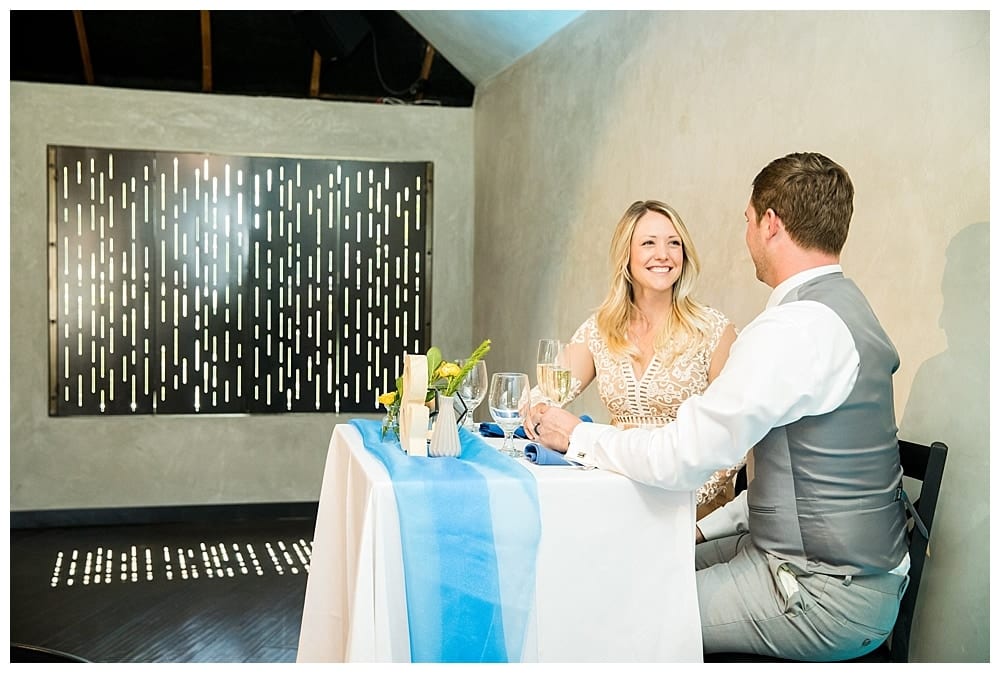 The Forge Social House
If you're searching for a charming place away from the hustle and bustle, then, The Forge Social House in nearby Boulder City is a wonderful choice. The restaurant is chic and airy with gorgeous wood interior design, high ceilings and handsome furnishings.
The facility is ideal for wedding receptions from large to tiny (like a Las Vegas elopement), and you can take an online tour to check out its welcome design. The staff is uber-professional and happy to provide a wonderful meal selection and beverages, wedding cake, entertainment/music, etc. If you're looking for a full-service facility that does it with style, look them up.
The Forge House is definitely delicious and one of our Best Reception Venues in Las Vegas.
Contact:
[email protected]
The Doyle
Some wedded couples prefer a hip, modern, open space they can call their own; they want to design a wedding reception their way. The Doyle is located in the heart of downtown Vegas and features a stunning wood barrel ceiling with truss work, refinished concrete floors, bistro and chandelier lighting, a lovely courtyard, tables and chairs, a bar, bridal room and more.
Rustic, industrial chic is the best way to describe The Doyle. It's a cool atmosphere for both small and large receptions and perfect for the do-it-yourself couple. The venue space has "great bones" for visualizing the ultimate reception.
Contact:
Mary Ellen Spann
[email protected]
Rhythms Event Center
It's sleek, modern and so ready for a wedding reception and the couple's chosen outside caterers. Rhythms Event Center is a new and unique venue that comes designed with all the right features. There's a gorgeous patio for guests to mingle and enjoy some cocktails, and inside, there's a full bar, state-of-the-art sound and lighting technology, round and banquet tables, lounge furniture and an elevated stage for live entertainment.
The event center is truly glamorous and trendy, and couples are immediately attracted to the hip interior and its 3,000 sq ft. design. Talk about a dance floor; if wedding reception guests want to let their hair down, the Rhythm Events Center provides the ideal dance floor layout to get your groove on.
Contact:
[email protected]
Off Strip:
35 Steaks + Martinis (at Hard Rock Hotel)
Brio Tuscan Grille
With capacity to seat up to 72 guests, Brio Tuscan Grille offers Italian (Tuscan) food and style. The venue advertises affordability, authenticity, and use of fine, fresh ingredients daily. Italian cuisine includes seafood dishes, pasta specialties, and grilled items.
Bottiglia
Located inside the Green Valley Ranch Resort, Bottiglia has seating capacity to host 74-250 guests and is available for buyout. Bright and airy surroundings make for a delightfully scenic atmosphere for events, along with its stunning views of the Las Vegas Desert. Bottiglia's rustic Italian cuisine is made with high quality, fresh ingredients, and they even have vegetarian, vegan, and gluten-free options available.
Cili
The tranquility of nature infused with desert scenery is the PGA style experience at Cili at Bali Hai. This breathtaking ambience offers American cuisine with an Asian twist. For a seated reception, The Cili Dining Room holds 225-245 guests, and for a strolling cocktail reception 450 guests. Oasis Private Dining area oversees the Signature 16th Island Green and accommodates 40 guests. The Island Patio seats 110 guests and offers a strolling cocktail reception of 150 guests. 140 guests can sit in the Aloha Room, or 185 guests can enjoy a strolling cocktail.
Del Frisco Double Eagle Steakhouse
Del Frisco Double Eagle Steakhouse offers traditional, grandiose steakhouse food and atmosphere. The venue's stellar wine list boasts over 1200 selections. With 8 dining rooms, a wine cellar, and cigar patio, patrons can choose a seating capacity of twenty to 120.
Firefly Tapas Kitchen & Bar
Firefly Tapas Kitchen & Bar features hot and cold Spanish inspired tapas, which can be served buffet or feast style, or made to order individually. Wine is available by the glass, as well as beer and cocktails. This restaurant/banquet hall styled venue can seat up to 150 guests.
Fleming's Steakhouse
The steakhouse can seat thirty to eighty guests, and the option to rent the entire restaurant is available. Fleming's menu varies by season or whenever inspiration calls out for different ingredients. With locally selected wines, spirits and cocktails, the bar is always open.
Fogo de Chao
Offering an elegant Brazilian style and menu, Fogo de Chao provides semi-private and private dining rooms and flexible table layouts. Its contemporary scenery and elevated ceilings allow for a wide array of wedding décor. They provide a gourmet salad bar, sophisticated wine list, and an open bar for an evening of custom made cocktails. This festive venue can accommodate up to 200 guests (or full restaurant buyouts).
Gaetano's Ristorante
Serving authentic Italian cuisine alongside hints of modern art, Gaetano's Ristorante dishes up a widely diverse menu, including homemade ravioli's and pastas, poultry, veal, prime beef and seafood. Gaetano's asserts that they use fresh ingredients presented in a gourmet, yet home-style way. Additionally, they offer a unique list of wines, cocktails, and liqueur. This elegant venue seats up to 150 guests.
Hank's Fine Steaks & Martinis
Located within the Green Valley Ranch property, this relaxing ambience offers meeting rooms with spectacular views of their impeccable gardens, pool, and even the Las Vegas strip. Without the congestion of the strip, the establishment boasts that its open space is perfect for the most elegant outdoor events. As well, their banquets can host ten to 5,000 guests. True to their name, Hank's Fine Steaks & Martinis offers an extensive menu of the fine foods expected from an upscale steakhouse, including lobster, calamari, steaks, ribs, oysters, premium wines and more.
Hofbrauhaus Seating up to 1,000
Lawry's Prime Rib Up to 200 people
Marche Bacchus
Mood (at Artisan Hotel)
Morton's Steakhouse Private dining for 18-150 people
SC Prime Steakhouse (at Suncoast) Private dining for 6-14 people
T-Bones Chophouse
Todd's Unique Dining
Via Brasil Steakhouse Private and semiprivate dining for 15-350
VooDoo Steakhouse and Rooftop Lounge (at Rio) 13-416
Downtown:
Andiamo Steakhouse (at The D)
Commonwealth
Great for a cocktail themed reception, this stylish, social scene venue combines art and architecture inspired by the era of Pre-Prohibition. This venue can be described as 6,000 square feet of the hippest of fun. (Specific information about food and seating capacity is not available. Commonwealth must be contacted directly to inquire).
Carson Kitchen
The Pepper Club inside The ENGLiSH Hotel
Strip Restaurants:
Jean George Steakhouse Private seating from 12 people, hosts up to 266
Lemongrass Private rooms for 10, seats up to 110
Bellagio Buffet: The Buffet
Overall, the Bellagio Buffet can host 18-240 guests privately and semi-privately. Exuding the same luxurious style as their casino, the venue asserts a gourmet style menu, asserting that they utilize fresh ingredients to create some of the greatest dishes from around the world.
Yellowtail Private and semi-private dining for 18-240 guests
Caesars Palace Buffet: Bacchanal Buffet
Voted best buffet in Las Vegas by USA Today, this venue commands great respect with its modern and trendy food presentations in an elite, yet casual setting. Aside from the wide variety of 500 dishes they serve daily, the Bacchanal Buffet offers all you care to drink upgrades and unlimited mimosas. There was no specific information available online regarding seating capacity.
Joe's Seafood+Prime Steak
Guy Savoy Krug Chef's Table 2-6 people
Cheesecake Factory
Well known for its contemporary atmosphere, delightful variety of dishes and eclectic styled and delicious cheesecakes, the Cheesecake Factory can host up to 150 guests on the day of any big event. They even offer fantastic cocktails, a stellar wine list, and outdoor seating. It's sophisticated décor and fun theme is sure to be an unforgettable scene for many years to come.
Joe's Seafood, Prime Steak & Stone Crab Private and semi-private dining for 10-200 people
The Palm Private dining for 15-100 people
Cosmopolitan Buffet: Wicked Spoon
A unique buffet that serves individualized plates ready to take to tables, this buffet is a delight for those with high end tastes. The venue serves its own unique creations, as well as offers its own spin on familiar favorites. Wicked spoon offers healthy options, seasonal dishes, and all you can drink upgrades. No information is available on seating capacity. However, the restaurant suggests calling ahead for parties of 13 or more, or submitting an online request.
Jaleo
STK Private dining from 16-260 people
Excalibur Buffet: Excalibur
Buca di Beppo
Serving up what they describe as "Old World" Italian dishes, Buca di Beppo boasts an extensive, customizable décor with family style dining and relaxed atmosphere. Although an exact number is not mentioned as far as their seating capacity, the restaurant chain exclaims to enjoy hosting parties of any size. They suggest calling for a consultation. On and off strip locations available.
The Capital Grille Private dining for 14 people and up
El Segundo Sol Private dining for 14-60 people
Maggiano's Private dining for 14-250 people
Charles Palmer Steak – Four Seasons
This elite four seasons steakhouse features a high end sophisticated menu. This relaxed atmosphere has to its credit a delightfully innovative spin on classic steak dishes and clubhouse ambience. Charlie Palmer Steak has seating capacity to host 25-150 guests among its private dining room, lounge private dining room, and main dining room exclusive. For buyouts, the full restaurant can host 270 seated, and 300 standing guests for a lovely, fabulous event.
Margaritaville Private dining from 40-675 people
Luxor Buffet: MORE
Tender Steak and Seafood Up to 75 guests
T&T Tacos & Tequila Up to 400 people
Mandalay Bay Buffet: Bayside
Aureole
Border Grill at Mandalay Bay
A vibrant and colorful venue, Border Grill's atmosphere offers creative renditions of traditional Mexican dishes. Its bright murals add a lively and hip feel that tops off the ambience in a fresh and exciting way. The venue has rooms available for 30-1,000 guests, and is available for buyout.
Burger Bar Up to 150 people
House of Blues and Foundation Room
Kumi Up to 40 people
Red Square Up to 200 people
Ri Ra Irish Pub Up to 110 people
StripSteak
MOzen Bistro Private dining up to 48 people
MGM Buffet: MGM Grand Buffet
L'Atelier de Joel Robuchon
Hakkasan Private events from 10-3,638 people
Michael Mina PUB 1842
Shibuya
Il Fornaio Private dining for 20+ people
CUT
Located at the Palazzo, CUT by chef Wolfgang Puck offers an upscale, modern and romantic ambience that's sure to set the mood for a most memorable occasion. CUT has the seating and standing capacity to host 56-250 guests among their private, semi-private, and main dining rooms. However, the venue is also available for buyouts, in which case, it can accommodate 280-400 guests. Renowned for his distinctive culinary dishes, Puck features the finest of steaks, wood fire pizzas, and barbecue. With a diverse menu of steakhouse delights and comfort food, there's a wonderful delight for every palate to enjoy!
Grand Lux Cafe Private dining for 70-410 people
LAVO Private dining for 28-1000 people
Sushisamba Private dining for 12-150 people
Eiffel Tower Restaurant Private and semiprivate dining for 14-320 guests
Mon Ami Gabi Private and semiprivate dining for 24-450 guests
Planet Hollywood Buffet: Spice Market Buffet
KOI
Strip House
Wolfgang Puck Pizzeria and Cucina Private dining from 60 people, hosts up to 108 people
Top of the World Private dining for 20 or more
Brio Tuscan Grille Private dining for 10-72 people
Texas de Brazil
Tommy Bahama Private dining for 60-120 people
Treasure Island Buffet: The Buffet at TI
Bouchon
Inside the Venezia tower of the Venetian Resort-Hotel-Casino, this venue has gorgeous Parisian design that makes it a breathtaking sight. Their cuisine offers a cleaner, lighter flavor of classical French dishes. The French Bistro can accommodate ten to 400 guests either seated or standing, and is available for buyout.
Canaletto
Located inside the Venetian, this bold, modern atmosphere is quite upbeat, even offering live music. Casual, but luxurious, the venue hosts 16 foot high ceilings, and five distinct private rooms. Serving Italian cuisine, the Canaletto's dining areas can accommodate 175 seated guests and more than a 300 person reception.
Delmonico Steakhouse Private dining for 30-70 people
Grand Lux Cafe Private dining for 70-410 people
TAO Private dining for 22-3,000 people
Wynn Buffet: The Buffet
Lakeside Private dining for 10-100 people
Trece Eatery + Spirits
Download the Ultimate Destination Wedding Checklist for Couples

McKenzi Taylor
McKenzi Taylor is America's go-to elopement and micro wedding expert, often featured in small and major media outlets, such as the New York Times. With over 15 years of wedding photography experience, it was after planning her own Las Vegas elopement in 2016 that McKenzi felt her purpose shift into elopement coordination. She started Cactus Collective Weddings soon after in 2017. Since then, she's become a WIPA board member, and has helped well over 1000 couples get hitched in style around Las Vegas, San Diego and Black Hills.