Disclosure: This post may contain affiliate links. Please see our full disclaimer to learn more.
Las Vegas, the wedding capital of the world, celebrates more than 150 weddings per day, and not all of them take place at a 24-hour drive-thru chapel.
Sin City also offers some of the most picturesque and serene desertscapes in the world, which are perfect for your special day and will result in Instagram-worthy snaps and gorgeous frameable photos.
Cactus Collective Weddings provides the permits for these breathtaking locations, as well as everything else you need for your micro wedding or elopement. Our affordable wedding packages include our signature photography, a modern officiant and lovely floral bouquets.
Cactus Collective Weddings are affordable and stress-free. Pick your favorite venue and we do the rest. All you have to do is show up!
1. Red Rock Canyon – The Overlook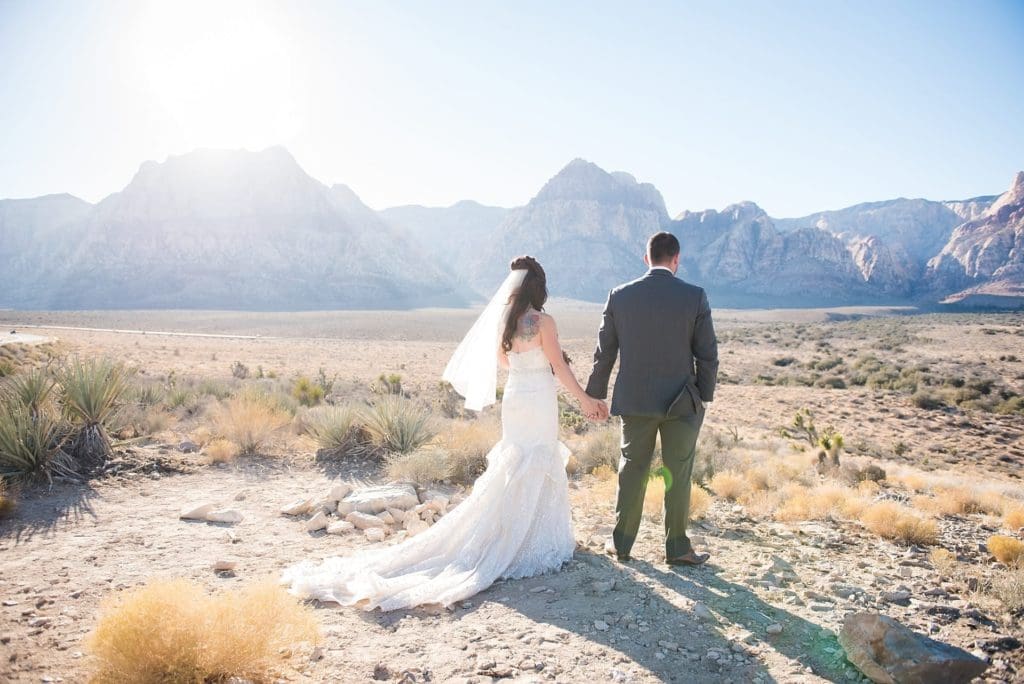 Located just about 20 minutes from the Strip, this stunning vista in the Mojave Desert provides many beautiful backdrops for your wedding day.
The sunsets are among the loveliest on the planet, and there is a sereneness to the area with its impressive mountains and famous red-tinged rock formations that surround a couple celebrating their union.
The photos that capture your wedding ceremony will be the most unique and truly memorable.
From two to fifty guests, getting married at Red Rock Canyon is very accommodating to those who share in your happiness.
Our most popular packages include a modern minister, professional photography and fabulous florals.
For whatever you request, we will be happy to create the perfect outdoor wedding venue.
2. Red Rock Canyon – Ash Springs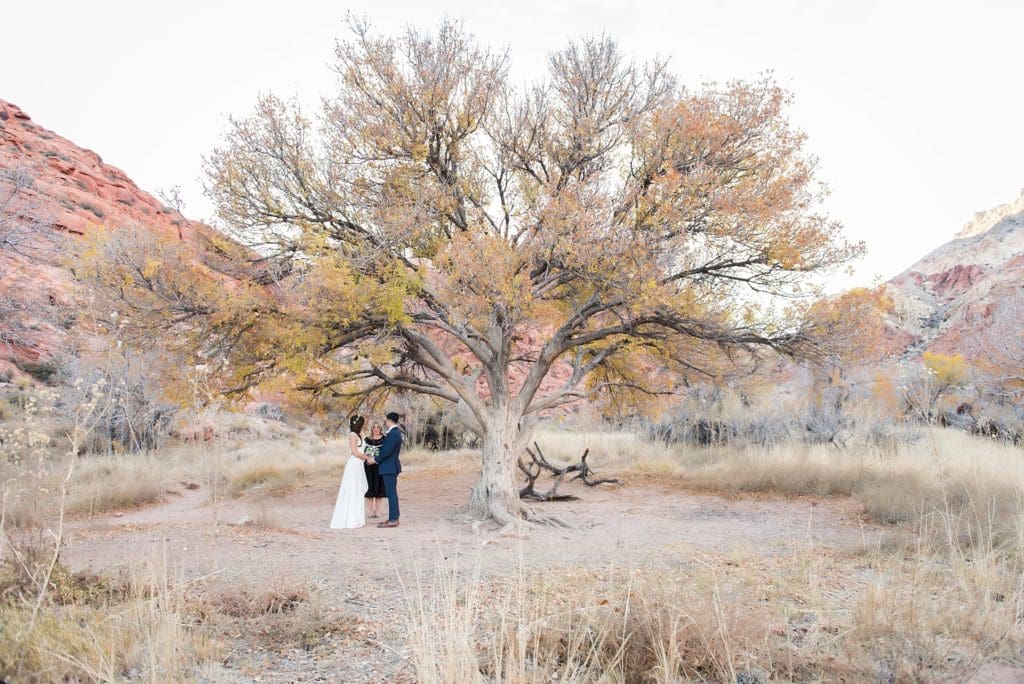 Here is another gorgeous place nestled in the famous canyon that has become a popular setting to tie the knot.
Ash Springs by the Calico Basin features striking red and white sandstone cliffs, dreamy grassland and a rustic boardwalk that can become your wedding aisle in nature.
The scenery is so pretty that anywhere you stand to say "I do" creates a magical and colorful moment.
3. Red Rock Canyon – Red Springs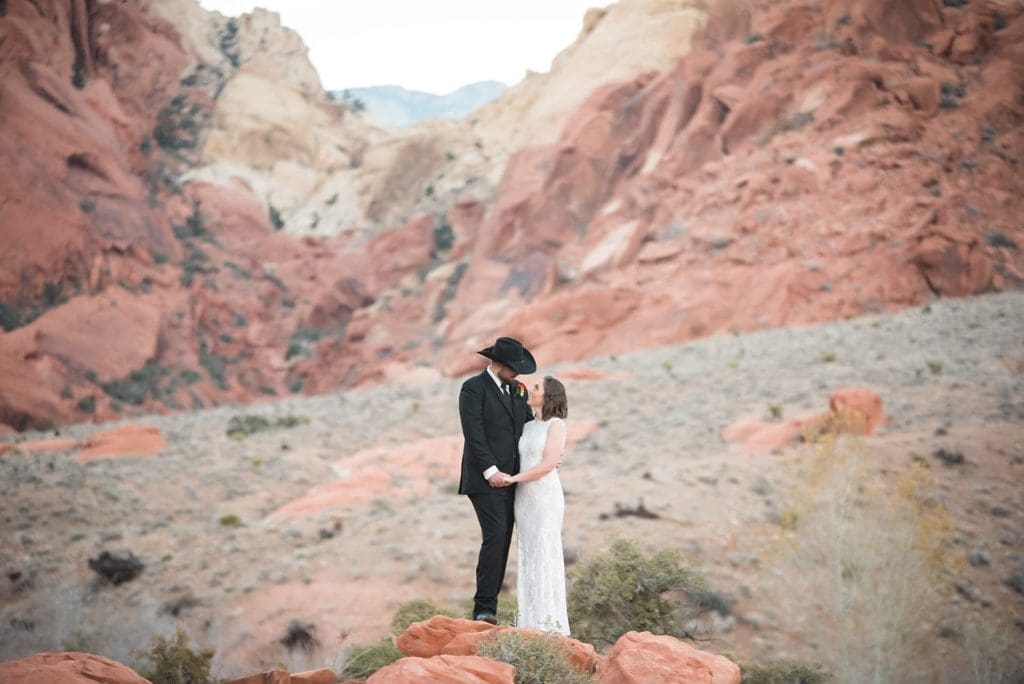 Big cottonwood trees, honey mesquite and saltgrass meadows all thrive at Red Springs by the Calico Basin.
The area is located at the far side of the rustic, wooden boardwalk that also greets visitors at Ash Springs.
This spot never fails to deliver stunning photographs of an elegant outdoor wedding venue.
Red Springs is calm, intimate and yields incredible panoramic views of the mountain range. It is nature at its finest.
4. Floyd Lamb Park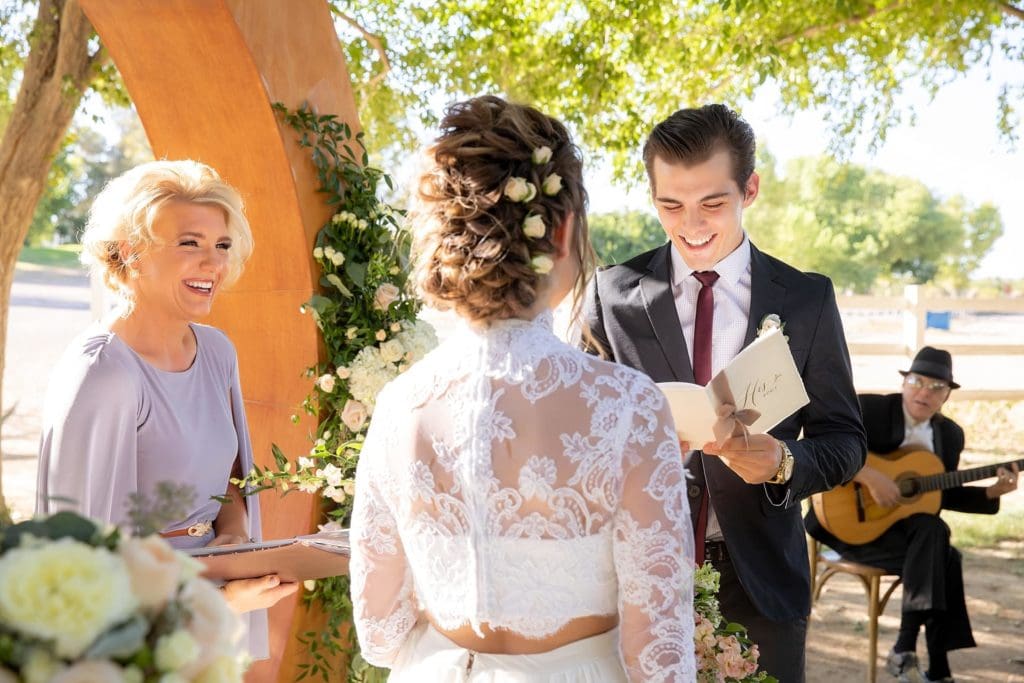 Imagine a park in all its greenery and smack dab in the middle of an oasis of small lakes in the Mojave Desert.
Floyd Lamb Park at Tule Springs is that special place and another excellent wedding venue in Las Vegas to consider.
The area has much to offer the modern, romantic couple such as plenty of rich vegetation, friendly wildlife, inviting lakes and scenic views of the Sheep and Spring Mountain Ranges.
The park also features a working ranch and is an area with abundant history. It is located about 15 miles from downtown Las Vegas.
5. Cactus Joe's Blue Diamond Nursery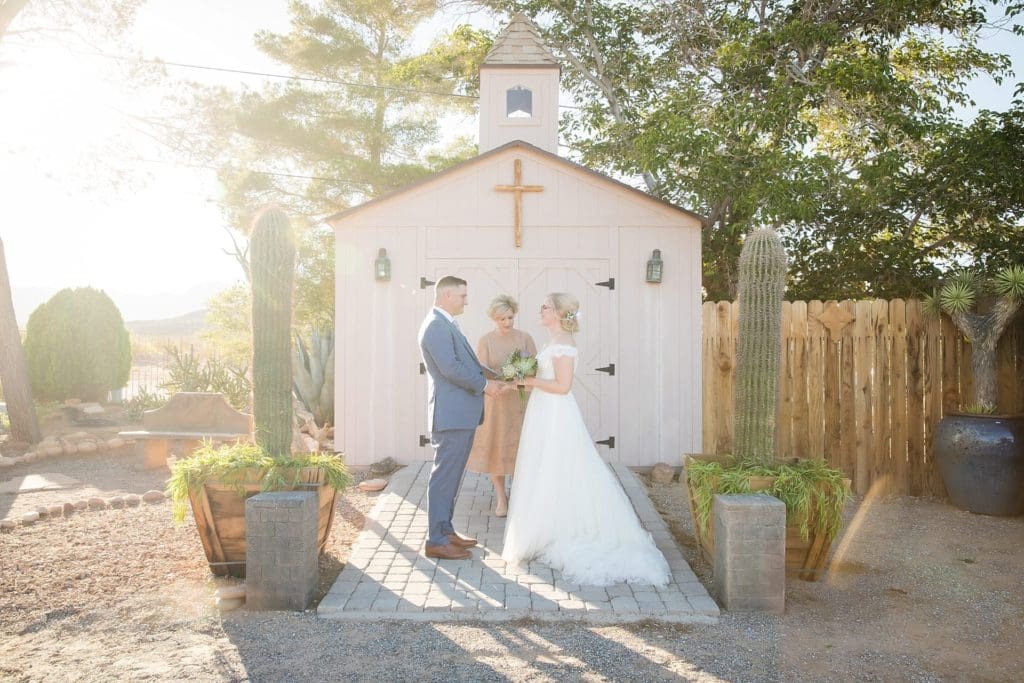 When the typical just won't do, Cactus Joe's delivers uniqueness in a whole new way for a couple who wants to tie the knot.
First of all, the eclectic garden center en route to Red Rock Canyon features the ultimate southwestern vibe.
There are rows of striking cacti and Joshua trees, beautiful pottery pieces and charming art to take in and/or purchase as a symbol of your everlasting love.
Tucked away is a most charming, small wedding chapel on the premises that can accommodate up to 14 inside.
Its pretty pine woodwork interior is a must-see and an ideal spot for those seeking a little touch of wedding tradition.
6. The Dry Lake Bed
Talk about a surreal scenery surrounding this Great Basin valley.
Like something out of a movie, the Eldorado Dry Lake Bed in the Mojave Desert is yet another intimate wedding venue in Las Vegas located on a huge stretch of land with an almost endless horizon.
As you walk hand in hand to your wedding officiant, each step taken is over a cracked earth landscape.
You will never experience this type of topography anywhere else.
Tying the knot at the Dry Lake Bed is simple, serene and like living on the edge of the universe.
Best of all, the spot is a mere 30 minutes from the Las Vegas Strip.
7. Eldorado Canyon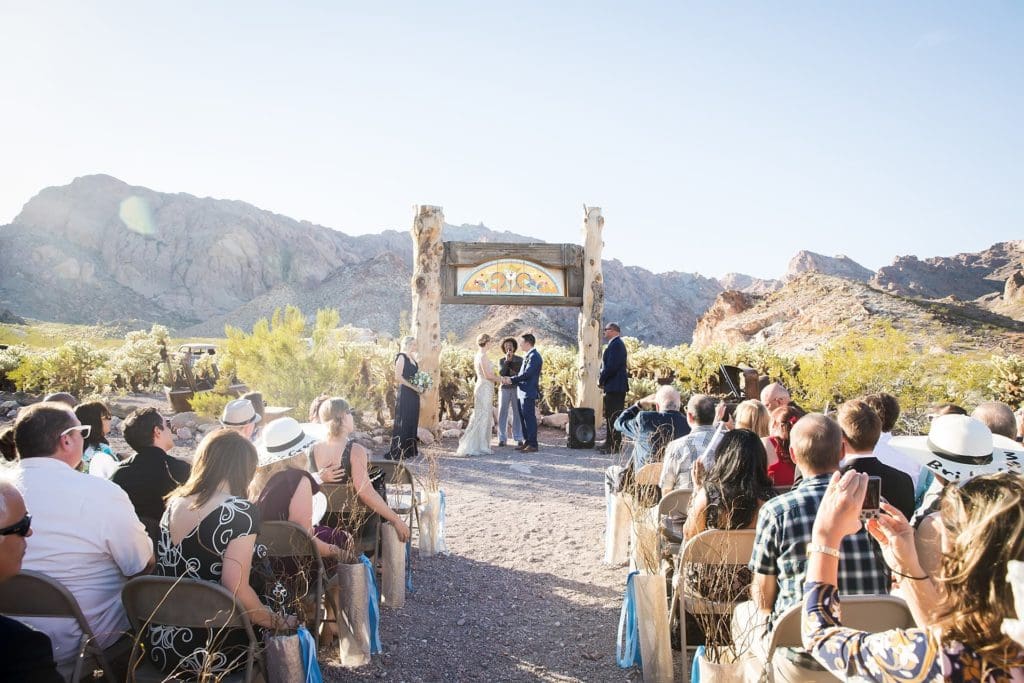 It's got the desert, mountainous backdrop, rich mining history, romance, rustic old structures and vehicles.
This secluded ghost town rocks in the most vintage way for creating the ideal and non-typical, outdoor wedding location. It's just 45 minutes away from the Strip.
Couples can get married here from days gone by, and then, they can pose for photos by some awesome antiques like dilapidated barns, a saloon, antiquated gas pumps, cool vintage cars and trucks and even at the remains of an old plane crash.
The vibe is a little Old Wild West and vintage Bonny and Clyde. It's a cool fantasy wedding site.
8. Valley of Fire State Park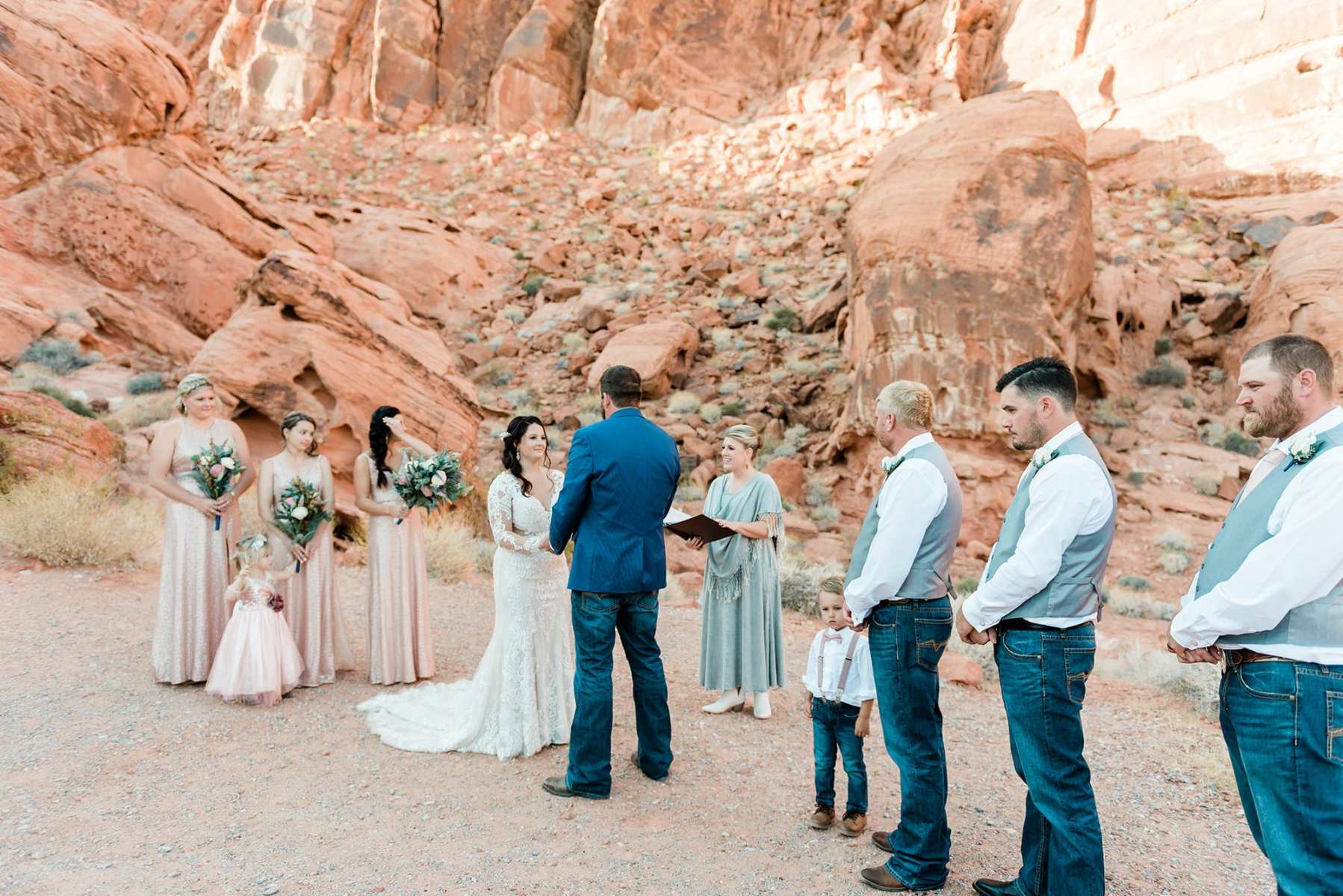 This location is vivid in all respects from its bold red Aztec sandstone formations and surrounding gray/tan limestone to its 3,000-year-old Indian petroglyphs and stunning green and blue desert flora throughout.
The sunsets are phenomenal and perfect for that special outdoors-with-nature kind of wedding ceremony.
Valley of Fire State Park is Nevada's oldest park and was formed during the dinosaur era. It is one of the most enchanting spots for creating a very romantic wedding.
Elephant Rock and Arch Rock dazzle the eye with their unusual formations.
9. Mt. Charleston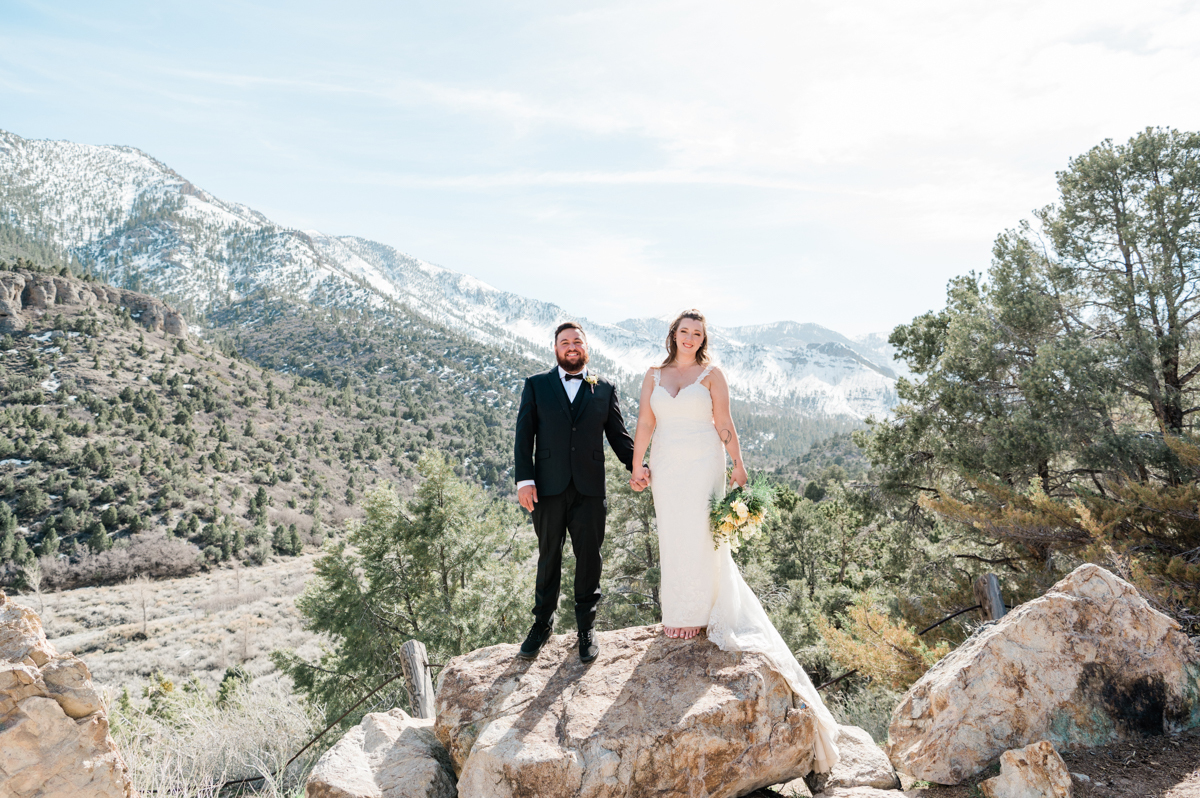 Looking for a cool and calm mountain escape that's drivable and less than an hour from the Las Vegas Strip? Head for Southern Nevada's favorite peak, where the blistering summer temps fade away as you ascend to 6,700 feet.
While the valley swelters in summer, this is an ideal year-round respite and an unexpected oasis in the middle of a desert. The temperatures are regularly 20 degrees cooler than in the heart of Vegas.
Say "I do" overlooking the canyon and surrounding mountains. The venue has an outlandish charm taken straight out of a picture book. The scenery is ideal for beautiful wedding photographs. No one would suspect you held your wedding just 45 minutes from The Strip.
Lodging at the Retreat at Mt. Charleston includes plenty of conveniences and amenities in their 60- guest rooms.
10. Lee Canyon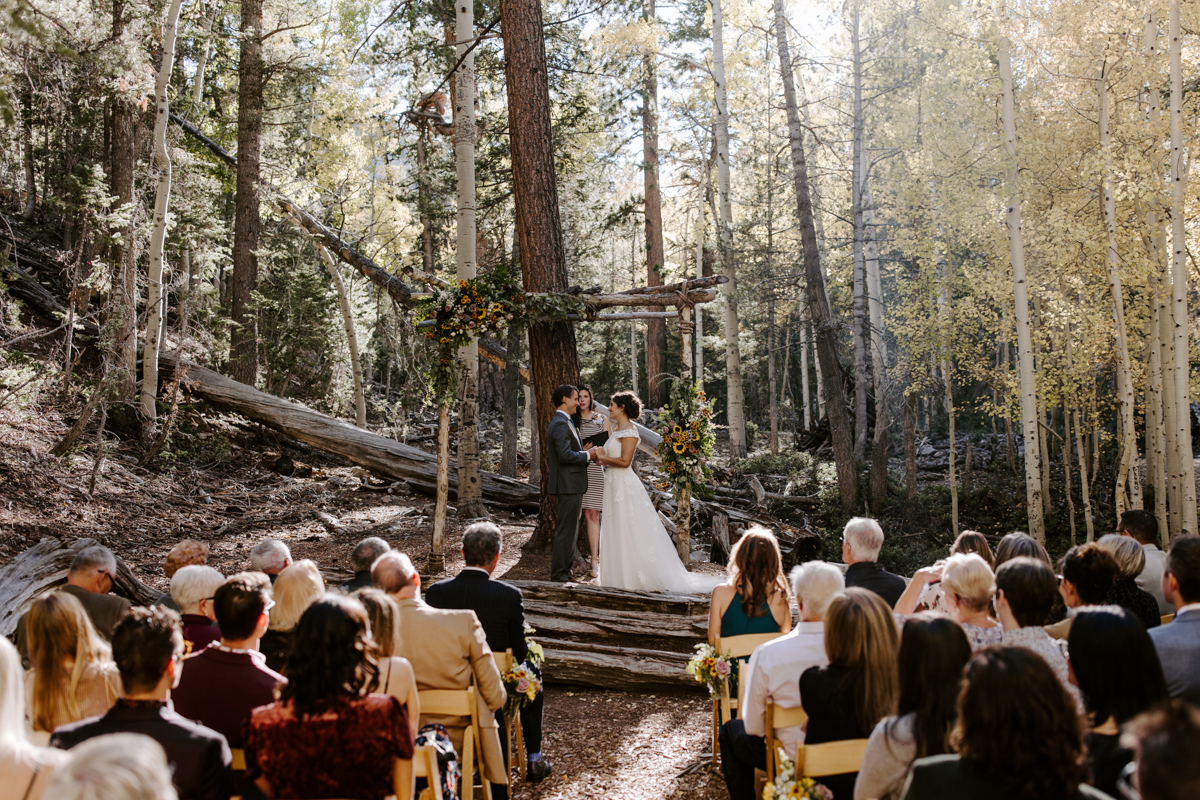 Situated 35 miles northwest of Las Vega in the Humboldt-Toiyabe National Forest and Spring Mountains National Recreation Area, this beautiful outdoor venue allows couples to escape the city in favor of a bucolic mountain retreat. 
At an elevation above 8,600 feet, you'll feel like you've left the scorching desert and entered a mountain lover's paradise. In summer, you'll say "I do" amongst blooming endemic wildflowers, while 160 inches of snow a year provide a beautiful winter backdrop just an hour from the Las Vegas Strip.
Say "I do" amongst family, friends and nature's splendor while still having the convenience and variety found in America's playground just down the hill.
The Spring Mountains provide the quiet and solitude you won't find in the resort corridor.
Ceremonies are held at Aspen Grove, an intimate spot surrounded by majestic peaks and towering Aspen trees.
Get prepared in a private yurt or inside one of the buildings offering distinctive couple's suites.
11. Green Valley Ranch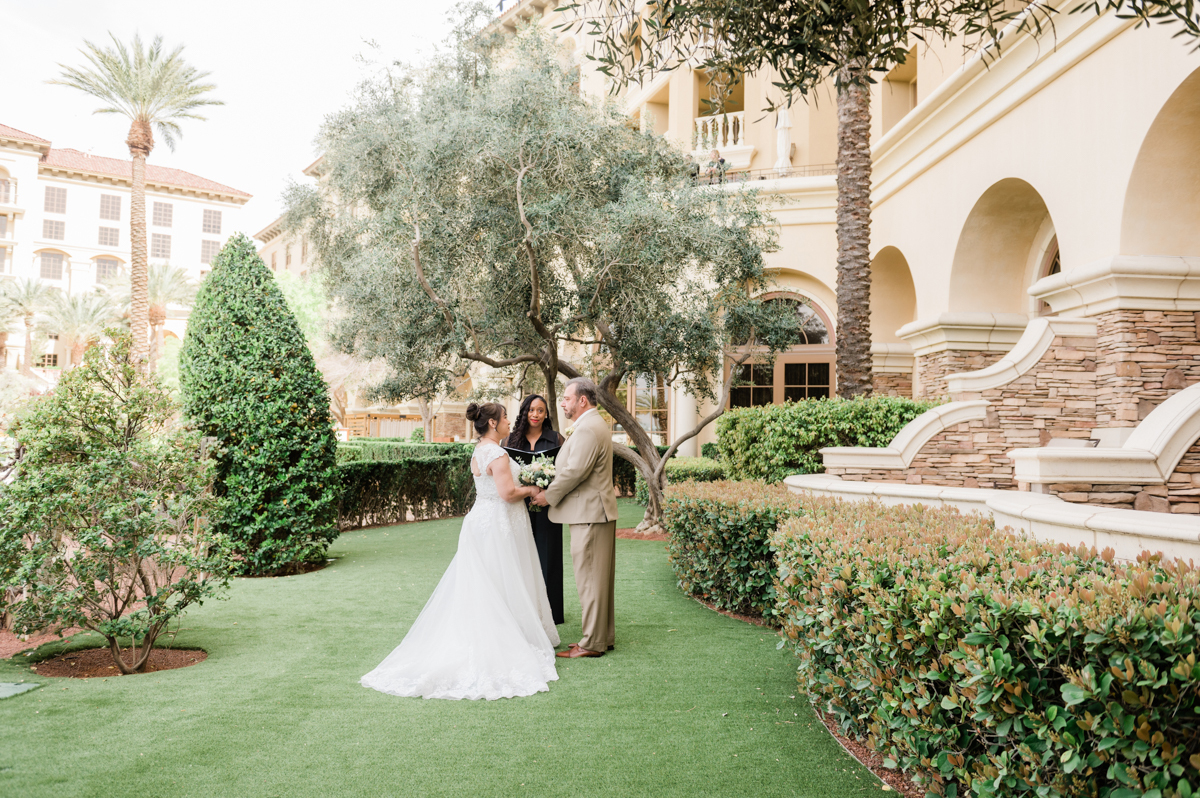 Green Valley Ranch Luxury Resort, Spa and Casino has everything you need for your destination micro wedding or elopement. Stay in the hotel's west tower to be just a short walk to the vineyard ceremony site.
Get prepared in your generously appointed hotel room, suite or villa.
Tie the knot under the sunny Las Vegas sky in a lush garden oasis.
Located just 10 minutes from the Harry Reid International Airport, this luxury resort gives couples a European inspired oasis where they can have a relaxing outdoor wedding.
The grounds include a vineyard where you can get hitched amongst rows of grapevines just steps away from your hotel room. The Italian-ate garden setting is a perfect spot for incredible wedding photography.
There's no shortage of things to do or ways to relax at GVR.
12. Neon Museum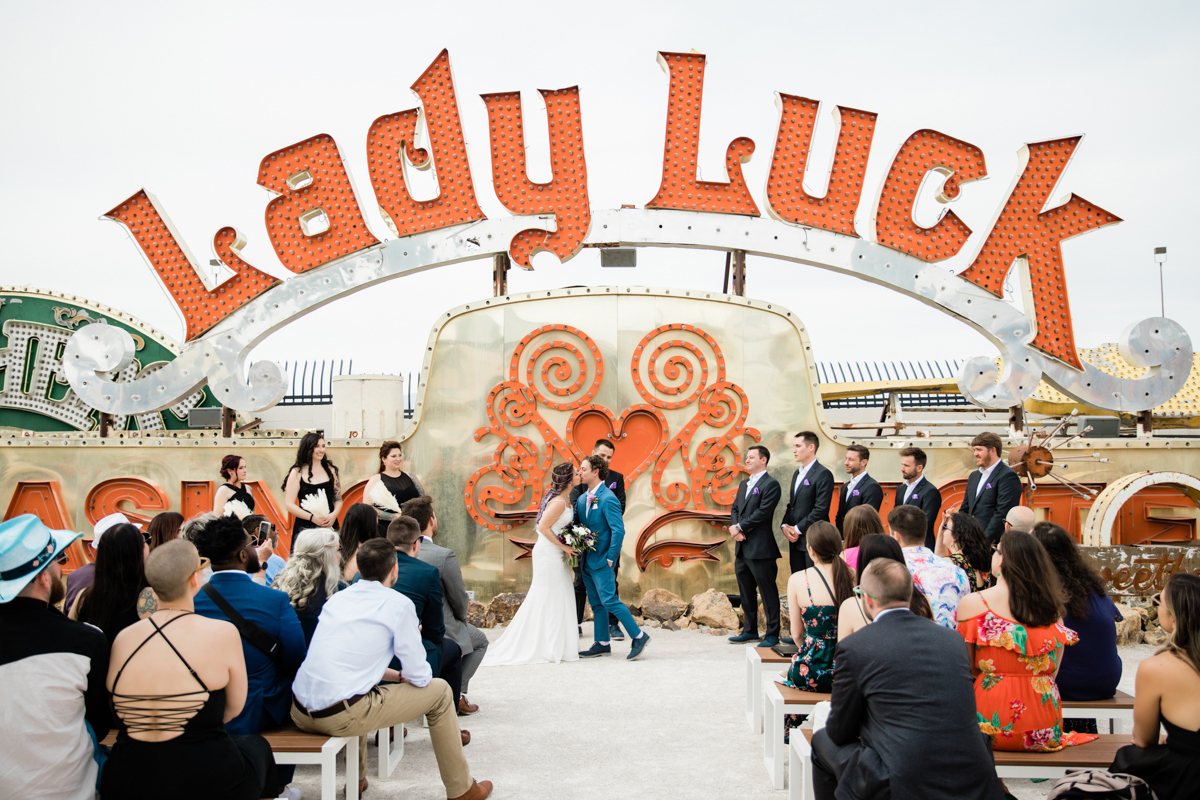 For the couple that appreciates the Vegas vibe, remembers the neon lights of yesteryear and wants a piece of historic Vegas added to their special day, The Neon Museum provides just that. 
The museum takes history seriously and is dedicated to collecting, preserving, studying and exhibiting iconic Las Vegas signs for educational, historic, arts and cultural enrichment.
Wedding ceremonies take place in the Neon Boneyard North Gallery, overflowing with rescued signs.
This is one of our most popular ceremony sites, so please book well in advance.
13. Bellagio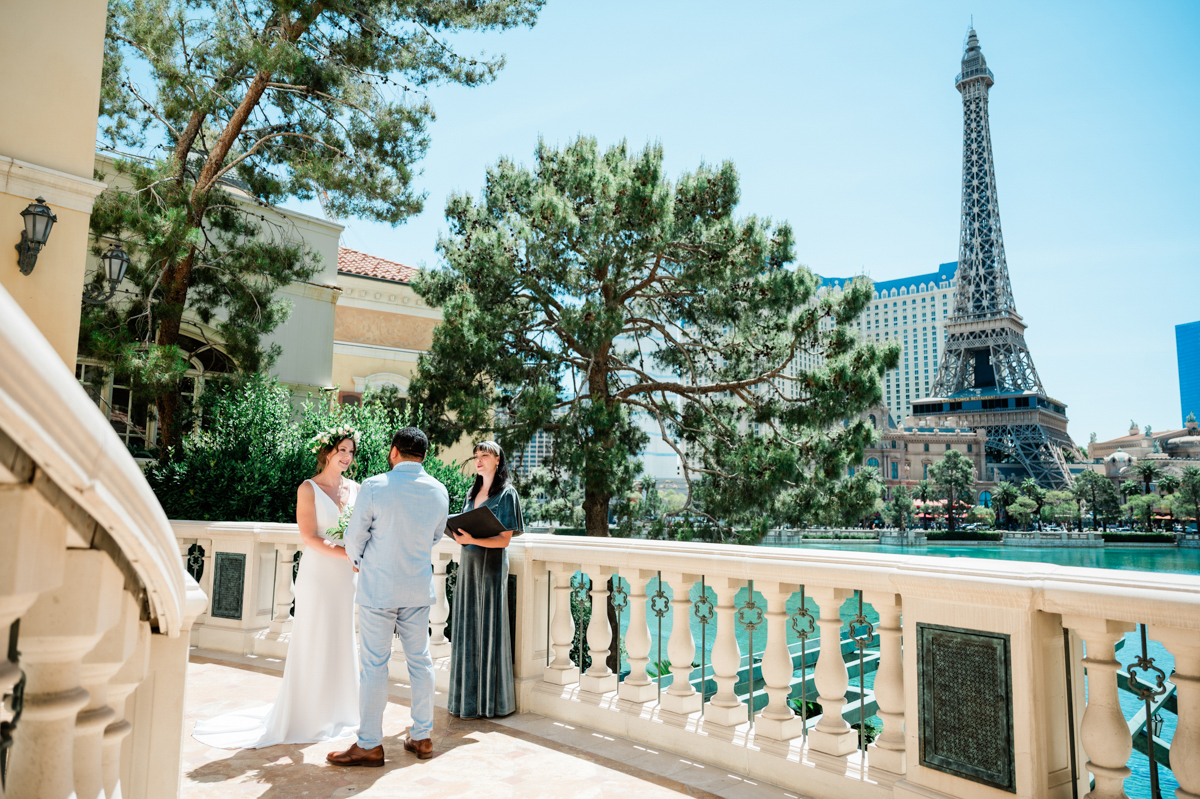 Weddings at the ever-elegant Bellagio are as quintessentially Vegas as it can get. 
This magnificent resort sits at the heart of the Vegas Strip, where all the action happens.
Inspired by the romantic Italian village of Bellagio, this luxury hotel offers charming outdoor venues fit for a storybook wedding.
The famous dancing fountains and the resort's elegant architecture are perfect for making outstanding wedding photos.
Because the Bellagio is a 5-star resort, you'll be pampered with this all-in-one venue's accommodations, food and entertainment.
14. Canyon Gate Country Club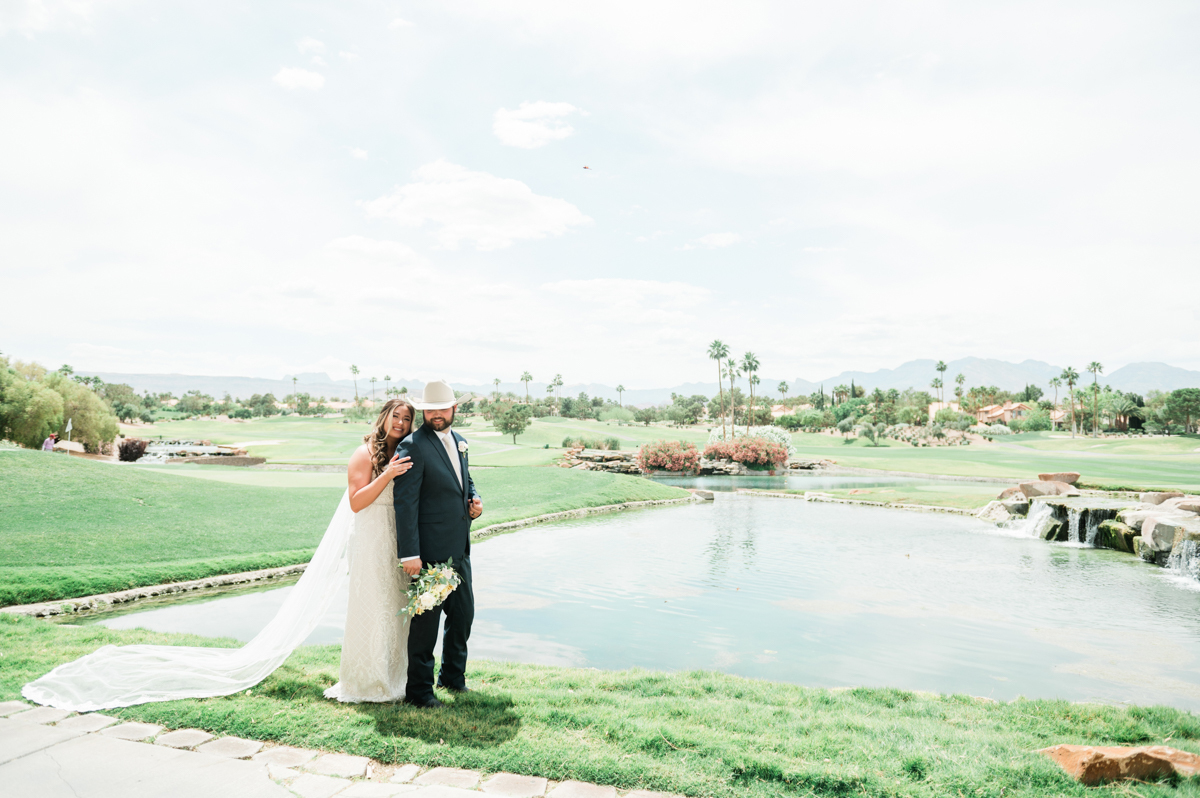 Get married surrounded by your closest family and friends overlooking a peaceful lake and luxurious greenery at the Canyon Gate Country Club.
Weddings in Las Vegas are not complete without the Red Rock Mountains in the background, which look spectacular when viewed from the Lakeview Patio, The Arch or through the Canyon Gate Grand Ballroom's 25-foot glass windows.
Classic Greco-Roman-inspired architecture provides an elegant backdrop for your photography.
Just 20 minutes from the Strip and Harry Reid International Airport, it's easy to get there no matter where you're staying.
15. GreenGale Farms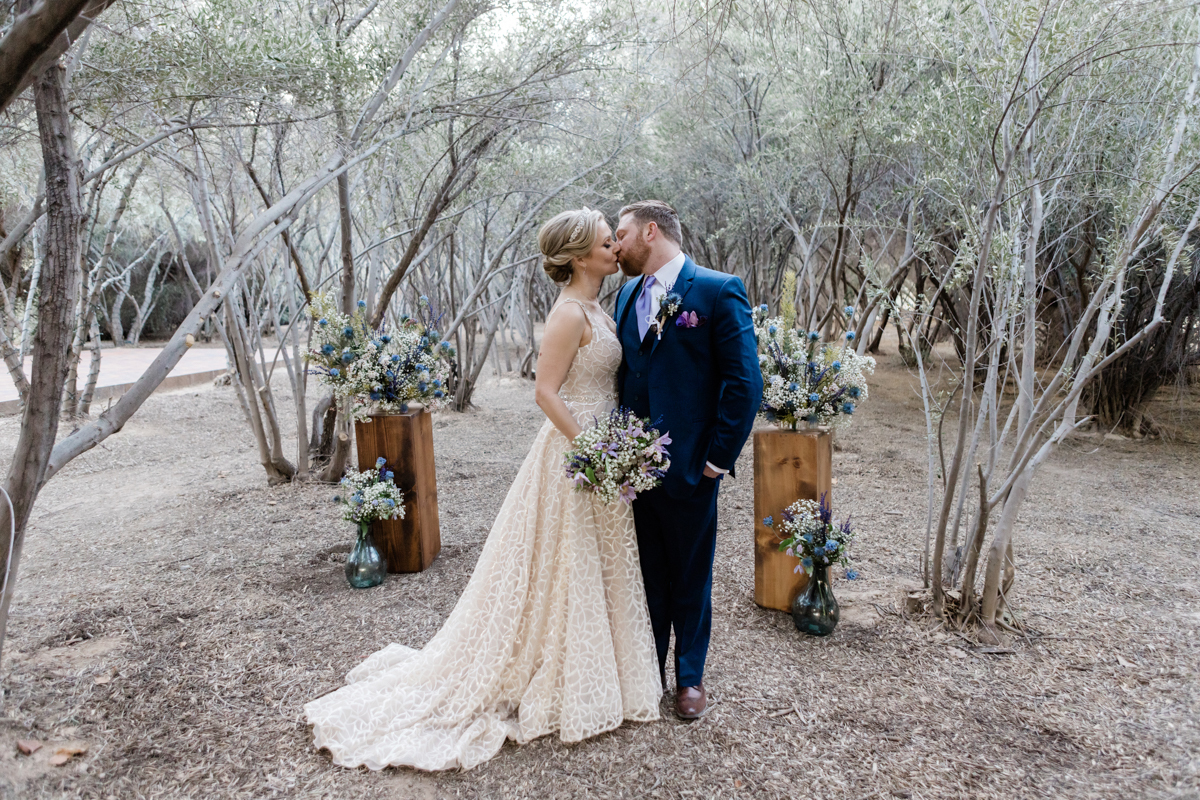 Within the grounds of this truly unique, family-owned farm are multiple all-natural backdrops: fruit orchards, palm tree forests, rustic woodlands, shaded olive groves and a pristine desert wilderness.
Couples holding their ceremony here will be treated to a relaxed, intimate ceremony and endless photoshoot possibilities.
If you've got a soft spot for animals, this is the wedding venue for you. GreenGale Farms is a full-time animal sanctuary for rescued farm animals.
Part of the location fee goes toward caring for the menagerie of animals that now call this place home.
Looking to get really local? GreenGale is owned and operated by a local Vegas family and is also eco-friendly.
Located in North Las Vegas and a 20-minute drive from the Strip, you can still be close to the action.
16. JW Marriott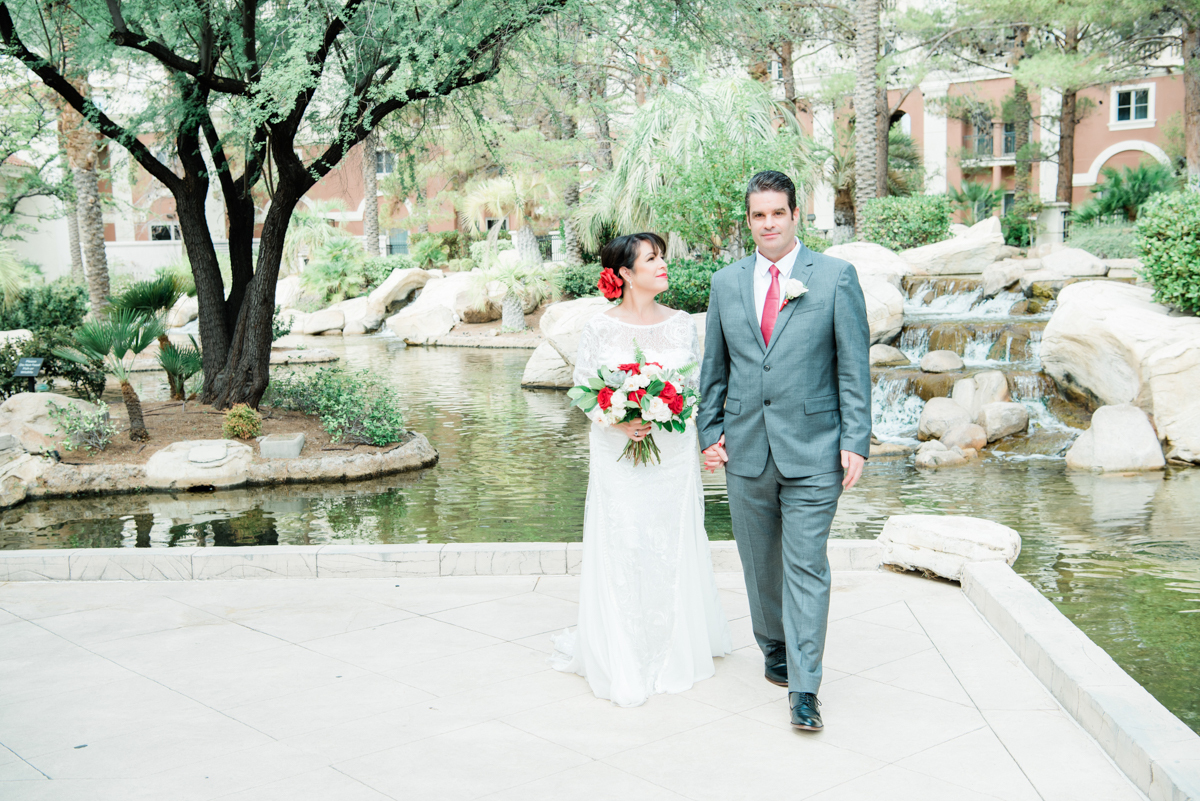 JW Marriott Las Vegas is a welcoming respite from the desert with a wonderful location close to all the Summerlin action. 
Wedding ceremonies are stress-free and easy with all you need on wedding day right at your fingertips.
This majestic Mediterranean-style venue is located just 20 minutes west of the Strip and is a stone's throw from the Red Rock Canyon National Recreation Area.
Away from the chaos of the Strip couples enjoy a peaceful retreat where they can unwind in luxury.
Start your happily ever after amongst an oasis of water features, palm trees and pristine lawns.
A number of photogenic settings offer couples serenity in the desert and timeless memories.
17. Red Rock Resort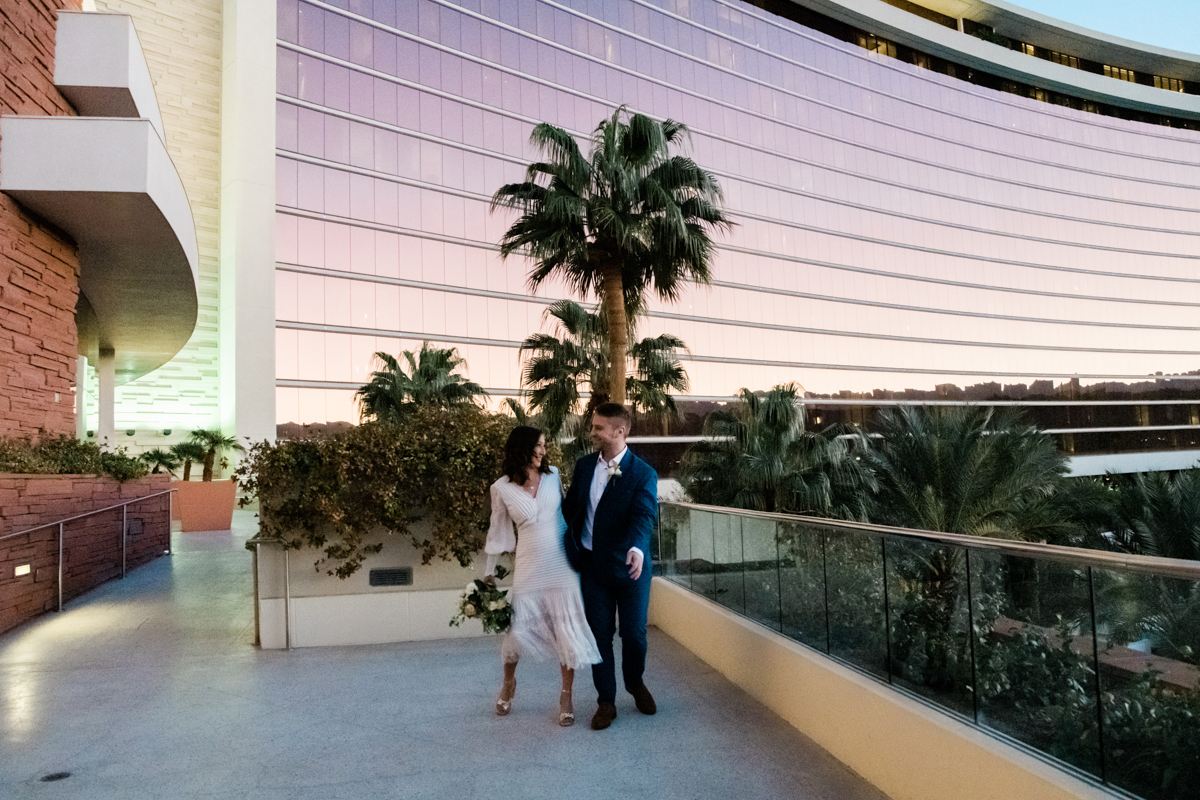 A Red Rock Resort wedding delivers an elegant atmosphere with plenty of fancy amenities to make for that perfect Las Vegas destination.
Only 20 minutes from the Strip, and still offering every modern amenity that you'll find in the resort corridor, learn why this is the locals' favorite casino.
Surrounded by swaying palm trees, beautiful greenery and luxurious pools, you can't help but feel the class that radiates at this famous resort.
We love the balcony with canyon views, just steps from the casino floor and all the excitement inside.
FAQs
What is the best month for an outdoor wedding in Las Vegas?

If you're choosing to have an outdoor wedding, choose a spring or fall month for the best results. The spring months of March, April and May, as well as the fall months of September, October and November, will offer sunny and comfortable days throughout. The winter is mild dry and makes a good option too, if you don't mind the potential for chilly weather. If you're not into heat, avoid the famously hot Vegas summers, unless you're choosing one of our mountain venues.
What is the average cost of a wedding in Las Vegas?

It all depends on what you choose to do. You can tie the knot with nothing more than a few slot machine cash out tickets or you can bust even the biggest budget. Our micro weddings and elopements start at an affordable price and are just right for the hundreds of couples that choose us every year.
Can I get married at a park in Las Vegas?

Yes. Our first choice is Floyd Lamb Park at Tule Springs, a unique and tranquil setting where ducks, geese and peacocks roam free. Gorgeous lakeside views surround the park, and shady trees with lush greenery look enticing to all. There is also a gazebo at the location for an outdoor ceremony and amazing views of the Sheep and Spring Mountain Ranges.
Here at Cactus Collective, we've become experts at helping couples choose that perfect outdoor spot for Las Vegas nuptial bliss. When it comes to an inclusive wedding, we've got those bases covered. From super simple to big and bold with cake and a champagne toast, we take great pride in helping you choose from the best locations for outdoor Vegas weddings at an affordable cost.
Making your wedding dreams a reality is what Cactus Collective does.
Let us create something special for you.

McKenzi Taylor
McKenzi Taylor is America's go-to elopement and micro wedding expert, often featured in small and major media outlets, such as the New York Times. With over 15 years of wedding photography experience, it was after planning her own Las Vegas elopement in 2016 that McKenzi felt her purpose shift into elopement coordination. She started Cactus Collective Weddings soon after in 2017. Since then, she's become a WIPA board member, and has helped well over 1000 couples get hitched in style around Las Vegas, San Diego and Black Hills.