Disclosure: This post may contain affiliate links. Please see our full disclaimer to learn more.
The Wedding Capital of the World got its nickname because of the sheer number of people who get married in Las Vegas — an average of 150 couples get married in Vegas every day!
But when many people think of a Las Vegas wedding, they imagine casinos, showgirls and tacky wedding chapels.
In fact, this perception is far from reality; you can absolutely have a Vegas wedding without it looking like Vegas.
Check out some of our favorite Vegas wedding venues that lend themselves to a more "traditional" wedding feel and inspire wedding details that don't even whisper "Vegas."
There are lots of non-tacky Vegas wedding ideas for you to choose from, with gorgeous photo ops galore.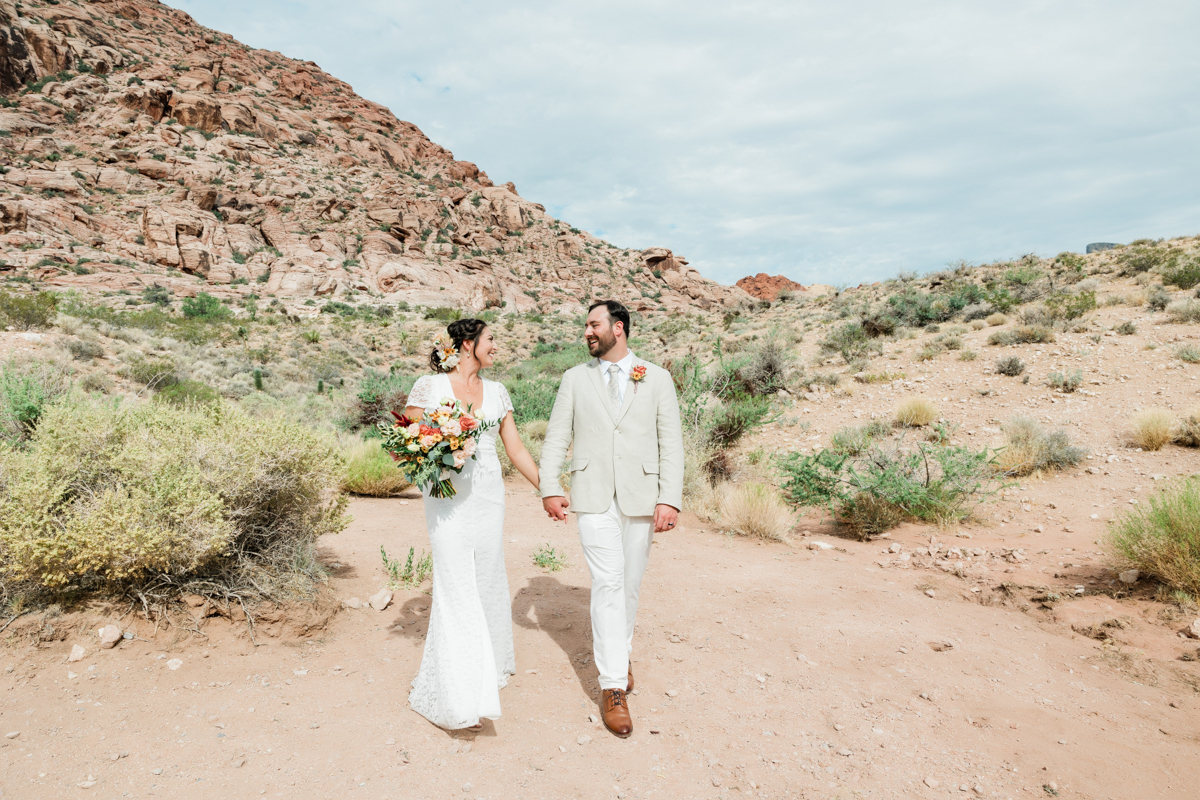 Red Rock Canyon is one of the single most scenic wedding venues a couple can choose in Las Vegas.
Stunning mountain vistas and colorful rock formations protrude from the desert floor, offering a breathtaking backdrop for ceremonies in this National Recreation Area.
It's only 20 minutes from the Strip but feels remote and quiet, giving couples lots of privacy surrounded by nature's beauty.
It's also a hotspot for hiking and adventure enthusiasts, with its jaw-dropping mountains and valleys lush with desert flora.
Picture this: you go rock climbing in the morning (on some of the best routes in the country), and then get married at a marvelous overlook in the afternoon…
Or hiking one day, hitched the next, followed by a scenic drive taking in the canyon's beauty.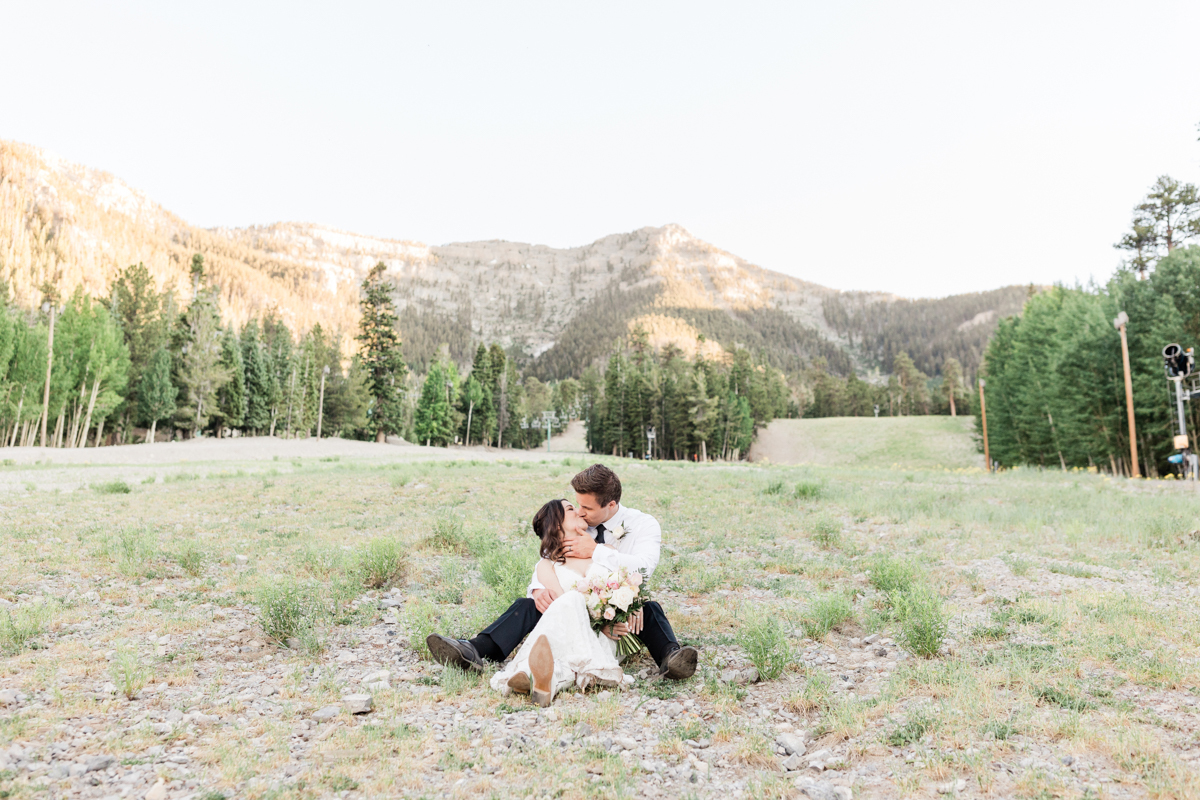 Situated 35 miles northwest of Las Vega in the Humboldt-Toiyabe National Forest and Spring Mountains National Recreation Area, this beautiful outdoor venue allows couples to escape the sparkling lights and clanging slot machines of the city in favor of a bucolic mountain retreat.
At an elevation above 8,500 feet, you'll feel like you've left the scorching desert and entered a mountain lover's paradise.
In the summer, you can say "I do" amongst blooming endemic wildflowers, while in the winter, 160 inches of snow a year provide a beautiful backdrop just an hour from the Las Vegas Strip.
Have your wedding amongst family, friends and nature's splendor while still having the convenience and variety found in America's playground just down the hill.
The Spring Mountains provide the quiet and solitude you won't find in the resort corridor.
If the mountains routinely call your name, this picturesque venue could be the Vegas look you're wanderlusting for.
Ceremonies are held at Aspen Grove, an intimate spot surrounded by majestic peaks and towering Aspen trees.
Get prepared in a private yurt or inside one of the buildings offering distinctive couple's suites.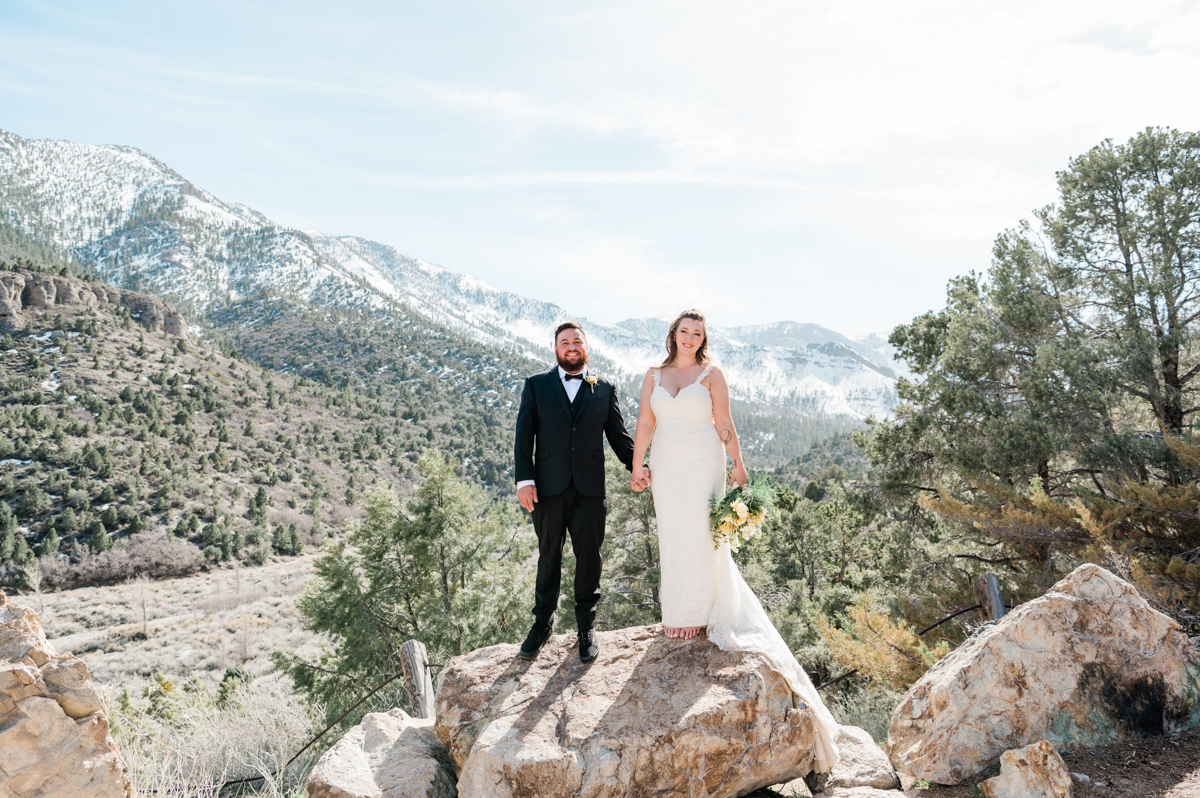 Looking for a cool and calm mountain escape that's drivable and less than an hour from the Las Vegas Strip?
Head for Southern Nevada's favorite peak, where the blistering summer temps fade away as you ascend to nearly 12,000 feet.
While the valley swelters in summer, this is an ideal year-round respite and an unexpected oasis in the middle of a desert. The temperatures are regularly 20 degrees cooler than in the heart of Vegas.
Recite your vows overlooking the canyon and surrounding mountains. The venue has an outlandish charm taken straight out of a picture book. No one would suspect you held your wedding just 45 minutes from The Strip.
Lodging at the Retreat at Mt. Charleston includes plenty of conveniences and amenities in their 60- guest rooms.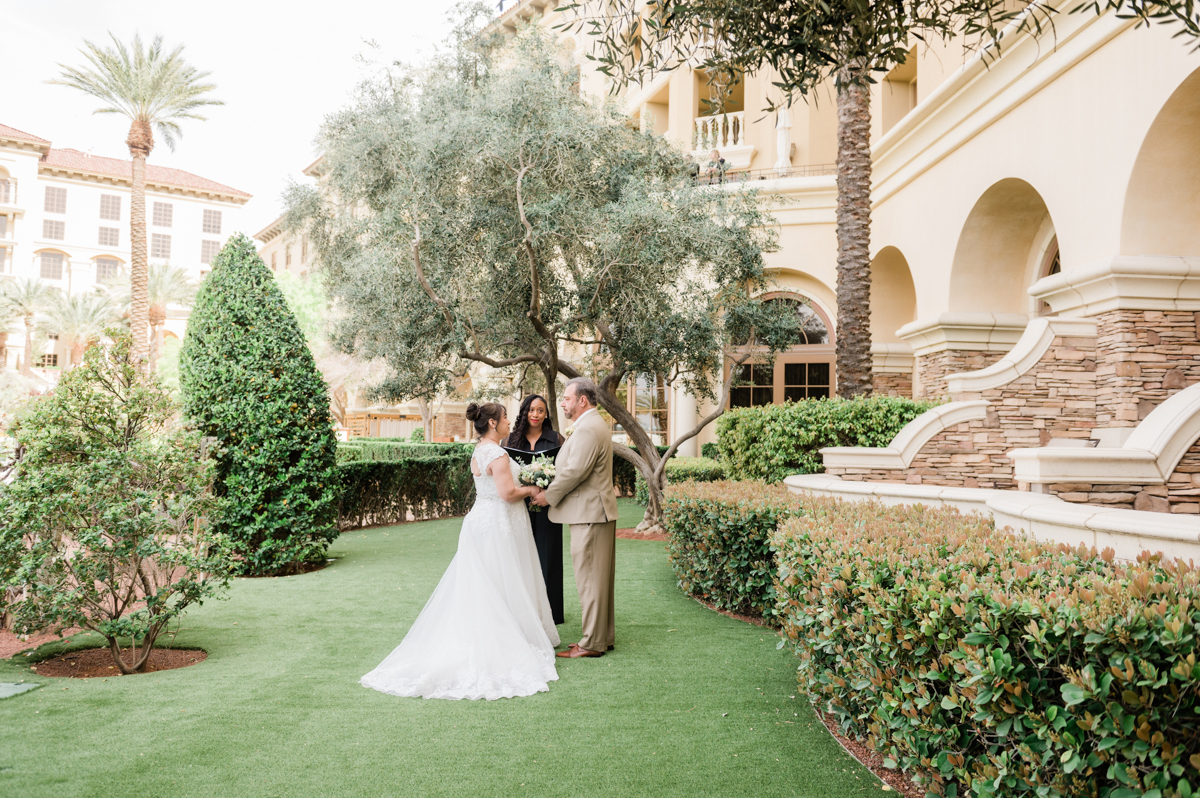 Yes, this is a casino. But it doesn't look or feel like one as you explore the property away from the gaming floor.
Green Valley Ranch Luxury Resort, Spa and Casino has everything you need for your destination micro wedding or elopement. 
Stay in the hotel's west tower, just a short walk to the vineyard ceremony site.Get ready in your generously appointed hotel room, suite or villa. Tie the knot under the sunny Las Vegas sky in a lush garden oasis.
Located just 10 minutes from the Harry Reid International Airport, this luxury resort gives couples a European-inspired oasis where they can have a relaxing outdoor wedding.
The grounds include a vineyard where you can get hitched amongst rows of grapevines just steps away from your hotel room. The Italianate garden setting is a perfect spot for incredible wedding photography.
Plus, since it's a resort, there will be no shortage of things to do or ways to relax at GVR.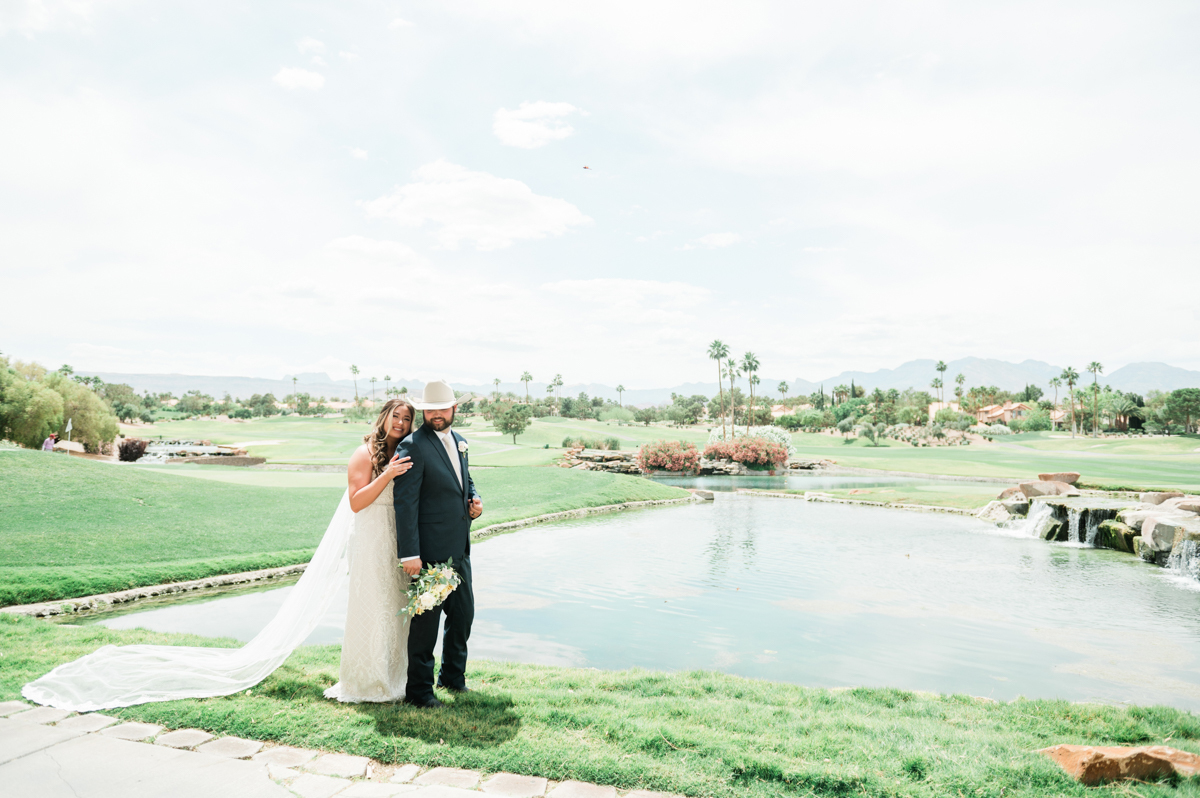 Get married surrounded by your closest family and friends overlooking a peaceful lake and luxurious greenery at the Canyon Gate Country Club.
Weddings in Las Vegas are not complete without the Red Rock Mountains in the background, which look spectacular when viewed from the Lakeview Patio or The Arch, as well as through the Canyon Gate Grand Ballroom's 25-foot glass windows.
Classic Greco-Roman-inspired architecture provides an elegant backdrop for your photography.
Golf courses and country clubs are always a popular choice for weddings, and with this one being located off the Strip, it won't look or feel at all like a Vegas wedding.
Just 20 minutes from the Strip and Harry Reid International Airport, it's easy to get there no matter where you're staying.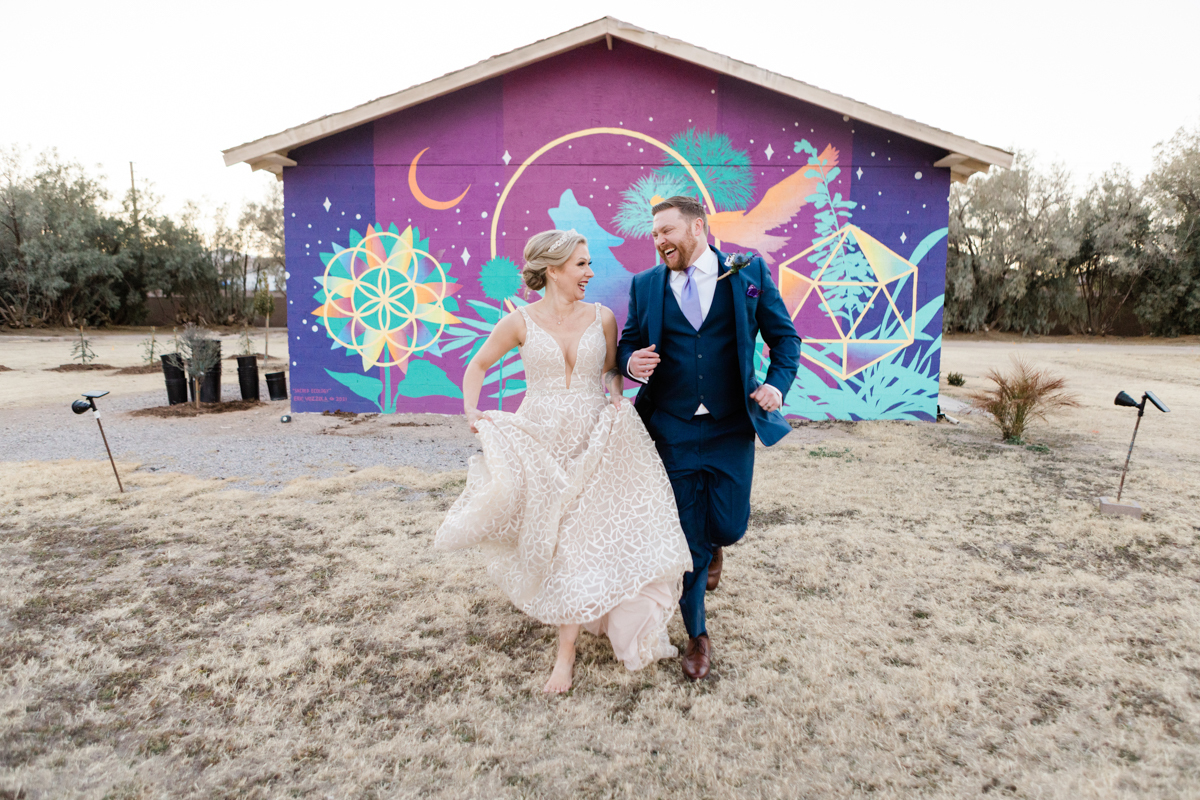 Within the grounds of this truly unique, family-owned farm are multiple all-natural backdrops: fruit orchards, palm tree forests, rustic woodlands, shaded olive groves and a pristine desert wilderness.
If you're wanting a Vegas wedding without it looking like Vegas, this one is an easy choice.
Couples holding their ceremony here will be treated to a relaxed, intimate ceremony and endless photoshoot possibilities.
If you've got a soft spot for animals, this is the wedding venue for you; GreenGale Farms is a full-time animal sanctuary for rescued farm animals.
Part of the location fee goes toward caring for the menagerie of animals that now call this place home.
Looking to support local? GreenGale is owned and operated by a local Vegas family and is also eco-friendly.
Located in North Las Vegas and a 20-minute drive from the Strip, you can be close to the action with no one viewing your wedding photos any the wiser.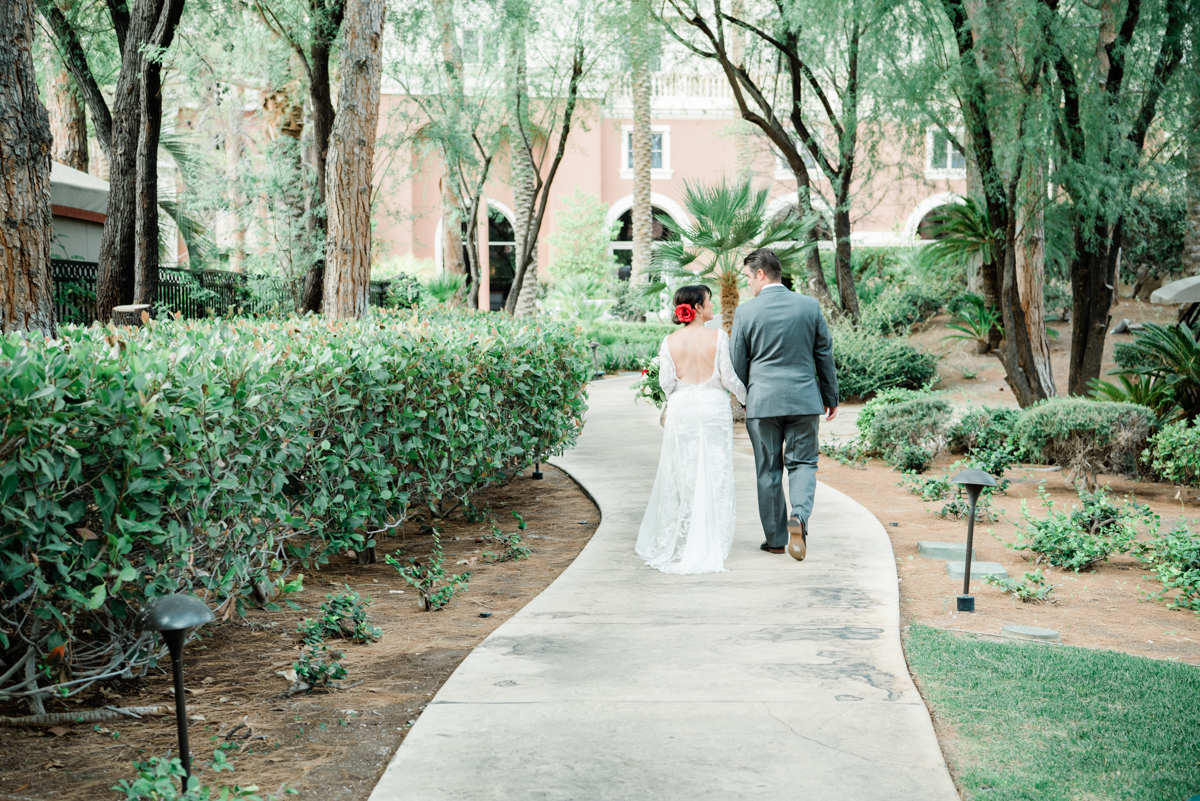 JW Marriott Las Vegas is a welcoming respite from the desert with a wonderful location close to all the Summerlin action. 
Wedding ceremonies are stress-free and easy, with all you need on wedding day right at your fingertips.
This majestic Mediterranean-style venue is located just 20 minutes west of the Strip and is a stone's throw from the Red Rock Canyon National Recreation Area.
Away from the chaos of the Strip couples enjoy a peaceful retreat where they can unwind in luxury.
There is a casino on site, but you'd never know it thanks to the expansive grounds offering plenty of ways to leave the casino behind and relax in the lush environment. 
Start your happily ever after amongst an oasis of water features, palm trees and pristine lawns.
A number of photogenic settings offer couples serenity in the desert and timeless memories, giving it a featured spot on our list of Best Places to Get Married in Las Vegas If You're Not into Chapels.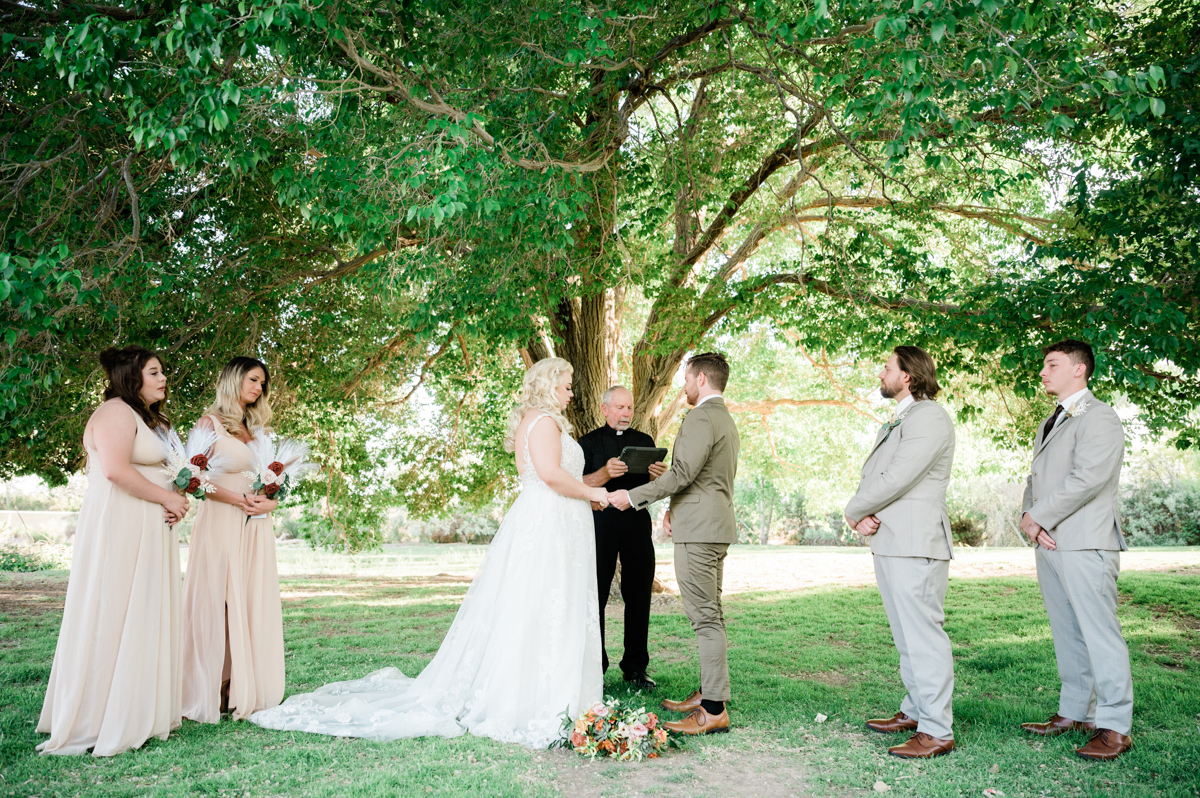 Floyd Lamb Park at Tule Springs is a unique and tranquil setting where ducks, geese and peacocks roam free.
Gorgeous lakeside views surround the park, and shady trees with lush greenery offer shady relaxation. 
Looking for a romantic photo spot for your Vegas wedding without it looking like Vegas?
There is also a gazebo at the location for an outdoor ceremony and amazing views of the Sheep and Spring Mountain Ranges.
The park is great for outdoor types, wildlife lovers and fishing enthusiasts. Three lakes offer year round fishing in case you want to drop a line before or after tying the knot.
Walking paths are an excellent way to explore the park on foot, and there are a variety of animals who call the area home.
Floyd Lamb Park is an intimate, tranquil and perfectly romantic space to hold a Las Vegas micro-wedding or elopement.
Vegas Doesn't Have to Mean Tacky
When it comes to micro weddings and elopements, you're not limited to a Fremont Street chapel festooned with fake flowers, a 1980s paint scheme and an officiant who's also a failed used car salesman. There are genuinely stunning options that will blow the doors off an Elvis impersonator's pink Cadillac.
If you're ready to see what else is possible, get in touch with us. We offer the intimate, stylish and offbeat destination wedding you want but didn't know you could have and would be happy to make your non-tacky Vegas wedding ideas come to life.

McKenzi Taylor
McKenzi Taylor is America's go-to elopement and micro wedding expert, often featured in small and major media outlets, such as the New York Times. With over 15 years of wedding photography experience, it was after planning her own Las Vegas elopement in 2016 that McKenzi felt her purpose shift into elopement coordination. She started Cactus Collective Weddings soon after in 2017. Since then, she's become a WIPA board member, and has helped well over 1000 couples get hitched in style around Las Vegas, San Diego and Black Hills.