Disclosure: This post may contain affiliate links. Please see our full disclaimer to learn more.
Get destination wedding information for Vegas, including wedding venues, marriage license laws and essential tips for booking vendors
When it comes to epic wedding destinations, Las Vegas is up there with the best of them.
Our historic wedding industry reputation coupled with The Strip's bright lights, world-class entertainment and breathtaking natural landscapes means Vegas knows how to deliver your heart's desires.
The favourable exchange rate is the gravy on the Yorkshire pud.
All sounds great. But how do you plan your dream wedding when you are thousands of miles away?
Enter this guide. It delivers practical information and the Vegas wedding must-knows you need.
You'll find details on the legal parts of eloping from the UK to Las Vegas, location suggestions, inspiration for your day and an overview of accommodation and honeymoon ideas in and around Sin City.
In this guide
Planning your wedding remotely
Having the Atlantic Ocean between you and your wedding venue and vendors may sound intimidating. But it doesn't need to be scary or difficult.
Email, video calling and messaging apps like WhatsApp make the process simple. You're involved with every decision and at every step.
This is exactly how we plan the weddings of hundreds of couples every year, no matter where they are in the world.
Experienced wedding vendors do everything in their power to deliver the destination wedding you want. If either party needs a catch-up, then you're only a phone call or email message away.
So really, remote planning a wedding isn't so daunting. The real bonus, especially if you've never been to Vegas before, is that you have someone on your team who's on location and whose job it is to help you fix up the details.
Sorting the legal stuff
Talking about visas and legal paperwork isn't sexy. But it's essential.
Failure to get visas and a marriage licence can mean no wedding. Here's what you need to know.
Visas
If you and your partner are:
both British citizens (you have United Kingdom passports)
planning to be in the States for 90 days or less
currently not in possession of a visitor's visa
Then you can apply for an Electronic System for Travel Authorisation (ESTA).
Applying for an ESTA is quicker and simpler than applying for a US Visa, which may involve attending an interview at the US Embassy in London.
At the time of writing, an ESTA costs $21 (roughly £17.50) and is completed online.
Full details on who can apply for an ESTA and how it works can be found on U.S. Customs and Border Protection.
When it comes to visas and entry requirements, there are always exceptions to the rules and laws change.
You're responsible for finding out what visas you, your partner and any friends or family need. Do this before booking any part of your wedding or organising a marriage license.
We're not visa experts. If you have questions about entering America for your wedding, contact the US embassy or a legal practitioner in your country of residence.
Covid-19 entry requirements
According to the latest advice from Gov.UK, you must be fully vaccinated against Covid-19 to enter the USA unless you are a returning US citizen or have an exemption.
A full list of recognised coronavirus vaccines can be found on the Centers for Disease Control and Prevention (CDCP) website.
Vaccinated travellers don't need to quarantine and are 'recommended to take a viral test within 3 to 5 days of arrival.'
The exception to this rule is if you have documented proof that you've contracted and recovered from Covid-19 in the last 90 days.
As with everything Covid, the rules can change quickly. For this reason, we recommend:
speaking with your travel agent or airline about restrictions before booking any travel
checking the CDCP website and Nevada Health Response for specific NV state guidelines
keeping an eye on the latest from Gov.UK
Las Vegas marriage laws
Despite the city's 'Sin City' nickname, there are laws that you must follow to ensure your marriage is legal.
Both you and your partner must be at least 18 years old.
You should not be related to the person you intend to marry.
You should not already be married to someone else. Polygamy is illegal.
A couple of other useful things to know when getting married in Vegas:
LGBTQI+ marriages are legal.
Blood tests aren't necessary to get a marriage license.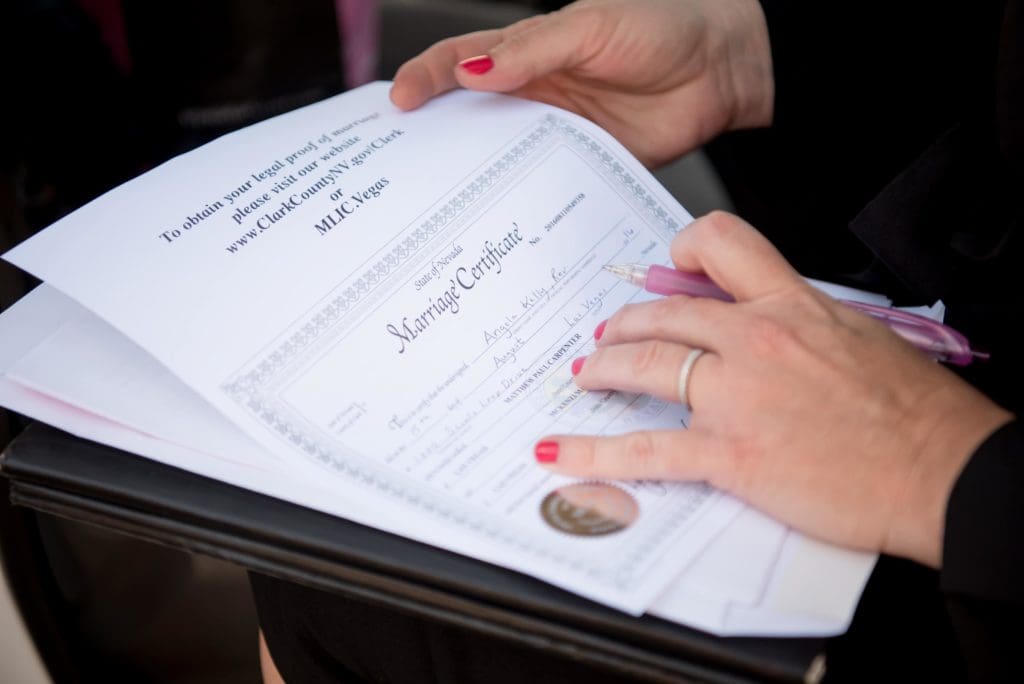 Getting a Las Vegas wedding license
You need an approved and valid marriage license authorised by the Clark County Marriage License Bureau. A license costs $102 and getting hold of this essential bit of paperwork is quick and easy.
1. Fill out the pre-application online form, which you can find on the Clark County Nevada website.
2. When you arrive in Vegas and before your wedding date, you and your partner must go to the Clark County Marriage Bureau and present a legal form of ID.
Accepted ID include: driver's license, passport, US or foreign county ID card and military ID.
3. As long as you've completed the pre-application form online you should head to the Express Lane at the bureau.
Your paperwork and ID are checked and upon approval, you'll get your marriage license. This is given to your officiant before your wedding service.
That's it. Three steps and you're all done.
Making sure your marriage is recognised in the UK
According to Gov.UK, your marriage or civil partnership will be legal in the UK as long as it follows the processes according to US law (and state law).
This means that if you are both British citizens, you shouldn't need to register your marriage once you return to the UK.
Your officiant
The person conducting your ceremony must be registered to officiate weddings in the state of Nevada.
Cactus Collective Weddings works with a variety of modern celebrants. They're warm, welcoming and forward-thinking. They also have a knack for finding the right words.
Most simple elopement services are 10-minutes long. They involve a welcome message, the exchange of legal vows and a few closing words.
Extra readings and personal flourishes are easily added so you have what we call, 'a custom wedding ceremony.'
Custom ceremonies involve extra organisation and more of the celebrant's time, meaning the cost goes up a bit.
Ceremony locations
The Vegas wedding scene caters to a huge range of tastes and styles. The most famous is the wham-bam, thank you ma'am services on The Strip.
While this suits some, it's not our focus. There are a lot of hidden gem wedding venues within the city and some diamonds waiting for you to discover if you travel beyond them.
Valley of Fire State Park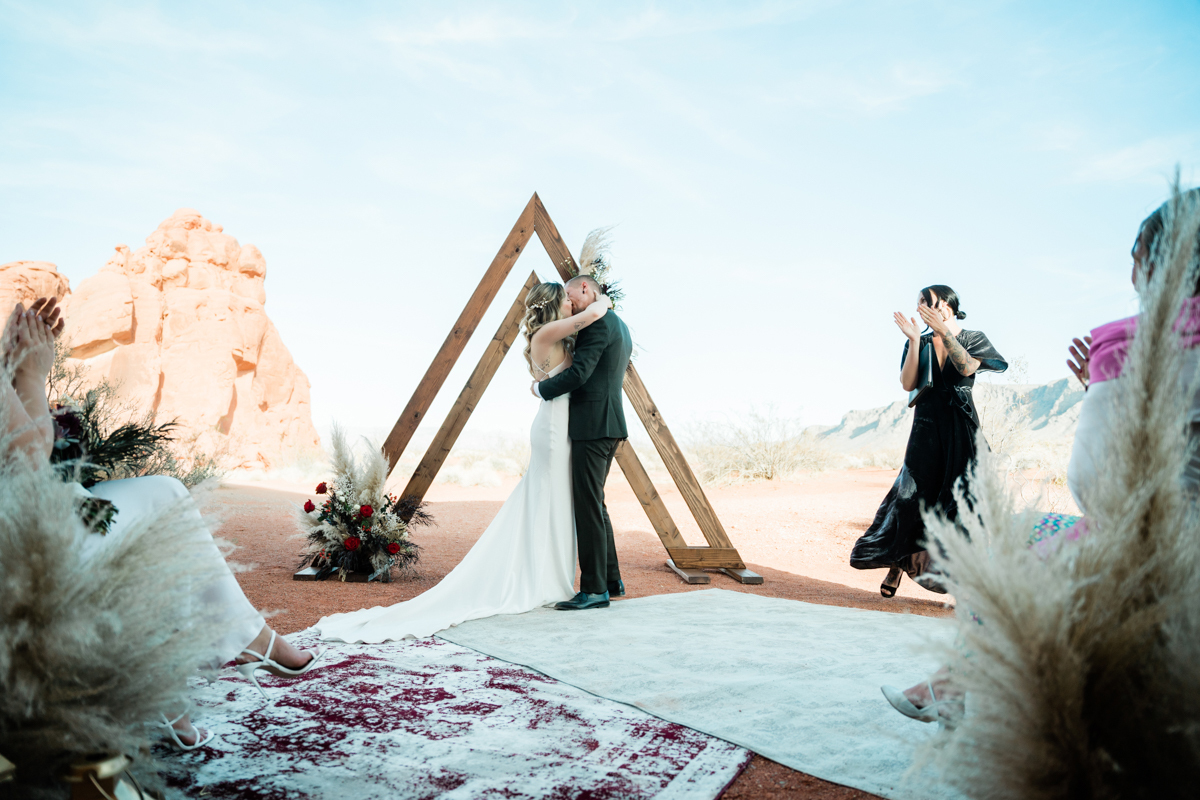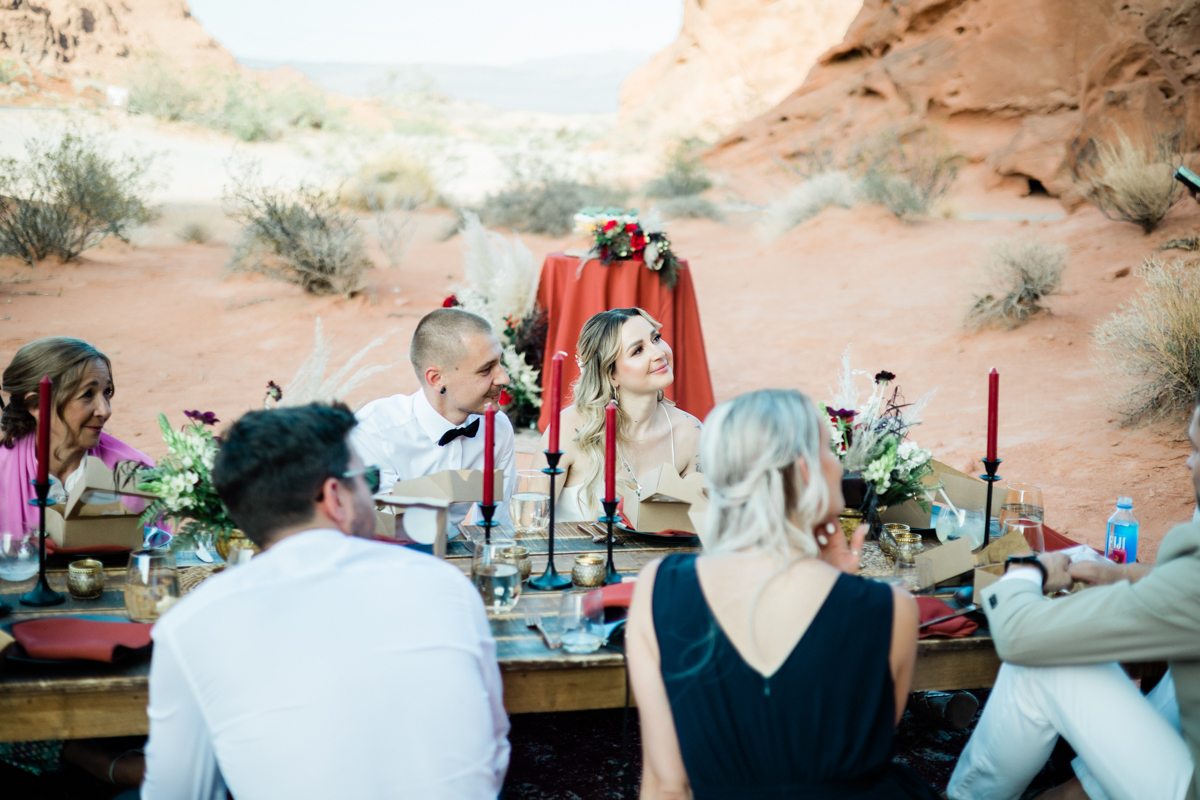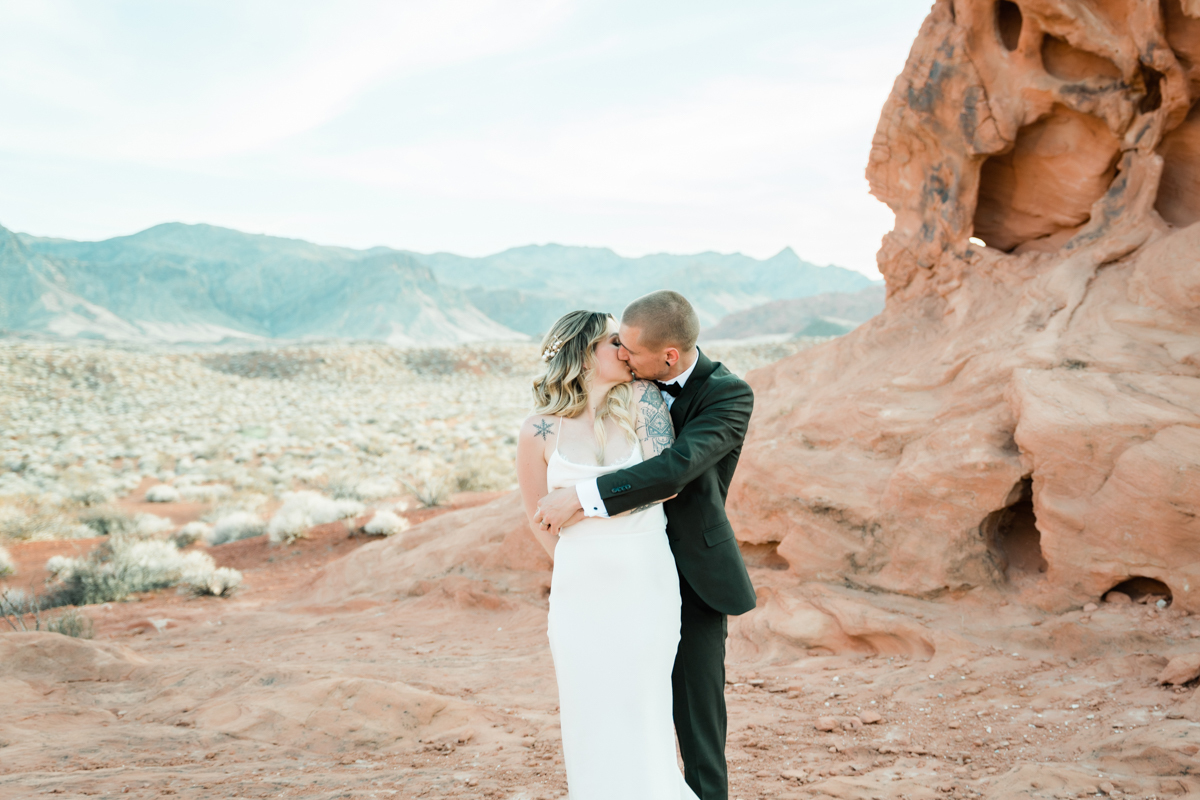 One of the most stunning venues in the Mojave Desert, this is by no means a conventional venue. Each of the ceremony areas in the Valley of Fire Sta delivers a secluded, private occasion that's away from tourists.
Peaceful and precious, without the touristy vibes.
Exclusive wedding destination just 90-minutes from Vegas city.
Fiery sandstone formations offer dramatic backdrops and endless photo opportunities.
Cactus Joe's Blue Diamond Nursery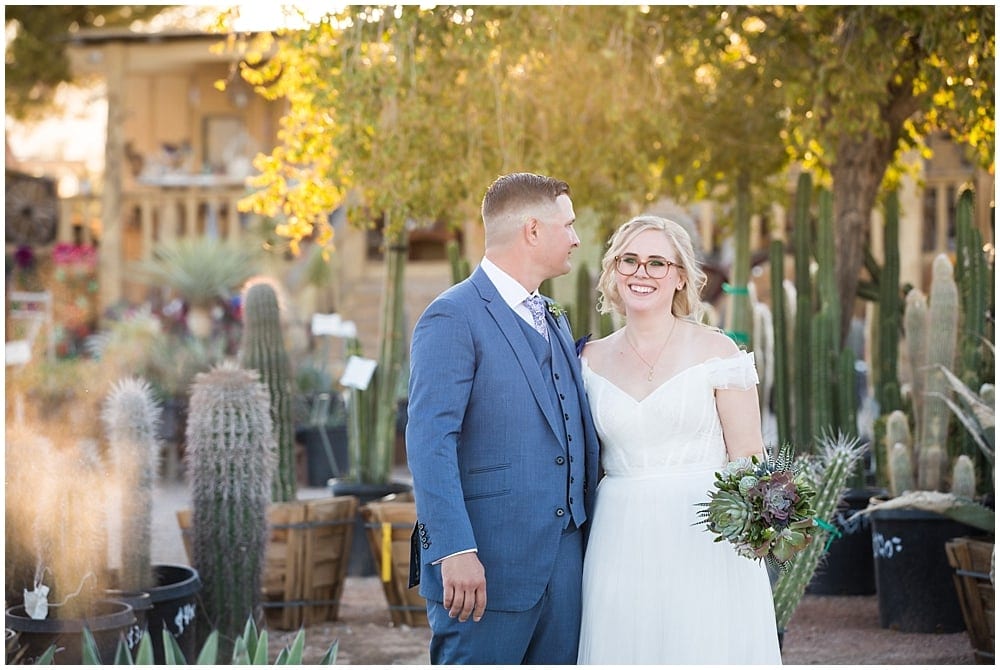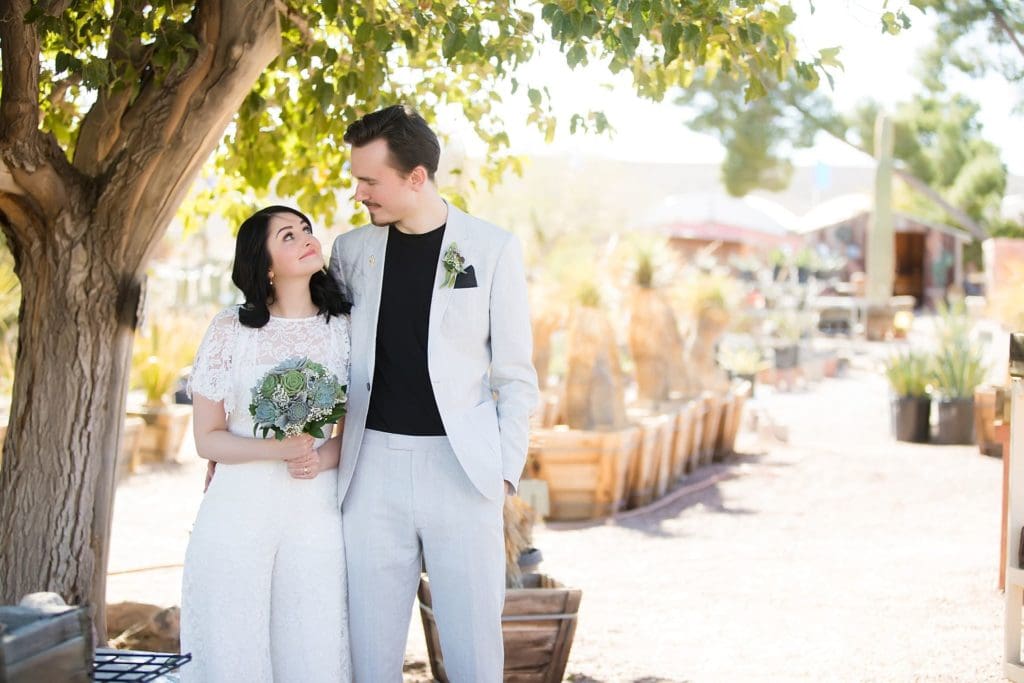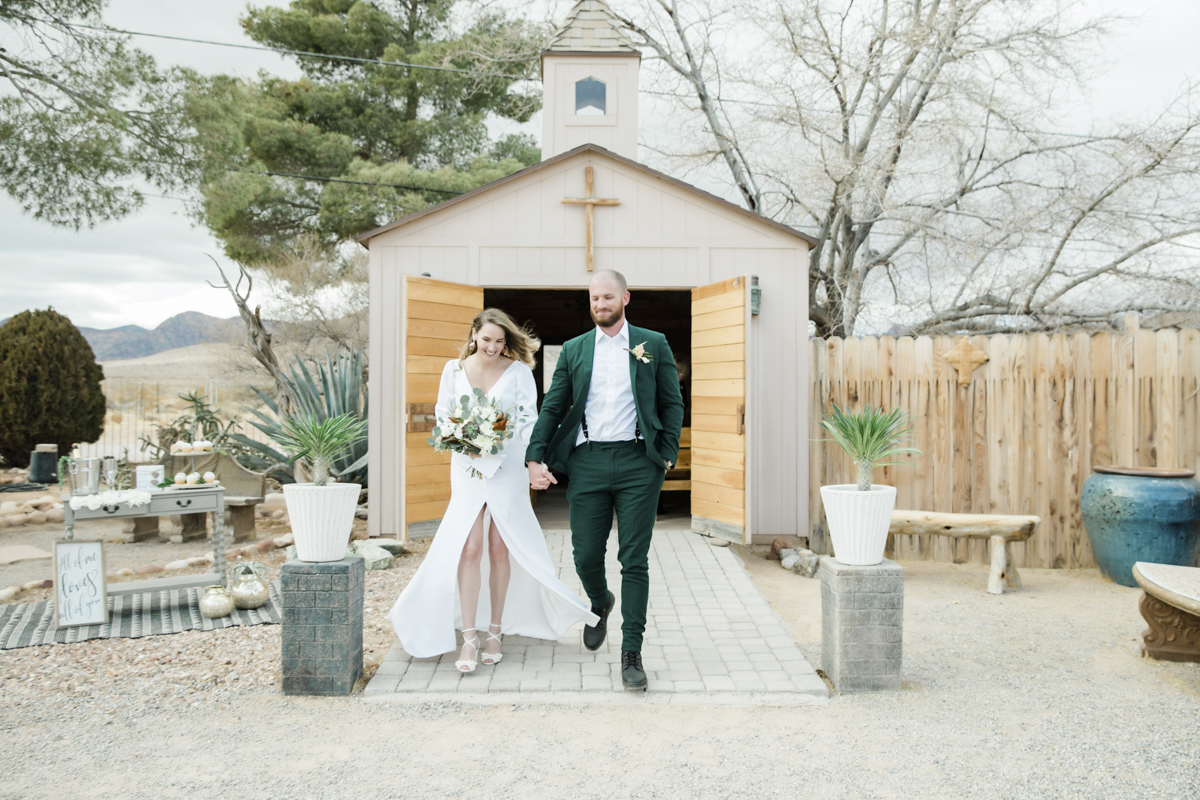 If you're looking for local, original and romantic then this is it. Owned and run by Vegas local Joe Davidson, it's one of the largest cacti nurseries in the region and one of our favourite locations to suggest to our couples.
Awarded "Best of the City," Best Plant Nursery in Las Vegas and Nevada.
Beautifully landscaped desert gardens for amazing photos.
Say your vows in or in front of the small, quaint chapel.
Red Rock Canyon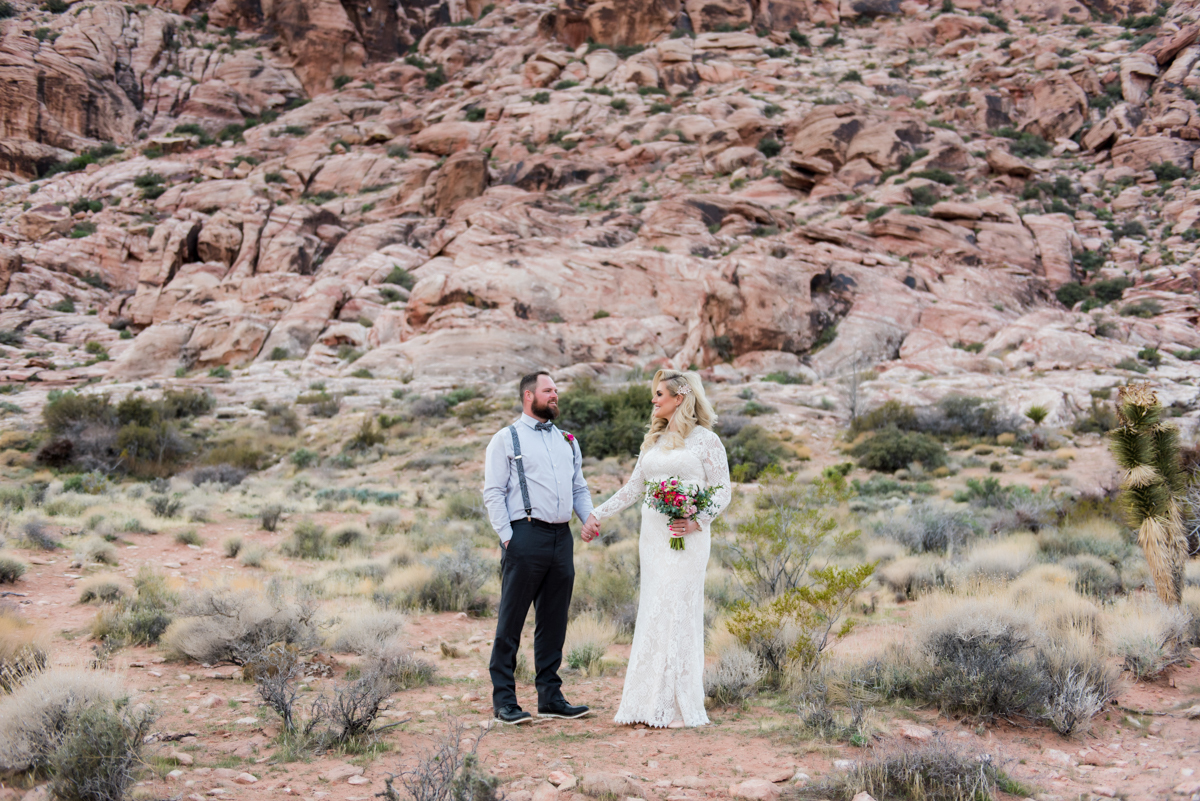 Couples from around the world elope to exchange their vows in the vast Red Rock Canyon. Our photographers love shooting in this epic desert scenery.
Choice of backdrops for your ceremony: Ash Spring, The Overlook, Red Spring, and the Visitor Center.
A unique background of grasslands, desert views, mountains, cacti and other desert greenery, colourful rock formations and wildlife.
Perfect for sunset weddings.
Eldorado Canyon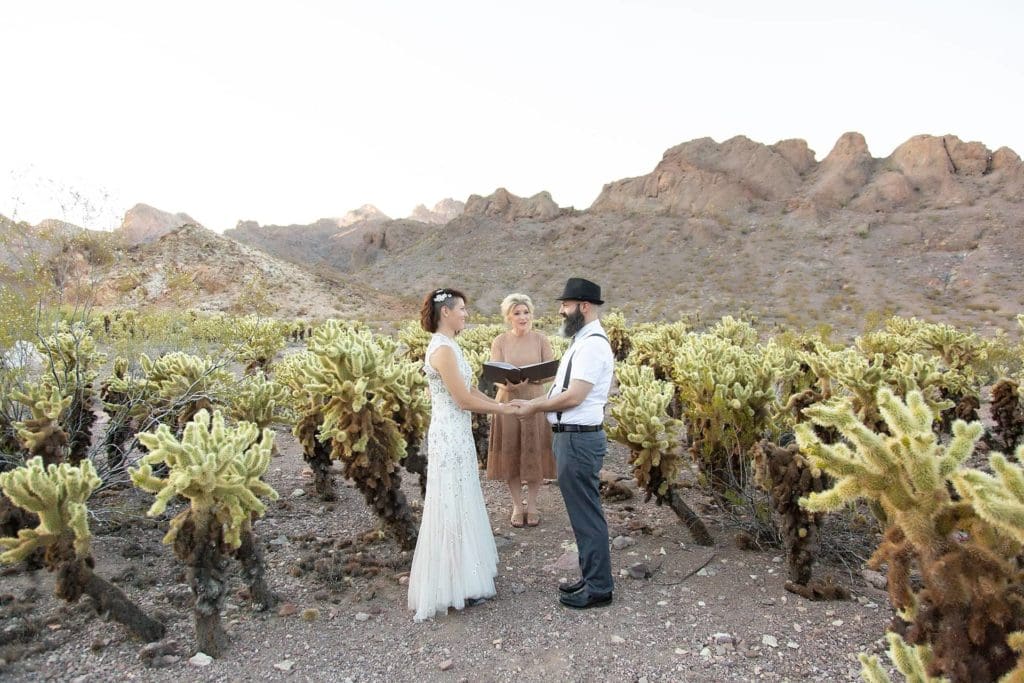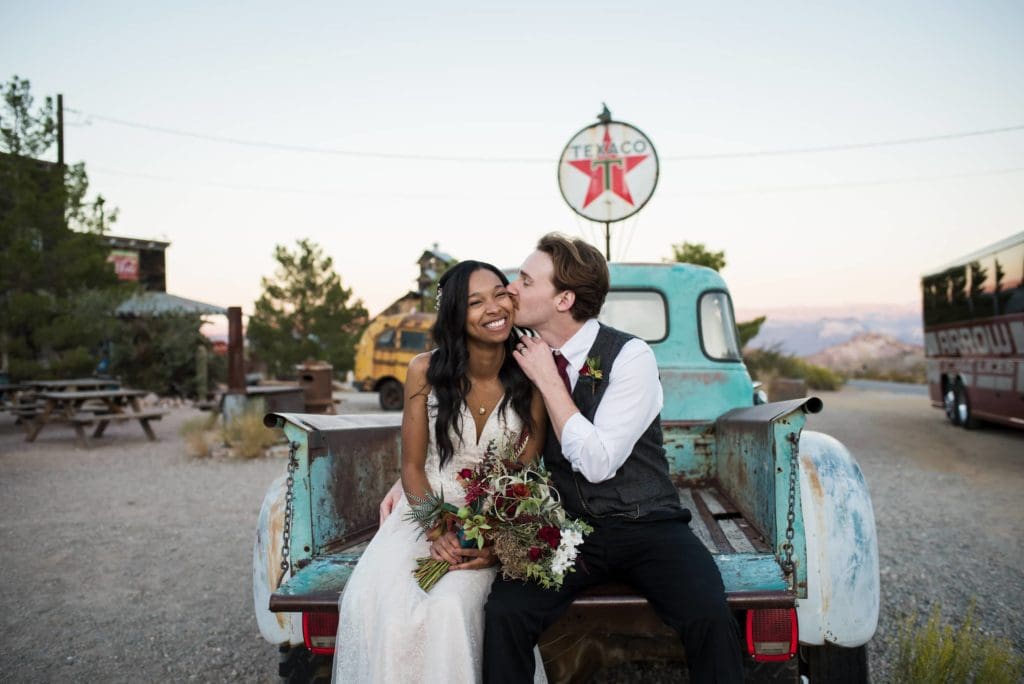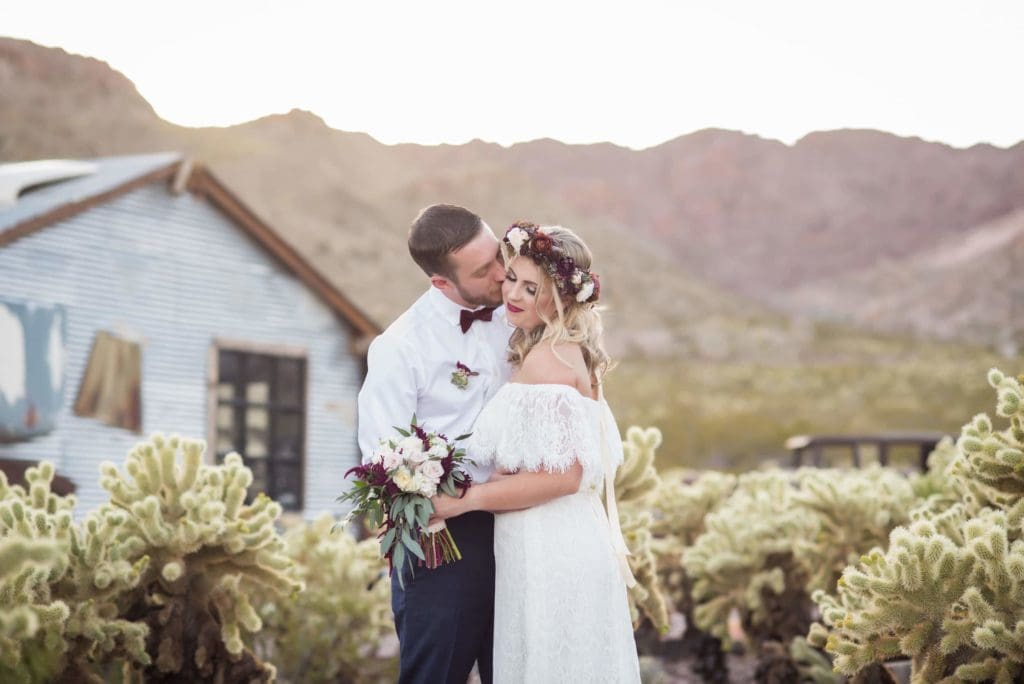 Chic, vintage, stylish, and eclectic, Eldorado Canyon is a blend of stunning nature and erratic man-made structures, plus the most beautiful cholla cactus field we've ever seen. (Extra tip: The sight of the sun setting against these cacti is unreal.)
Located just 45 minutes from Las Vegas.
Three ceremony areas to choose from: Cholla Cactus Field, Chapel, Big Barn.
Great for intimate elopements and expansive enough for larger micro weddings of around 100.
Dry Lake Bed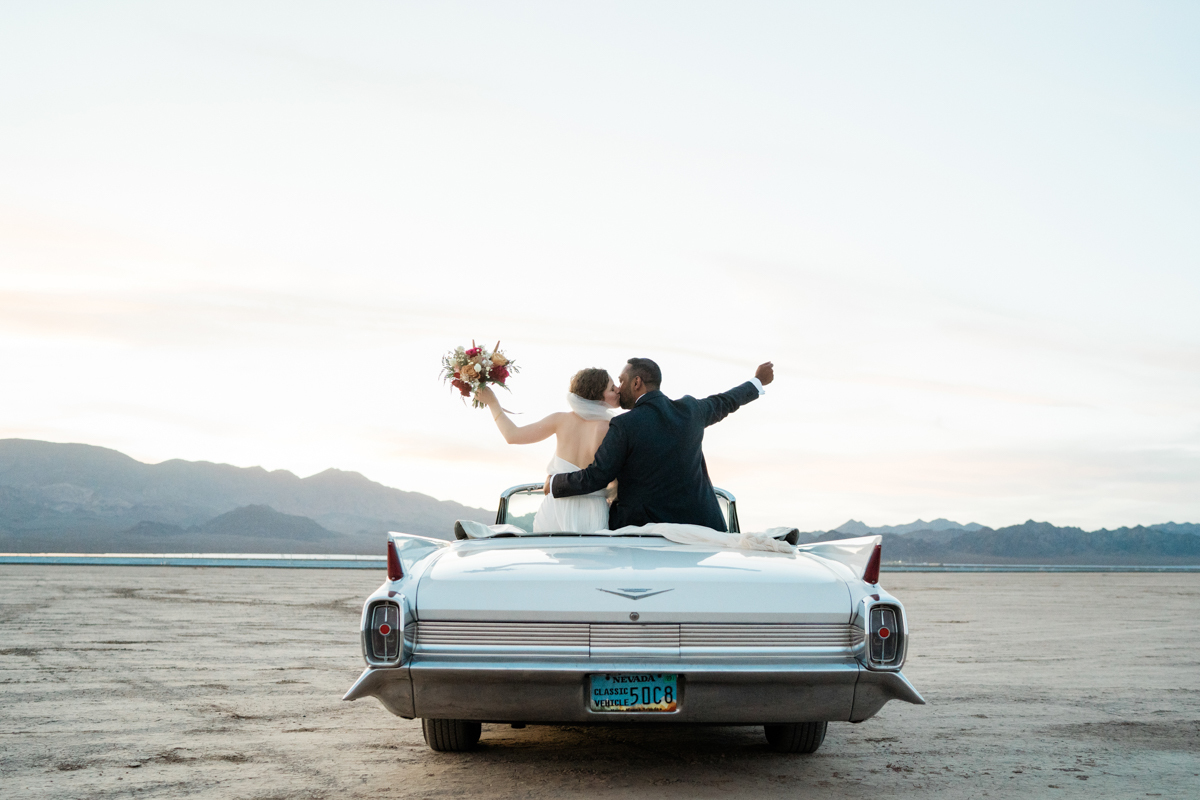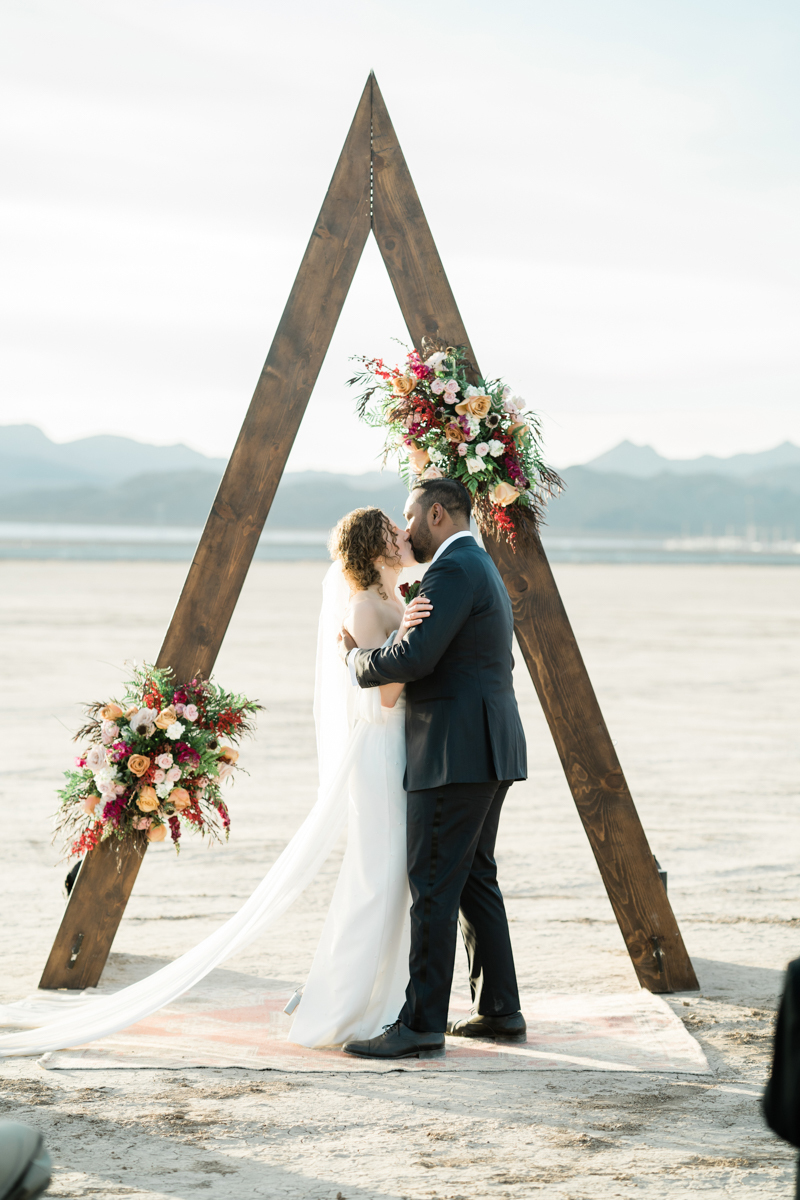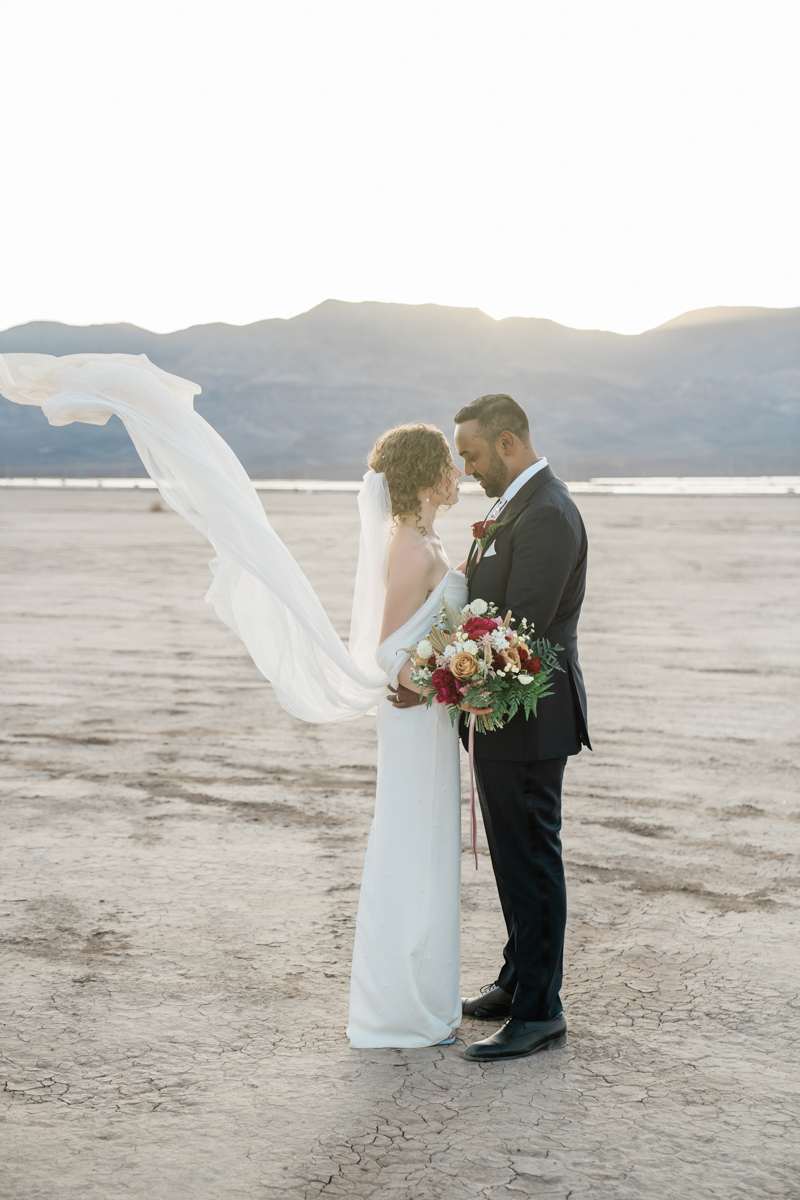 Looking for a blank canvas? Then consider Dry Lake Bed in Boulder City. It's serene, surreal and truly unique. The flat, dry lake bed places you and your partner in the heart of this natural scenery, with the horizon and surrounding mountains as witnesses to your nuptials.
Pops of colour in dresses, florals and props add an impressive element.
Spacious location allowing for plenty of privacy and great for a festival vibe wedding.
Conveniently located just 30 minutes from the Vegas Strip.
Floyd Lamb State Park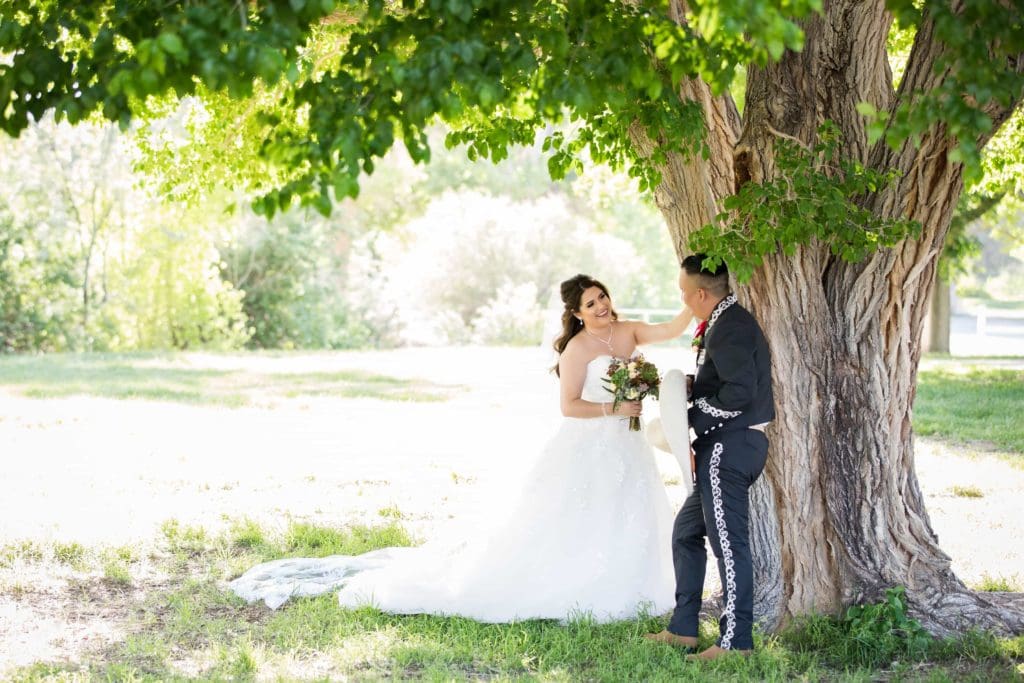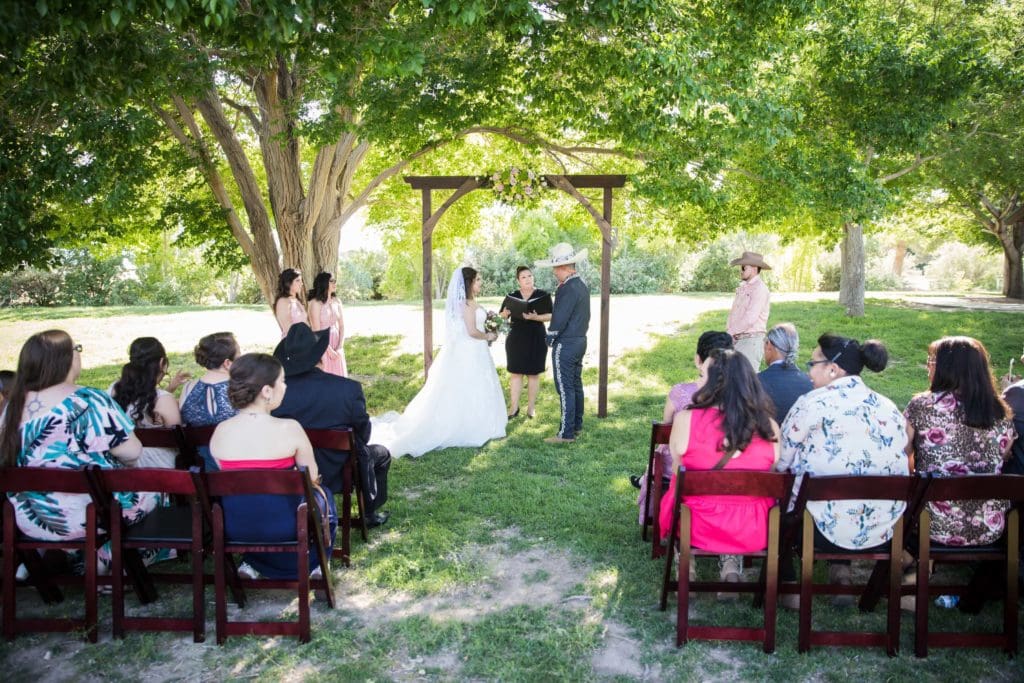 Teeming with life yet beautifully serene, Floyd Lamb Park in Tule Springs is a true desert oasis. The vivid green parkland and lakes are a welcome sanctuary for all from the Mojave Desert.
Exchange your vows at the water's edge in the presence of your nearest and dearest.
Sheep and Spring Mountains are both within viewing distance — a reminder that the desert isn't far away.
Perfect for fall weddings when the trees that fill this 680-acre park display their autumn colours for your special day.
The Bellagio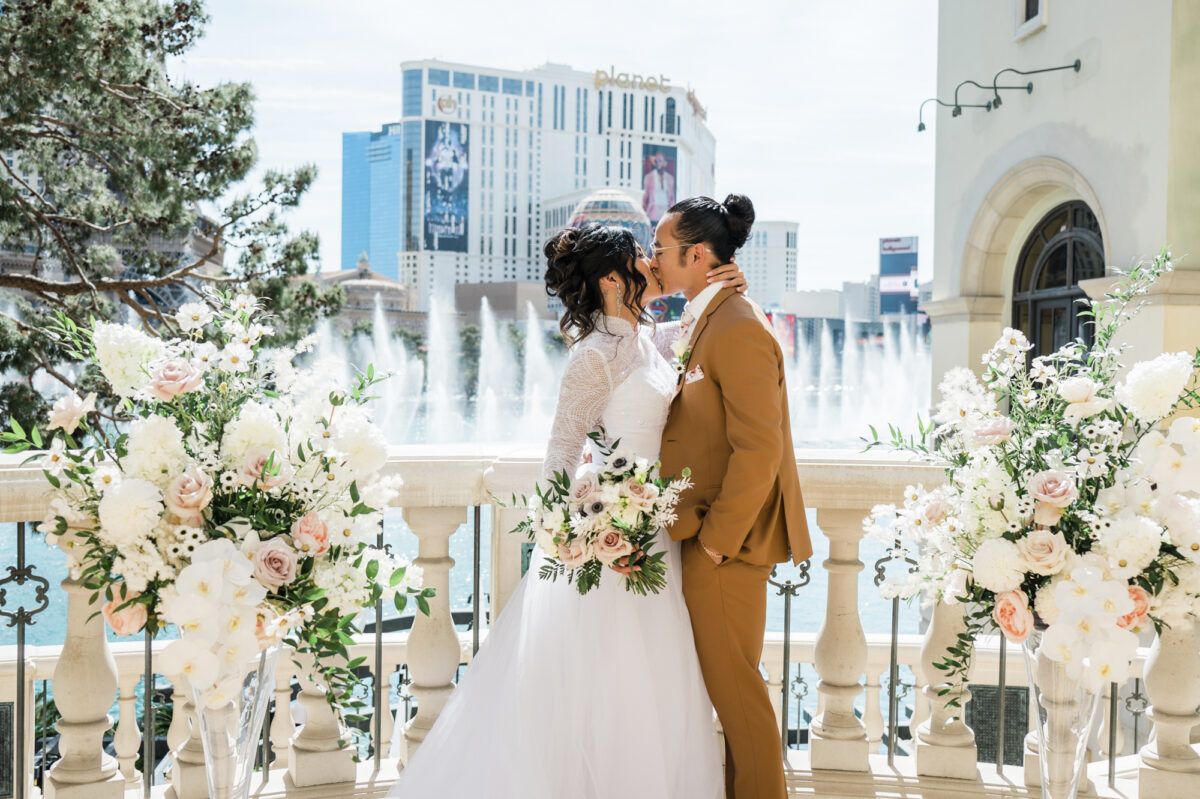 Weddings at the Bellagio are as quintessentially Vegas as they can get. Inspired by the romantic Italian village of Bellagio, this luxury hotel hosts charming venues, both indoor and outdoor, fit for a storybook wedding.
Indoor and outdoor ceremony options are available.
Located on the Strip for a seamless transition from ceremony to reception.
Iconic fountains and elegant architecture deliver perfect Vegas wedding photo opportunities.
Canyon Gate Country Club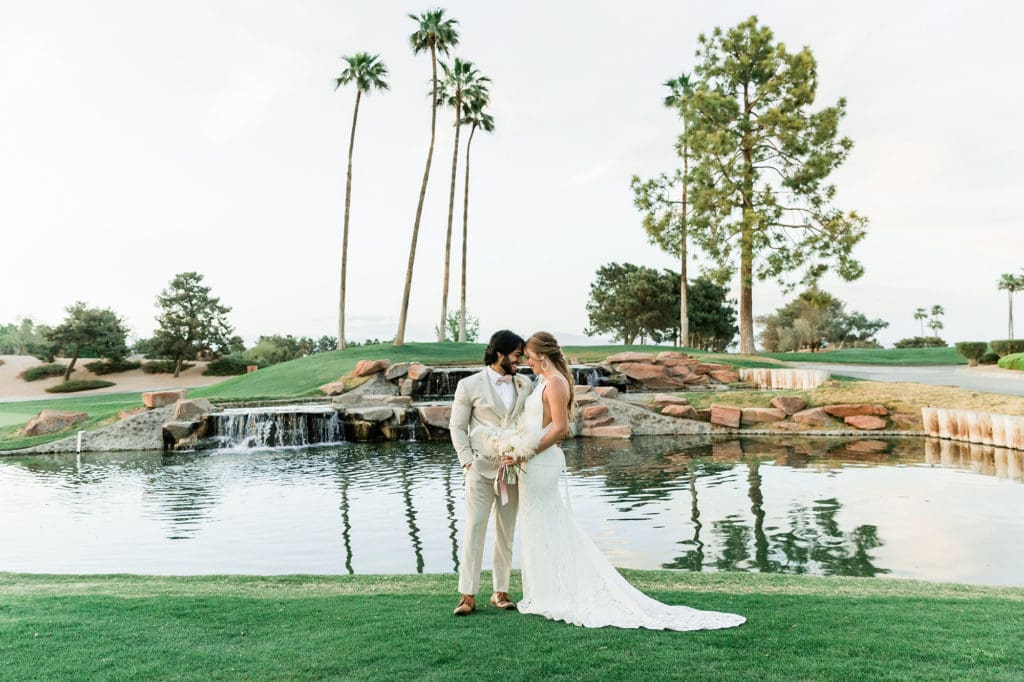 Marry at the Canyon Gate Country Club and you not only get a venue that boasts a beautiful lake and luxurious greenery, but it also delivers spectacular views of Red Rock Canyon.
Close to The Strip and McCarran International Airport.
Beautiful Greco-Roman inspired architecture.
Indoor and outdoor ceremony locations to suit all seasons.
Las Vegas Country Club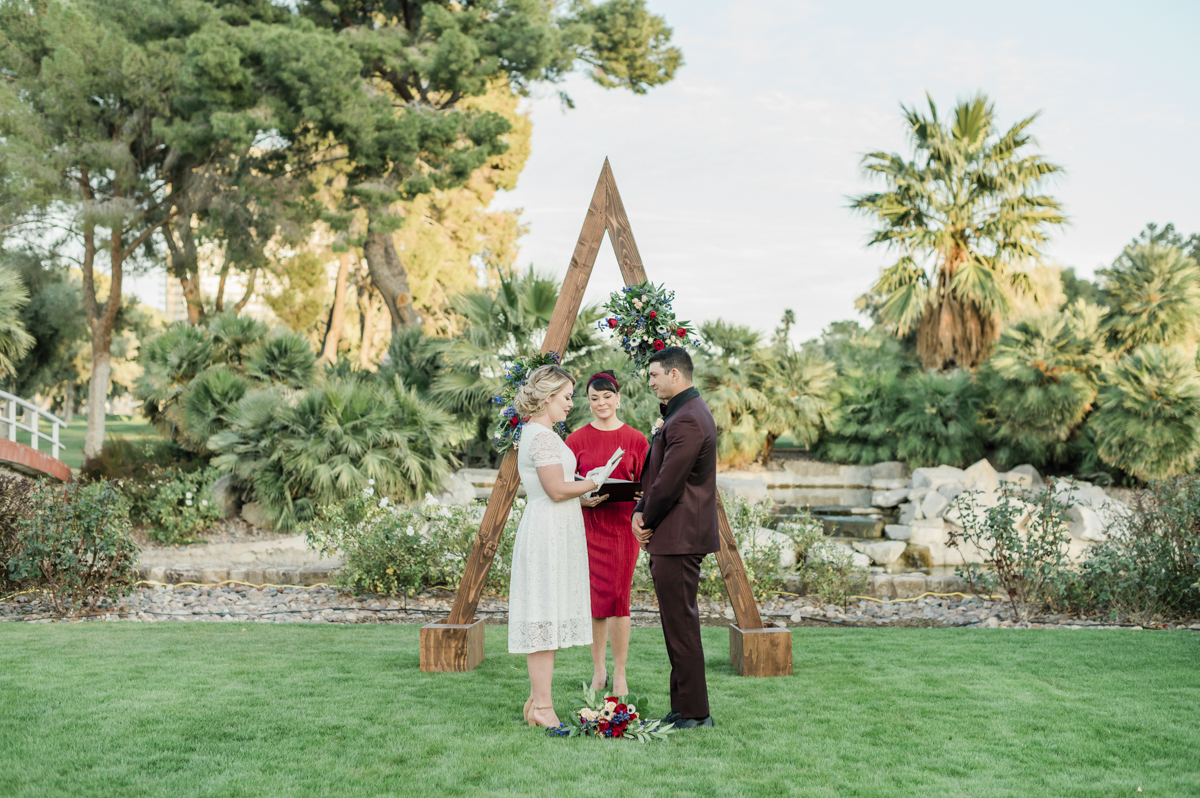 The Las Vegas Country Club may be on The Strip, but it offers tranquillity and peacefulness that lets you and your love escape the City's hubbub during this most intimate of times.
Picturesque grounds complete with ponds, water fountains, and manicured Presidential greens.
Indoor and outdoor ceremony locations to suit your wedding style.
Just seconds from the Las Vegas Strip and iconic Las Vegas photo opportunities.
GreenGale Farms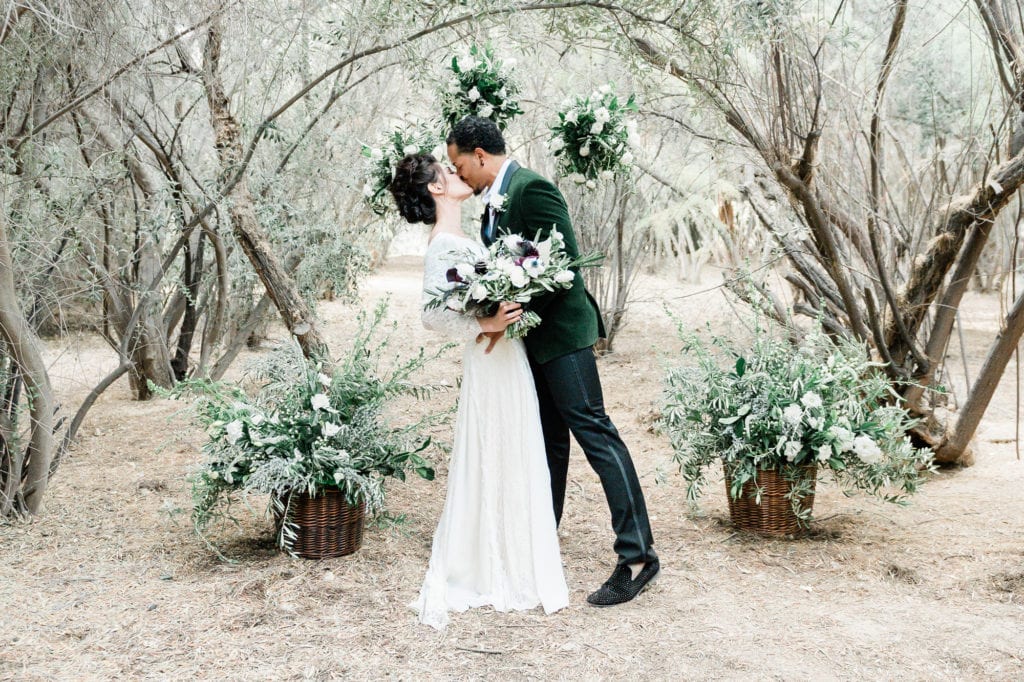 Within the grounds of this truly unique, family-owned farm are multiple all-natural backdrops. From fruit orchards to olive groves, desert wilderness to woodlands, there's a ceremony location to suit every elopement style.
A brilliant option for couples searching for an eco-friendly venue.
Located in North Las Vegas and just 20-minutes from The Strip.
Home to a menagerie of rescue animals, which your wedding will support.
JW Marriott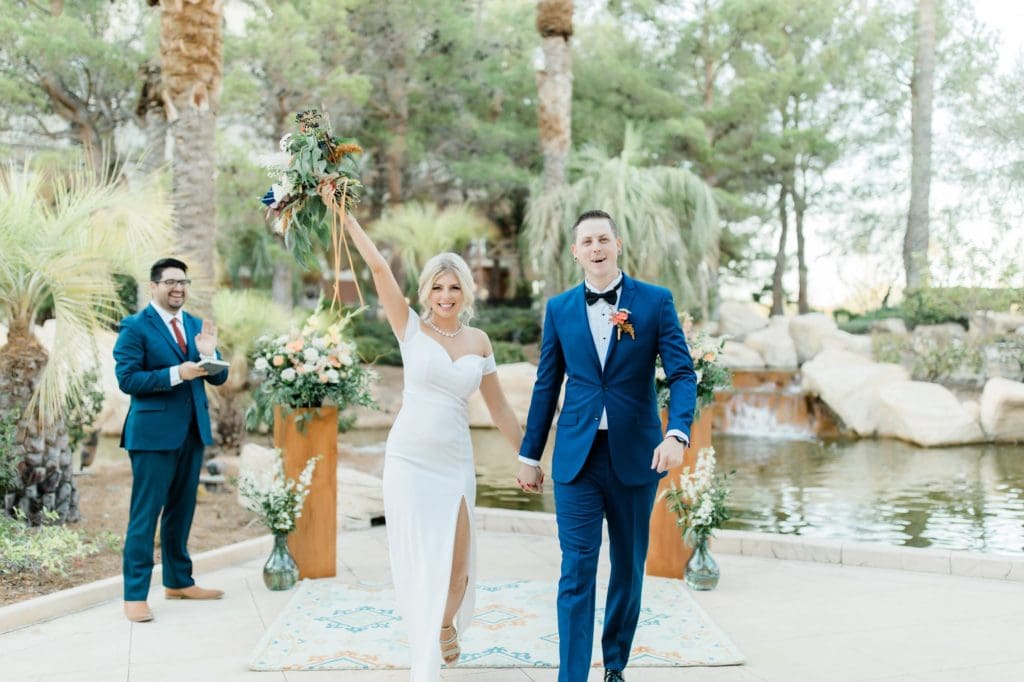 This venue's power lies in its ability to deliver a classic, traditional-style wedding vibe without the overwhelm. Carefully selected locations within the grounds lend themselves perfectly to just the two of you for elopements.
Close to Red Rock Canyon and only a 20-minute drive from The Strip.
Enjoy Mojave Desert mountain views while the venue's oasis of water features, palm trees, and pristine lawns.
Accommodation, dining, and spa facilities make it a great all-in-one Vegas elopement option.
The Neon Museum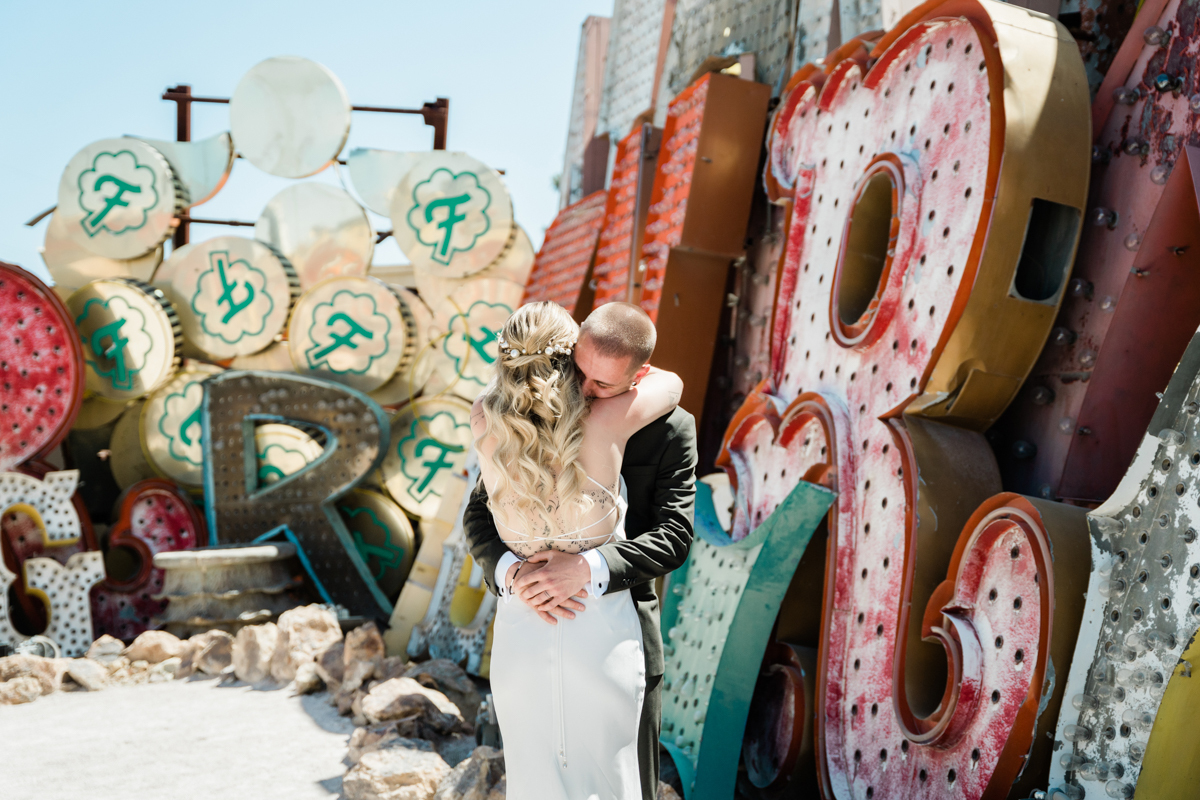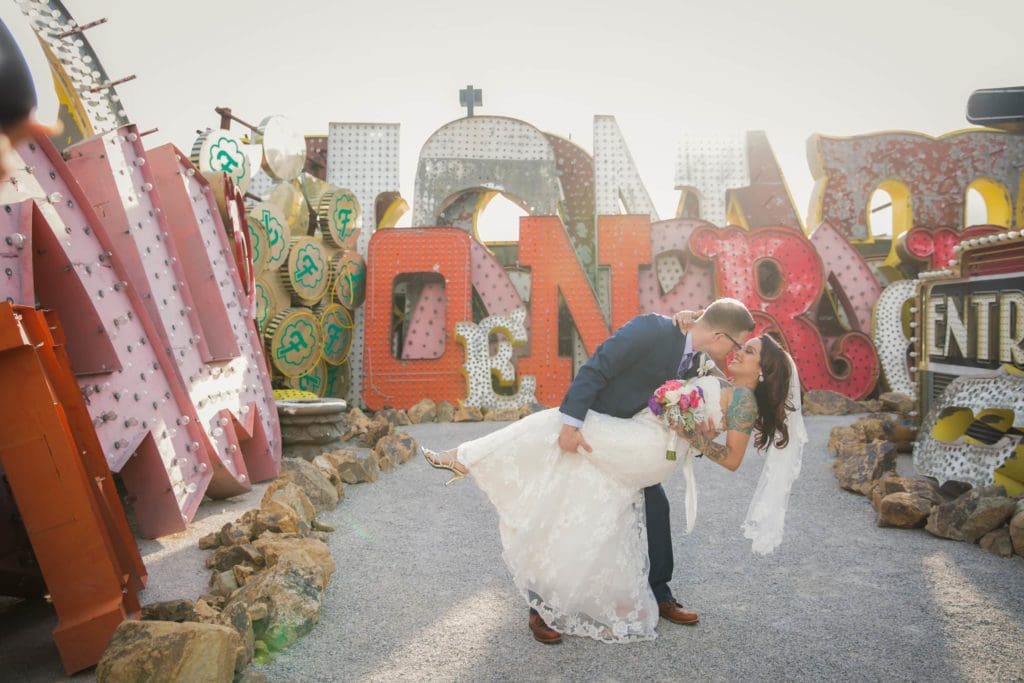 Are you looking to include some real Vegas history in your elopement? Then the Neon Museum is for you. Say "I do" surrounded by iconic neon signs that blazed up the Strip in years gone by and enjoy an offbeat ceremony site that is truly unique and full of playful photo opportunities.
Located in Downtown Las Vegas, close to trendy restaurants and bars for your reception needs.
Ceremonies and photoshoots are best held in the private North Gallery, aka the 'Sweetheart' section.
Private area closed to the public to ensure an intimate, uninterrupted true elopement experience.
Red Rock Resort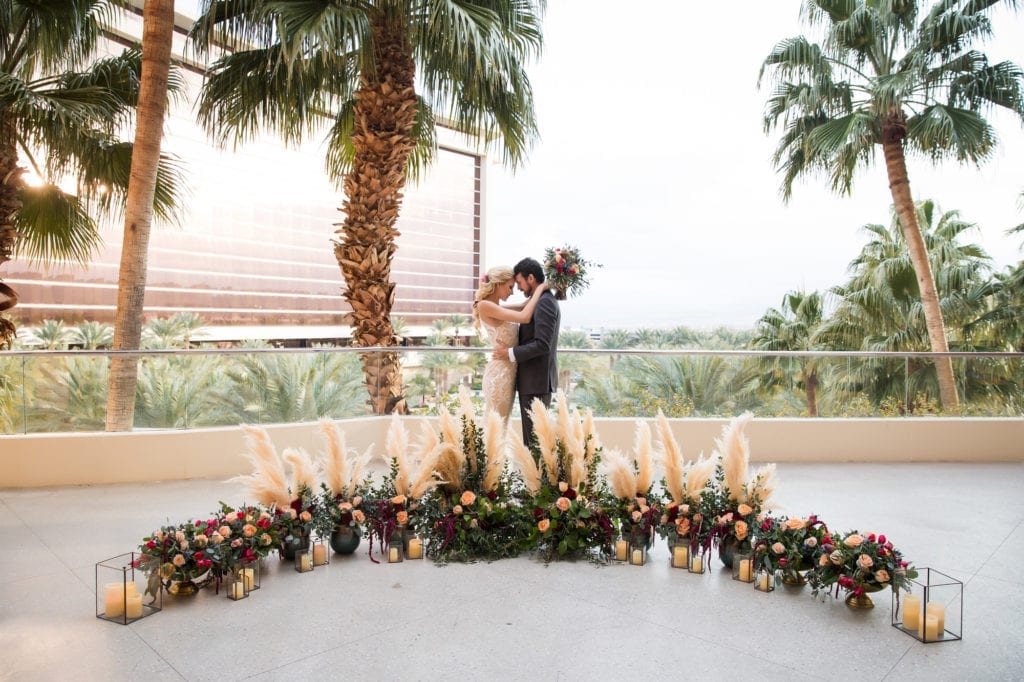 Red Rock Resort weddings deliver an elegant atmosphere with just the right amount of fancy. Say "I do." Surrounded by swaying Palm Trees, beautiful greenery, and luxurious pools.
Move seamlessly from ceremony to celebration with accommodation, dining, and entertainment all available on site.
A stone's throw from the beautiful Red Rock Canyon, for even more photo opportunities or minimoon adventures.
Indoor and outdoor ceremony sites are available to suit your desired wedding season.
Mt. Charleston Retreat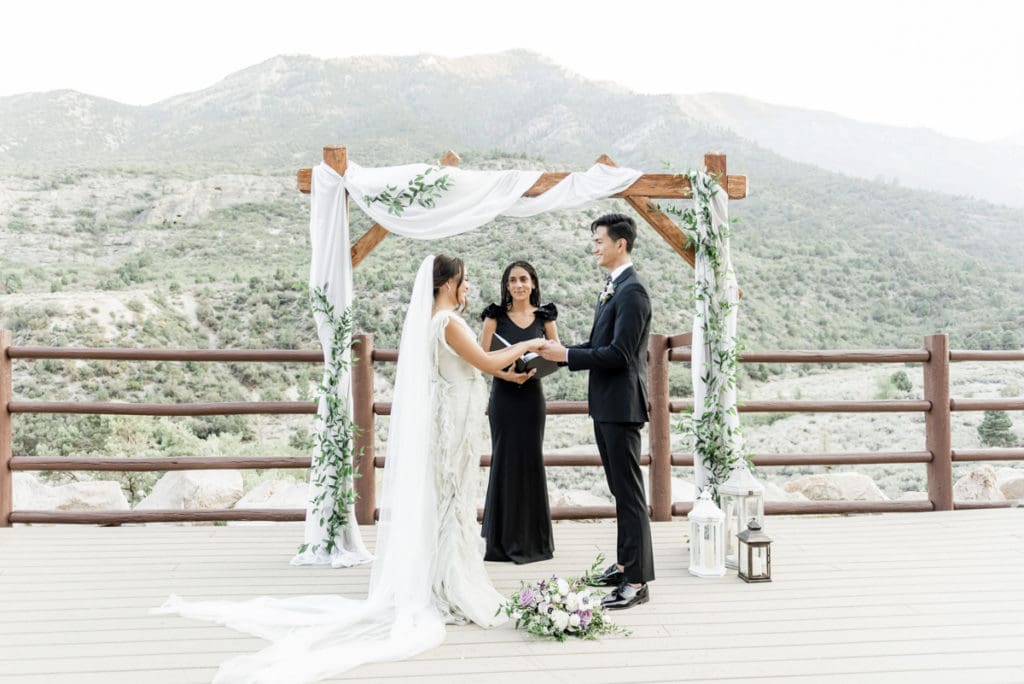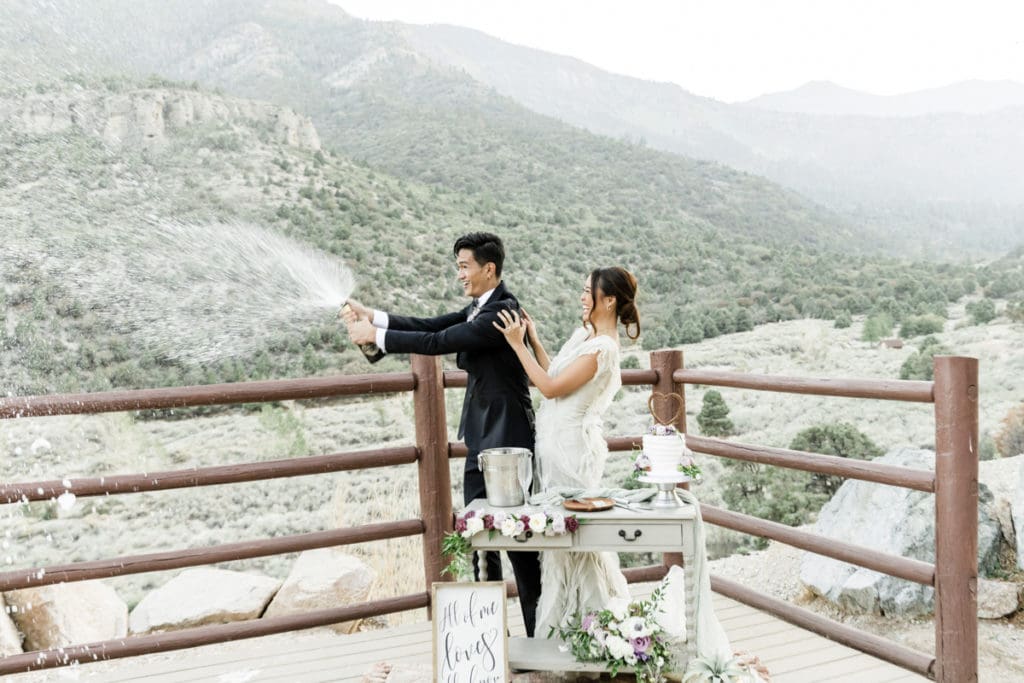 Exchange vows more than 3,000 feet above sea level, by the peak of Mt. Charleston. Elope here and you'll be surrounded by greenery at The Retreat resort. Mt. Charleston is an unexpectedly cool, lush oasis in the middle of a desert.
A 45-minute drive from the heart of the Vegas Strip.
Cooler temperatures make it a perfect venue for summer weddings.
The outdoor ceremony site delivers canyon views and Mojave Desert mountain backdrops.
You can find more images and information about each of these venues and any special feature venues we're currently offering, right here.
Looking for something a little more edgy? Check out this article on Rock N Roll Bride about a gorgeous goth wedding with our sister brand, Electric Sugar Elopements.
Extra touches for your day
Eloping usually limits the number of extra touches you need to organise.
But having a destination wedding doesn't mean ditching every flourish.
There's still room to personalise your day. Some added extras help your special day run smoothly (from our experience) while others bring the pizzazz.
Bouquets and floral decorations
There are a few reasons why you may incorporate flowers into your day.
Flowers are a simple way to weave your chosen colour theme into decorations.
Native flowers are a nod to your country of residence or a location that's significant to you and your partner.
They're versatile, so can be used for bouquets, corsages, boutonnieres, and large and small arrangements.
They add extra life and colour to your photos.
If you choose one of our desert wedding venues, every pop of colour in your flowers will stand out against the natural backdrop.
As a little something extra, the florist we work with includes succulents in his arrangements.
They wrap them carefully so you can replant them once you get home, which is a sweet memento.
Just make sure you declare them as you go through customs.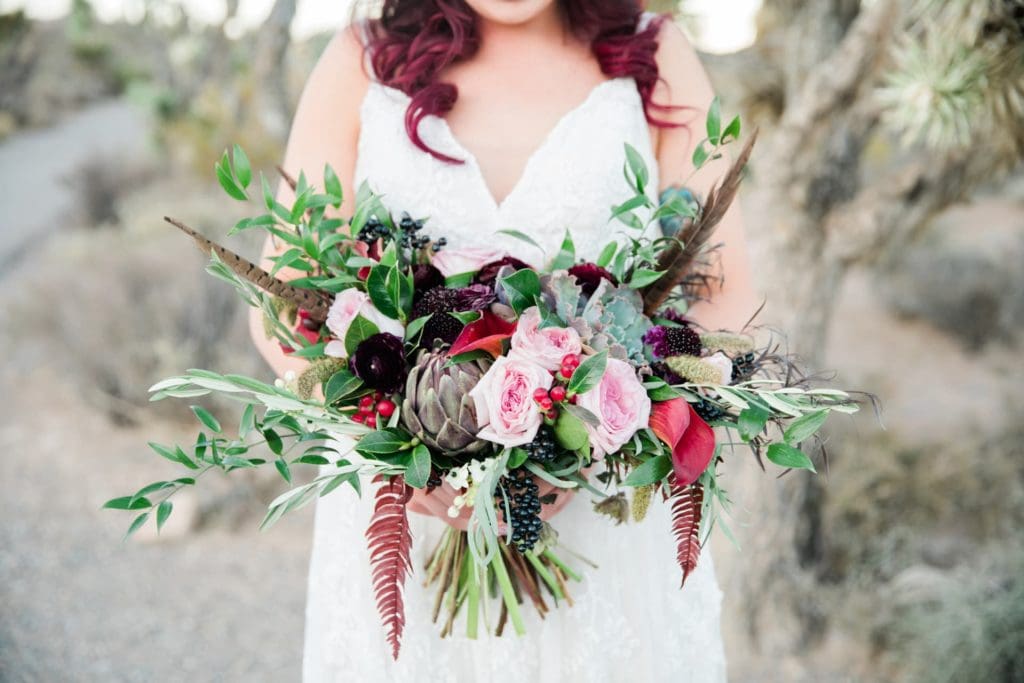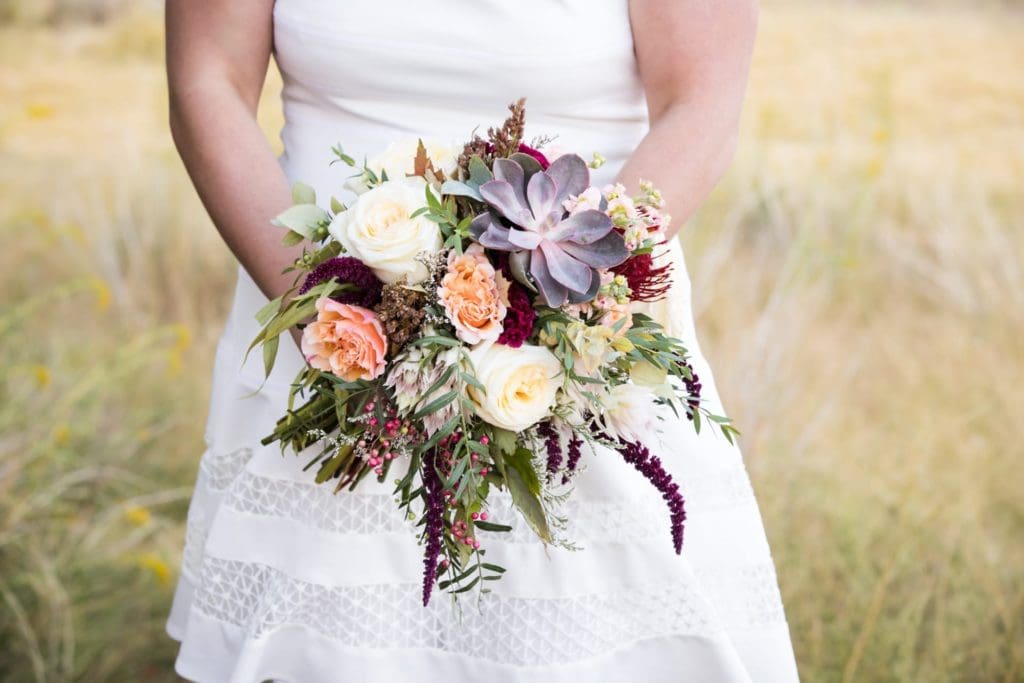 Wedding transport
Transport is an easily-overlooked wedding detail. Whether it's just you and your partner, or the two of you and a group of guests, you need transport to get to your venue and then onto your reception.
(Yeah, okay, the exception being if you're having the whole celebration at the one venue.)
For out-of-town locations, which many of ours are, we strongly recommend booking private transport.
There are several options you can explore.
If it's just the two of you, you could hire a car and drive yourselves or hire a chauffeured vehicle.
If you're bringing guests, book a minibus, party bus or coach to bring everyone to your wedding venue. This avoids the risk of someone getting lost and delaying the wedding.
Hair and makeup
When you look good, you feel good which is why you might consider booking a professional to help with your hair and makeup.
You can hire a mobile professional hairdresser (or barber) and makeup artist to come to your accommodation, or find a local salon.
Wherever you decided to have your pamper time, let your service know if it's just you, or you plus bridesmaids, groomsmen and close family.
Photography and video
One of our core beliefs at Cactus Collective Weddings is that every couple deserves beautiful, high-quality wedding photos.
After the celebrations, the video and photos are what you'll look back on. When booking this service, think about how much of your day you want your photographer or videographer to capture.
fter the celebrations, the video and photos are what you'll look back on. When booking this service, think about how much of your day you want your photographer or videographer to capture.
You may want just the ceremony photographed followed by an official wedding day photoshoot.
If this doesn't sound like enough, and you want photos of you getting ready through to the wedding meal, speeches and reception then discuss booking your photographer for the whole day.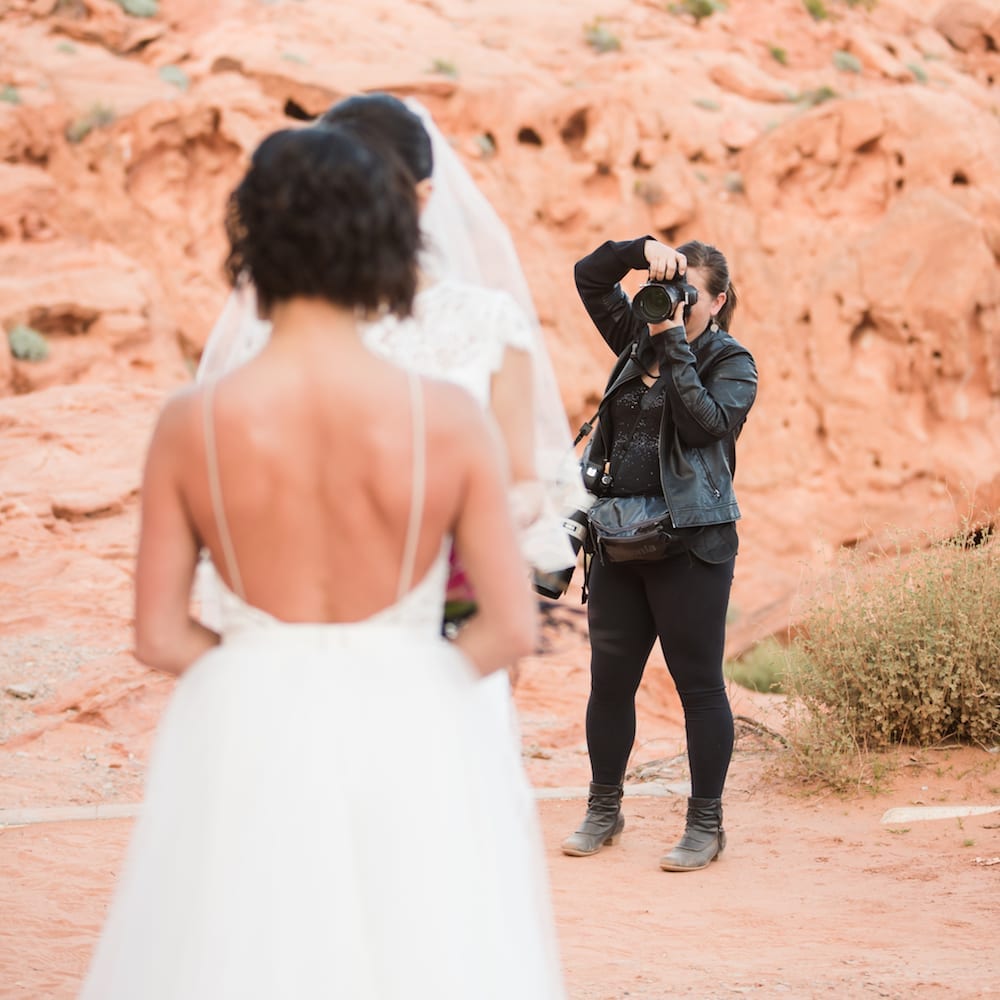 Wedding cake
You may think the 'cutting of the cake' is a wedding tradition you can do without, but we think it's a fun way to add a little personality to the day.
Decadent chocolate cakes, pretty cupcakes and doughnut towers, we've seen it all. This extra touch is a great way to start the celebrations after your ceremony.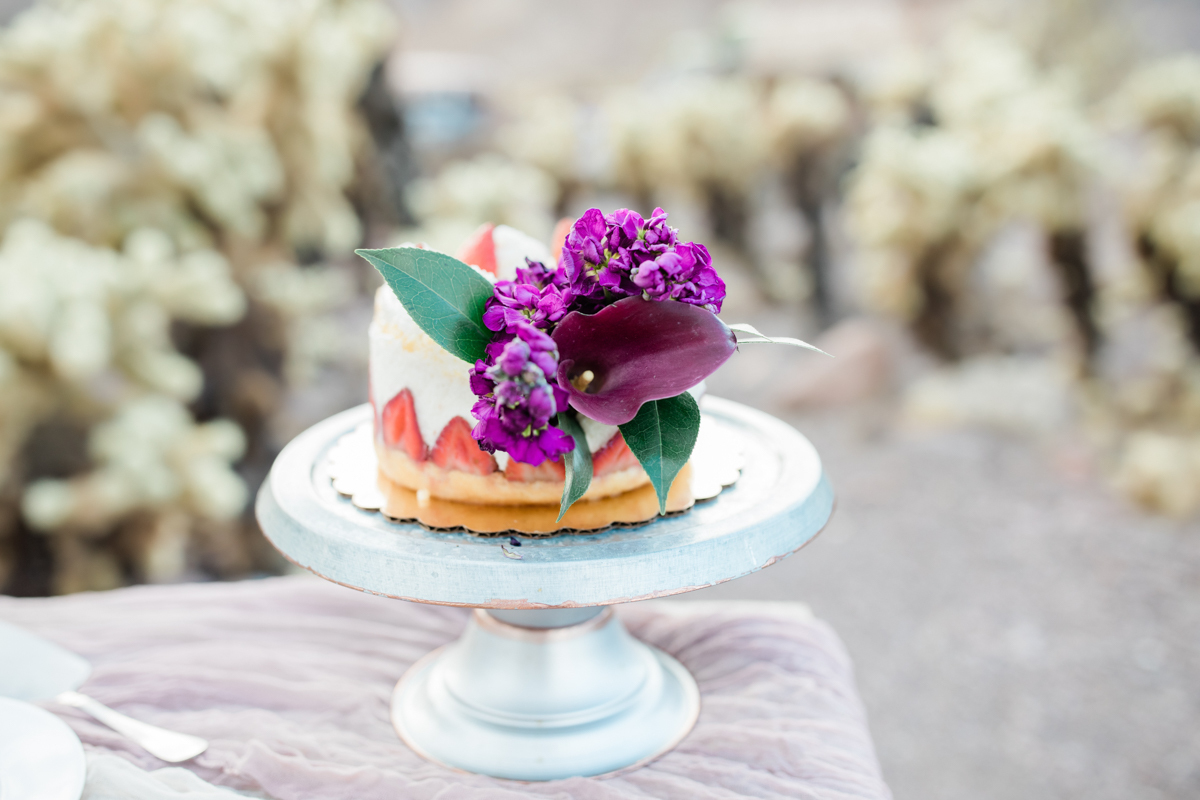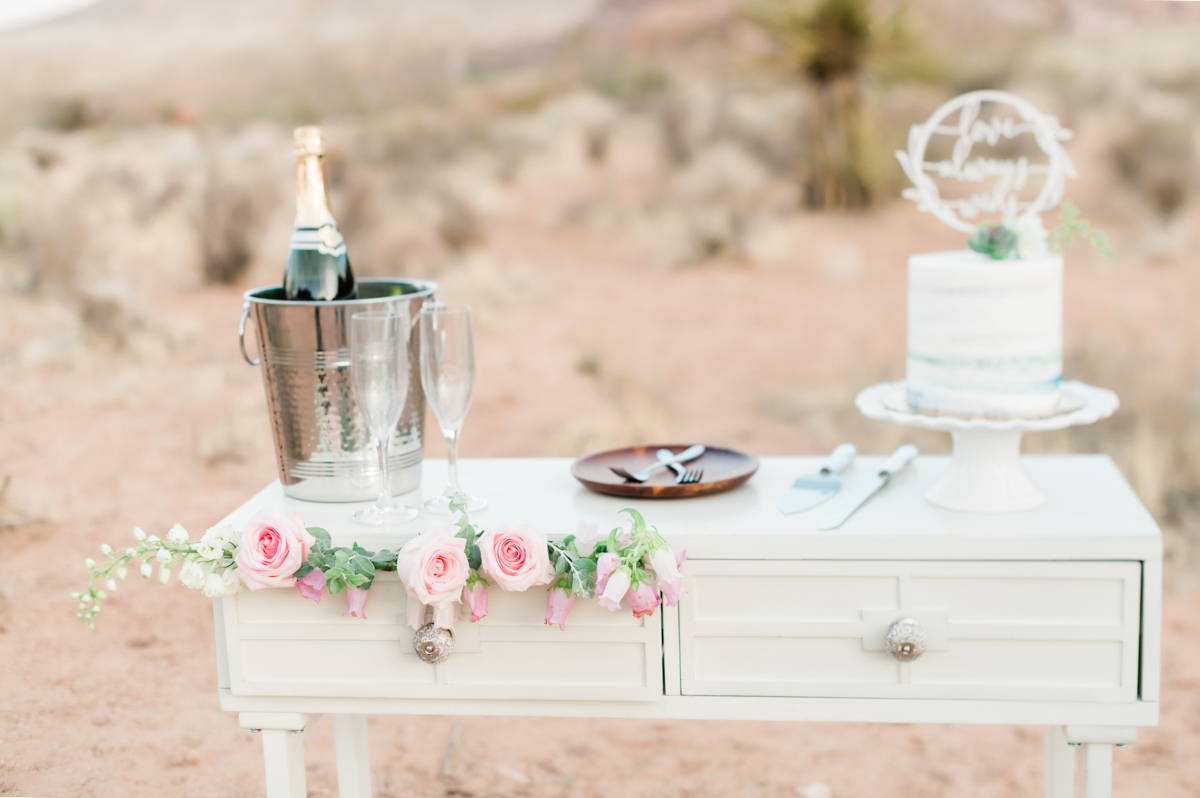 Ceremony music
Live music during a ceremony creates the perfect vibe and environment for an intimate elopement.
It provides entertainment for your guests as they gather and await your arrival and during the signing of the marriage register.
Your musician may also take requests, giving you a chance to hear a piece of music that's significant to you and your partner.
Find more inspiration on how to personalise your day, and to see prices, please visit our Extra Touches page.
Where to stay — for couples and guests
Las Vegas has a range of accommodation styles that suits all destination wedding budgets.
If it's your first time here search for accommodation on The Strip, Fremont Street and Downtown.
These areas put the bright lights, shows, restaurants, bars, clubs and casinos on your doorstep.
If the Strip isn't your scene consider nearby areas such as Summerlin, Henderson and Spring Valley. Here you'll find comfortable, quality hotels such as Red Rock Casino and Resort, the JW Marriott and Green Valley Ranch.
All of these suburbs are a short distance from Red Rock Canyon (perfect if you plan on getting out amongst nature during your trip) and are residential, so they're quiet and relaxed.
Quiet doesn't mean dull. No matter what season you're here, you'll still find modern dining experiences, plenty of shopping opportunities, outdoor activities and local events.
Consider a hire car or check public transport links if you do choose to stay in one of these suburbs. Especially if you plan on visiting The Strip.
Local and nearby honeymoon ideas
Planning to honeymoon in Las Vegas city, the wider Nevada region, or hop across a state?
Here are some big attractions and a few offbeat ideas on what to do and see if you're sticking around after your wedding.
Arts District
The 18b Arts District is a collection of galleries, street art, bars and theatres that stretch more than 18 blocks (hence its name).
The defining feature is The Arts Factory. This converted warehouse is home to more than 20 galleries and art studios, along with small gift stores and spaces for poetry and music readings.
Visit 18b.org to see what fairs, markets, shows and events are on during your visit.
Museums — Vegas style
Vegas is home to weird and wonderful museums such as the Mob Museum — the only museum in America dedicated to the history of organized crime.
You'll also find The Neon Museum in Vegas (where retired Vegas Strip neon signs RIP), Zak Bagans' The Haunted Museum, and the Erotic Heritage Museum.
This last one is home to the world's largest sex bike. Only in Vegas, right?
State and National Parks
You may have just got married in one of the Nevada state and national parks.
But exploring the various trails isn't ideal when dressed and prepped for your wedding day.
Both Red Rock Canyon and the Valley of Fire have hiking and bike tour trails that vary in length and difficulty.
Don't fancy being that active? Enjoy one of the picnic areas for lunch and a stroll, or camp there for a few nights.
For boating, swimming or fishing try Cave Rock or Echo Canyon.
Or get a glimpse of pioneer life at Buckland Station, Ward Charcoal, Ovens and Spring Mountain Ranch state parks.
Got a little more time on your hands? You're also close to Zion National Park in Utah (around 2.5 hours drive) and Joshua Tree National Park, where the Mojave and Colorado deserts join (around 4 hours drive).
Of course, you must see The Grand Canyon while you're here. It's well worth booking a helicopter tour from Vegas over the Grand Canyon.
Lake Tahoe
Travel a little further afield to the Nevada-California border and you'll find the stunning Lake Tahoe.
The crystal clear lake, surrounding snow-capped mountains and pine forests are a recipe for romance.
Driving takes around 8 hours from Vegas or you could catch a flight to Reno-Tahoe International Airport.
Some other honeymoon hotspots you're close to while you're near Southern California include Disneyland, Los Angeles and world-famous beaches along the Pacific coastline.
Well, it would be rude not to check some of these out while you're here.
Flying from the UK to Las Vegas
There are daily flights from the UK to Las Vegas, making it a very accessible wedding destination.
Here's a rough idea of the flight times from the UK's largest airports to McCarran International Airport, Las Vegas.
| | |
| --- | --- |
| Depart from | Estimated travel time |
| Heathrow | 10 to 11 hours |
| Gatwick | 13.5 hours |
| Birmingham | 10 to 14 hours |
| Manchester | 11 hours |
| Edinburgh | 13 to 20 hours |
Stress-free elopements from the UK to Las Vegas
Hopefully this guide has given you a starting point as you work out whether Vegas is the right elopement destination for you.
Our Ultimate Guide to Eloping in Vegas is another great resource. It goes into greater detail on what it feels like to get married in Vegas, how the ceremony works, and more.
Of course, if there's anything we can do to help you plan your Vegas elopement, please reach out.

McKenzi Taylor
McKenzi Taylor is America's go-to elopement and micro wedding expert, often featured in small and major media outlets, such as the New York Times. With over 15 years of wedding photography experience, it was after planning her own Las Vegas elopement in 2016 that McKenzi felt her purpose shift into elopement coordination. She started Cactus Collective Weddings soon after in 2017. Since then, she's become a WIPA board member, and has helped well over 1000 couples get hitched in style around Las Vegas, San Diego and Black Hills.