Disclosure: This post may contain affiliate links. Please see our full disclaimer to learn more.
While Las Vegas might seem like the ultimate party town for grown-ups, that certainly doesn't mean there isn't anything fun for kids to do! For families planning a destination wedding in Las Vegas, there are plenty of kid-friendly hotels in Las Vegas to enjoy. It's not all gambling and nightclub evenings; there are plenty of hotels that offer ice cream parlors, crystal clear swimming pools, crib services, kid-friendly shows and so much more.
JW Marriott Las Vegas Resort & Spa
For Cactus Collective Weddings taking place at the JW Marriott Las Vegas, the resort and spa take excellent care of families. The JW Marriott Las Vegas Resort & Spa is located just 20 minutes from the Las Vegas Strip and Vegas airport, so it's convenient even for families that are coming off of long flights.
Bike rentals allow families to explore the stunning grounds of the JW Marriott property, while shuttle access to the putting greens makes it convenient to knock a few balls around as you enjoy the stunning colors of the Mojave.
Visit JW Marriott Las Vegas Resort & Spa to see what the property has in store for your family.
Red Rock Resort
Red Rock Resort, located just around 20 minutes from the Las Vegas Airport and the world-famous Vegas Strip, is the perfect place to enjoy some family fun before and after your Las Vegas micro wedding. A resort-style pool lends itself to plenty of poolside fun in the sun, a state-of-the-art bowling alley is a perfect way to enjoy family-friendly Vegas nightlife, and the Red Rock Resort 16-screen Regal Cinemas and IMAX complex is always playing the latest family-friendly blockbusters.
VIP movie booths or bowling suites let you keep the party private while you make memories during your Vegas vacation.
Check out Red Rock Resort to see their complete family offerings.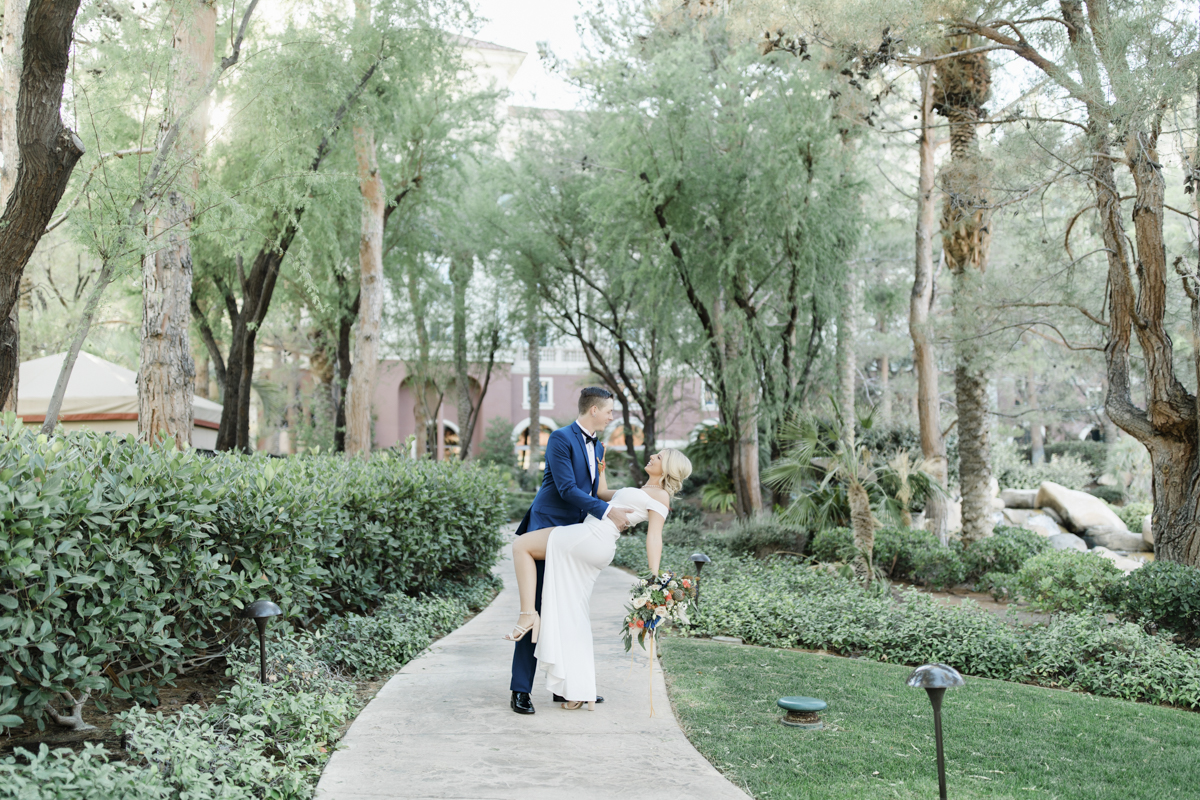 Golden Nugget Las Vegas
Located on Fremont Street in Downtown Las Vegas, the Golden Nugget has made big moves in recent years to create a family-friendly atmosphere and is now one of the kid-friendly hotels in Las Vegas. Close to Gold and Silver Pawn Shop made famous by the television series Pawn Stars, as well as the Mob Museum and the Neon Museum, there's plenty to do on or off the hotel grounds.
Inside the Golden Nugget, lobby guests will enjoy marveling at the golden nugget itself — a 61-pound golden nugget found in 1980 in Wedderburn, Australia named the Hand of Faith.
The Tank, located on resort grounds, is an award-winning pool that features a shark tank aquarium with waterslide and three stories of pool decks and private cabanas.
Visit the Golden Nugget, a true gem of Downtown Las Vegas.
California Hotel Casino Las Vegas
Within walking distance to the Fremont Street experience and zip line in historic downtown Las Vegas, California Hotel Casino Las Vegas is a great place to put the family right in the thick of the fun. After a multi-million dollar renovation completed in 2017, "The Cal," as the resort is affectionately called now, has 435 updated guest rooms, updated dining, new fixtures and furniture and an updated sports lounge.
Kids staying at California Hotel Casino Las Vegas will particularly enjoy Lappert's Ice Cream Shop, a rooftop pool and Ethel M Chocolates. For grown-ups, plenty of nightlife fun is to be had at the Holo Holo, table games or Cal Sports Lounge.
See all that The Cal has to offer for your Vegas experience.
Main Street Station Hotel & Casino
Main Street Station brings a ton of charm to historic Downtown Las Vegas. Filled with antiques and quirky historic charm, families are transported to another place and time the minute they walk through the doors. Within walking distance to Fremont Street and the Fremont Street experience, there's plenty to enjoy inside the hotel property and within the surrounding area.
The hotel staff supplies rooms with cribs and rollaway beds at no charge, and the rooftop pool at Main Street Station's sister hotel, California Hotel Casino, is open to all Main Street Station guests. Kids will be fascinated by the menagerie of antiques and treasures displayed all around the hotel like chandeliers from opera houses in France, a piece of the Berlin Wall, a bronze statue of a wild boar and Louisa May Alcott's car.
Take a virtual visit to Main Street Station Hotel & Casino.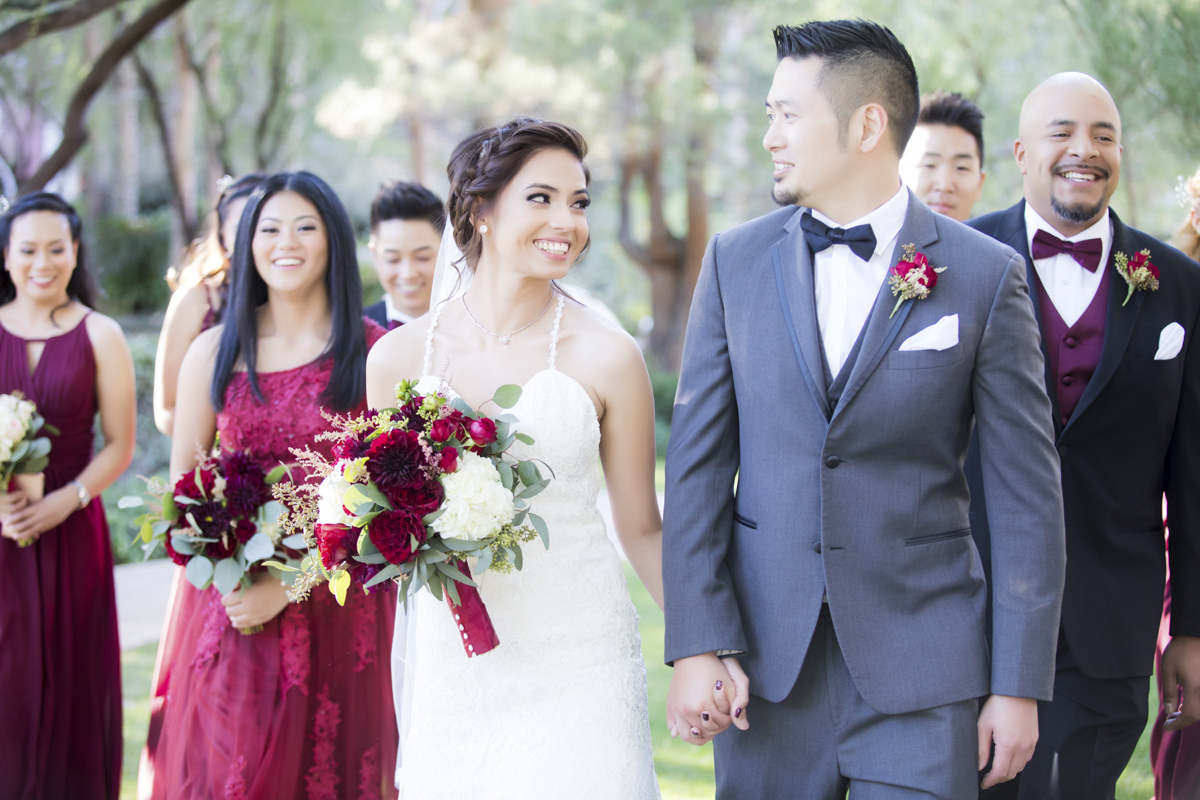 Oasis At Gold Spike
Oasis at Gold Spike is a retro boutique hotel located just a 7-minute walk from the Fremont Street Experience. Trendy penthouse suites offer three bedrooms, rooftop terraces, pool tables, and full modern kitchens. If you're looking for some extra privacy, stay in The Sugar Shack, an XL tiny home with pool access, queen bed, loft bed, front yard and firepit.
Oasis at Gold Spike offers a state-of-the-art swimming pool, turntables with vinyl records, a library and bicycle rentals. At just a short 8-minute bike ride away, families can take their rented bicycles to the Arts District to enjoy galleries, sculptures, art shows and plenty more quirky Las Vegas family fun.
Experience Las Vegas the retro way at Oasis at Gold Spike.
Westgate Las Vegas
Just a short 2-minute walk from the Las Vegas Country Club, there is no better accommodation for families coming into town for a Country Club micro-wedding than the Westgate Las Vegas. A monorail provides easy and quick access to the Las Vegas Strip just over two miles away, while plenty of amenities ensure you don't ever have to leave the resort grounds if you don't want to!
Family-friendly shows, like The Magic of Jen Kramer or Soul of Motown, give that Vegas experience to guests of all ages, with tickets available to those aged 5 years and older. For daytime fun, the pool deck at Westgate Las Vegas offers a refreshing pool for all guests as well as top-of-the-line poolside cabanas. For grown-ups looking for a little rest and relaxation, the Serenity Spa by Westgate is the perfect place to refresh.
See the Westgate Las Vegas experience for yourself.
Excalibur
With its iconic castle exterior, Excalibur is a legend of the Las Vegas strip. Step back into medieval times when you walk through the castle doors and get ready to enjoy plenty of excitement for families of all ages. Military and veteran programs provide discounts on shows, parking, dining and more for active duty military and veterans.
The Fun Dungeon is an all-ages gaming arcade within Excalibur, with a Dairy Queen and Orange Julius for finishing off a gaming session with some ice cream and smoothies. If you're looking for family-friendly dinner and a show, really immerse yourself in the atmosphere of Excalibur with tickets to the Tournament of Kings — a live-action production with jousting, pyrotechnics and more as you enjoy a delicious medieval-themed meal.
Immerse yourself in the fantasy of Excalibur with a virtual tour.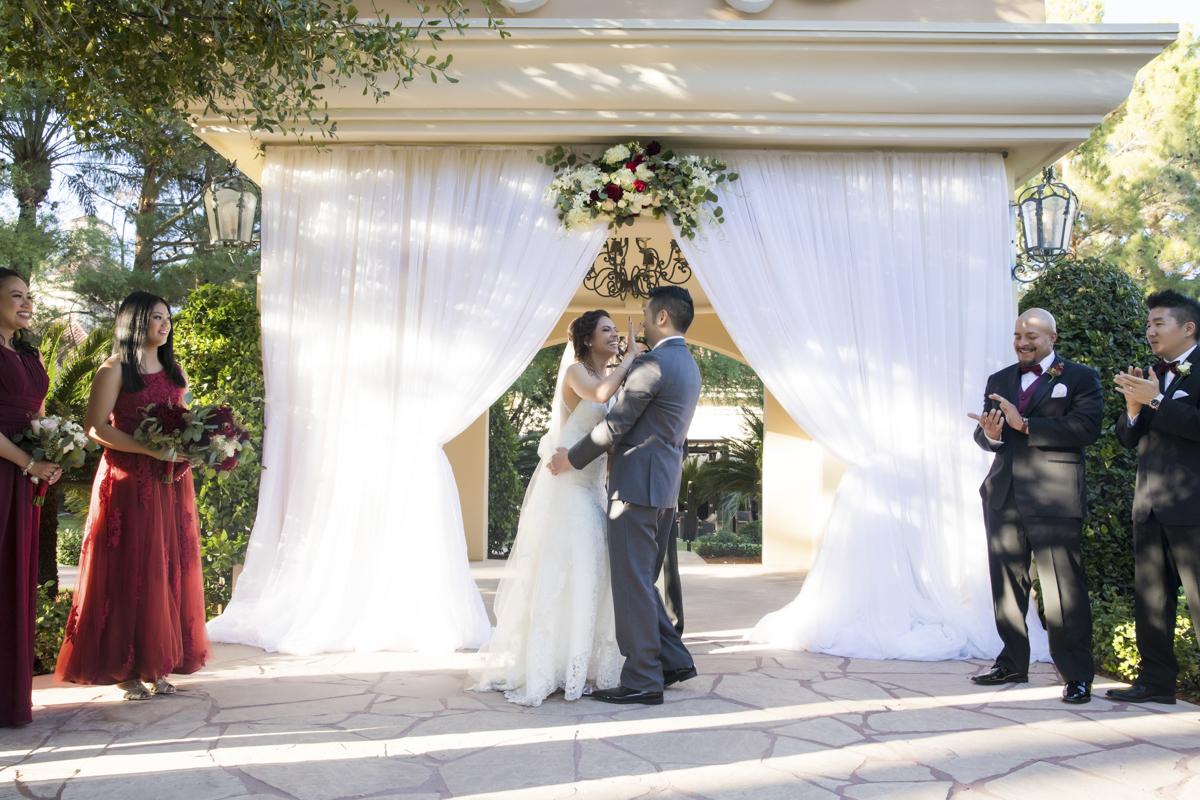 Caesar's Palace
Flanked by its famous fountains, Caesar's Palace on the Las Vegas strip is a magical home base for families visiting Las Vegas for an elopement, micro or destination wedding. The hotel grounds boast seven pools around the property, with cabanas for parents to relax while kids splash around in the cool water, making it one of the most popular kid-friendly hotels in Las Vegas.
For foodie families, Caesar's Palace has a bit of everything. Restaurants by Gordon Ramsay and Bobby Flay offer excellent date-night options, while family dinners out are sure to be a hit with burgers from Café Americano.
Stop by Caesar's Palace to get a glimpse of the experience.
Once you have your Las Vegas family-friendly hotel all booked, it's time to get ready for the rest of the planning. Check out our destination wedding checklist to keep your planning stress-free.

McKenzi Taylor
McKenzi Taylor is America's go-to elopement and micro wedding expert, often featured in small and major media outlets, such as the New York Times. With over 15 years of wedding photography experience, it was after planning her own Las Vegas elopement in 2016 that McKenzi felt her purpose shift into elopement coordination. She started Cactus Collective Weddings soon after in 2017. Since then, she's become a WIPA board member, and has helped well over 1000 couples get hitched in style around Las Vegas, San Diego and Black Hills.