Disclosure: This post may contain affiliate links. Please see our full disclaimer to learn more.
Updated May 27, 2021
We've all seen the wedding checklists, journals, calendars, etc. They are the things that keep us sane, yet verging on crazy during wedding preparation.
Big weddings simply aren't for everyone though, so we have put together this guide on etiquette as part of our best elopement ideas series. For their own reasons, some couples choose to ditch the big ceremonies full of guests they barely know and extras they don't need in lieu of something romantic and intimate.
Whether planned or spur of the moment, an elopement, for some, is an ideal replacement for the traditional wedding. Although smaller and usually easier and simpler in nature, with far less stress involved, elopement comes with its own set of rules and expectations.
Navigating an elopement, if done right, can be the perfect solution for those couples wanting a more intimate affair. Whether destination or local, similar to the more traditional route, proper planning is essential.
Follow these simple etiquette tips to help you develop your best elopement ideas yet.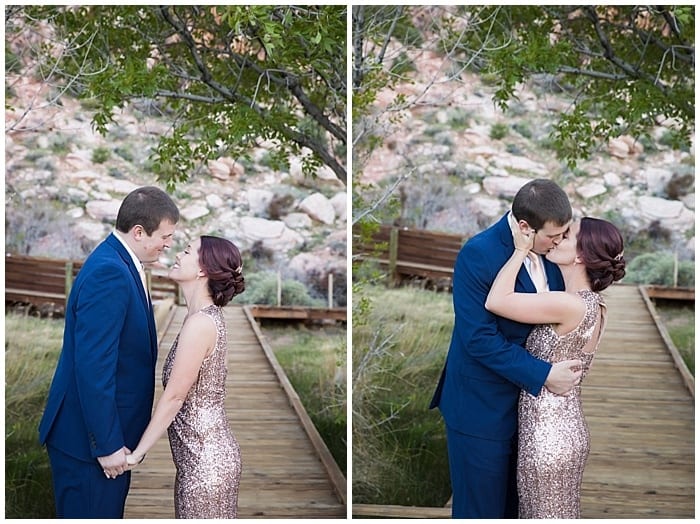 1. Best Elopement Ideas: Be sure to notify family
If you want to elope in Las Vegas, you are most likely inviting few to no guests. However, the family should still be notified. While informing them beforehand is not necessary, you should notify them, in person, as soon as possible afterward. The last thing family members want is to be notified of your nuptials with the rest of the world.
2. Best Elopement Ideas: Send announcements
Following your decision to elope in Las Vegas, let everyone know that you're now officially an "us." This traditional marriage custom is still appropriate for elopements. If you have a few great pictures that you're partial too, order several and send those along too. Since your family and friends could not be there, they'll appreciate a photo or two.
Make them personal. This is yet another way to showcase your personalities. Take it a step further and take out space in your local paper to announce your recent union.
Price:

$121.00
Price:

$137.00
Price:

$137.00
3. Best Elopement Ideas: Consider your budget
Know how much you have to spend when you elope in Las Vegas and what you'd like to spend it on. Together, decide on your priorities. Once you determine your budget and where you want to spend, you'll be better able to determine the most appropriate location/venue for the type of elopement you want.
Interested in learning how to elope in Las Vegas? Fill out our short contact form and we can help you put together an intimate wedding of your dreams. Contact us here.
4. Best Elopement Ideas: Location
An elopement does not have to mean that you're confined to the courthouse. Consider your options for location. Take into account your personalities. Do you want an indoor or outdoor ceremony? Consider the time of day and time of year. Also important to verify is, if it's in a public place, determine whether or not permits are required. Most important, though, be sure that whatever location you choose is a reflection of the both of you. Take into account where you'd be most comfortable and where most speak to you.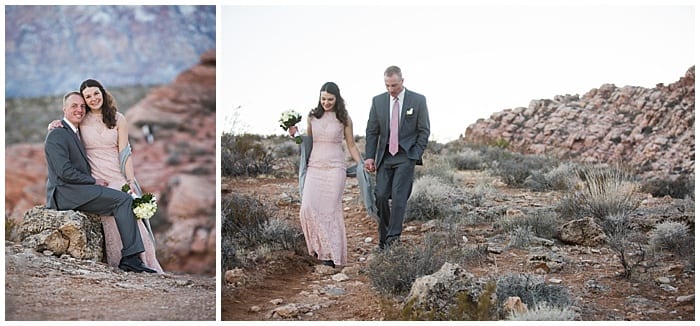 5. Best Elopement Ideas: What to wear
What kind of feel do you want your wedding to have? Are you going for casual of formal? Although it will be just the two of you, and maybe a few guests, feel free to make it fancy if you so desire. This is your day. Wear what you want. Remember, though, you're bucking tradition so don't be afraid to stray away from the traditional white gown and tuxedo. Also think about your location, such as typical weather, ease of access, etc. Whether it's a rustic mountain location or donning the city streets, make sure you'll be comfortable.
6. Best Elopement Ideas: Legalities
Elope in Las Vegas and forego much of the stress and some preparations associated with a traditional wedding. However, one area that remains the same regardless are the legalities of going from a single to a twosome. In every case, to make it legal, a marriage license is required. Part of the fun and appeal of an elopement is the spur of the moment element. However, if at all possible check office hours and take measures to get your license ahead of time. Also, different states have different requirements to obtain a marriage license. Check with your local bureau in regards to whether waiting periods, physicals, or blood tests are needed as well as if a witness is required and what type of documentation you'll need at the time of application.
If eloping abroad, the same rules apply. Inquire about what is needed and requirements that must be met before obtaining a marriage license.
These are all important things to verify, ideally before your elopement. Being well-informed will prevent any unnecessary disappointment and delays in being able to make your union official.
7. Best Elopement Ideas: Guests: To invite or not
For some, their best elopement ideas are to limit the guests or have none at all. For others, a select few are included. It's completely up to you. There is no rule that says if you elope you can't or shouldn't invite guests. However, you did chose to elope for a reason. If choosing to include guests, keep the list small and limit guests to only a select few. However, don't feel obligated to invite anyone at all. The pressure may be coming at you from all directions, but this is your day. The two of you deserve to share it with those whom you choose, or no one at all if so desired.
8. Best Elopement Ideas: Celebrate
You've married. Now it's time to celebrate! Go big or go small, but allow those who care about you an opportunity to celebrate your union. Following your elopement, invite friends and family to a reception. Be sure to specify that they are being invited to help you celebrate your marriage rather than inviting them to your marriage. This will also give you a chance to make your debut as a married couple.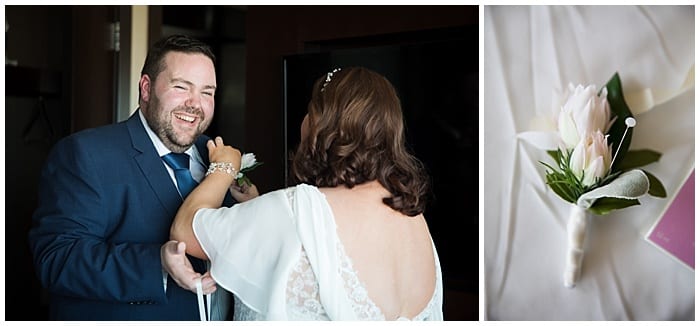 9. Best Elopement Ideas: Gifts
If having a reception, it is okay to accept gifts, even register. However, rather than including registry information on your invitation, rely on family and close friends to spread the word. If you do choose to accept gifts, be gracious. Thank you cards, not just verbal thanks, are a must. And make them personal. Take the time to personalize each card or note.
10. Best Elopement Ideas: And finally… consider vendors
Traditional weddings come with a need for vendors to accommodate florals, photos, food, and so on. Depending on your vision and what you want included, you will need to research and find vendors in your area that can provide the services that you desire. When you decide to elope in Las Vegas, consider and interview, caterers, venues for your reception etc. Just because it will be a very small and intimate occasion doesn't mean you can't do it up rockstar style. It's still an affair to remember, even if it's only you two remembering. However, don't feel obligated to enlist these services. Even with no photos, cakes, food, or florals, your day will be special and all yours!
You made the decision to elope in Las Vegas. This is about the two of you. Above all else, enjoy the experience and each other.
Read more about our elopement packages for two.
McKenzi Taylor
McKenzi Taylor is America's go-to elopement and micro wedding expert, often featured in small and major media outlets, such as the New York Times. With over 15 years of wedding photography experience, it was after planning her own Las Vegas elopement in 2016 that McKenzi felt her purpose shift into elopement coordination. She started Cactus Collective Weddings soon after in 2017. Since then, she's become a WIPA board member, and has helped well over 1000 couples get hitched in style around Las Vegas, San Diego and Black Hills.