Disclosure: This post may contain affiliate links. Please see our full disclaimer to learn more.
There is something plainly iconic about a wedding ceremony elopement in a Las Vegas chapel. For those who want to get married in Las Vegas elopement-style, finding that perfect chapel is a huge part of planning your entire experience. When looking at venues, consider that this will be the backdrop of your wedding day and what will set the whole atmosphere of your Vegas wedding.
Cactus Joe's
Cactus Joe's really gives you that classic Las Vegas elopement moment. A small and intimate pink wedding chapel lined with pews and set in the middle of a cactus nursery and desert garden, Cactus Joe's offers incredible picturesque photography opportunities for whimsical couples who want to embody that Vegas spirit.
More than just cactus, Cactus Joe's features a huge selection of pottery, statues, metal yard art, Joshua Trees, rainbow glass, desert rocks and so much more. Couples and guests can enjoy the experience of simply walking the grounds and taking all of it in.
More than just a Vegas chapel wedding location, the venue gives a full, fun Vegas experience more like an art gallery or quirky museum.
Couples in search of the small wedding chapel Las Vegas elopement will find everything they're looking for at Cactus Joe's. The venue is also just a short 25-minute drive from the Las Vegas airport.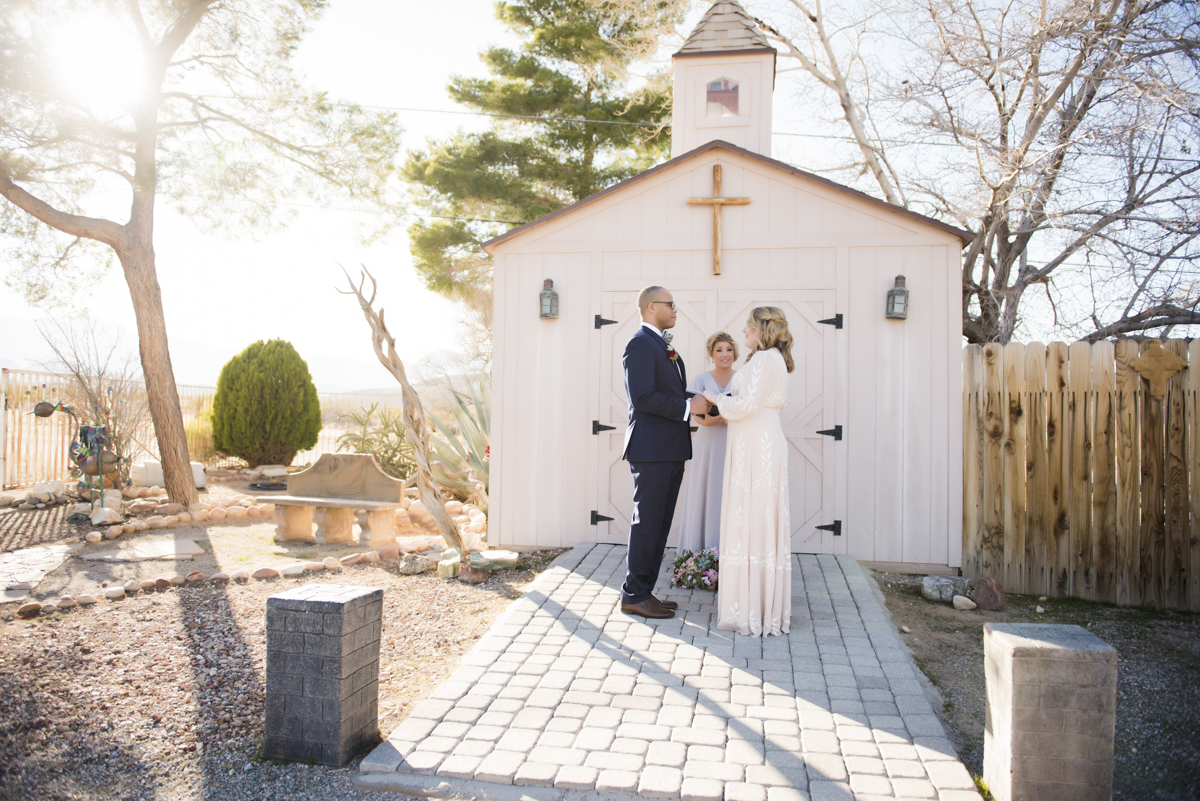 Eldorado Canyon
Surreal and beautiful, Eldorado Canyon gives the stained glass chapel Las Vegas wedding experience amongst Cholla Cactus fields, a big barn, an abandoned airplane and true old Wild West charm.
A perfect intimate wedding location for artsy couples who really dream about stand-out wedding photos, Eldorado Canyon has an ethereal nature much like getting married within a dream.
Eldorado Canyon is a 40-minute drive from the Las Vegas airport, making it easy to get to and enjoy for any guests who may be flying in from far out of town to attend your destination elopement.
While just a short drive away from the hustle and bustle of downtown Las Vegas, you feel far removed from the bright lights of the strip at Eldorado Canyon.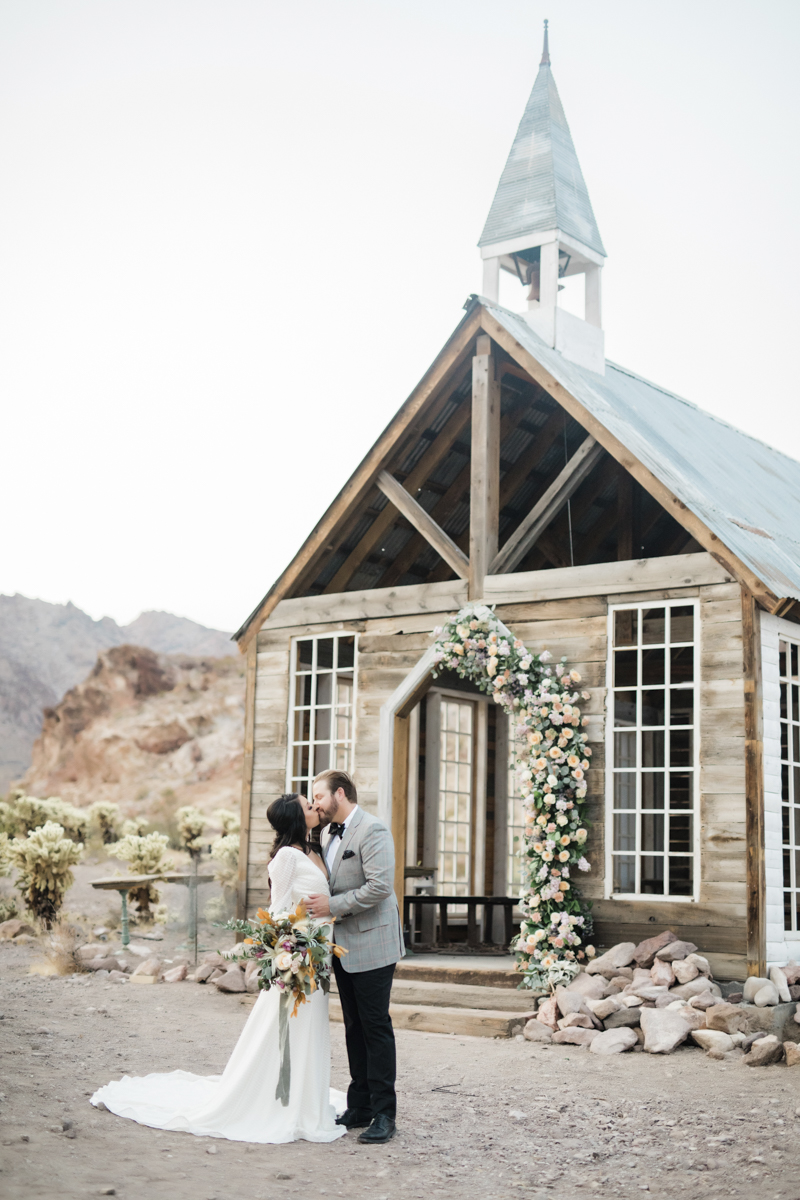 Las Vegas Wedding Chapel Prices
The prices of elopement chapels in Las Vegas can vary widely. If you're looking to elope in the type of Vegas wedding chapel that reserves an hour and then quickly ushers you out of the door to prepare for the next couple, you could be looking at as little as $100 for use of the venue to say your vows.
Your elopement is an experience, and it's really all about the experience you wish to have as a couple.
Cactus Collective Weddings Las Vegas wedding chapel packages include photography and partial planning services in the package price. This offers couples a way to plan their Las Vegas elopement stress-free and without any unwanted surprises. You can map out what you want out of your Vegas elopement while keeping your package within budget.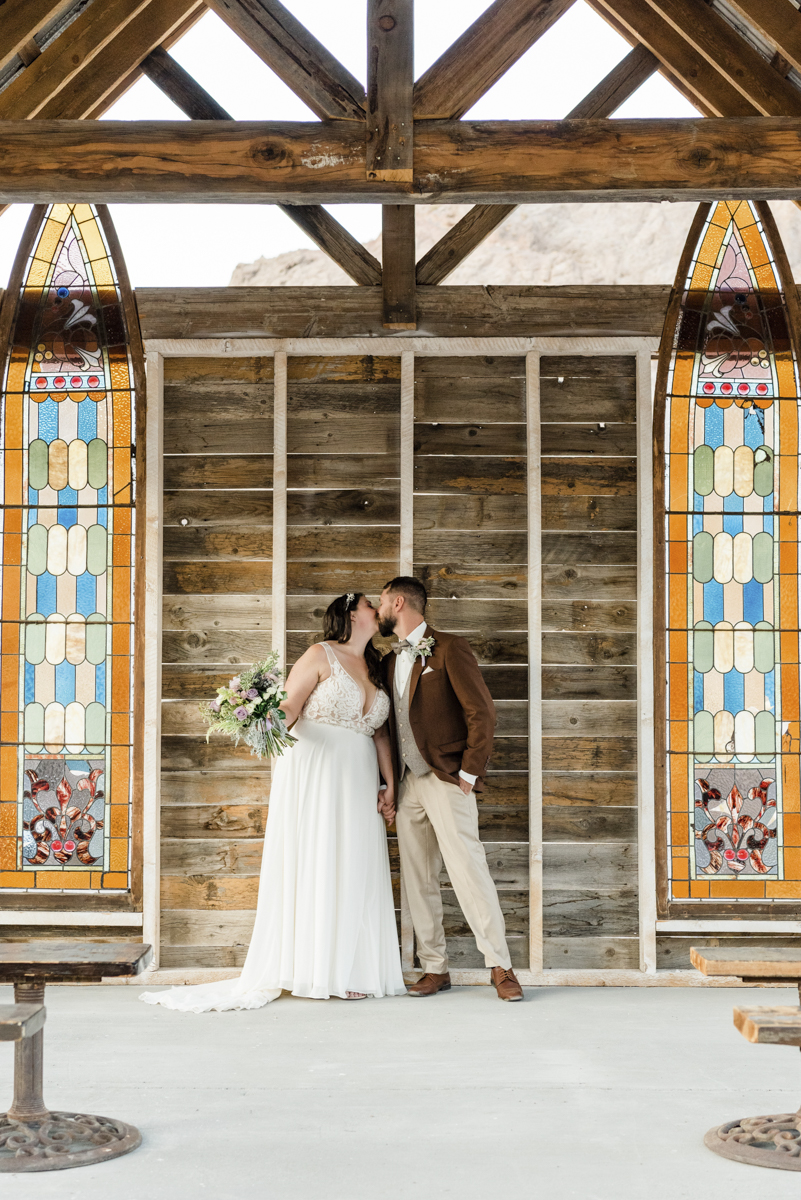 Why Outdoor Las Vegas Wedding Chapels?
The outdoor wedding chapels Las Vegas experience is quite unlike any other. The "Old West" charm, the desert landscapes, the unique flora and the otherworldly atmosphere provide a setting that is impossibly romantic and lends quite a bit to memorable wedding photography.
Couples can worry less about figuring out color palettes and décor when they confidently know that Mother Nature will provide everything and more.
A small wedding chapel Las Vegas or stained glass chapel Las Vegas experience located in the middle of a desert landscape and surrounded by the abstract shapes of natural cacti is going to create photos and memories never to be forgotten.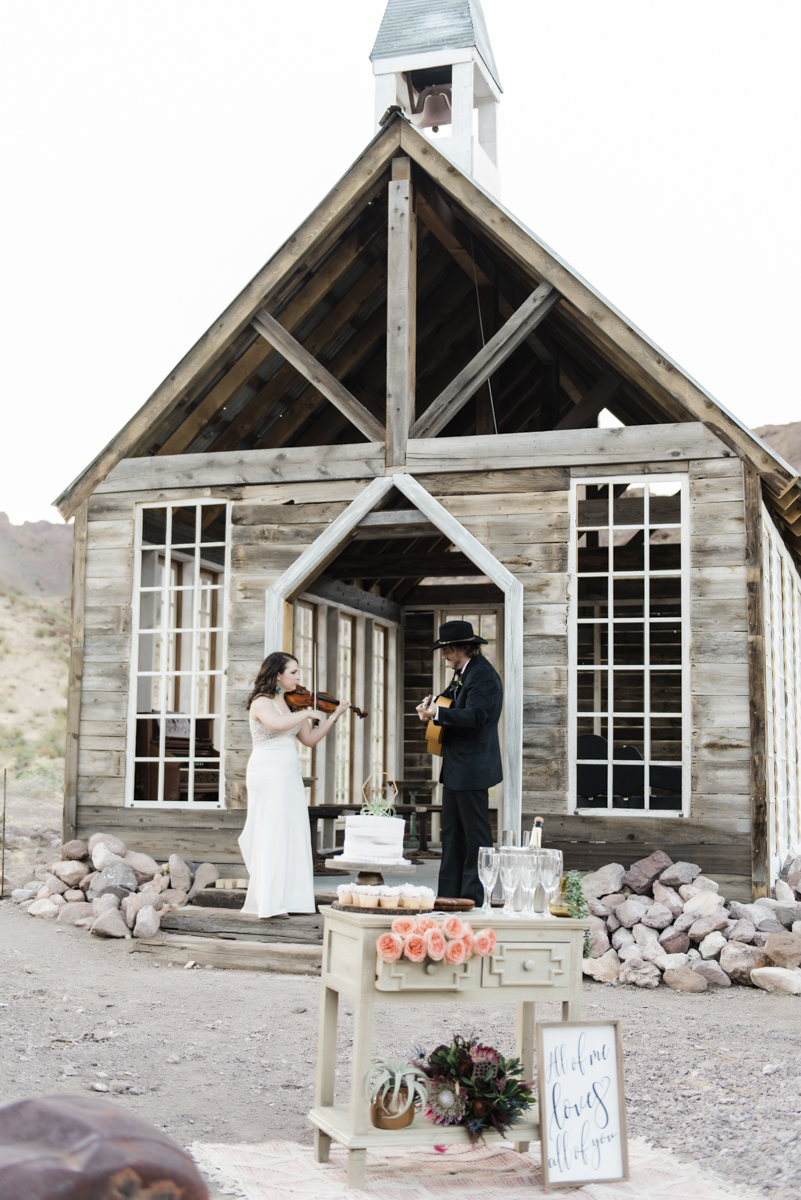 Elopement Planning, Announcement and Etiquette
While planning your Las Vegas elopement, you may be wondering about how you're going to announce your nuptials, what the etiquette is and how you're going to map out your whole experience.
An elopement announcement is the couple's opportunity to share in their joy and a few elopement announcement ideas can really get those creative juices flowing.
Elopement announcements are short, personalized cards announcing the wedding sent out after the ceremony, and they may include information regarding receptions to follow should a couple choose to have one.
Hand-picked content: Elopement Announcement Ideas
Elopement announcements are just one bit of elopement etiquette couples should familiarize themselves with when planning their intimate ceremony.
Couples should consider what they're going to wear, how casual they want their elopement to be, just how small their guest list is going to be, the vendors they'll choose and more.
Let's Connect
You don't have to plan your Las Vegas elopement alone. Cactus Collective Weddings packages feature some of the top elopement chapels in Las Vegas as well as our partial planning services.
McKenzi Taylor
McKenzi Taylor is America's go-to elopement and micro wedding expert, often featured in small and major media outlets, such as the New York Times. With over 15 years of wedding photography experience, it was after planning her own Las Vegas elopement in 2016 that McKenzi felt her purpose shift into elopement coordination. She started Cactus Collective Weddings soon after in 2017. Since then, she's become a WIPA board member, and has helped well over 1000 couples get hitched in style around Las Vegas, San Diego and Black Hills.