Disclosure: This post may contain affiliate links. Please see our full disclaimer to learn more.
A sometimes unfortunate reality is that you can't always share your celebration of love with everyone you love.
Whether you decide to tie the knot via a micro wedding, destination wedding, elopement or scaled-down ceremony, you probably still wish to share your joy with all of your favorite people.
This is where a wedding announcement comes in handy.
A keepsake announcing your nuptials, your wedding announcement wording can perfectly represent your union no matter how you may have decided to go about it.
What Are They?
If you go back in time a couple of decades, wedding announcements were often done in the local newspaper.
This is something we don't see much of anymore outside of society weddings, mainly due to fewer people holding newspaper subscriptions than they used to.
Wedding announcements are the alternative, and they're sent only to those you care about and wish to share the news with.
A wedding is a big deal, and it's simply not enough to put out a tweet, Facebook post or photo on Instagram.
Your wedding announcement is a personal way to show those who perhaps couldn't make it that you wish to share your joy with them.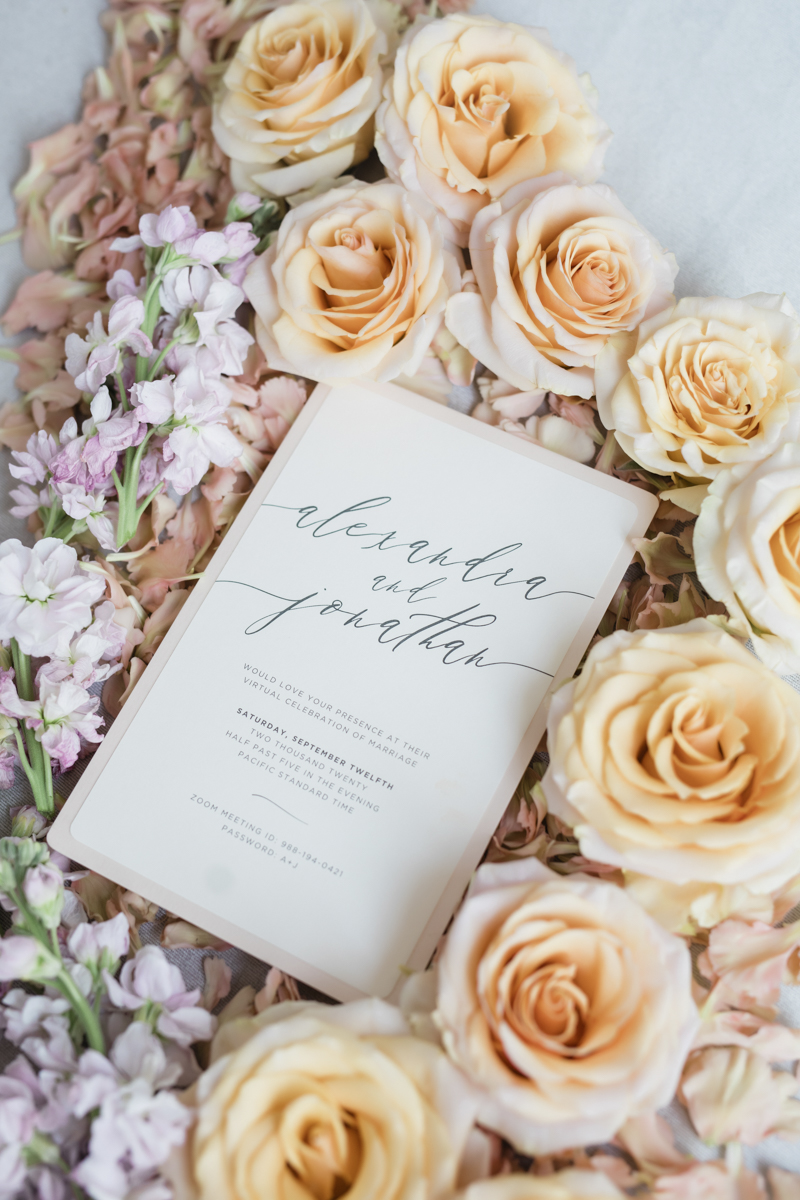 When To Send
Wedding announcements are traditionally sent after the wedding, as they're announcing that the couple has been married.
Exactly when you send out your wedding announcements is up to you, but you don't want to wait too long.
In most cases, wedding announcements are sent out the month following the wedding.
Whether you wish to send them out the same week or a couple of weeks after the wedding, both are considered to be within etiquette.
In some instances, if a couple is going on their honeymoon shortly after the wedding, they may choose to wait until after they return to send out the wedding announcements as all of the wedding's festivities have then concluded.
If you had a more formal destination wedding or elopement, sending your wedding announcements out promptly may fit better with your wedding style.
On the other end of the spectrum, those with a more relaxed wedding style may wish to wait a little bit longer.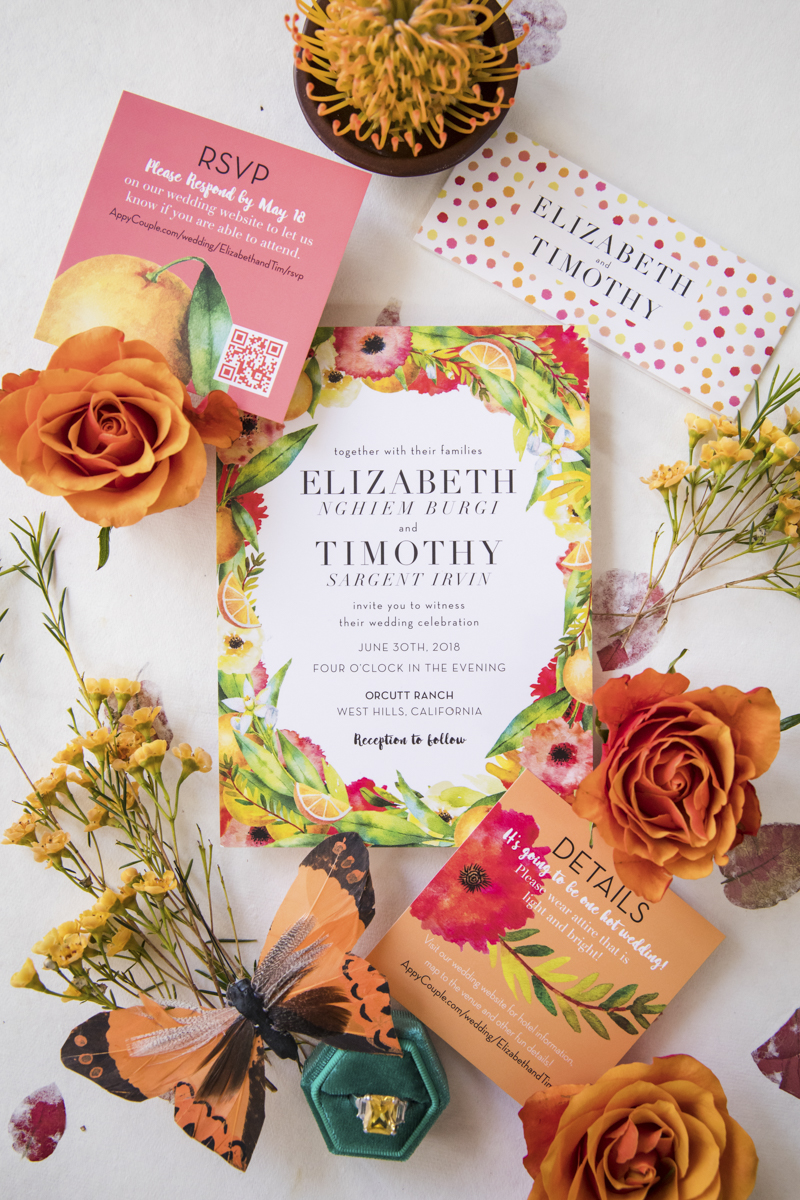 What To Include
Wedding announcement wording should include all important information as it relates to the wedding. This includes:
Names of those getting married
Names of couple's parents
Date of the wedding
Location of the wedding
In many instances, couples will also choose to include a favorite photo taken at the wedding to show their loved ones a piece of their special day.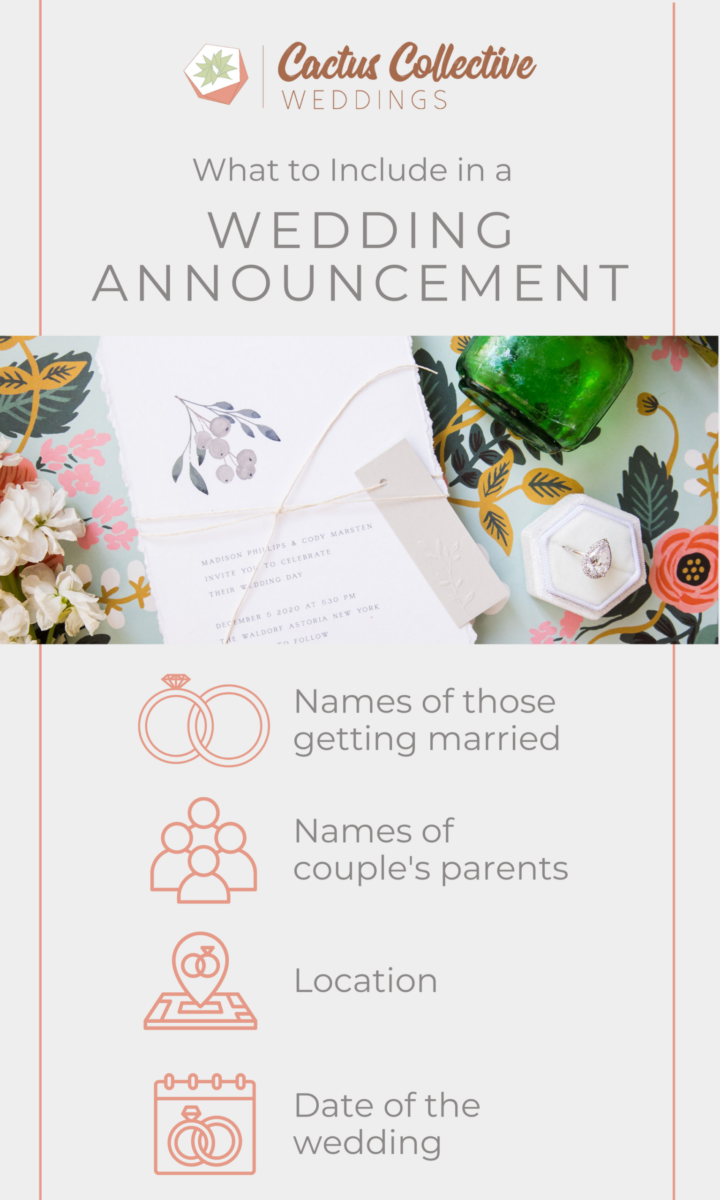 What wedding announcement wording should not include is registry information.
The purpose of these announcements is simply to announce your union; including registry information can lead recipients to believe a gift is expected simply because they received an announcement.
For destination weddings in particular, a wedding announcement may also serve as an announcement of a reception to follow.
This is something of a combined effort of an announcement and a save the date in one.
Those who have a smaller destination wedding or elopement can have their intimate day in their desired location, while they come back home to celebrate with everyone they love.
The wedding announcement wording in this instance may begin with announcing the nuptials, finishing with a note regarding a reception to come along with a location and date.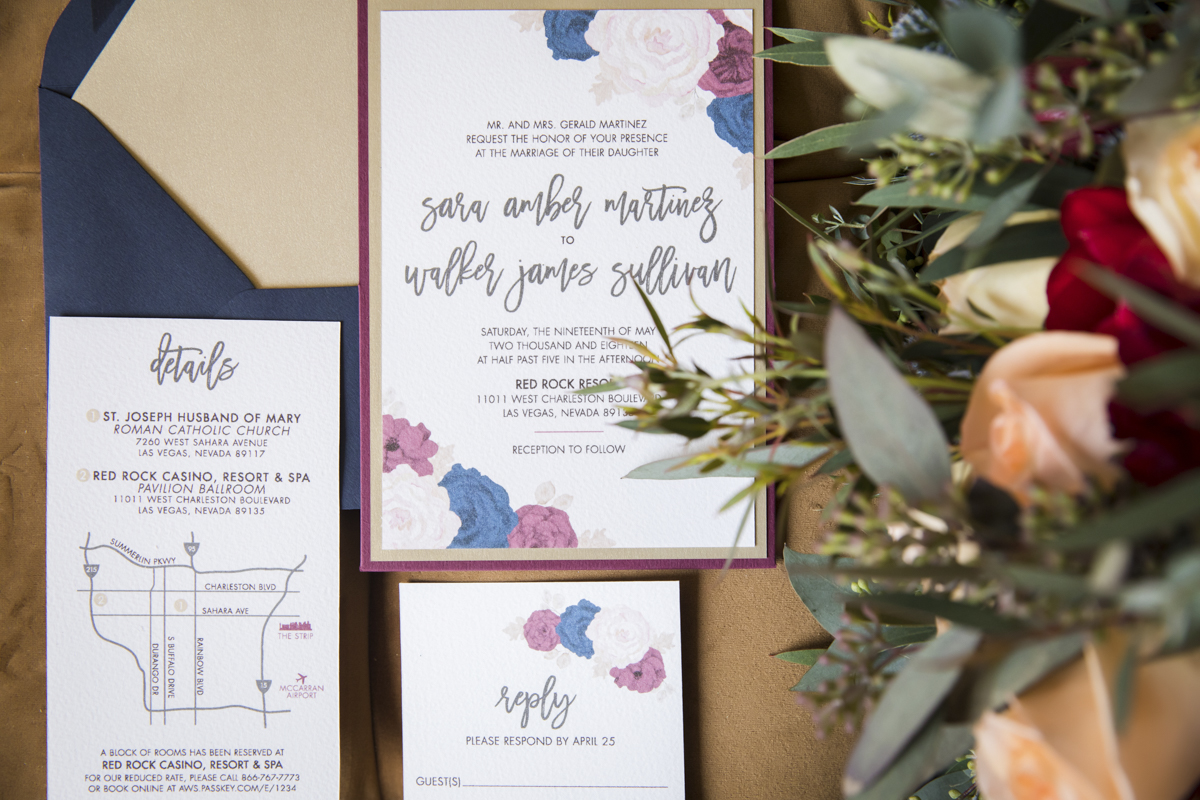 Who Sends Them And Who Do You Send Them To
The couple may choose to send out their own wedding announcements, but it wouldn't be unheard of for an attendant to be placed in charge either.
For couples who choose to send out their wedding announcements quickly after the wedding, or on the day of, they may choose to put this responsibility into the hands of an attendant of honor to take a little pressure off of what is already a big day.
Wedding announcements should be sent to anyone, friends or family, that the couple wishes could have been in attendance at their wedding.
For destination weddings and elopements, guest lists may need to be scaled down and wedding announcements ensure no one is left out of the excitement.
For those who are having a reception to follow, a wedding announcement and reception invitation should be sent to all parties the couple wishes to include in their reception celebration.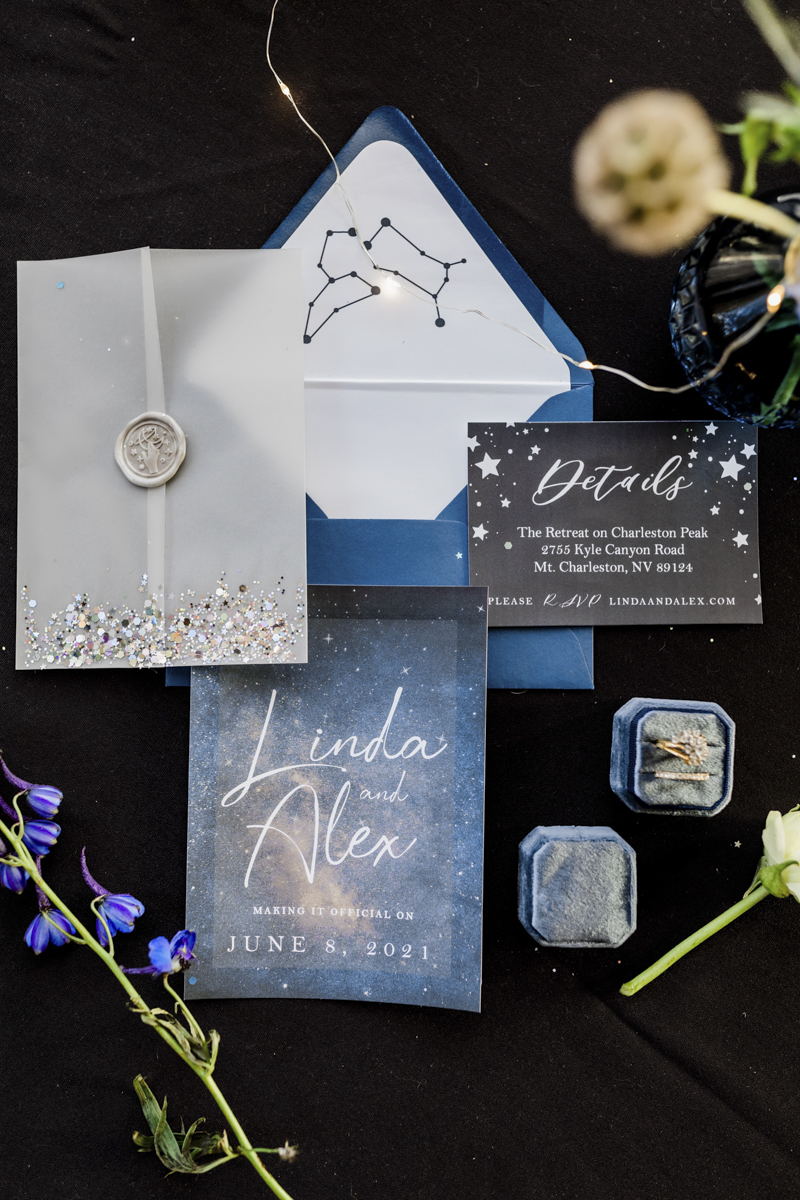 Wedding Announcement Wording Examples
Getting the wording right in your wedding announcements makes all the difference.
Some examples that can be used for different styles of weddings include:
Formal
"Mr. and Mrs. Smith alongside Mr. and Mrs. Robinson wish to announce the marriage of their children Sarah Anne and Gregory Allen on the thirteenth of September two thousand and twenty-two at Red Rock Canyon in Las Vegas, Nevada"
Informal
"We're still buzzing! Lindsay and Chris were married in a small ceremony at The Neon Museum in Las Vegas, Nevada on November 26, 2023."
With Reception
"Ashley and Nick were married in an intimate ceremony overlooking Coronado Beach in San Diego on April 14, 2022. Celebrate with us at a reception to follow on July 28, 2022, at 6 pm at the Hotel del Coronado. 1500 Orange Ave, Coronado, CA 92118"
Elopement
"We couldn't contain our excitement! James and Katie eloped in the Black Hills on August 14, 2022 surrounded by the natural wonders of western South Dakota."
Sharing your wedding day in a unique way with those that perhaps couldn't be there in person is a special way to share your excitement.
Personalized wedding announcement postcards are a keepsake that lets your loved ones have a piece of your most important day.
Shop Wedding Announcements

McKenzi Taylor
McKenzi Taylor is America's go-to elopement and micro wedding expert, often featured in small and major media outlets, such as the New York Times. With over 15 years of wedding photography experience, it was after planning her own Las Vegas elopement in 2016 that McKenzi felt her purpose shift into elopement coordination. She started Cactus Collective Weddings soon after in 2017. Since then, she's become a WIPA board member, and has helped well over 1000 couples get hitched in style around Las Vegas, San Diego and Black Hills.