Disclosure: This post may contain affiliate links. Please see our full disclaimer to learn more.
A Real Wedding in Ash Spring
Weddings are all about creating moments that matter. We recently got a chance to plan an eventful and intimate wedding for Tinder sweethearts: Heather and Jake. It was a small yet classic wedding attended by a bunch of close friends and family members.
Both Heather and Jake love the outdoors and enjoy going on new adventures. So their wedding destination should reflect this. What can be better than Red Rock Canyon? A beautiful couple saying their vows surrounded by natural red rocks towering in the background is very scenic.
Heather and Jake describe their relationship as a not-so-romantic one at the beginning. Heather says that she completely blew Jake off for drinks after meeting on Tinder. They decided to give it another shot, and guess what? Three years later, Heather was wearing a huge diamond rock on her finger! Don't you love stories like these?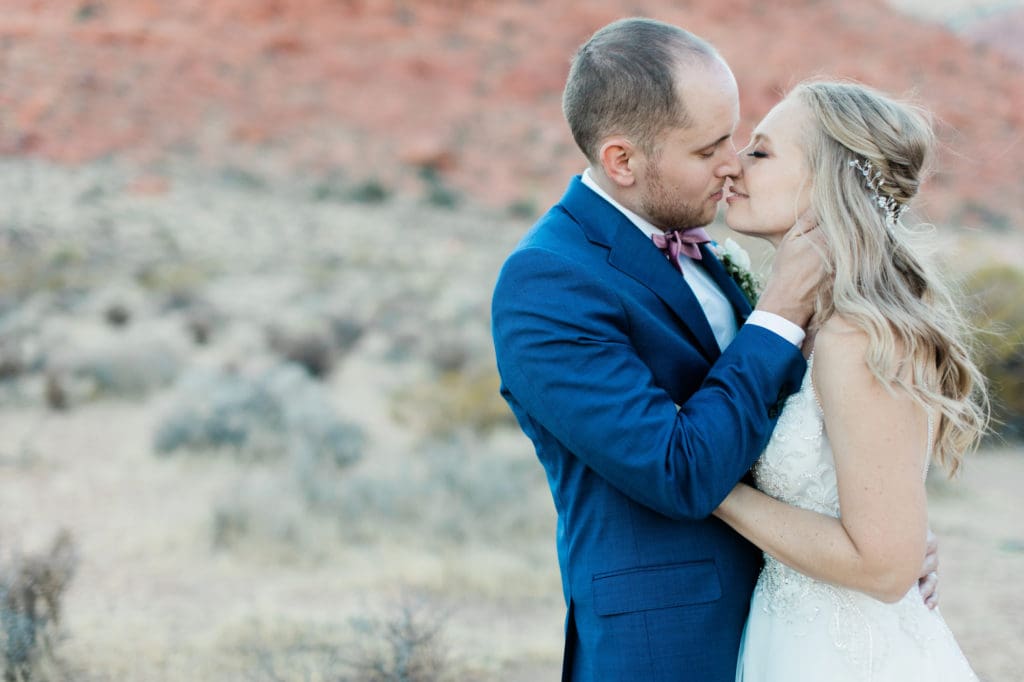 We also got some juicy details out of them! They were both attracted to each other but just hung around for six months. None of them thought that they would end up together, and marriage was the last thing on their minds. Finally, Jake asked her out as his girlfriend, and they started crossing out all couple-goals from their list of adventures.
Heather, the bride, walked in at "A thousand years" by Christina Perri wearing a stunning white dress. The plunging neckline on an embroidered bodice hugged her with perfection. The spaghetti straps added a feminine touch to the whole bridal look. The long tulle skirt was every bride's dream come true! Unlike a traditional bride, Heather opted to wear white sneakers to go with her bridal dress.
The groom complemented the bride in a navy blue jacket with a dusty pink bow tie and pocket square. He was not looking any less than a handsome prince.
The song Marry you by Bruno Mars was played as they said: I do. By this time, the small group of guests and bridesmaids were in tears.
The wedding cake added to the classic wedding theme with plain white frosting and powder pink roses. A rustic twigged heart decorated the cake. It matched perfectly with the venue.
The bridal bouquet adorned the same roses with leafy greens. The bridesmaids' dusty pink dress coordinated perfectly with the groom's accessories. Everything was picture-perfect!
Happiness reached the sky for the happy couple as they popped open a champagne bottle. The cake ceremony was one of the biggest highlights of the day. We at Cactus Collective Weddings were there to capture all the big moments of the day!
Gallery not found.
Explore Red Rock Canyon Wedding Packages

Hair & Makeup: Amelia and Co.
Transportation: Presidential
McKenzi Taylor
McKenzi Taylor is America's go-to elopement and micro wedding expert, often featured in small and major media outlets, such as the New York Times. With over 15 years of wedding photography experience, it was after planning her own Las Vegas elopement in 2016 that McKenzi felt her purpose shift into elopement coordination. She started Cactus Collective Weddings soon after in 2017. Since then, she's become a WIPA board member, and has helped well over 1000 couples get hitched in style around Las Vegas, San Diego and Black Hills.