Disclosure: This post may contain affiliate links. Please see our full disclaimer to learn more.
A Real Wedding in Cactus Joe's
Surprise of a Lifetime
Life is full of exciting surprises. We cannot tell what will come our way. And for our couple Kristin and Robert, a marriage may have been unexpected, but they knew how to seize the moment. To Kristin, Robert's marriage proposal came as a surprise. But this question and Kristin's reply sealed their fate together.
Robert and Kristin met through an online dating app, but their first physical meeting was when they agreed to see each other at a restaurant where Kristin was with her co-workers. That meeting proved to be worthwhile, as many meetings after, they decided to get married.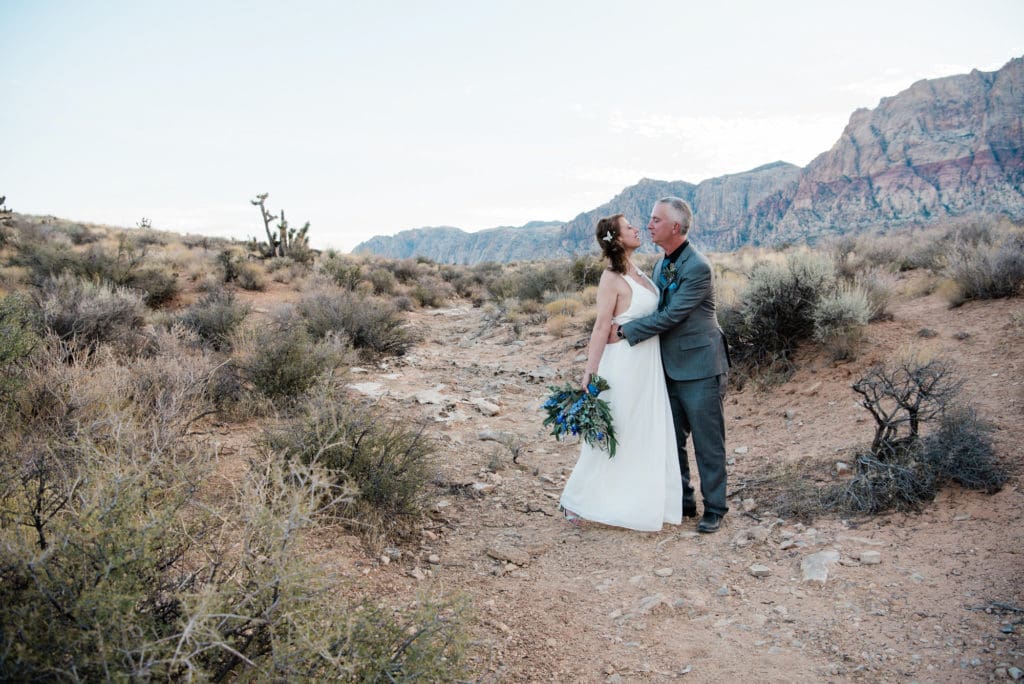 Robert told Kristin that he was not interested in getting married again, and so it was a total surprise when he popped the question on her birthday. But the surprise of things did not take away from the loving warmth and the tender joy of the moment.
The couple had their ceremony in Cactus Joe's, it provided a picturesque background for the couple's I dos. Their friends and family were also there to share the bliss of their wedding day, an unforgettable day of love, commitment, and happiness.
Kristin loves the movie "Fools Rush In," so the scenic Red Rock Canyon in Las Vegas proved to be the best location to get gorgeous photos. The location may have been inspired by the movie, but the bride's gorgeous ivory dress and the groom's stunning gray suit with the blue and silver accents of the flowers and accessories made that day uniquely theirs.
Some surprises are pleasant; some are not-so. Like Kristin and Robert, may we all be able to recognize and welcome these unexpected opportunities that will make life much more worth living.
Explore Cactus Joe's Wedding Packages
Florals: Gaia Flowers
Transportation: Presidential
Attire: David's Bridal and Men's Wearhouse

McKenzi Taylor
McKenzi Taylor is America's go-to elopement and micro wedding expert, often featured in small and major media outlets, such as the New York Times. With over 15 years of wedding photography experience, it was after planning her own Las Vegas elopement in 2016 that McKenzi felt her purpose shift into elopement coordination. She started Cactus Collective Weddings soon after in 2017. Since then, she's become a WIPA board member, and has helped well over 1000 couples get hitched in style around Las Vegas, San Diego and Black Hills.