Disclosure: This post may contain affiliate links. Please see our full disclaimer to learn more.
We've heard people wondering, "Are sola wood flowers good for weddings?"
They're definitely an attractive, waste-free option for bouquets, decor and tablescapes.
Not only are they sustainable, but they make a perfect keepsake gift for you and your guests.
What Are Sola Wood Flowers?
Sola wood flowers are an eco-friendly alternative to classic wedding flowers.
They're made from the wood root of a renewable marshy tapioca plant. Sola wooden flowers are grown, harvested and manufactured sustainably.
The wood is thin and flexible but also highly durable. It's also one of the lightest woods in the world.
All of these characteristics make it the perfect material to craft complex and highly detailed shapes — like flowers!
From a distance, the details are so exact, they look like real wood. However, they're far more sustainable and oftentimes, more affordable than traditional cut flowers.
What Can Sola Wood Flowers Be Used for?
One of the biggest benefits of sola wood flowers is that they're very versatile. Anywhere you can use cut flowers, you can also use sola wood flowers.
You can create sola wood flower wedding bouquets and boutonnières. They can also be used in decor for tablescapes and flower walls — and some couples even use sola wood flowers for wedding cakes.
Perfect for both modern and rustic weddings, sola flowers can also be used to emphasize your theme. They come in a range of colors and can match your wedding color palette perfectly.
They can also be mixed and matched with real flowers and greenery to add an extra layer of realism to your arrangement!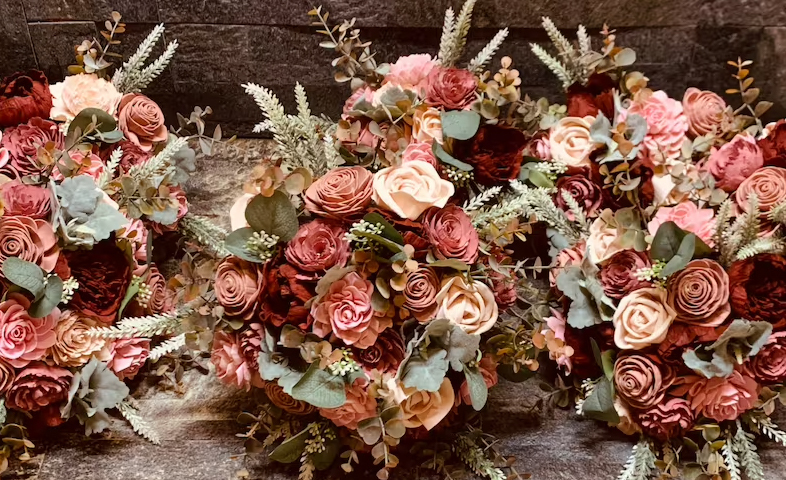 Are Sola Wood Flowers Good for Weddings?
Beyond sustainability, there are many reasons to choose sola wood flowers for your wedding ceremony. Here are some of the benefits of using sola wood flowers:
Sola wood flowers help you achieve the look of any flower that you love regardless of availability, season or price.
Sola wood flowers can come in any color you can imagine to perfectly match your theme.
Sola wood flowers are often less expensive than traditional cut flowers, especially expensive types like orchids, hydrangeas and gardenias.
Sola flowers can be saved, stored and reused at other events in the future.
After the wedding, the sola wood flower arrangements can be given as lasting gifts to your guests.
They're extremely versatile and can be used anywhere real flowers are used.
Sola flowers wedding bouquets last a lifetime and create the perfect keepsake to display.
They're completely allergy-free and won't trigger allergy attacks in you or your guests.
Are There Any Downsides to Sola Wood Flowers?
The biggest con of sola wood flowers is that they take a lot of effort and planning to make yourself.
Fortunately, there are plenty of sola wood flower suppliers that offer pre-made and custom-made flowers.
Additionally, sola wood flowers don't stand up to a ton of moisture. However, they have to be completely saturated to be negatively impacted.
Finally, for some people, real flowers are a must for their wedding theme or look.
How Do I Get Sola Wood Flowers for My Wedding?
There are two ways to have sola wood flowers for your wedding.
The first is a budget-friendly way where you DIY the flowers. Anyone can make beautiful sola wood flowers, regardless of skill.
The instructions to make them can be found here and the materials you need can be found here.
Keep in mind though, for a wedding, you will have to make a lot.
If you'd rather buy pre-made sola wood flowers, you can find them by searching online.
You can also find people who make them custom on Etsy. Sola wood flowers are becoming really popular because of their price, versatility and eco-friendliness, so they're readily available online.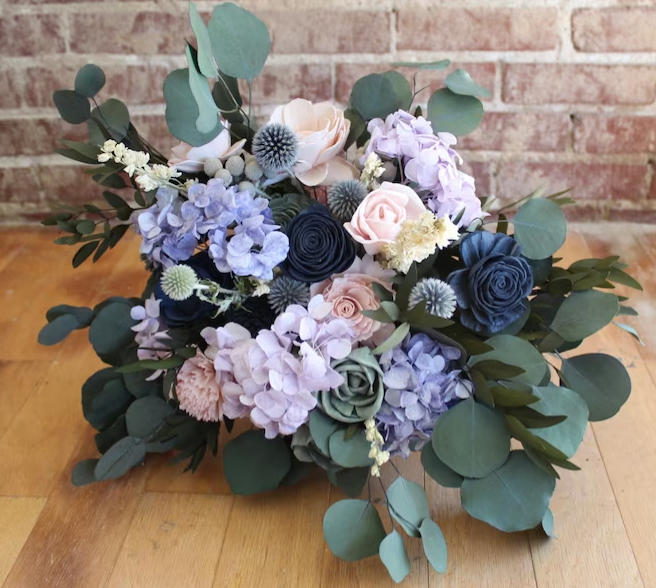 Please check out these other blogs on how to make your wedding environmentally-friendly below.
Cactus Collective Weddings also prioritizes environmentally responsible wedding practices. We partner with the environmental non-profit "Leave No Trace." 
Are Sola Wood Flowers Good for Weddings?

10 Easy Ways to Make Your Wedding Eco-Friendly

25 Tips for Having a Sustainable Wedding

McKenzi Taylor
McKenzi Taylor is America's go-to elopement and micro wedding expert, often featured in small and major media outlets, such as the New York Times. With over 15 years of wedding photography experience, it was after planning her own Las Vegas elopement in 2016 that McKenzi felt her purpose shift into elopement coordination. She started Cactus Collective Weddings soon after in 2017. Since then, she's become a WIPA board member, and has helped well over 1000 couples get hitched in style around Las Vegas, San Diego and Black Hills.