Disclosure: This post may contain affiliate links. Please see our full disclaimer to learn more.
We spoke with Emily Edgar from Emily Edgar Makeup — a makeup artist for over 15 years, was trained in Paris, started as a young makeup artist in NYC, has worked in a lot of different industries, from beauty and fashion to commercials… and working with brides was one of her favorite areas of experience.
WHAT IS THE BRIDE'S GUIDE TO BEAUTY?
From being a professional in the industry, Emily found that there was not really a source for brides to access that could help them prep for their wedding from a beauty world perspective.
Seeing what was out there on YouTube and Instagram, she saw this hole that wasn't really prepping brides prior to them hiring a makeup artist and having the trial.
So she decided to create Bride's Guide to Beauty, an online platform that covers all things bridal beauty prep for the wedding day and why it's important to prepare for your wedding day in terms of beauty versus just showing up and sitting in the makeup artists chair, for instance.
There are just so many different types of brides out there… There are brides that have a ton of money to drop on their wedding.
And they're hiring all the vendors, all the professionals at the top of their games, you know, and then there are people who don't want to spend that much money on their wedding, have a smaller budget, or sometimes just feel more comfortable doing a little bit more DIY for certain things.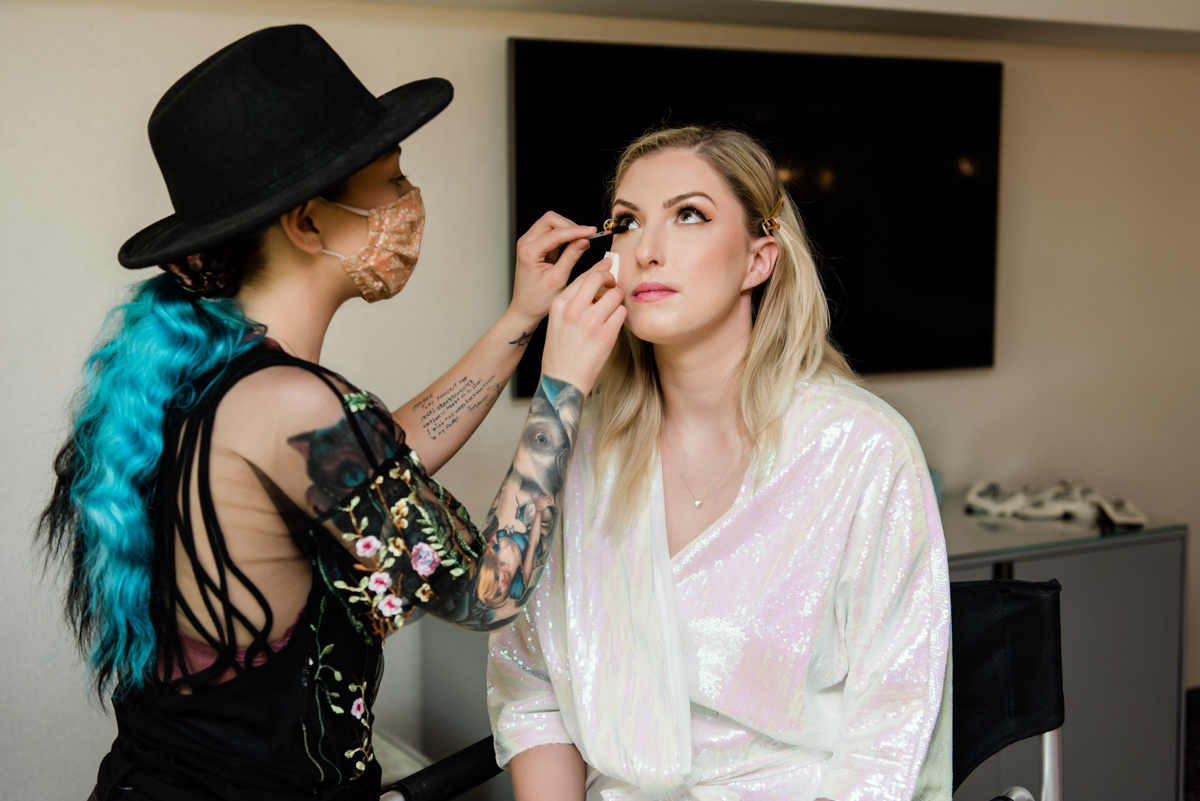 Her guide is great for everyone: newly engaged brides, brides planning their wedding for a couple of months, and even non-brides and already married women because there's just so much great content and information about how to develop routines.
Routines in general, like day-to-day routines, are difficult to establish and it's the same for skin care — it's hard to implement something regularly.
And then also the industry is just so overrun with products. It's like, what is even important? What should I use, do I need 14 different steps? Do I need 20 different products?
The guide covers everything from A to Z for beauty prep… developing a timeline for your beauty. When do you need to get your hair cut? When do you need to get your tan?
Everybody feels that like drawn one way or another to make a big change whenever they're gearing up and leading up to a big life event.
And, you know, it's one of those things, like, I'm all for doing whatever, you know, if you want to shave your head for your wedding, that's awesome.
But if this is an impulse feeling, then let's hold off and do it after the wedding. About six months beforehand, set what your hair is going to look like for your wedding.
And then six months up to the day of your wedding, you're just working on maintenance, like making sure it's glossy, making sure that it's cut.
If you're having face framed for the hairstyle, make sure the haircut lends itself to the style you want on your wedding day — and to live on in infamy in all of your wedding day photos.
So there's a lot of little details that you might not think about day-to-day but this guide really helps you visualize them and realize which ones are important to you also, you know, prioritizing your needs.
GUIDE HIGHLIGHTS
There are 50 videos. I've gotten some feedback that it's like, "Oh, this is a lot. I don't know if I'll be able to get through everything."
You don't have to. You can start with section one and go through it numerically, or you could decide you want to do section 1 and then jump to section 4 and then go back to section 3, jump to section 10. You can really make it whatever you want.
I think the top three sections within this 10-section course that people are going to find most useful are going to be the Skin Care Routines, the Tutorials — we've got 3 hour-long tutorials that cover the top three looks for each bride — and the Challenges section… challenges such as "your skin's been perfect and the day of your wedding, you have a huge zit."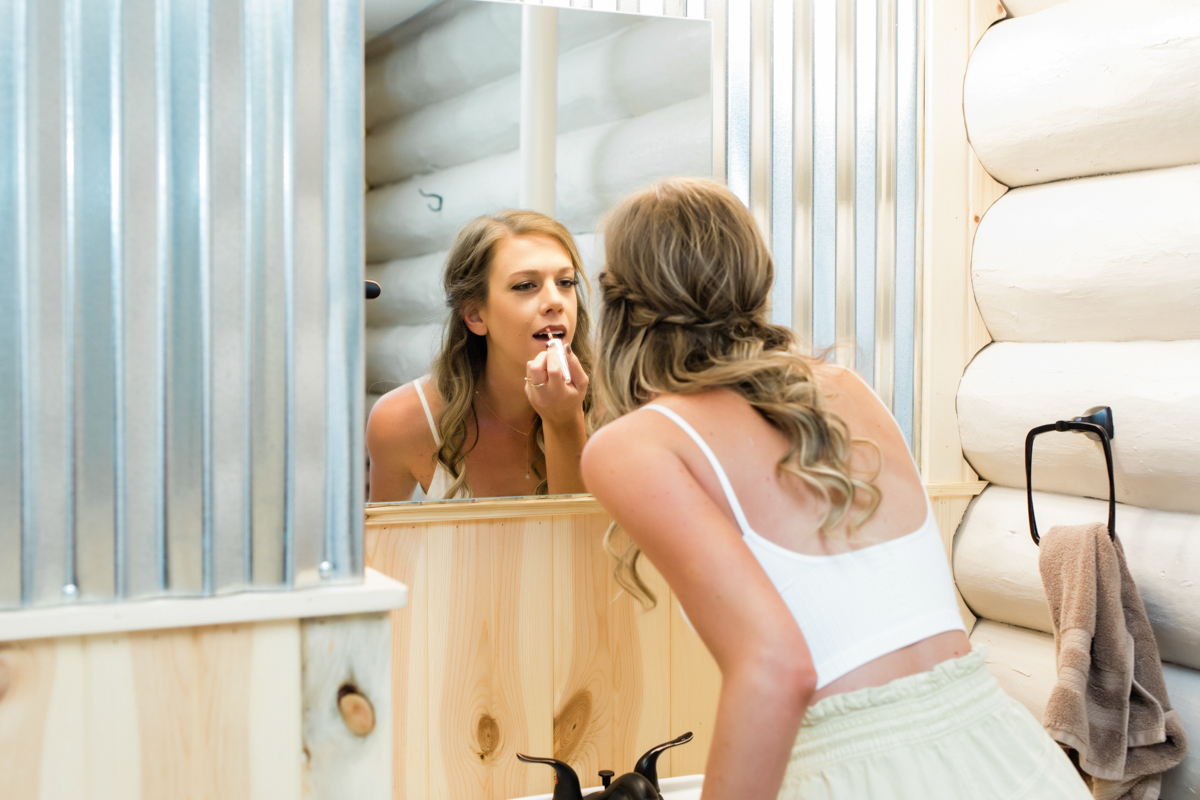 SKIN CARE ROUTINES
This is section 2 in the course, and basically, this is going to be broken up into the most important skin care steps that you should be doing leading up to your wedding, but day to day, this is completely applicable.
The first one of course is going to be sunscreen. You know, not only do we love sunscreen because it's as close as we have to the fountain of youth, you know, if you've been using sunscreen for a really long time, your skin is just in better condition in general, but also skin cancer is really awful and it's very prevalent.
So I talk you through sunscreen. Why it's important to the different types, because you know, you've got the chemical and the physical sunscreens who they might be best for.
And then also putting it in the frame of mind of what you should be wearing for your wedding day. You know, what a chemical sunscreen works better than a physical and those types of things.
And then we talk about face. Which you might think is a very obvious thing, but a lot of people skip it or they think that they'll use those micellar waters.
Yeah. I know. Even I do, I skip it at night sometimes too, because I'm just so tired.
So. But you know, what's the difference between a balm, a makeup removing balm or an oil or a cream. And when do you do that?
Both in the morning and evening. And what kind of products do you use? All that stuff and really the importance of why you should be washing your face — we know it's a thing that we should do, but why?
Because knowing the reasons behind the practice really influences people as they work to develop good habits.
Then we talk about moisturizers and this is such a huge category because there are so many, there are moisturizers for all the different skin types.
There are moisturizers to deal with different skin issues.
So we break down what a moisturizer is and the three different main groups of ingredients — occlusives, hydrators, and emollients — which are going to really influence the way that your moisturizer works.
And then we hop to all the other additional things… stuff that I think is important to use, but it's not a mainstay.
So, you know, if you're somebody that doesn't have time, effort, budget, anything for a huge routine, you can just set yourself up with those three things — sunscreen, face wash, and moisturizer — and that's all you need.
But then if you're already well-established and you're kind of a skin care maven and, you know, racking up those Sephora points, if you want to add more steps into your routine or target specific issues, we go into those skin care extras.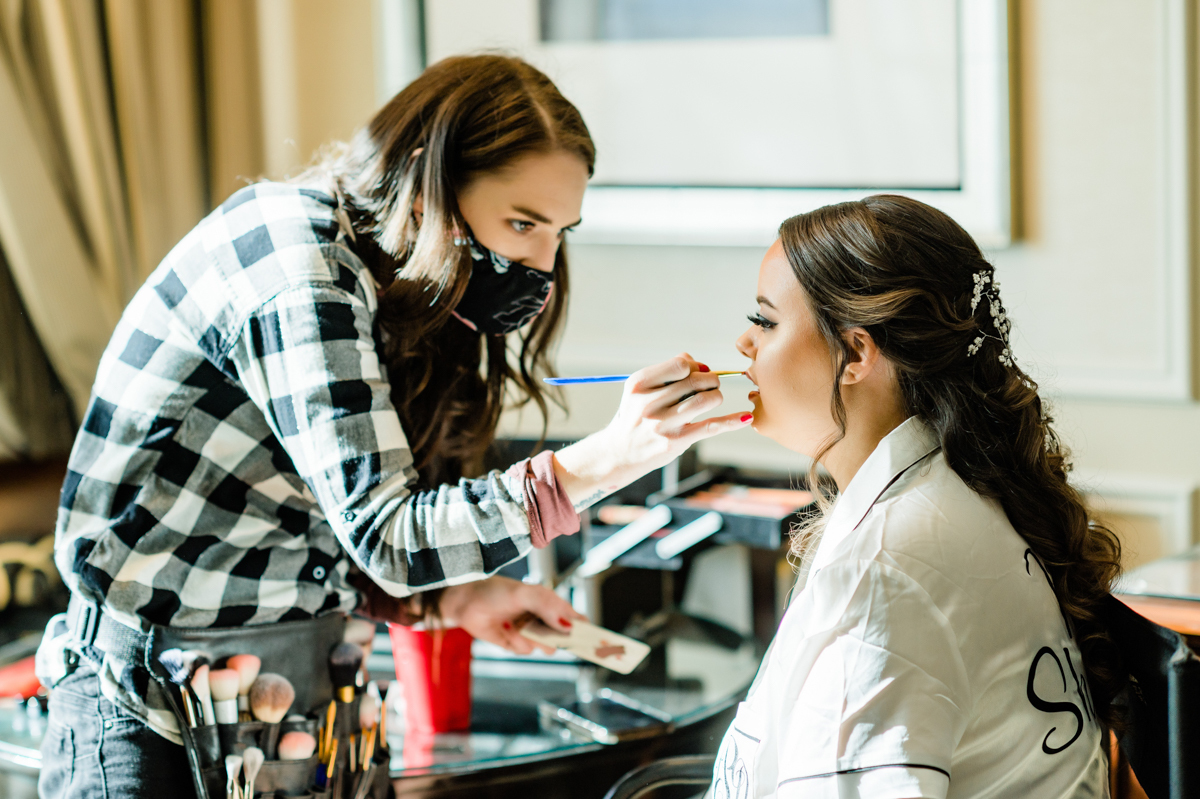 TUTORIALS
Section 5 – So we have the soft contoured beauty, the smoky diffused beauty and the sun-kissed glow. certain ones will fall into super glam.
Certain tutorials will fall into really light and natural, but depending upon the style of your wedding, the style of your dress and how much the bride herself feels comfortable wearing makeup.
You might be having a super glam wedding, but day to day, you don't wear a lot of makeup. And we also talk about ways to kind of manipulate the look to work for each bride personally.
I don't really talk specifically about brands or products, but I will talk about the texture and how a product will look.
And if it will be, fuller coverage or lighter coverage, that way you can kind of work within your own personal kit to see, what you have that you could use for your wedding day versus you having to go out and buy a whole new set of makeup for your wedding day.
We go through step-by-step everything from complexion all the way through to lips.
The big key takeaway from this workshop is that brides and women in general need to redefine beauty for their own standards and for themselves.
So this is a thing where we talk a lot about, you have the smoky diffused beauty tutorial, but how do you make it work for you?
Are you wanting it to be ultra glam or are you wanting to make it really light natural? Are you feeling like you're a non-makeup person and you don't really have that skill and that technique, what are little things that you can do to achieve a similar look, but without having to do the whole 10-step routine that I display in the tutorial.
So it's really all about manipulating the techniques and learning the techniques so that you can make it work for yourself.
BEAUTY CHALLENGES
I think this is going to be the undiscovered gem of the whole online course. Section 8 beauty challenges is I think going to be really popular because it covers challenges that anybody might experience in preparation for their wedding day.
So let's say you've been doing your skin care routines. Your skin has been looking better than it's ever looked before.
And then all of a sudden, because of the stress leading up to the wedding, which everybody experiences, you know, you have a huge zit, you know, on your wedding day and you're like, "Well, this is happening."
So we talk about what to do if you have an acne flare-up, how to deal with it the day of… if you have kind of regular acne, how to deal with it leading up to the wedding day. We talk about longevity of the makeup, which is a big thing. How to prep your skin for the day of is very different than how prep your skin day to day.
Elopements and destination weddings are becoming really popular. Now that we're able to travel again and everything those are really popular, but the same products that you utilize for your daily skin care in the Midwest aren't going to be the same products that will allow you to have that stability and that beautiful finish to your skin if you're going somewhere where the environment is going to be significantly different.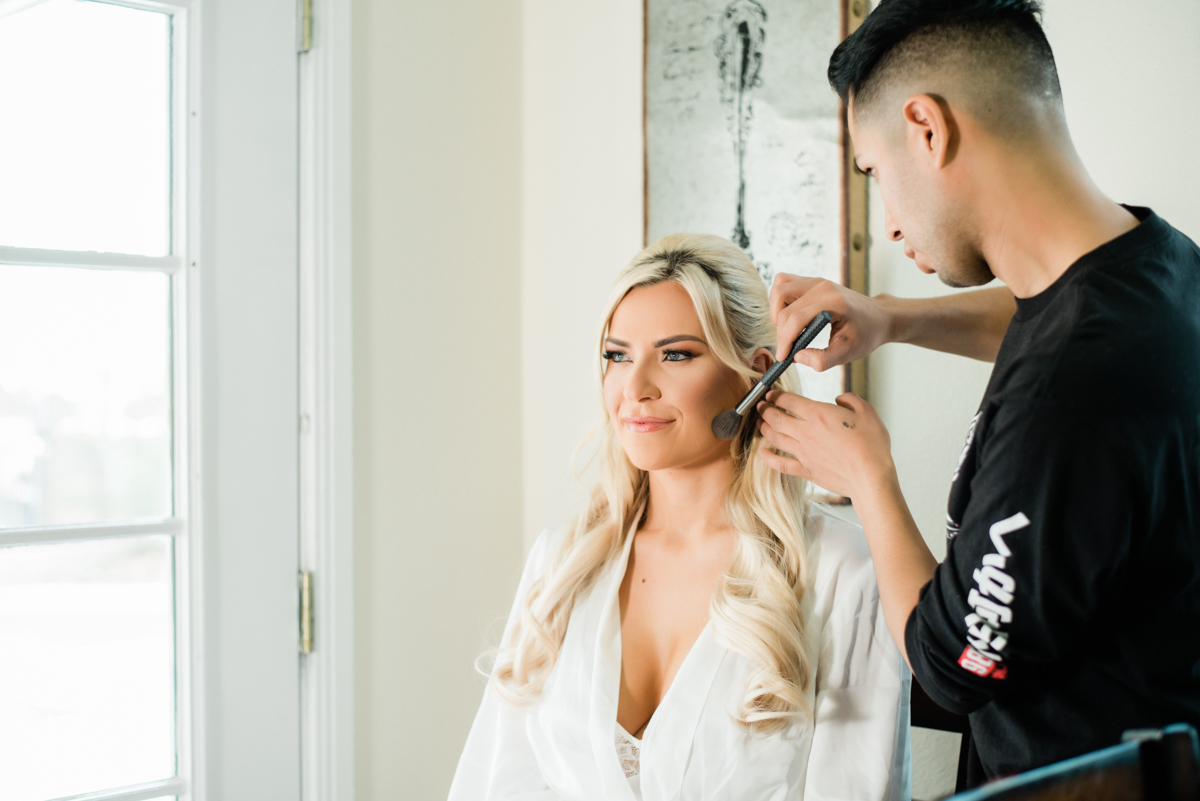 That skin prep has big influence on how well the makeup sets on the skin and how well it lasts. The way that you prep your skin also adds to the longevity.
We also cover things like dark circles because everybody's got them for the most part, unless you're like a tiny baby. And then we also cover hyperpigmentation, which some people struggle with.
And then we have a whole section on lashes because, when you're doing your own makeup, lash applications are really challenging if you aren't a person that wears false lashes day-to-day and you're not in that routine and have that like muscle memory of the technique. It's really hard to throw them on that day.
A little plug that from a photography standpoint: You're beautiful the way you are 100%, but lashes really do make a difference in the outcome of your photos.
And so if there was nothing else, I would recommend someone do, I would recommend lashes, if it was the only thing you're going to do, along with lips. Lashes translate so well photographically.
They add definition to the lash line, so they open your eyes up because of the definition.
I'm never going to force anybody to do anything specific because my goal with my clients is that I want them to feel like themselves. But if I ever get pushy, it's definitely in the lash department.
I'm always like, Let's just try it and I can take them off if you hate it, because it makes a huge difference.
We go through like how to pick out ones that are going to look really beautiful, but also feel comfortable because they are out there. It's just knowing how to spot them and how to find them.
BONUS TAKEAWAY
One of my best secrets for ensuring longevity regarding makeup for the wedding day is using a setting spray. And of course, everyone's like, yeah, throw that setting spray on at the very end — but no, I like to prep the skin, let all the skin care set and settle into the skin.
And then, before I apply foundation, I give the bare skin a really great misting of setting spray to let it develop on the skin.
And then I'll put foundation on top of that. It just adds this very thin extra layer of protection to prevent the skin care products or the natural oils from breaking through onto the makeup.
So once before foundation goes on and then once after everything's done and set — and then add a soft touch of powder.

Check out our podcast, Collective Questions: A Wedding Show, for answers to all your wedding industry questions!

McKenzi Taylor
McKenzi Taylor is America's go-to elopement and micro wedding expert, often featured in small and major media outlets, such as the New York Times. With over 15 years of wedding photography experience, it was after planning her own Las Vegas elopement in 2016 that McKenzi felt her purpose shift into elopement coordination. She started Cactus Collective Weddings soon after in 2017. Since then, she's become a WIPA board member, and has helped well over 1000 couples get hitched in style around Las Vegas, San Diego and Black Hills.