Disclosure: This post may contain affiliate links. Please see our full disclaimer to learn more.
In the age of social media and smartphones, most people are keen to capture moments in their and their loved ones' lives.
This, however, has been a dilemma for wedding photographers and videographers because guests tend to use their own devices to capture these moments, sometimes getting in the way of the professionals.
As a wedding planning company, we at Cactus Collective Weddings want our couples to not only have their dream wedding experience but to also have spectacular photos to preserve the memory of their special day.
What Is An Unplugged Wedding Ceremony?
An unplugged wedding ceremony is essentially a wedding where the couple asks their guests to refrain from using technology during the ceremony.
This means that no one will be taking pictures or videos to be posted on social media. In an unplugged wedding ceremony, your guests are expected to keep their smartphones and cameras off and put away.
This all boils down to having only the hired professional photographers and videographers taking photos and videos while everyone else stays present and enjoys the ceremony.
Not to worry, though — this is only for the ceremony. Guests can take as many pictures and videos later, during the wedding reception.
Why An Unplugged Wedding Ceremony
Presence
At the end of the day, you invited your guests to be there and share the beautiful moments between you and your significant other.
You would want them to give their full attention to you as you and your partner walk down the aisle, exchange wedding vows and share one of the most special days of your lives.
Having unplugged wedding signs is an invitation to guests to be fully present at your wedding. This is something that, arguably, is a challenge for many because of the urge to update social media.
Asking them to not worry about taking pictures because there is a professional wedding photographer and videographer hired specifically to take care of pics, and that photos will be available for all to see at a later date, will perhaps make it easier for them to focus.
A Favor To Your Professional Team
Wedding photographers and videographers silently rejoice whenever they work on an unplugged wedding.
This is because it allows them to focus on capturing the beautiful moments between the couple getting married and the candid, genuine reactions of their family and friends to the ceremony.
Wedding photographers and videographers have to capture moments as they happen in real-time. They have to respond to their surroundings quickly or they may miss those moments. Having guests standing or raising their hands to get a shot of the newlyweds disrupts the work of the professionals.
The guests may stand in the way of an otherwise perfect angle, so the photographer may have to find a different angle. If there are too many people standing, they may struggle to find a good angle and, potentially, miss an important shot.
They cannot ask the couple to re-do their vows or their kiss just because they wanted to get a better shot.
It is the job of the wedding photographer and videographer to capture the moments in a wedding, but they cannot produce beautiful wedding photos without everyone's cooperation.
Inviting your guests to unplug during your wedding is the best you can do to maximize the skills of your professional team.
Added Privacy
When guests take photos and videos at a wedding, you'll notice that they often get shared on social media the same day of the event, likely without the couple's permission or knowledge.
More often than not, the couple doesn't see this content, but they often become the posts that get the most attention because they're the first released.
By the time the professional photos become available, people are no longer as excited because they have already seen pictures from the event, albeit much lower quality ones.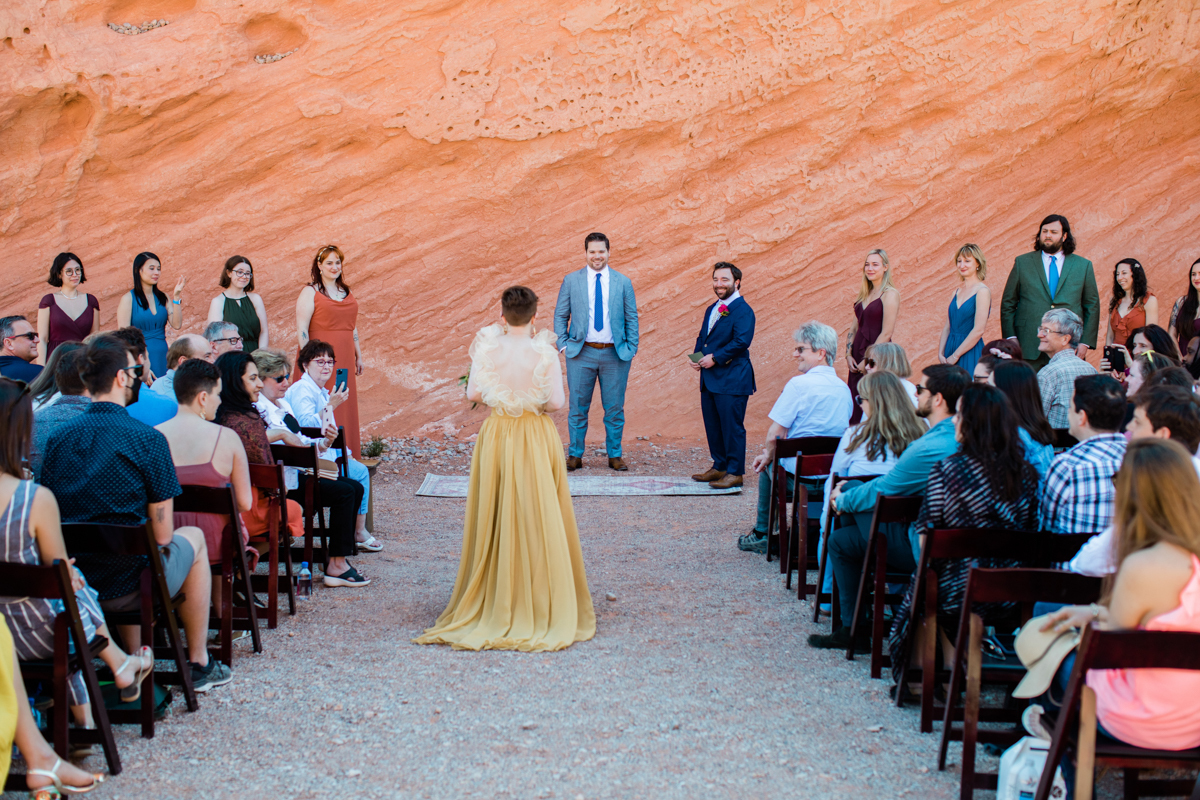 How To Have An Unplugged Wedding Ceremony?
One of the main concerns people have over an unplugged wedding ceremony is how to announce it to guests without offending them and how to ensure that they all cooperate. There are a few ways to do this:
Announce It Early
Not many people are used to the concept of unplugged wedding ceremonies. Some may feel offended when they suddenly find out that they are not allowed to take photos.
We advise couples to announce this decision early on by including it in their wedding invitation and/or on their wedding website.
Be Careful With The Wording
Since this is a relatively sensitive subject, you would want to tread carefully.
Do not simply announce you want an unplugged wedding ceremony. Explain the idea to the guests and your reason for doing so.
You could also reassure them that they will get to see the photos and how and that they can take pictures to their heart's content after the ceremony.
Include Wedding Signs
In our talk with professional wedding photographer Lynn Reznick in our podcast Collective Questions: A Wedding Show, she recommends getting guests used to the idea of an unplugged wedding before the wedding.
You can put up unplugged wedding signs around the hotel, in your program, at the back of the church and in other places they may see it.
Likewise, Reznick advises that you get the officiant to remind the wedding guests to keep their phones and cameras away before the start of the ceremony.
With an unplugged wedding ceremony, there is no doubt that your wedding album will be filled with touching candid photos.
Read More: 33 Must-Have Wedding Photos

McKenzi Taylor
McKenzi Taylor is America's go-to elopement and micro wedding expert, often featured in small and major media outlets, such as the New York Times. With over 15 years of wedding photography experience, it was after planning her own Las Vegas elopement in 2016 that McKenzi felt her purpose shift into elopement coordination. She started Cactus Collective Weddings soon after in 2017. Since then, she's become a WIPA board member, and has helped well over 1000 couples get hitched in style around Las Vegas, San Diego and Black Hills.