Disclosure: This post may contain affiliate links. Please see our full disclaimer to learn more.
Do you and your partner love the outdoors?
Do you spend your time rock climbing, kayaking or skydiving?
Do you want to do something outside of the box for your wedding ceremony?
An adventure elopement may be the perfect option for you.
Adventure elopements are located at incredible outdoor locations. They're perfect for couples who like to go off the beaten path, as well as couples who feel a strong emotional or spiritual connection to nature.
Here is our adventure elopement guide to help you start planning.
What Is an Adventure Elopement?
Adventure elopements are perfect for daring couples who love to do things differently.
They're typically located in scenic locations, like canyons, mountains and waterfalls, usually accessed by helicopter, a jeep tour or a long hike.
They require quite a bit of logistics, so it is recommended that you work with an adventure elopement planner.
Also, depending on your location, you may need special permits or licenses and have to follow strict regulations. National parks, state parks and indigenous-held lands all typically require these things. Before booking, make sure that you do a little research into these requirements.
Adventure elopement packages include these requirements as part of the package.
How Do You Choose a Location for Your Adventure Elopement?
Choosing a location for your adventure elopement is the most fun part of the planning. There are so many incredible options available.
Start by thinking about what type of setting you would like to be married in.
Would you want to be married on a beach with a beautiful coastal background? Check out Coronado for some inspo.
Would you like to be married in a stunning desert landscape? The Valley of Fire is a gorgeous option.
Do you see yourself more in an evergreen forest? You'll love the Black Hills.
Once you've decided on the type of setting you'd like to be married in, you can begin looking at all the amazing locations.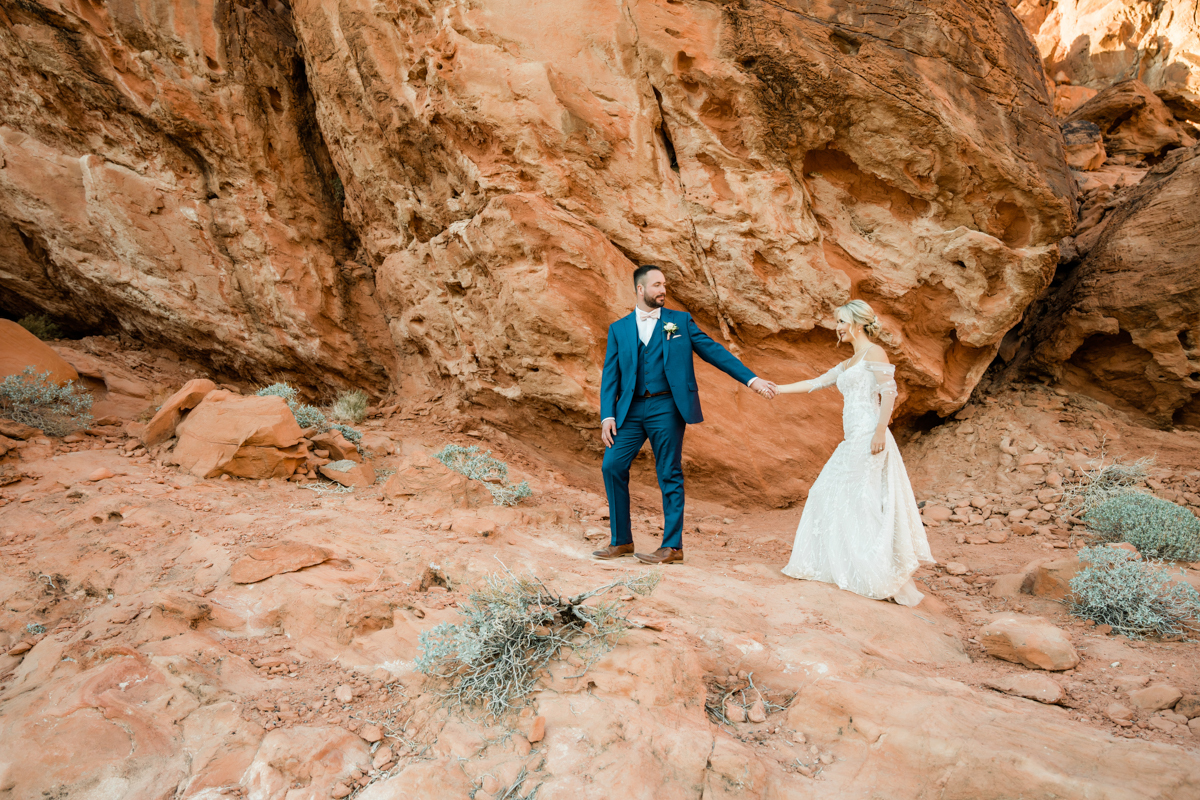 Who Officiates an Adventure Elopement?
Some states require that you have an officiant and/or witnesses in attendance at your wedding ceremony.
When you are planning an adventure elopement, you'll need to find an officiant that specializes in adventure weddings.
Oftentimes, these officiants are also adventure elopement guides that know a lot about the native landscape.
You can usually find these on the state officiant registries. However, the easiest way is to book one through an adventure elopement wedding package.
Can I Invite Guests to an Adventure Elopement?
Absolutely! You can definitely invite guests to your adventure elopement.
Just make sure that they're able to meet the physical requirements of navigating the landscape.
Keep in mind that some adventure destinations are not as physically demanding as others.
Mt. Charleston is a great example of an adventure elopement location with a lot of accessibility.
Can I Hire a Photographer for My Adventure Elopement?
When you get married in a stunning outdoor location, you want to have some beautiful photos that capture the moment and the scenery.
When you book an adventure elopement package with Cactus Collective Weddings, photography is included, so you won't have to worry about finding a great photographer.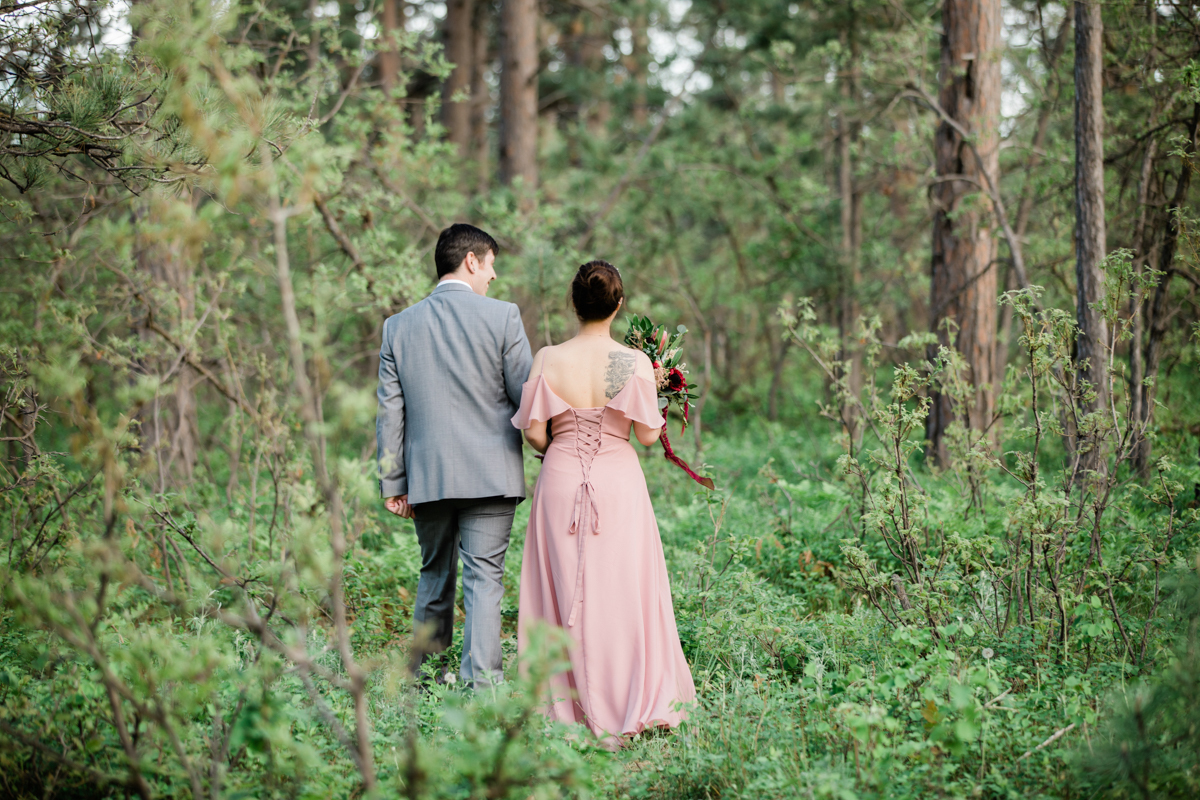 What Gear Should I Bring on My Adventure Elopement?
Just as you would with any adventure, you'll want to bring some outdoor gear with you. Here's a list of recommended items to bring:
Wedding Attire: Some couples opt to bring their attire separately and change at the location of the wedding.
Good Footwear: Anytime you're outdoors, you want to wear supportive footwear with a good grip designed for the specific environment.
Weather Protective Clothing: Weather protective clothing, like rain jackets, gloves and polarized sunglasses, are always good to bring.
Backpacks: Backpacks are the best way to bring everything with you to your destination from your rock climbing gear to your boutonnière.
Water and Food: Always bring more water than you think you will need. It's also good to bring some snacks in case you get hungry.
Outdoor Essentials: Load up your pack with outdoor essentials, like sunscreen, bug spray and wag bags.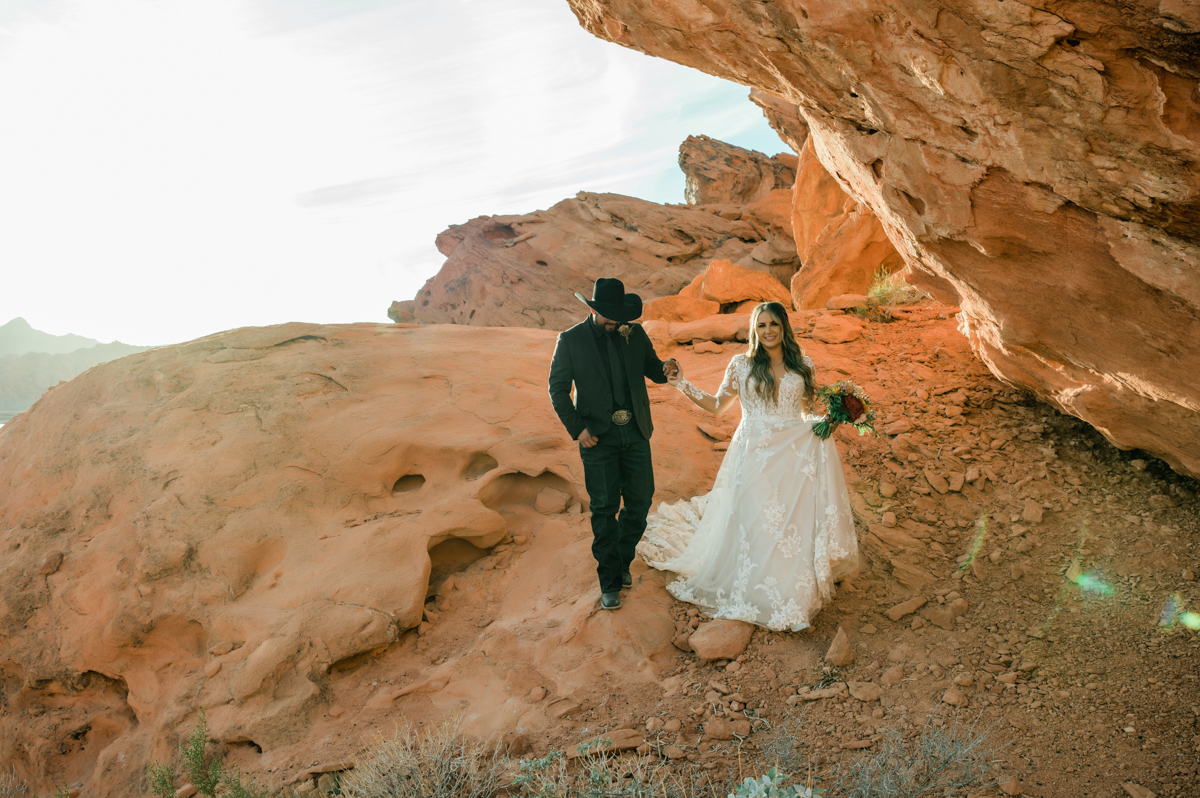 Talk to your adventure elopement planner as well. They have a full list of recommendations of what adventure elopement gear to bring depending on your location.
Also keep in mind that you can plan some things, like a picnic, cake cutting or a toast, at your destination as well.
If you are looking to plan an epic outdoor adventure for your wedding ceremony, Cactus Collective Weddings can help.
We offer stunning outdoor destinations across three different states. Our packages include everything you need including a full adventure elopement guide.
Reach out to us below if you have any questions or would like to get started on planning your adventure elopement.

McKenzi Taylor
McKenzi Taylor is America's go-to elopement and micro wedding expert, often featured in small and major media outlets, such as the New York Times. With over 15 years of wedding photography experience, it was after planning her own Las Vegas elopement in 2016 that McKenzi felt her purpose shift into elopement coordination. She started Cactus Collective Weddings soon after in 2017. Since then, she's become a WIPA board member, and has helped well over 1000 couples get hitched in style around Las Vegas, San Diego and Black Hills.