Disclosure: This post may contain affiliate links. Please see our full disclaimer to learn more.
The 2022 Wedding Trends That Work Beautifully For Small Weddings
A return to familiarity.
That's what everyone in the wedding industry and couples have been hoping for in 2022.
Although many of the pandemic-proof restrictions have eased and weddings are starting to look a little more pre-2020, things are not exactly as they were before Covid.
And that's a good thing.  
After two years of lockdowns and restrictive laws, couples are emerging with wedding visions that are imaginative and creative.
There's certainly a sense that anything is possible.
If you're a recently engaged couple planning your wedding, then you have chosen possibly one of the most exciting years to get hitched. Here are the trends that are rocking our couples' worlds.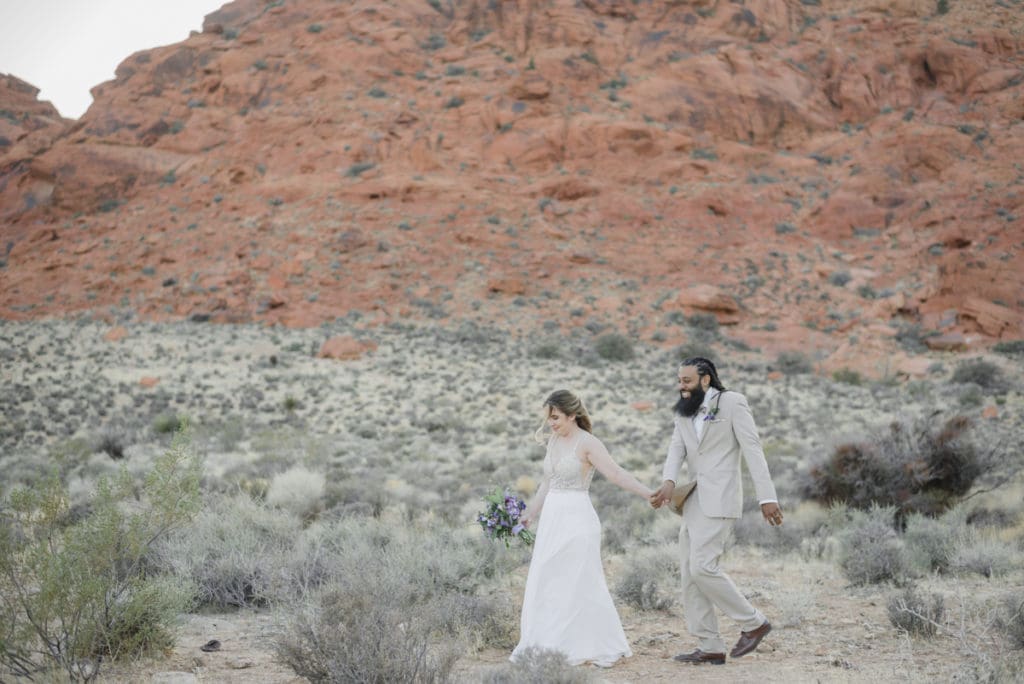 Trend 1: More Micro Weddings
Pre-pandemic, the micro wedding trend was a whispered phrase on the lips of the wedding industry. Small guest counts of 5 to 100 people were considered radical.
But 2021 changed all of that. Micro weddings are now mainstream with a long list of celebrities tying the knot micro wedding style in 2021.
One big change we've noticed since January? That guest counts are trending closer to the 100 guest limit.
According to The Wedding Report, the average number of wedding guests in 2021 was 124, with nearly 30% of all weddings in the US having just 50-100 guests.
This wasn't the case in 2021, for obvious reasons. But it's great to see couples maximizing this micro trend. Unfamiliar with wedding style?
Here's why micro weddings continue to hit the headlines.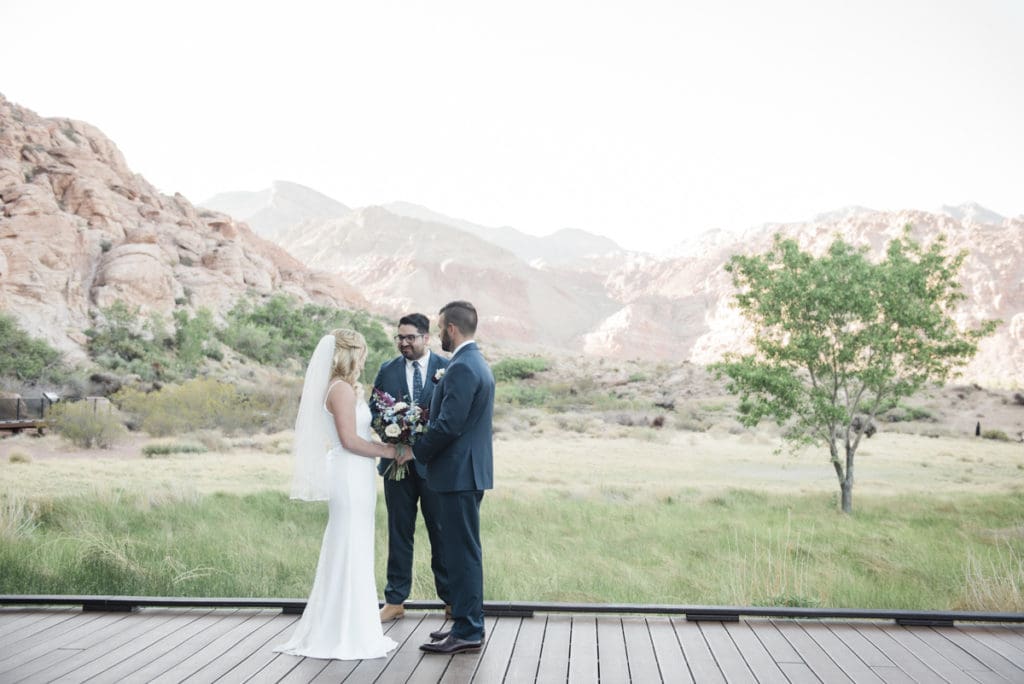 Trend 2: Weekday Weddings
Saturdays and Sundays will always be the most popular days to get hitched.
But we expect 2021's rise in weekday ceremonies to continue.
Couples continue to capitalize on the lower weekday fees many venues offer, not to mention the added flexibility couples enjoy by opening up more date options.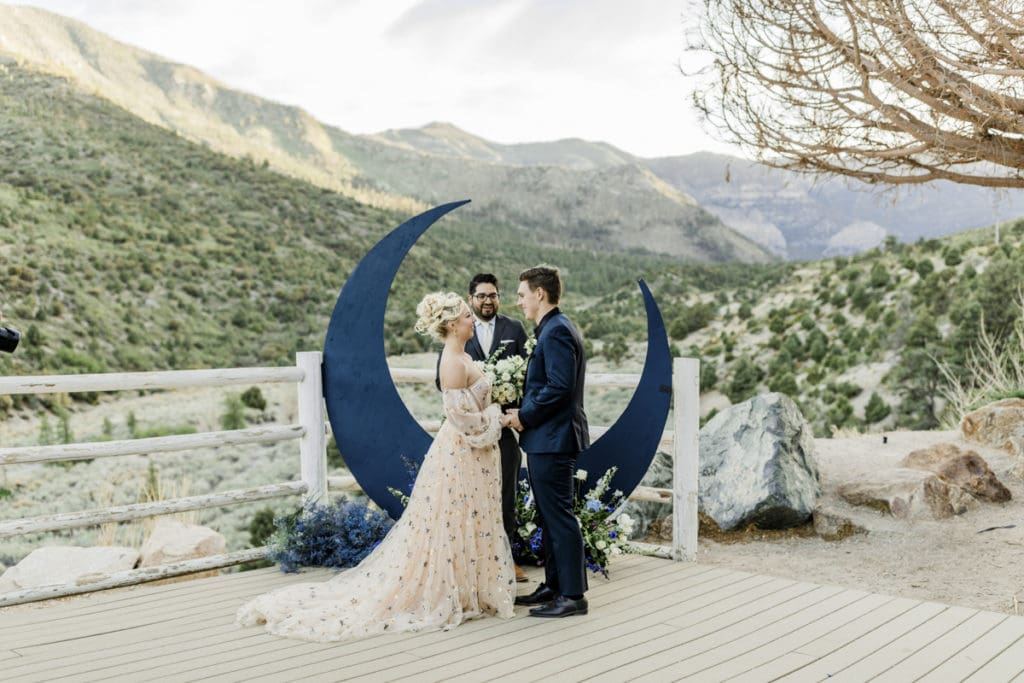 Trend 3: Full-Day Photography
Your wedding day is just that—a whole day—which may explain why we're seeing more couples requesting longer photoshoots.
Adding an extra three or four hours offers a full, unrushed photography experience that allows for more staged shots, as well as capturing those important getting ready moments, first looks and reception revelry.
We're even starting to see requests extend to wedding boudoir photoshoots.
Trend 4: The Kids Are Still Doing Alright
This is another carry-over from 2021, when we noticed couples including children either as guests or starring as ring bearers, flower girls and bridesmaids more and more.
It's true that traditional wedding guest lists often include kids, but it's only been since the pandemic that this has filtered through to elopements and micro weddings.
And it's a trend that's sticking. 
Find the best family-friendly hotels in Las Vegas.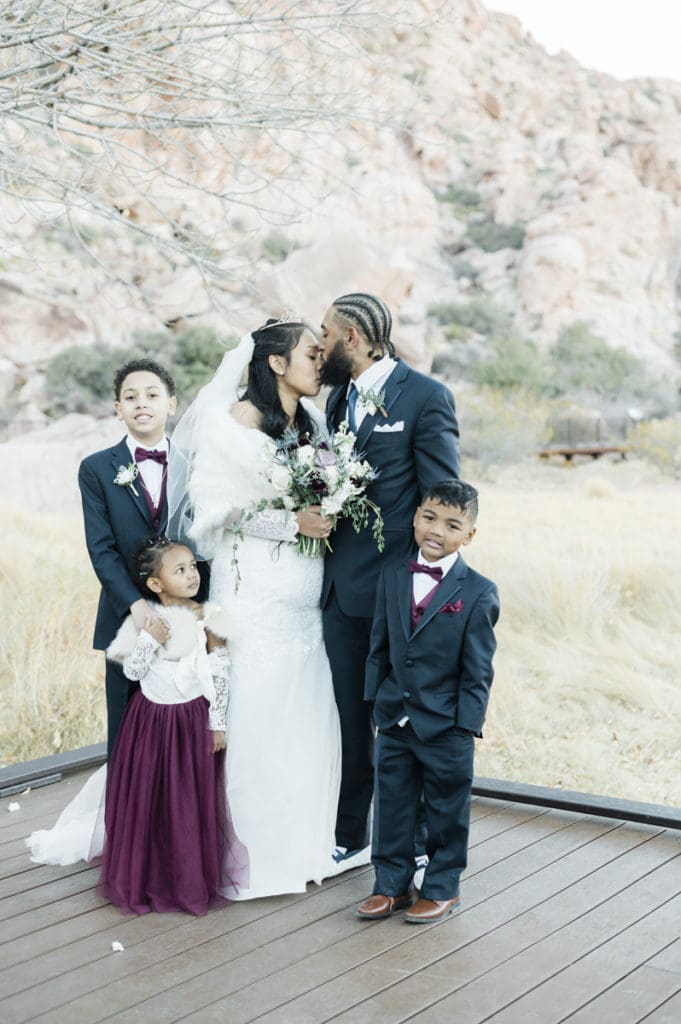 Trend 5: Mini Receptions and Individual Serves
More than 200 couples booked our mini reception add-on in the first half of 2021—that's 16% more than at the same time in 2020.
And it seems couples want playful food options.
According to Wedding Wire, 42% of couples chose to serve individual hors d'oeuvres like mini cheese boards, and we're seeing this too.
Serving individual cupcakes, cake pops and donut stacks are proving more popular than ordering a single, larger cake shared among guests.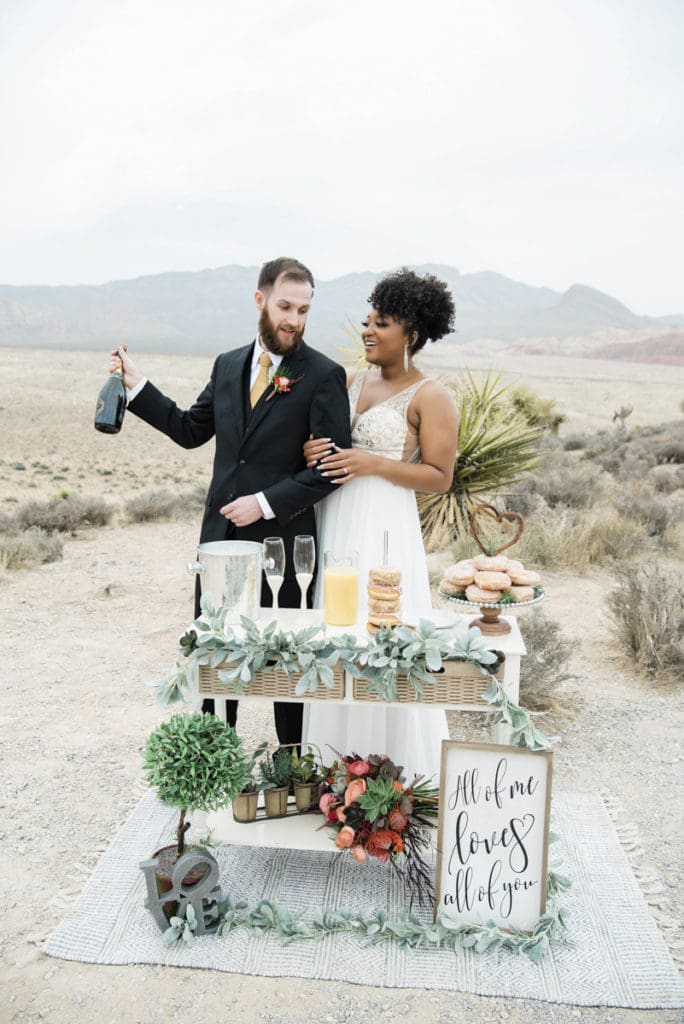 Trend 6: Feature Weddings
Last year we talked about couples postponing their reception party because of restrictions but still getting married.
Well, the two-dates idea is a pandemic trend that's stuck.
In 2022, couples are booking a small, just-the-two-of-them intimate ceremony for the official marriage, and having a separate, larger, feature wedding with friends and family.
Rather than two dates being a hassle, couples are finding it easier to book their dream venue for either the official ceremony or the feature wedding.
Trend 7: Festival Weddings
Micro weddings in 2022 are all about creating unique, memorable experiences for the couple's guests.
And what's more memorable than going to a private mini-festival in a crazy location with your closest friends and family?
Couples that book big outdoor spaces, such as Dry Lake Bed, are finding ways to pitch up for the day to create their own Burning Man wedding vibe.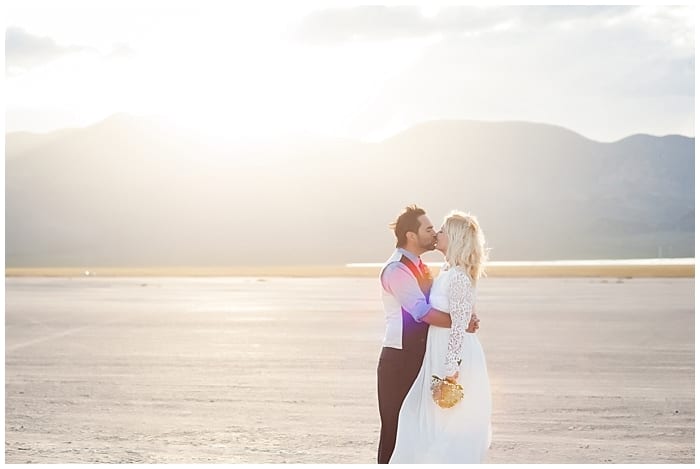 Trend 8: Pop Culture Weddings
Move over Star Wars, Disney, and Lord of the Rings.
Cool couples are looking beyond the big screen for wedding themes, favoring ones that celebrate iconic musicians instead.
Whether it's Ziggy Stardust-inspired makeup, Prince's telltale purple hues or Metallica's instantly recognizable logo-typeface splashed on the wedding stationery, couples are speaking volumes when it comes to what inspires their wedding style.  
Trend 9: Green Thinking
As a partner of the Leave No Trace initiative, we're encouraged to see more couples planning with an eco-friendly eye.
Second-hand wedding outfits, upcycled décor, thrift-store accessories and buying locally are just a few of the sustainable wedding trends we're seeing couples explore. 
Trend 10: Petite Bouquets
When it comes to flowers, brides continue to favor the waterfall bouquet style, but they want this wild, natural-looking arrangement on a much smaller scale.  
Trend 11: Grooms Are Getting Involved
We're not big fans of gender role stereotypes, but it's an undeniable fact that most of our wedding inquiries come from brides.
And when we set up calls, it's usually with the bride. But there are small rumblings of change.
This year we're noticing more grooms having a say when planning.
They're emailing us their ideas, joining calls and taking on more organizational tasks which is awesome to see.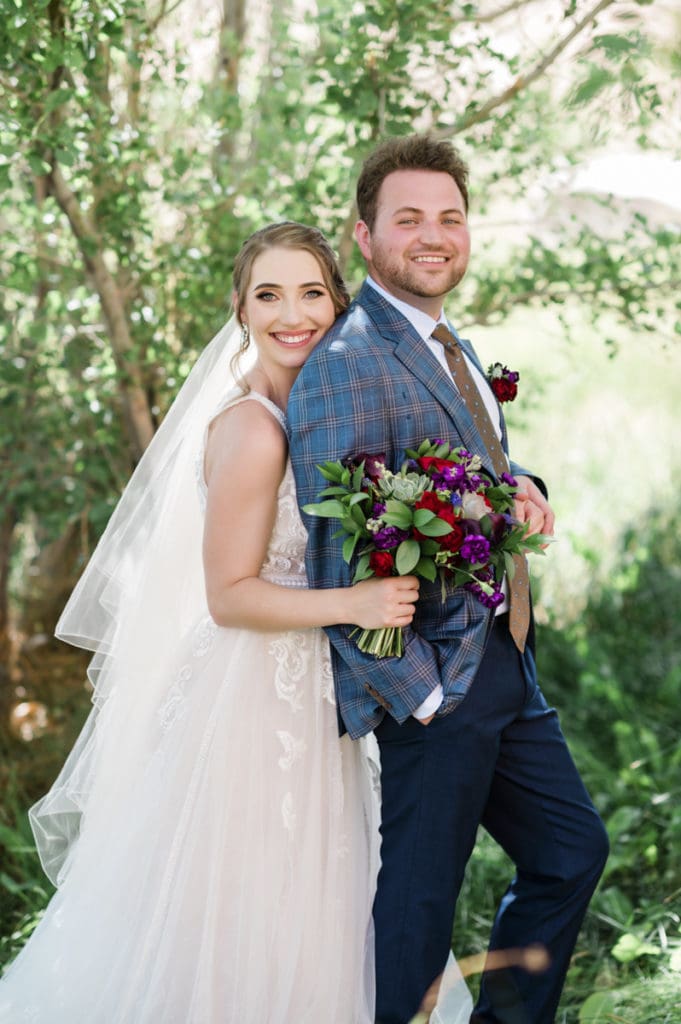 Trend 12: Guest Transport and Getaway Cars
As a company that specializes in booking ceremonies in offbeat, out-of-the-way locations, this is a wedding trend we're pleased to see is still rising.
Hiring a minibus for guests reduces the risk of people getting lost on the way to the ceremony or reception venue and delaying the wedding timeline.
But what's new for 2022 is couples having fun with the transport they're booking for themselves.
Vintage cars, classic sports cars, modern supercars and even motorbikes are just a few rockstar examples of how our couples are owning the transport trend.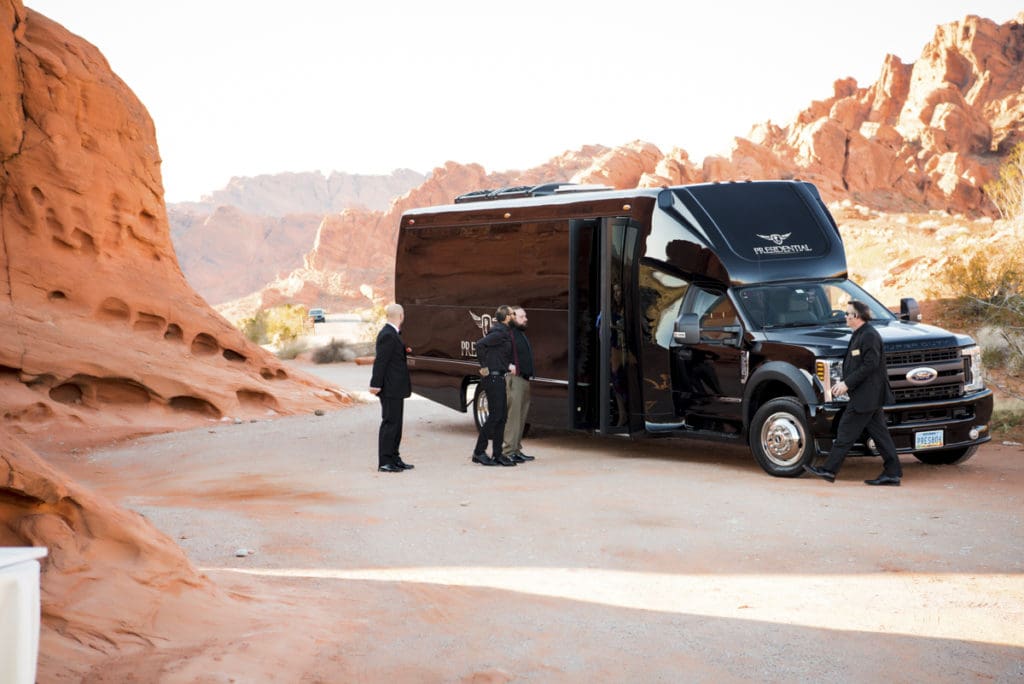 Trend 13: Wardrobe Changes
It may be one day, but one outfit for the whole day? It's just not cutting it.
Instead, brides (and sometimes grooms) are treating it as an occasion of two halves and need a wardrobe change somewhere along the way.
The most common transition times we're noticing are from day to night and from the official ceremony to reception.
But some are doing a quick outfit change part way through their wedding photoshoot, too.
Trend 14: Favors To-Go
Wedding days are busy days.
There's a lot to fit in and, for some couples, their time frame means it's important to keep the day moving but they don't want to do this at the expense of exhausting their guests.
This may explain why we're seeing a rise in favors to-go.
Small gift bags of treats that include a bottle of mini champagne and either a cupcake or cake pop that guests can enjoy between the ceremony and main reception. 
Looking for more wedding trends and inspiration?
Whether you're trying to plan your wedding around COVID-19, need advice on the micro wedding essentials, or want to know all there is to know on marrying in Las Vegas, our destination wedding resources have got you covered.
McKenzi Taylor
McKenzi Taylor is America's go-to elopement and micro wedding expert, often featured in small and major media outlets, such as the New York Times. With over 15 years of wedding photography experience, it was after planning her own Las Vegas elopement in 2016 that McKenzi felt her purpose shift into elopement coordination. She started Cactus Collective Weddings soon after in 2017. Since then, she's become a WIPA board member, and has helped well over 1000 couples get hitched in style around Las Vegas, San Diego and Black Hills.