Disclosure: This post may contain affiliate links. Please see our full disclaimer to learn more.
As you plan your wedding, you may have encountered the term "wedding on site host." You may have thought that an on site host is the same as a day-of wedding coordinator or wedding planner.
Or perhaps you asked, "What does a wedding on site host do?"
A wedding on site host is hired to oversee the wedding ceremony so that the day flows smoothly and without a hitch.
With an experienced on site host, all of your guests will enjoy your beautiful ceremony.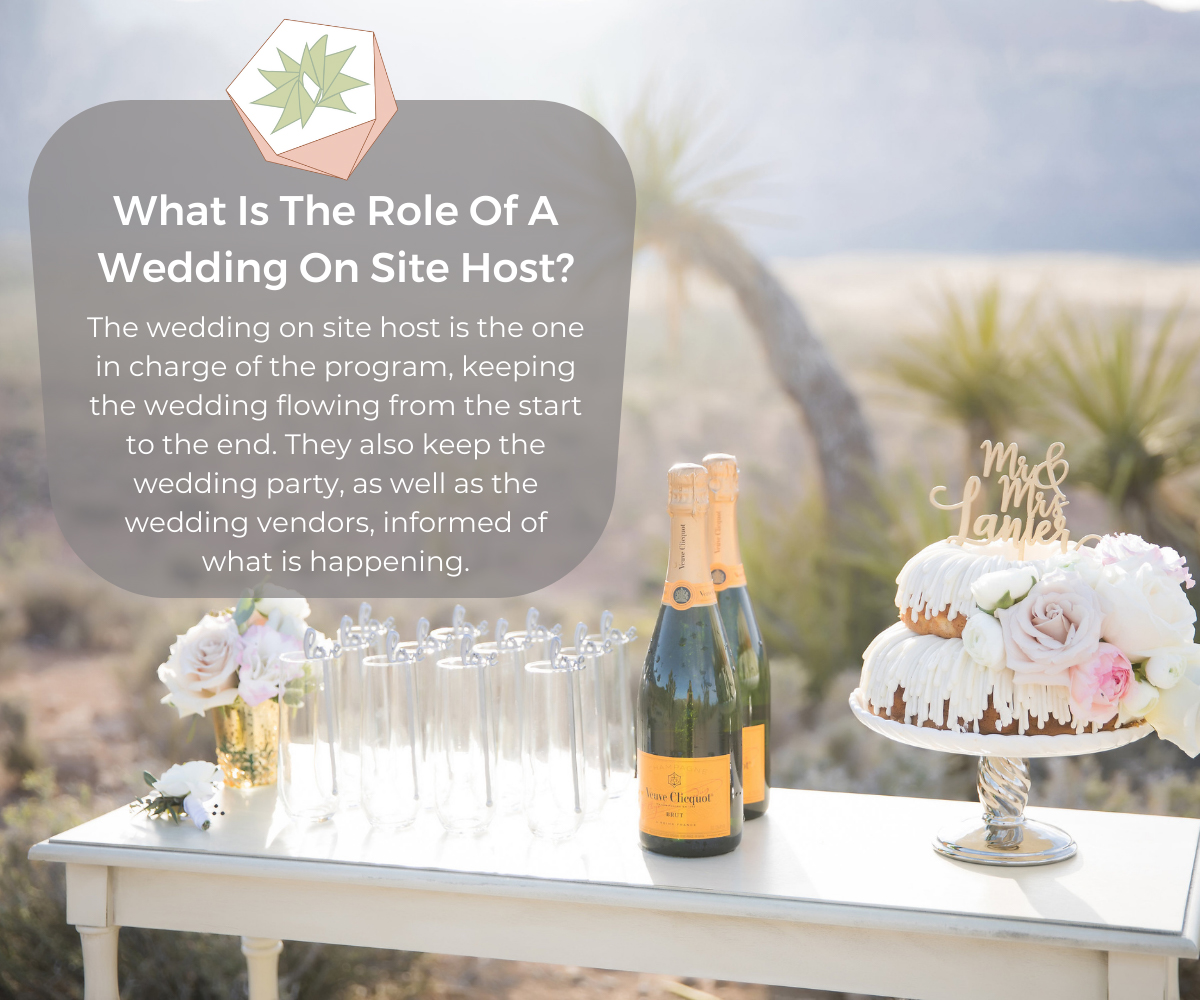 What Is the Role of a Wedding On Site Host?
The wedding on site host is the one in charge of the special day, keeping the wedding flowing from the start to the end.
A lot of unexpected things can come up during a wedding that could postpone the flow—speeches could take longer or food may not yet be ready, for example—so the on site host's job is to coordinate with the vendors, coordinator and wedding planner and try to keep things on time.
They also keep the wedding party, as well as the wedding vendors, informed of what is happening.
For instance, the on site host will cue when the ceremony has ended and it's time to move to the reception venue.
Likewise, they may employ humor to keep the wedding guests from knowing if a part of the day's plan is delayed.
On site hosts are a special option you will find in all Cactus Collective Wedding and Elopement packages.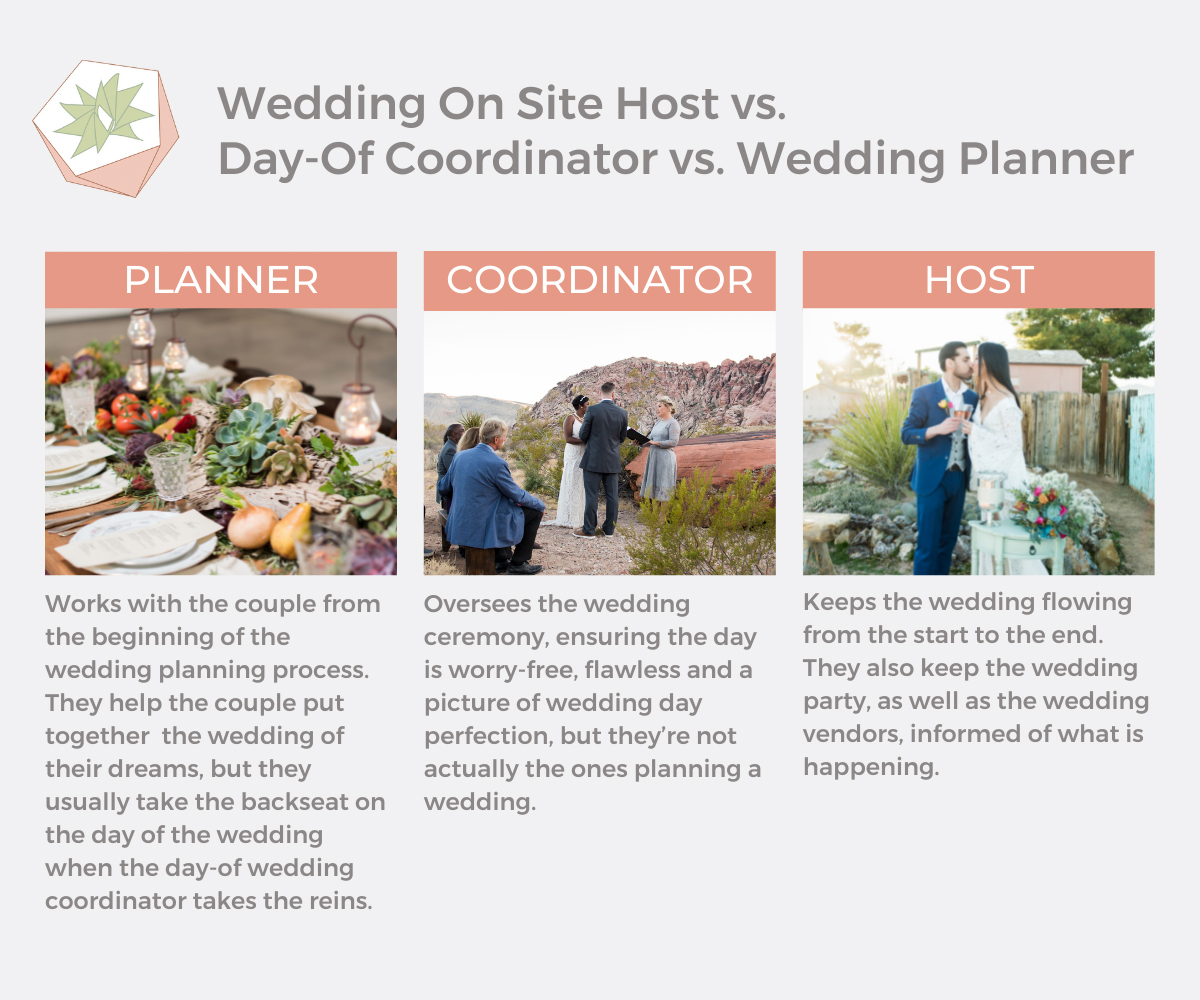 Is a Wedding On Site Host the Same as Day-Of Coordinator or Wedding Planner?
A wedding on site host is often mistaken as the day-of wedding coordinator and, sometimes, the wedding planner.
A common misconception is that part of either one of those professionals' jobs is hosting the wedding.
However, it's not. All three of these play different roles in wedding ceremonies.
The wedding planner works with the couple from the beginning of the wedding planning process.
They help the couple put together the wedding of their dreams, but they usually take the backseat on the day of the wedding when the day-of wedding coordinator takes the reins.
The day-of coordinator makes sure that all the details of the wedding ceremony are in place.
The day-of coordinator and the wedding planner work in the background of the wedding.
In contrast, the on site host works in front of your family and friends—keeping them comfortable and informed of the day's festivities.
All three, however, work together to make your perfect wedding come to fruition. They take the time to learn about the couple and their family are sure to be familiar with the day's timeline.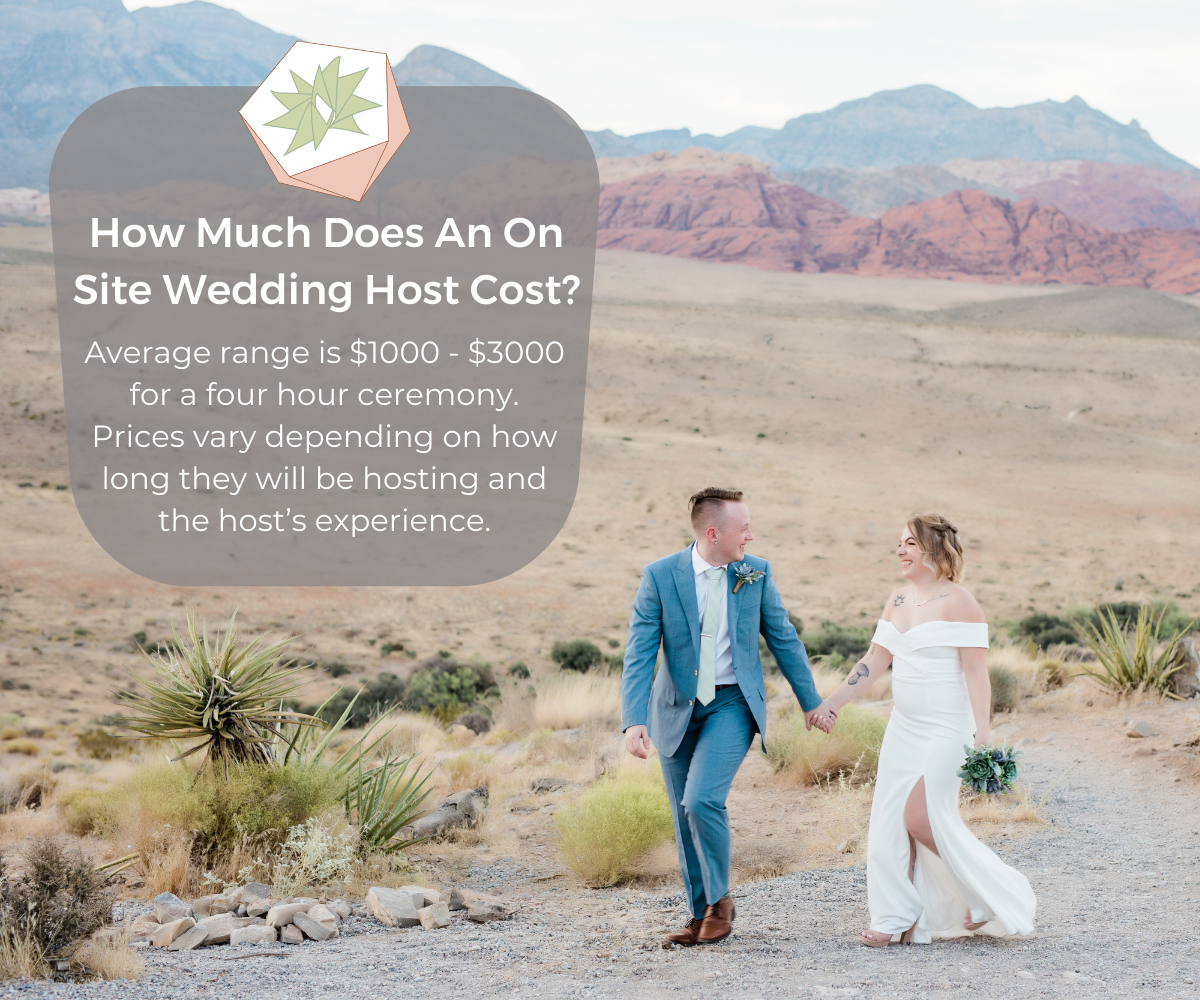 How Much Does an On Site Wedding Host Cost?
There are a few options when it comes to an on site wedding host service.
Sometimes offered as an additional service by the DJ you choose, but these will come at a greater price, starting at around $2000 and could go up from there. This also depends on if you will be going with a DJ.
Another option is to hire a separate professional host, which could range from $1000 to $3000 for a 4-hour ceremony.
Prices vary depending on how long they will be hosting and the host's experience.
But they may not be familiar with your venue, vendors, or any other essential part of your wedding planning team.
Do I Need to Hire One?
Having an on site host for your wedding is paying for peace of mind. You won't have to worry about lulls in your wedding while everyone guesses what should come next.
It's a worthwhile investment to guarantee a stress-free wedding.
Cactus Collective Weddings is dedicated to making the wedding you dreamed of a reality, which is why our wedding packages come with a wedding on site host who is trained to do all those things.
Since they work with us regularly, they are vetted and familiar with how we get things done. All team members will coordinate in the background so you can focus on the celebrations. Let us help you plan your wedding the right way—check out our wedding planning checklist.
McKenzi Taylor
McKenzi Taylor is America's go-to elopement and micro wedding expert, often featured in small and major media outlets, such as the New York Times. With over 15 years of wedding photography experience, it was after planning her own Las Vegas elopement in 2016 that McKenzi felt her purpose shift into elopement coordination. She started Cactus Collective Weddings soon after in 2017. Since then, she's become a WIPA board member, and has helped well over 1000 couples get hitched in style around Las Vegas, San Diego and Black Hills.