Disclosure: This post may contain affiliate links. Please see our full disclaimer to learn more.
If a big wedding isn't your thing, consider going micro
A micro wedding isn't any less of a wedding than a traditional event.
It's simply a smaller scale wedding, ranging from 5 to 50 guests.
You can still have the big day you've always dreamt about with THE dress, great food, and your loved ones by your side.
But you'll have some awesome advantages if you opt for the micro wedding.
One major advantage – you'll save a chunk of change that you can spend on your honeymoon instead.
With a smaller guest list, the price tag of your big will simply be smaller.
Micro weddings also have the advantage of being easier to plan because… well because there are fewer people and details to manage.
You'll be able to plan the day in a shorter time frame and with less stress.
Now for the best part – this will be a day for you and those you are closest to. It will be an intimate affair.
Sound good? We think so!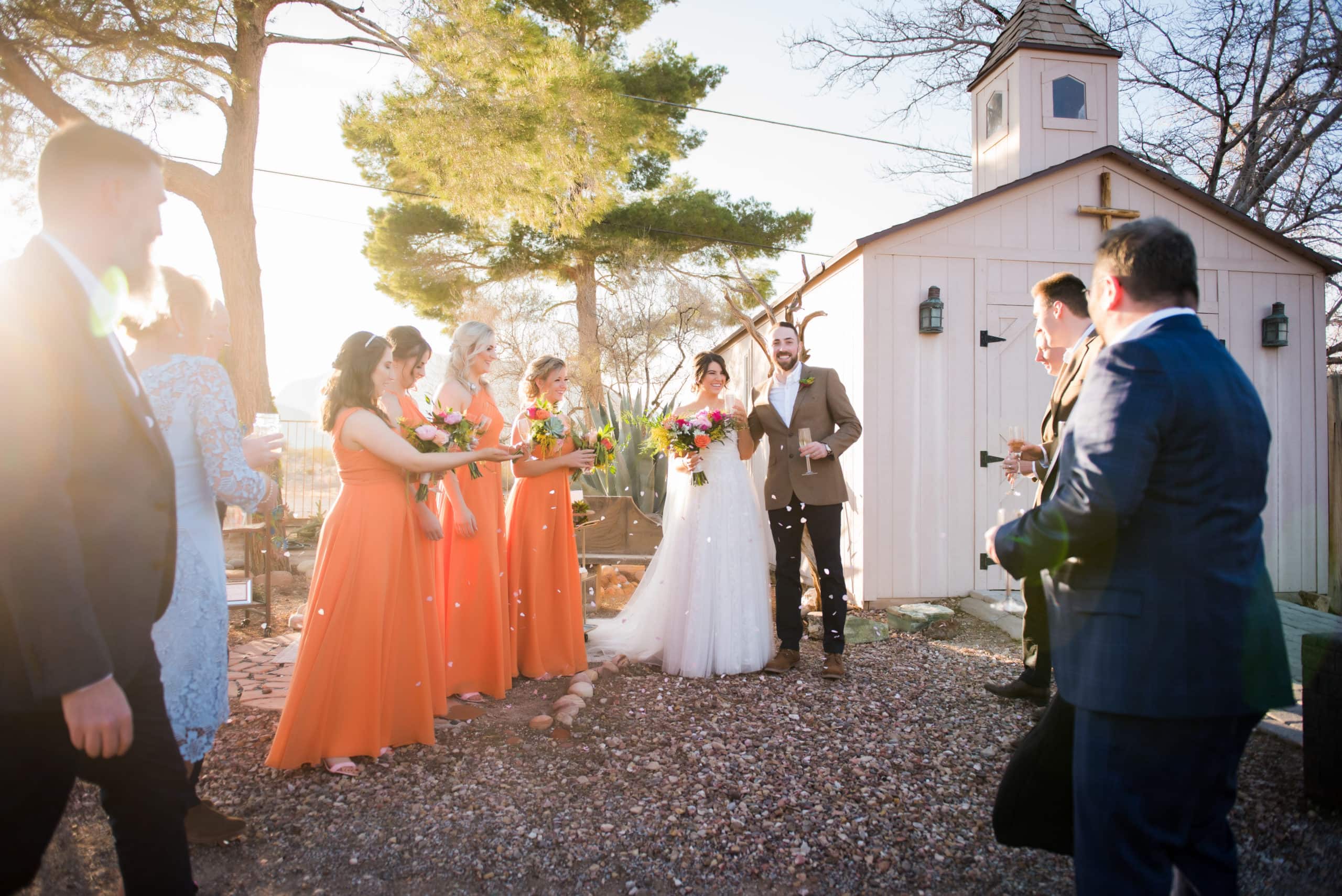 At Cactus Collective Weddings, we've planned our fair share of amazing micro weddings, and we are thrilled to share what we've learned.
Plus, we've interviewed a few of the couples who've chosen this style to mark their wedding day to get their take as well.
So let's take a look at the world of micro weddings.
Are micro weddings simply elopements?
You may not want to steal away to elope, but balk at the thought of a traditional (big) wedding.
Micro weddings are the perfect middle ground between conventional weddings and an elopement.
An elopement literally means to run away secretly in order to get married.
Most modern day elopements probably aren't so dramatic.
No one is running away.
But couples who choose elopement want to marry without guests and without telling their loved ones beforehand.
A micro wedding is a whole different ball game.
Couples who choose a micro wedding want family and friends around them for their big day.
They just want to limit that number; keeping their wedding day intimate.
They don't want the stress, cost, or chaos often involved in a big traditional wedding.
Micro weddings are also perfect for people who want a destination wedding or are seeking to renew their vows. It's a great way to put an intimate and unique stamp on your wedding day.
"While we've been using the terms micro wedding, elopement and intimate wedding interchangeable I do think there is a difference between a micro wedding now. A micro wedding isn't necessarily skimping on the details or the budget. Couples are inviting only those that are close to them, and they want to show those folks a great time and give them a unique experience." McKenzi Taylor, Founder, Cactus Collective Weddings
Why a micro wedding?
More and more couples are choosing micro weddings to eliminate the stress that comes with a traditional wedding.
Others go micro because they prefer intimate over grand and affordability over lavishness.
Others choose a micro wedding because they want a destination wedding or are renewing their vows.
"Our ceremony was so intimate. There was no pressure… that comes with a traditional wedding," says Lauren, who married in a micro wedding with Cactus Collective Weddings in 2020.
So let's take a look at some of the reasons why a micro wedding is an awesome choice:
Smaller budgets
The average cost of a traditional wedding in the United States nears $40,000.
That's a big price tag. If you want to enter married life with your savings intact, a micro wedding might be a better fit for you.
Micro weddings might range in price from anywhere from $1,800 to $10,000.
It's up to you and your partner to decide where that price point will fall.
A small intimate wedding with just a handful of friends, simple flowers, a beautiful yet affordable dress, and a reception of hors d'oeuvres and drinks, and you can keep prices low without sacrificing an ounce of specialness.
Long for a little more of an elaborate affair?
Well it's your micro wedding, so make it your own.
Get the dress and serve the yummy reception food. Hire the acoustic musician and splurge on the flowers.
Rent the limo and buy the champagne. It's your day!
"Everything about our day was more than we had ever dreamed of! This was completely affordable and beyond beautiful. The staff at Cactus Collective was phenomenal from beginning to end!" – Nicole, who married her husband in a micro wedding with Cactus Collective Weddings.
It's in style – even celebrities embrace micro weddings
Sure some celebrities go all out on enormous and elaborate weddings, complete with hundreds of guests, exotic foods, and professional musicians.
But more and more, celebrities are opting for their own micro weddings.
Dwayne "The Rock" Johnson married his longtime girlfriend Lauren Hashian in a secret early morning wedding in Hawaii in 2019. The affair was attended only by family and friends.
Ellen DeGeneres and Portia De Rossi married in 2008 in their backyard with just 30 close friends and family in attendance. They held a lovely reception afterward complete with a vegan cake.
Even Jay Z and Beyonce married in a ceremony with only 40 of their closest family and friends in attendance.
So your micro wedding can be exactly what you want and be perfectly in style as well.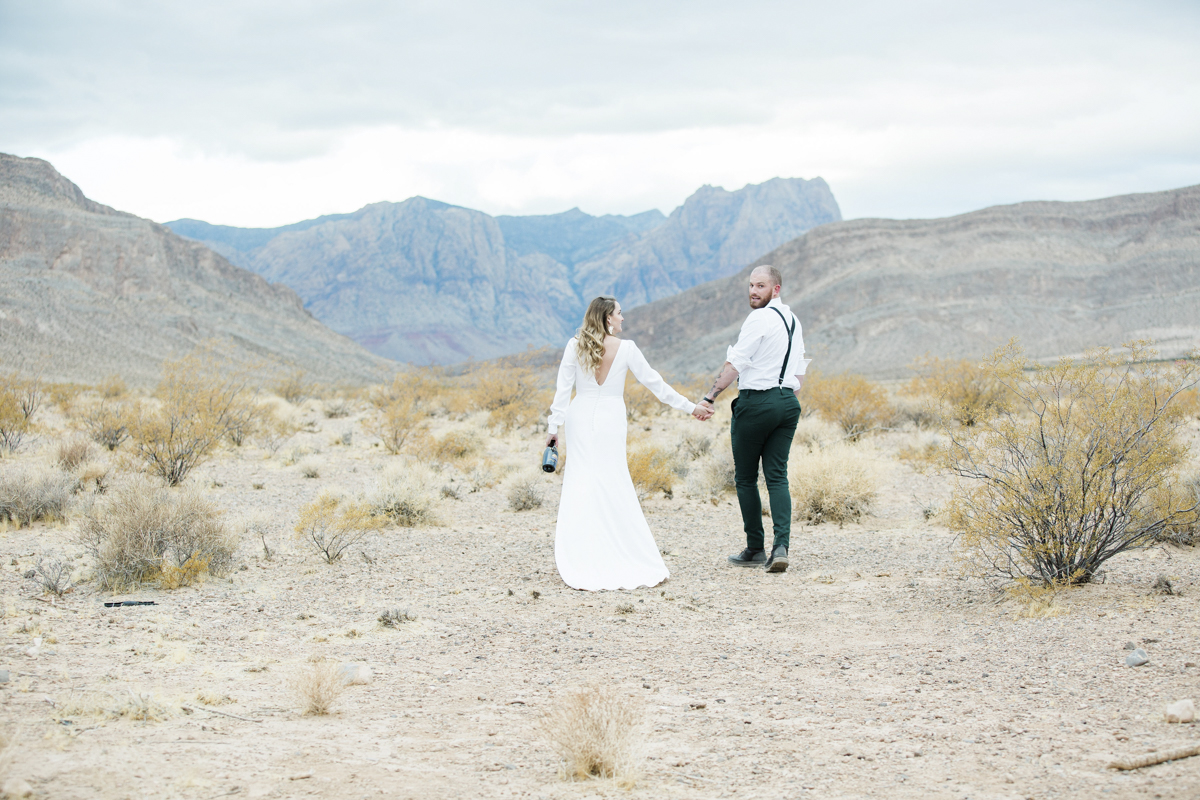 More intimacy
Perhaps the best thing about a micro wedding is the intimacy it allows.
With a large guest list, intimacy tends to go out the window.
But a micro wedding allows you to invite only those you feel closest to.
This tends to cut down on stress and make the day all about the couple.
No need to invite that cousin you haven't seen in 10 years or that former coworker you've lost touch with over the years.
Rebecca Djapovic says, "My husband's from Europe and his family couldn't afford to come. We wanted an intimate wedding with just our closest relatives and friends", Rebecca says. "I chose to send my uncles and aunties–who I hadn't seen in over ten years–a note saying I was keeping my wedding small and simple and that I'd arrange a dinner for us all at a later date."
She went on to say, "We really wanted our wedding day to reflect us and our kind of love. Intimate, down to earth, and fun. We didn't want the pressure of having to invite our long-lost relatives for the sake of tradition. That would've been awkward".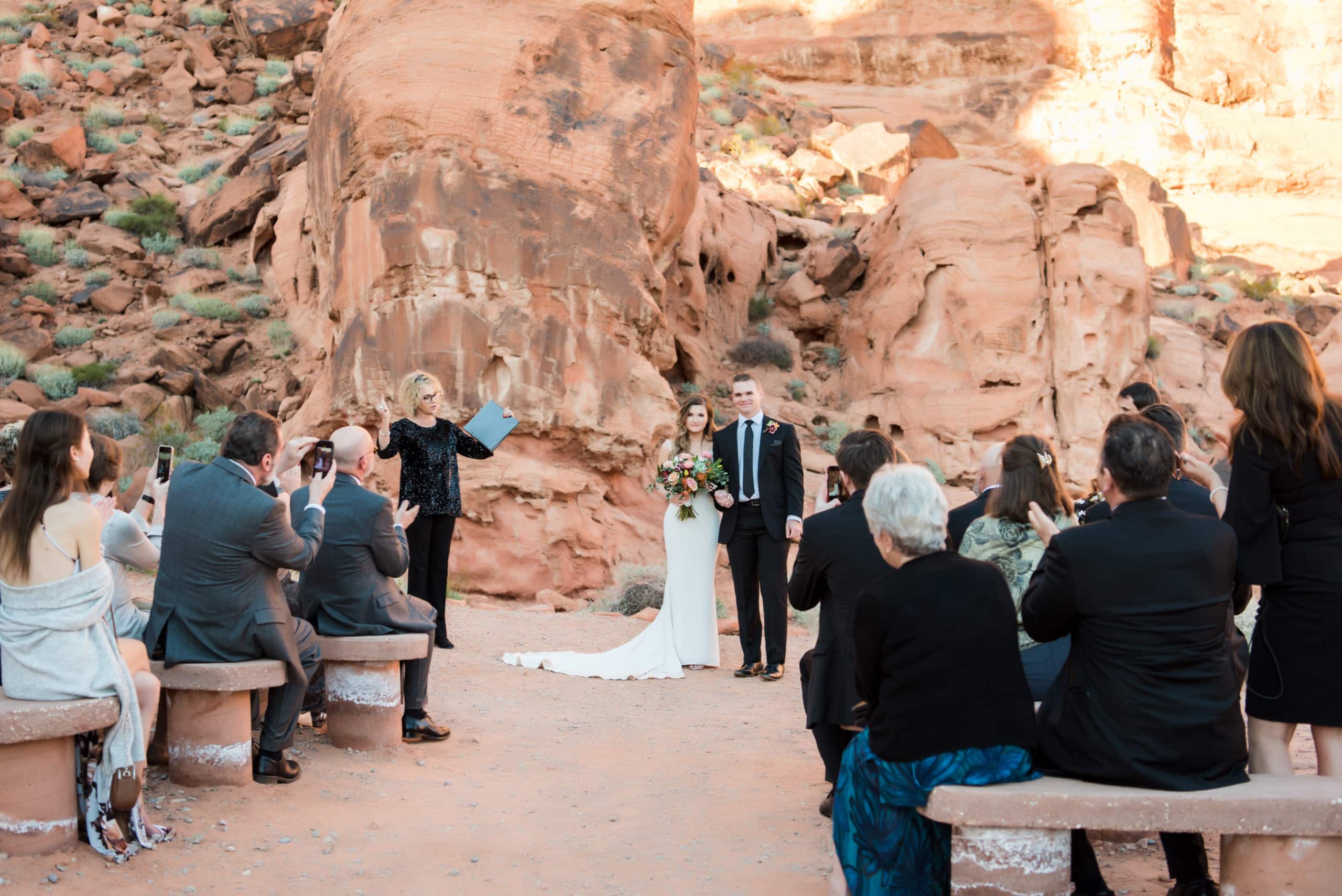 Shorter timeframes
Don't worry, a micro wedding will be just as special and beautiful as a traditional wedding.
You can have the dress you want, the food you want, the reception you desire.
But with fewer guests, the details will simply be easier to manage. Fewer guests equals less time planning and fewer hassles.
Thais VU chose to have a micro wedding with a few of her nearest and dearest for a simple reason.
"The time pressure to have the wedding finalized before the birth of our new child so that we'd all shared the same family name" was a significant factor in choosing this style of wedding, she says.
Perfect for second marriages
If you've already been married previously, a micro wedding is a lovely choice for the second (or third) time around.
It can be more casual and even more mature.
Nikki Lloyds says she chose to have a micro wedding, "Partly because it was the second time around for us both and partly because the marriage was the important bit, not a big party. There was us, our four kids and two witnesses barefoot on the beach".
Planning a micro wedding
While a traditional wedding will need a good year of planning, a micro wedding can easily be planned in a matter of weeks.
Some of the things to keep in mind while planning your micro wedding:
Set your budget. Luckily, since a micro wedding is much less expensive than a more traditional wedding, this step will be less painful. Decide what you will spend and jump into the planning.
Get your marriage license.
Pick your date and your venue.
Decide what type of reception you would like.
Think about your guest list – and remember you chose a micro wedding so you could avoid inviting too many.
Think about where your guests will stay and make arrangements to hold rooms for them at a location of your choosing.
Decide what you will wear. A more traditional wedding calls for a traditional dress, but a micro-wedding lends itself to more unique choices. If you're getting married outside in the fall, add a faux fur stole. Want to add a little color? Consider a rainbow dress. Of course, if a traditional dress is what you want, that's just fine. A micro-wedding means the options are limitless.
Choose your honeymoon. Since you're saved so much on your micro wedding, you can go bigger on your honeymoon. Think sandy beaches. Or overseas adventures.
Need some help with location ideas?
Our extensive list of beautiful venues caters to intimate micro weddings. Whether you want:
a private ceremony and reception among the myriad of beautiful red rocks in the Red Rock Canyon
a wedding in the green and tranquil Floyd Lamb Park (where ducks, geese, and peacocks roam free)
or a celebration in the historic Vegas venue The Neon Museum
Extra touches for your micro wedding day
For couples with a sweet tooth or fans of the cocktail hour, we have the doughnuts and mimosa mini-reception package. Or our cake and champagne package that comes with a cute setup, cake (or cupcakes) for your guests, champagne, and a 'shake and spray' bottle for fun photos.
Want extra photos? We have an assortment of packages to match anyone's preference. If you want more photos, we will make that happen.
Do you think a beautiful rug paired with large floral arrangements and custom-built wooden pillars would make your day even more unique? Cactus Collective Weddings can do that as well.
Most of the packages can be tailored to include gorgeous acoustic music.
Interested in spending the evening with your guests, exploring what the area has to offer. We can point you in the right direction, suggesting specific vendors, locations, and events that will help to make your day one you won't forget.
Start planning your micro wedding. With a few details we can show you how affordable your special day can be.

McKenzi Taylor
McKenzi Taylor is America's go-to elopement and micro wedding expert, often featured in small and major media outlets, such as the New York Times. With over 15 years of wedding photography experience, it was after planning her own Las Vegas elopement in 2016 that McKenzi felt her purpose shift into elopement coordination. She started Cactus Collective Weddings soon after in 2017. Since then, she's become a WIPA board member, and has helped well over 1000 couples get hitched in style around Las Vegas, San Diego and Black Hills.