Disclosure: This post may contain affiliate links. Please see our full disclaimer to learn more.
When you think of a classic Las Vegas wedding, you're likely thinking about either a chapel wedding or a desert wedding.
Are you dreaming of a desert fairytale surrounded by sage, cactuses, and ethereal sandstone, the breeze blowing through your hair?
Or are you visualizing a small chapel with an old west rustic wedding charm, a little white dress and family and friends lining the pews?
The choice is yours — both offer something unique, romantic and impossibly Vegas.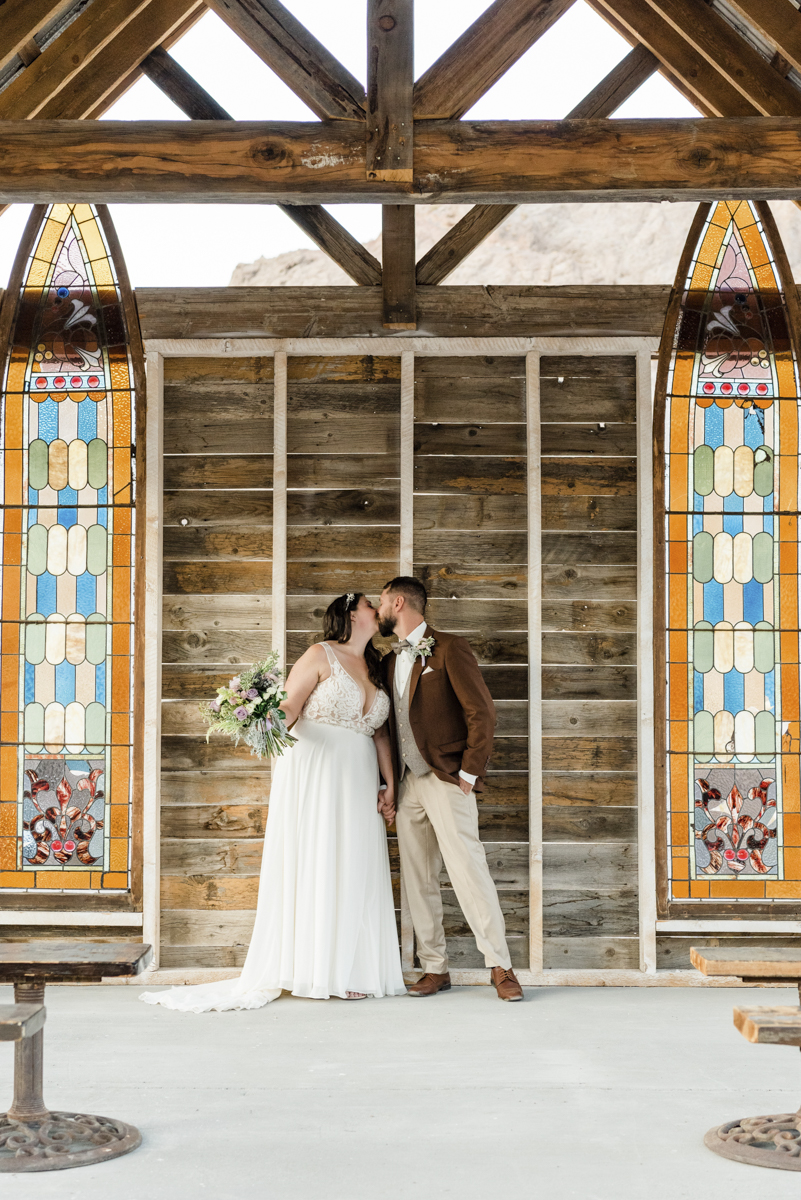 Benefits Of A Chapel Wedding
Looking at the benefits of a chapel wedding can help to determine if this is more your speed, or if you want to get a little more rugged with an outdoor desert affair.
First and foremost, if you're planning an elopement or a micro wedding with a small guest list, wedding chapels might be what you're looking for. A Las Vegas chapel wedding can accommodate some seating for your guests, which is particularly beneficial to ensure your loved ones can be comfortable and enjoy themselves as they watch you exchange vows.
These small wedding venues remain intimate, and they have a certain old-world charm that lends a great deal to your wedding photography.
With a chapel wedding, weather isn't really an issue. Windy or hot conditions won't affect your wedding day too much as you're under cover while inside a stylish and chic Vegas chapel.
If a couple is concerned about desert weather conditions or getting a little too much sun, having your nuptials inside a chapel might be just the solution you're looking for.
There is something classically romantic about exchanging wedding vows inside of a chapel. Even couples who typically defy tradition may look at those sweet moments and want to recapture them themselves in their own weddings. The photos inside of the chapel will look timeless, and you get to put your own twist on a romantic tradition.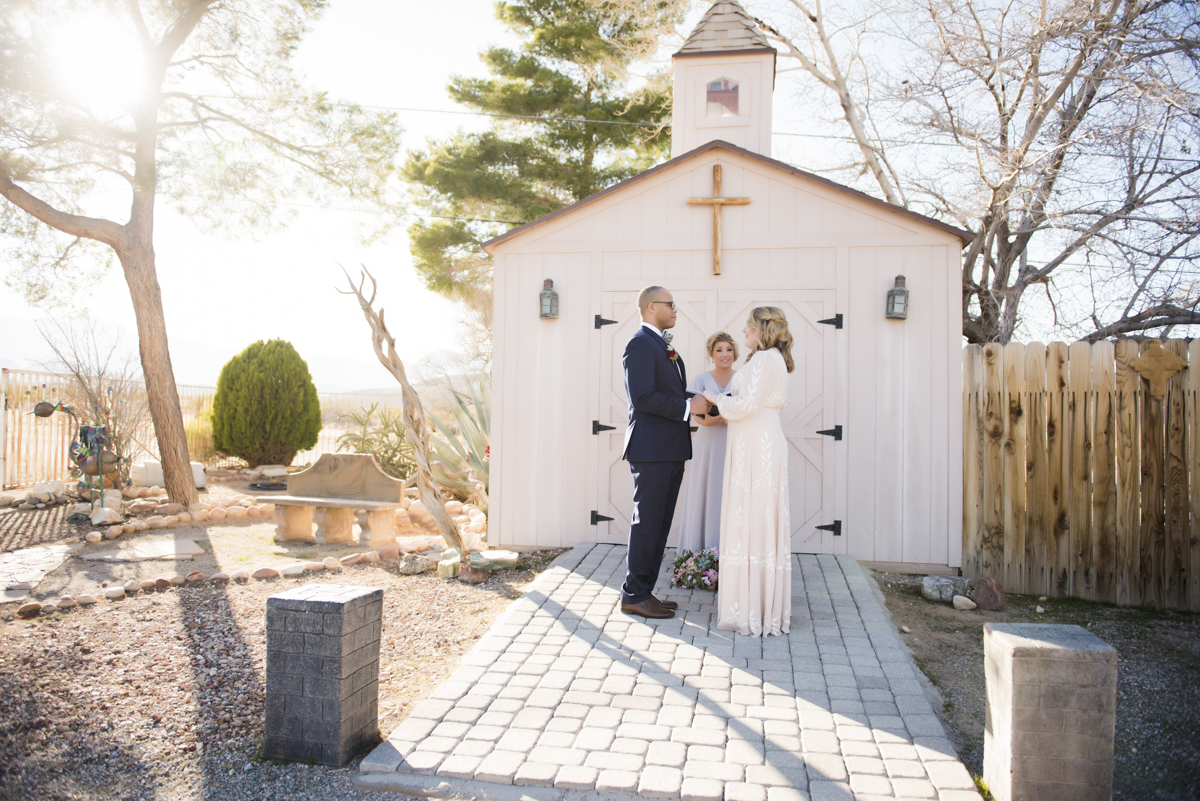 Benefits Of A Desert Wedding
Deciding between a chapel wedding or desert wedding, you'll want to consider the benefits of a desert wedding as well.
An outdoor wedding in the desert is quite unlike an outdoor wedding anywhere else. Outdoor weddings in the desert are painted with dust, sand, flora, sandstone, ethereal sunsets and shifting color palettes that can only be provided by Mother Nature. The sheer rugged wedding beauty of a desert ceremony is hard to beat.
One big benefit of a desert wedding is just how much fun and freedom you have with wedding themes, attire and the overall vibe.
A boho-chic look gels beautifully with the atmosphere of the desert, or you can juxtapose formal wear with the rugged backdrop of the landscape.
Keeping it old west, or delightfully mid-century vintage is an excellent option for whimsical couples. When it comes to expressing your personal style, if you can think of it then we can create it with a desert landscape.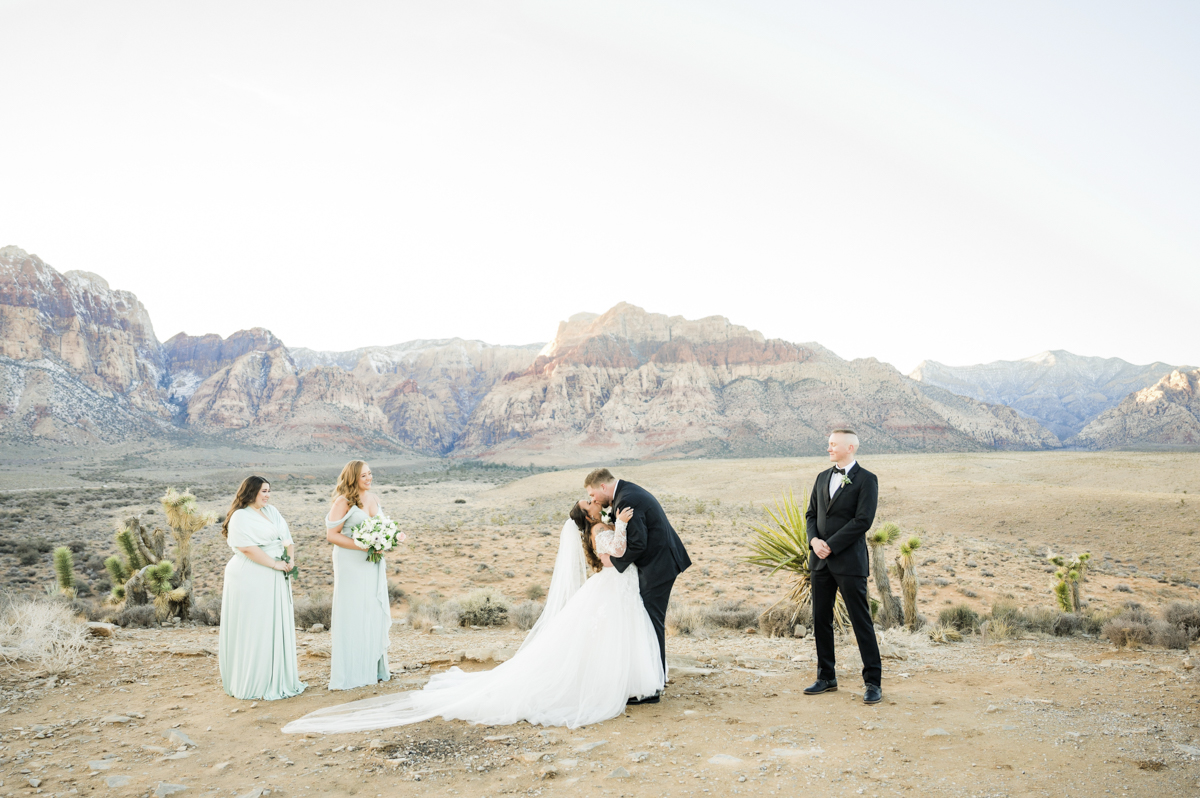 A desert wedding also gives a whole new spin to the classic destination wedding. When couples and their loved ones think about a destination wedding, they usually think about a white sandy beach or something tropical first. Switching it up with a desert destination wedding is an exciting way to get the destination experience but alongside something a bit more unique.
Couples don't have to think much about décor when it comes to desert weddings. For couples with a smaller budget, this is a great way to free up some budget space by allowing the landscape to take care of your backdrops, your color palettes and your decorations.
A desert sunset can display every color of the rainbow, changing the color of the stone, sand, and flora right along with it. Rich purples, cool greens, vibrant pinks, deep reds, and earthy browns are just some of the shades that might come out to play throughout your ceremony and in your wedding photography.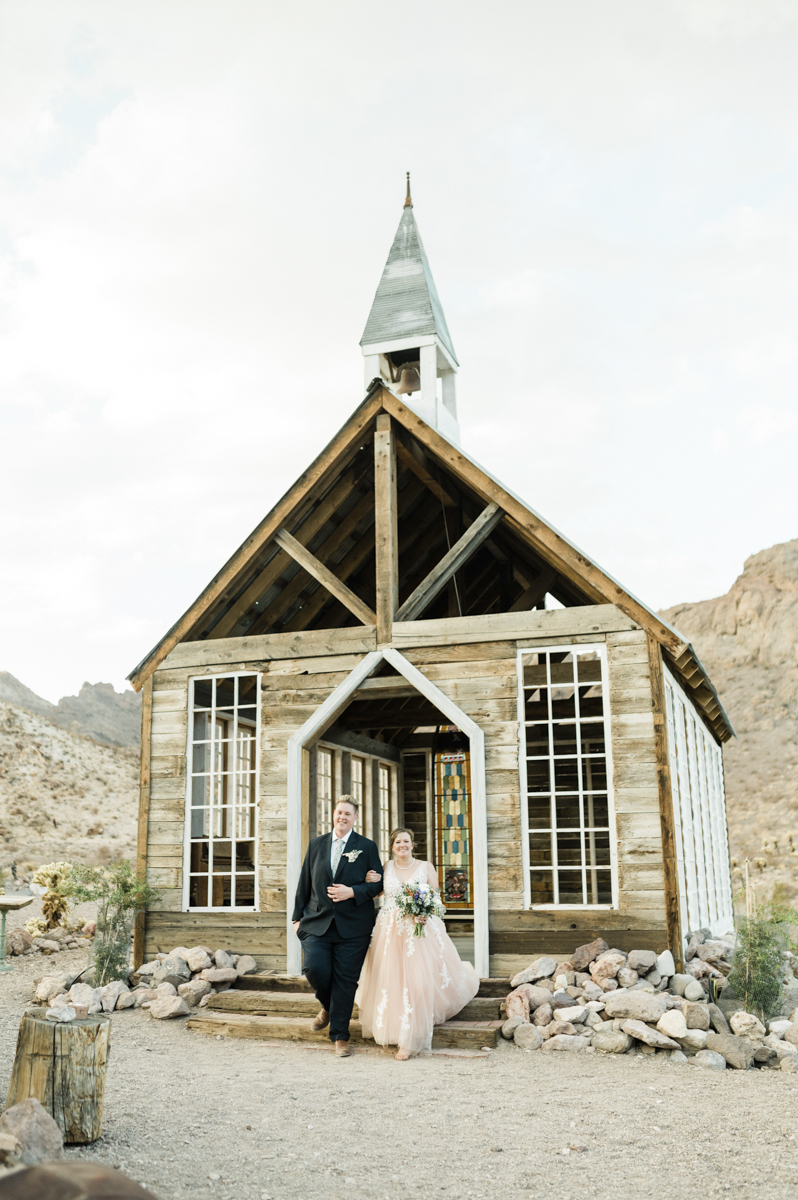 The Best Of Both Worlds
Sure, a couple can choose between a chapel wedding or desert wedding, or they can have the best of both worlds. At Cactus Collective Weddings we recommend two venues that really embrace the traditional romance of chapel weddings along with the rugged beauty of sharing your vows in the desert.
Eldorado Canyon features a small stained-glass chapel, the Big Barn, the Cholla Cactus Field, a real old west Ghost Town, classic cars, the ruins of a vintage plane and so much more. Couples can be married in the desert, the barn, the chapel or anywhere on the property that resonates with them as stunning wedding photography captures the beauty of the varied landscapes. For those couples who may find it difficult to decide between a chapel or the desert, Eldorado Canyon gives you a taste of everything. Eldorado Canyon is just a short 40-minute drive from downtown Las Vegas.
Cactus Joe's Blue Diamond Nursery is another venue option we at CCW love for desert chapel hybrid weddings. A small sandstone pink chapel rests amongst the immaculately manicured cactus gardens and greenhouses, which perfectly complements the surrounding desert landscape of the property. A particularly unique attribute of Cactus Joe's is their Joshua Tree forest, which offers iconic photography opportunities for any sort of wedding. Just a short trip away from downtown Las Vegas, it's a 25-minute ride from the airport that feels far removed from the busyness of the Strip.
CCW offers wedding packages for both Eldorado Canyon and Cactus Joe's. If you'd like to learn more about a Las Vegas chapel or desert wedding, let's connect.

McKenzi Taylor
McKenzi Taylor is America's go-to elopement and micro wedding expert, often featured in small and major media outlets, such as the New York Times. With over 15 years of wedding photography experience, it was after planning her own Las Vegas elopement in 2016 that McKenzi felt her purpose shift into elopement coordination. She started Cactus Collective Weddings soon after in 2017. Since then, she's become a WIPA board member, and has helped well over 1000 couples get hitched in style around Las Vegas, San Diego and Black Hills.