Disclosure: This post may contain affiliate links. Please see our full disclaimer to learn more.
Spring is the season of fresh starts and knowing that it's no wonder why it's also one of the most popular seasons for weddings. Beautiful weather offers nearly limitless wedding dress and fashion options, spring blooms create unique and beautiful palettes and spring scents waft sweetly through the air to set the perfect wedding atmosphere. Outdoor spring wedding ideas help couples to envision what creates that ideal seasonal wedding vision for them.
Pastel Colors
Floral Printed Invitations
In-Season Blooms
Flower Crown
Floral Arch
Floral Accents
Say "I Do" Outdoors
Decorate Your Cake with Herbs
Add Citrus to Your Cake
Give Popsicles to Your Guests
1. Pastel Colors
Pastel colors scream spring and they're delicate, easy to work with and look beautiful in any setting.
One beautiful way to incorporate pastel colors into your spring wedding attire is to have bridesmaids each wear the same dress in a different pastel color. Shades of pink, yellow, lavender and blue bring all of the shades of the season into your ceremony in a simple but elegant sort of way.
If you want to ground a pastel spring wedding palette, use light greys, sandstone or earth tones to round out your color scheme.
2. Floral Printed Invitations
For a spring wedding, you'll also want to communicate your seasonal theme to your guests through your invitations.
Floral printed invitations are classic and elegant, and it's easier than ever to have personalized invitations designed to your specifications and ready for mailing. Minted has a wide selection of seasonal floral printed invitations to incorporate into your palette or theme.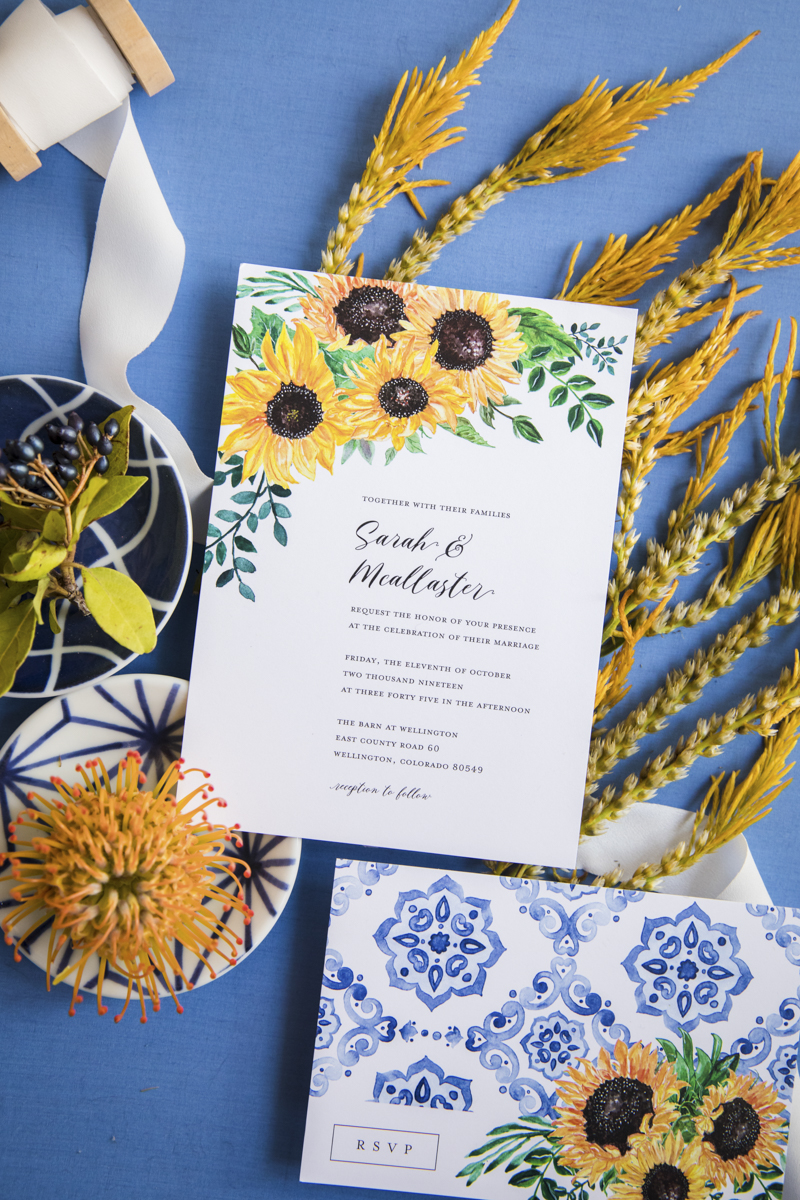 3. In-Season Blooms
What would a spring wedding be if it didn't take advantage of the plethora of in-season blooms available during the season of new growth?
According to Peter Frigeri of Gaia Flowers, "In-season spring blooms are unique in their variety of colors and fragrances compared to any other season. It's easy to use in-season varieties in either contemporary or vintage-inspired arrangements for a real 'wow' factor."  
In-season blooms let you really wrap yourself in the sights, smells and sheer beauty of the spring season while remaining affordable and eco-friendly.
Choosing local varieties of spring blooms helps to offset the carbon emissions used to transport out-of-season flowers while supporting local florists.
4. Flower Crown
If a bride is looking for romantic outdoor spring wedding ideas, few will fit the bill better than incorporating flower crows.
Flower crowns bring the beauty of spring to you and your bridesmaids, and they can be created using faux or genuine blooms. The sky's the limit in terms of style and palette, and flower crowns can be delicate and elegant, bohemian and whimsical, or anything in between.
Flower crowns may be used as an ethereal veil alternative, or a veil can be incorporated into the crown itself.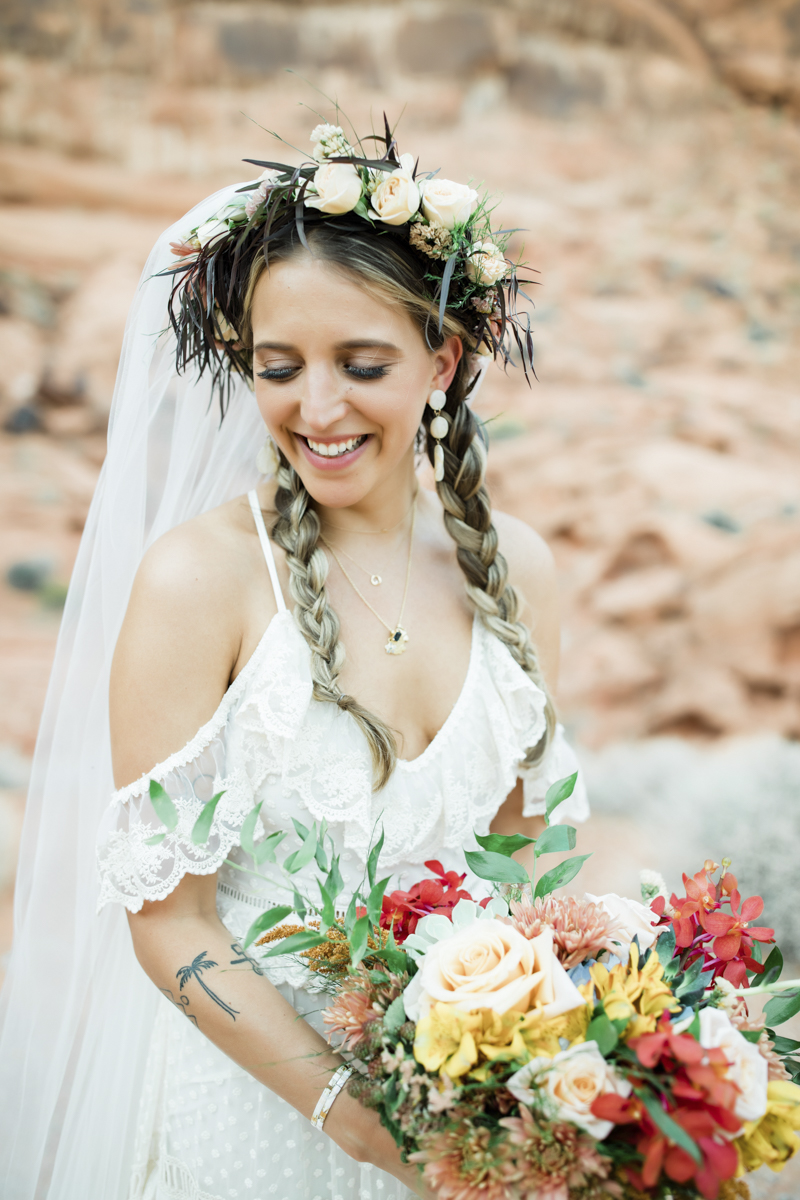 5. Floral Arch
Incorporating a floral arch into your spring wedding is a beautiful way to frame the special moments in an elegant, romantic and seasonally appropriate way.
Using your palette of delicate in-season blooms, your theme and style will come full circle in those wedding photos you just can't wait to hang up on every wall of your home.
6. Floral Accents
Floral accents are small, but you'll see quickly how they just bring every element together when you take a step back and take in the beauty of your wedding ceremony.
Petals, small bunches of blooms and miniature arrangements should be added to the altar, line aisle and reception tables for that perfect sophistication and attention to detail.
What floral accents have the power to do is guide the eye from the aisle to the altar, the altar to the arch and from table to table in the reception space.
7. Say "I Do" Outdoors
The most important setting in the whole celebration is the space where you say "I do." Exchanging vows outdoors will imbue your magical moment with new life, chirping birds and a sweet breeze that simply embodies the delicate nature of the spring season.
Outdoor spring wedding ideas for having your ceremony in a beautiful wild space are numerous and there's a setting to suit every theme or mood.
8. Decorate Your Cake with Herbs
The cake is a major part of your wedding theme, so you don't want to leave it feeling left out. Decorating your cake with fresh herbs not only looks beautiful and delicate, but it also adds a fragrant element to an already sweet treat. Some popular herbs that fit well with beautiful spring wedding cakes are chamomile, spearmint or thyme.
9. Add Citrus to Your Cake
Citrus might be viewed as a summertime staple, but it has plenty of reason to make its debut in spring. Fresh and invigorating, citrus scents and flavors have a lot in common with the entire atmosphere of the spring season as a whole.
While decorating your wedding cake with herbs, you can also include fresh candied citrus. Combining complementary citrus fruits with herbs, like lemon and thyme, brings luscious fresh scents and seasonal beauty with simple ease.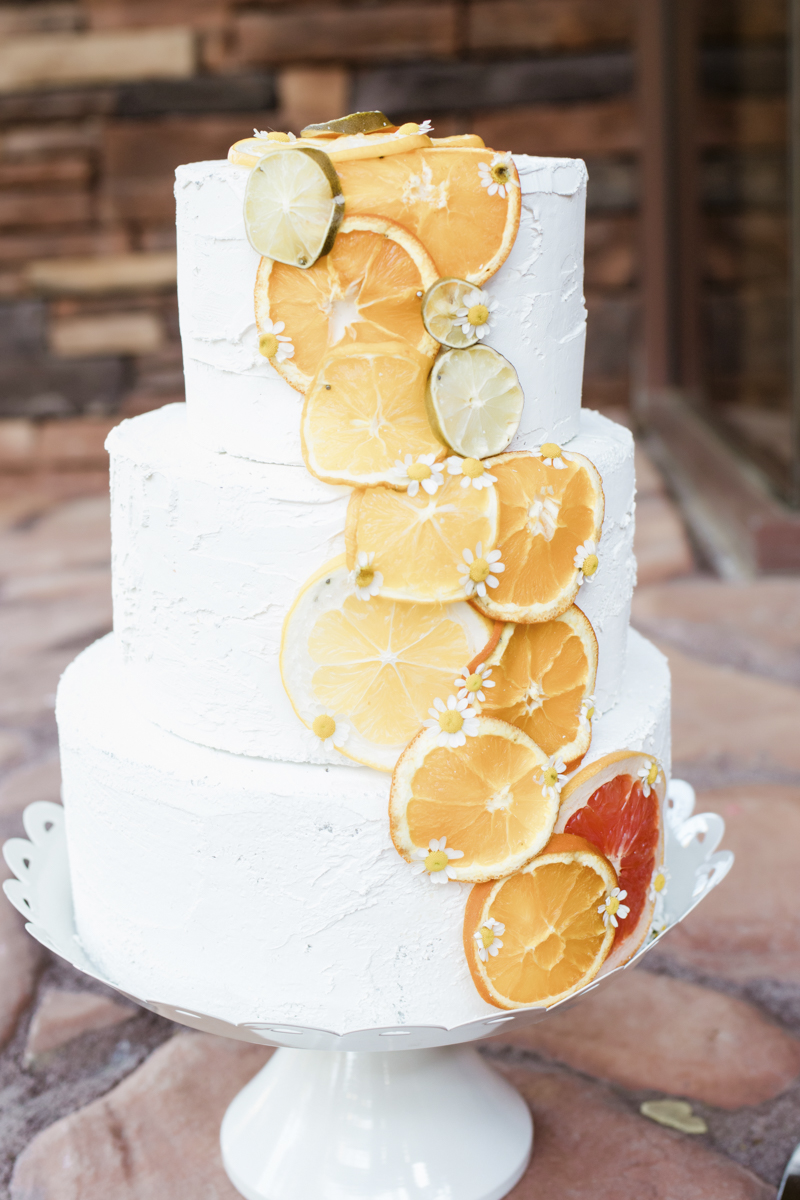 10. Give Popsicles to Your Guests
Spring might see some cooler days and some warmer days, and for those warm ones why not have a unique way for your guests to stay refreshed? Popsicles in citrus or other bright flavors are a whimsical way to treat guests before the ceremony or between the ceremony and reception.
Outdoor spring wedding ideas let you make the season itself an honored guest at the party. From lush blooms to sweet flavors, there's always a way to incorporate the beauty of spring into your beautiful day. Check out our destination wedding checklist for more planning ideas!

McKenzi Taylor
McKenzi Taylor is America's go-to elopement and micro wedding expert, often featured in small and major media outlets, such as the New York Times. With over 15 years of wedding photography experience, it was after planning her own Las Vegas elopement in 2016 that McKenzi felt her purpose shift into elopement coordination. She started Cactus Collective Weddings soon after in 2017. Since then, she's become a WIPA board member, and has helped well over 1000 couples get hitched in style around Las Vegas, San Diego and Black Hills.