Disclosure: This post may contain affiliate links. Please see our full disclaimer to learn more.
Whether you're having a local wedding or you're getting away to a special destination, finding simple wedding cake ideas is a big part of the planning process.
Typically, you should have your baker in mind with contact made at the same time you make your venue or date reservation so you know you have all the time you'll need to get the cake you want.
For those going the destination route, your wedding vendors should be able to supply excellent local recommendations.
For a little inspiration, 10 simple wedding cake ideas that embrace some of the hottest trends are:
1. Simple Florals and Unique Builds
While the traditional wedding cake is a series of balanced circles, Autumn Cake Design in San Luis Obispo, California takes a bit of a different approach.
Using varying shapes and unexpected proportions, simple cakes with delicate colors and understated floral accents become something entirely eye-catching and unique.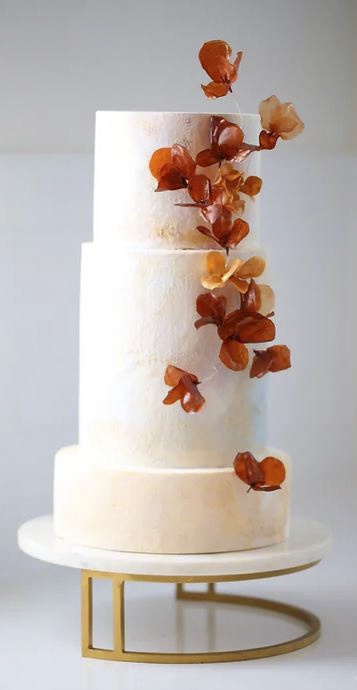 2. Minimalism in Elegant White
When done well, minimalism and shades of bright white can be an entirely new take on modern elegance.
ByPensa in New York City masters this trend with clean white cakes that make use of simple floral accents or sugar candy geodes to transform the minimalist white cake into something that stands out without ever being "too much."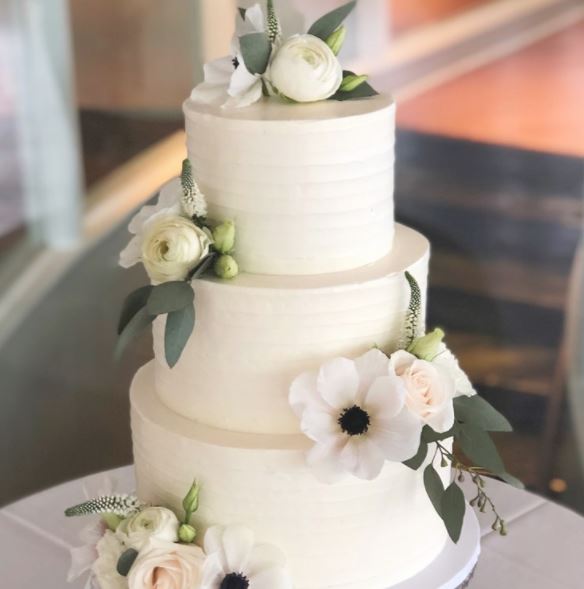 3. Muted Earth Tones
Muted earth tones have a striking appeal and turn any simple wedding cake into something striking and fashion-forward.
Orem, Utah bakery, Flour & Flourish, has a number of examples of cakes done in shades of olive, mauve, blush, muted blues and sandstone. When accented with complimenting florals, these earth shades really pop.
4. Miniature Cakes
Rather than one bigger wedding cake, simple and elegant miniature cakes are having their day in the spotlight.
Accented with simple florals and fresh fruit, Autumn Nomad in Jackson, New Hampshire presents miniature personal cakes in a timeless and sophisticated way.
Our Cactus Collective Weddings cake and champagne service brings cupcake-style miniature cakes and champagne to be enjoyed at your ceremony celebration.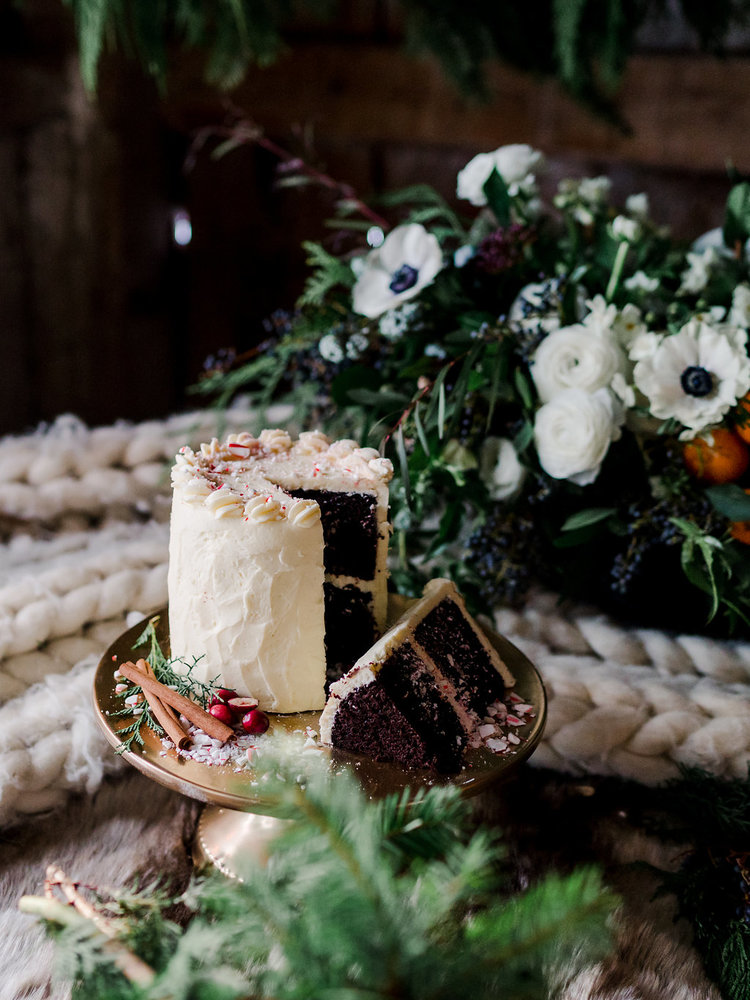 5. Natural Color Pops
The very best way to brighten up a chic white wedding cake is with natural color pops in the form of fresh fruit or edible flowers.
Adorned with fresh slices of lemon, lime, orange, and grapefruit trailing up the cake, this cake from Caked Las Vegas is like inviting sunshine to your celebration.
The best part about decorating with fresh slices of fruit? The scent is irresistible!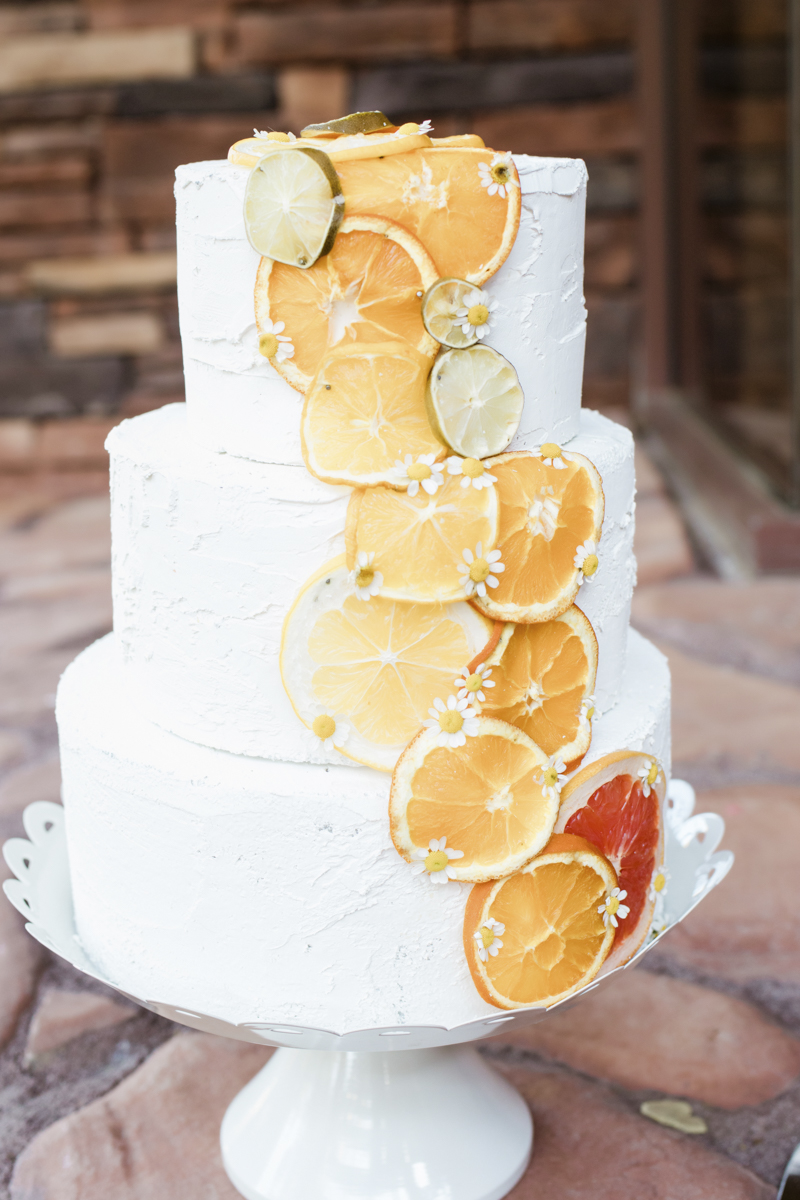 6. Naked or Nearly Naked
A huge trend that we've been loving in recent years is the naked or nearly naked wedding cake. With visible cake layers and minimal fondant or frosting, cakes are often kept rustic and decorated with layers of fresh fruit, flowers or sweets.
For couples looking for simple wedding cake ideas that aren't too sweet, this really lets the flavor of the cake shine in a stylish way.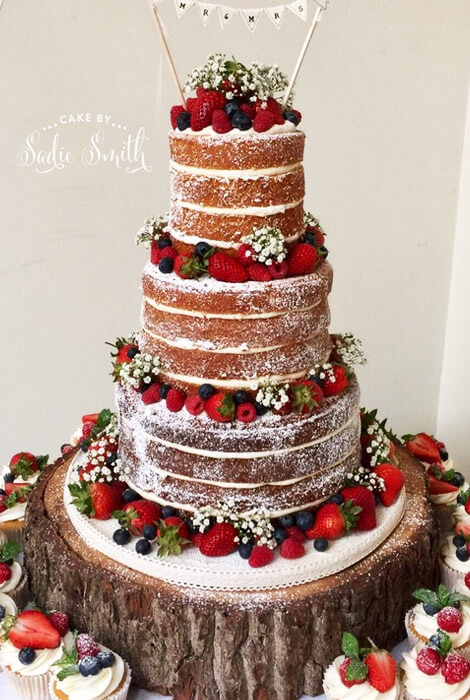 7. Buttercream Succulents
Topping a semi-naked cake or a simple white cake, buttercream succulent gardens bring color, texture and interest to a simple cake all at once.
Ivenoven of Jakarta, Indonesia has a number of stunning examples of cakes they've created topped with hyper-realistic buttercream succulent gardens.
This style often works best with simple one- or two-tier wedding cakes but can also be incorporated into cupcakes or miniature personal cakes as well.
8. Tree Cakes
The perfect centerpiece for a rustic ceremony is the tree cake, another massive trend in recent years. Tree cakes are created to look like delicious slices of earthy trees, with bark-like designs created in frosting around and on top of the cake.
Bijou's Sweet Treats in Luray, Virginia features a number of gorgeous examples of different styles of tree cakes.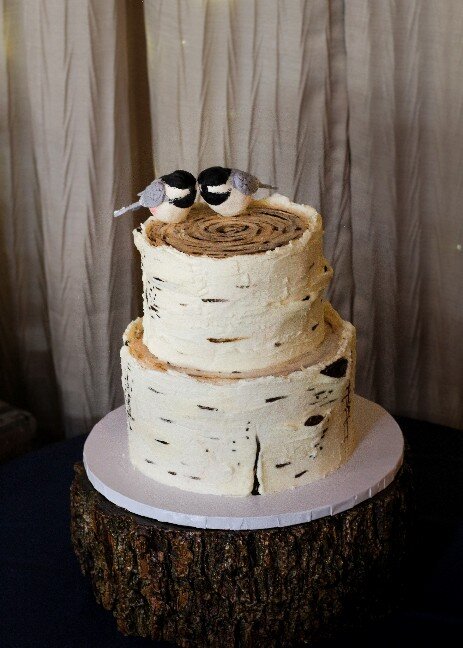 9. Painted Florals
Adding fresh or sugar flowers to your cake isn't the only way to incorporate florals into your simple wedding cake ideas. A modern trend is painted florals, with some gorgeous examples available with Nadia & Co. out of Toronto, Ontario.
Painted florals can be done in abstract, impressionist, modern, realistic or folky styles on a simple and elegant white or color fondant backdrop.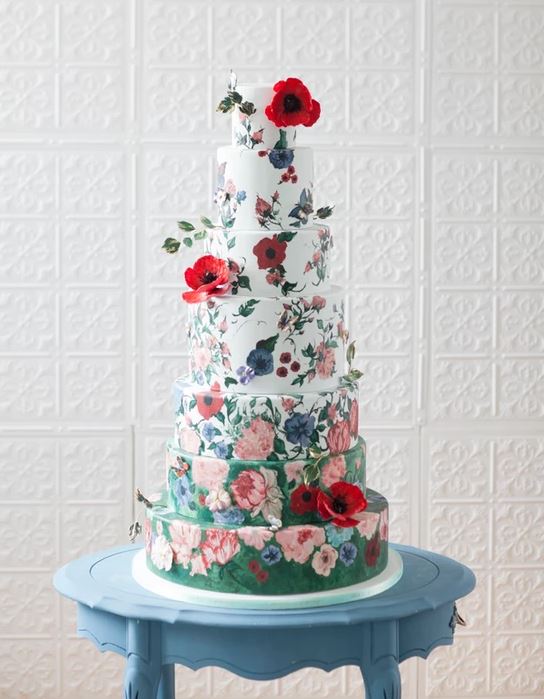 10. Decorate with Whimsical Toppers
To bring a little color and personality into a simple cake, whimsical cake toppers are a quirky trend couples can use to really make their cake their own.
Cake topper ideas like clay figures, fondant designs, succulents and flowers are just a few of the trends we're seeing in topping simple and chic wedding cakes. Couples that want to mix the sophisticated with the fun really connect with this trend.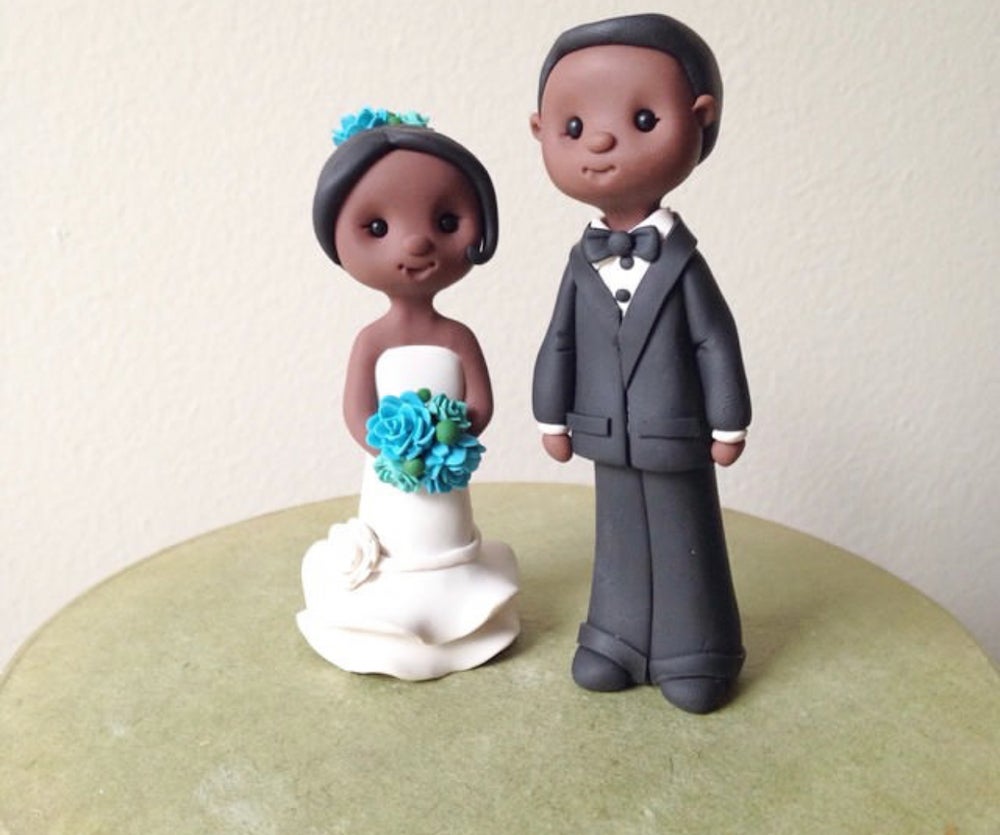 Finding simple wedding cake ideas is just one checklist item to cover during your wedding planning process. Having a checklist makes sure that no other details get lost in the fray, and we have just the checklist to keep you on track from "I will" to "I do."
Download the Ultimate Destination Wedding Checklist for Couples

McKenzi Taylor
McKenzi Taylor is America's go-to elopement and micro wedding expert, often featured in small and major media outlets, such as the New York Times. With over 15 years of wedding photography experience, it was after planning her own Las Vegas elopement in 2016 that McKenzi felt her purpose shift into elopement coordination. She started Cactus Collective Weddings soon after in 2017. Since then, she's become a WIPA board member, and has helped well over 1000 couples get hitched in style around Las Vegas, San Diego and Black Hills.