Disclosure: This post may contain affiliate links. Please see our full disclaimer to learn more.
When we saw Red Rock Canyon, we fell in love with its potential as a remarkable wedding venue.
Did you fall for its stunning desert views and rock formations? We are not surprised. Red Rock Canyon is indeed one of the dream outdoor wedding venues.
If you are set on getting hitched at Red Rock Canyon, here are 10 essential Red Rock Canyon wedding tips.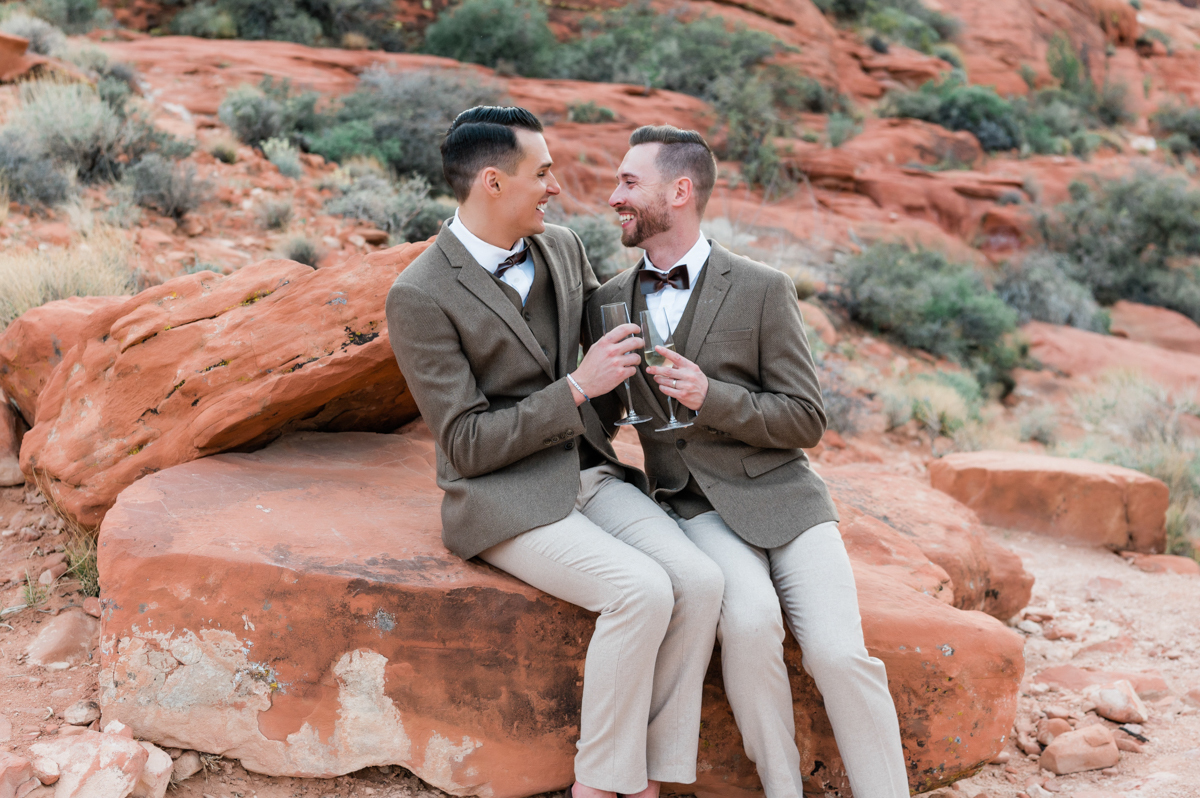 1. There Are 3 Ceremony Locations Available
The Red Rock Canyon has designated locations for weddings. At the moment, they allow ceremonies at three locations: the Overlook, Red Spring Boardwalk and Ash Springs.
All of these are located on or near the iconic red rocks of the Calico hills, overlooking beautiful panoramic views of the canyon. These locations hold unique charms.
More importantly, couples have endless breathtaking sceneries to color their wedding photos.
With such a gorgeous background, your wedding day will truly be unforgettable.
2. It's Best For Small And Micro-Weddings
Red Rock Canyon is a conservation area, so large parties are not permitted.
Large events run the risk of disrupting the wildlife or damaging the greenery and rock formations in the Canyon.
For this reason, the Bureau of Land Management only allows up to 50 attendees, but the number also varies per location.
At the Overlook and Red Spring Boardwalk, they allow up to 50 attendees, while at the Ash Springs, a maximum of 15 are allowed.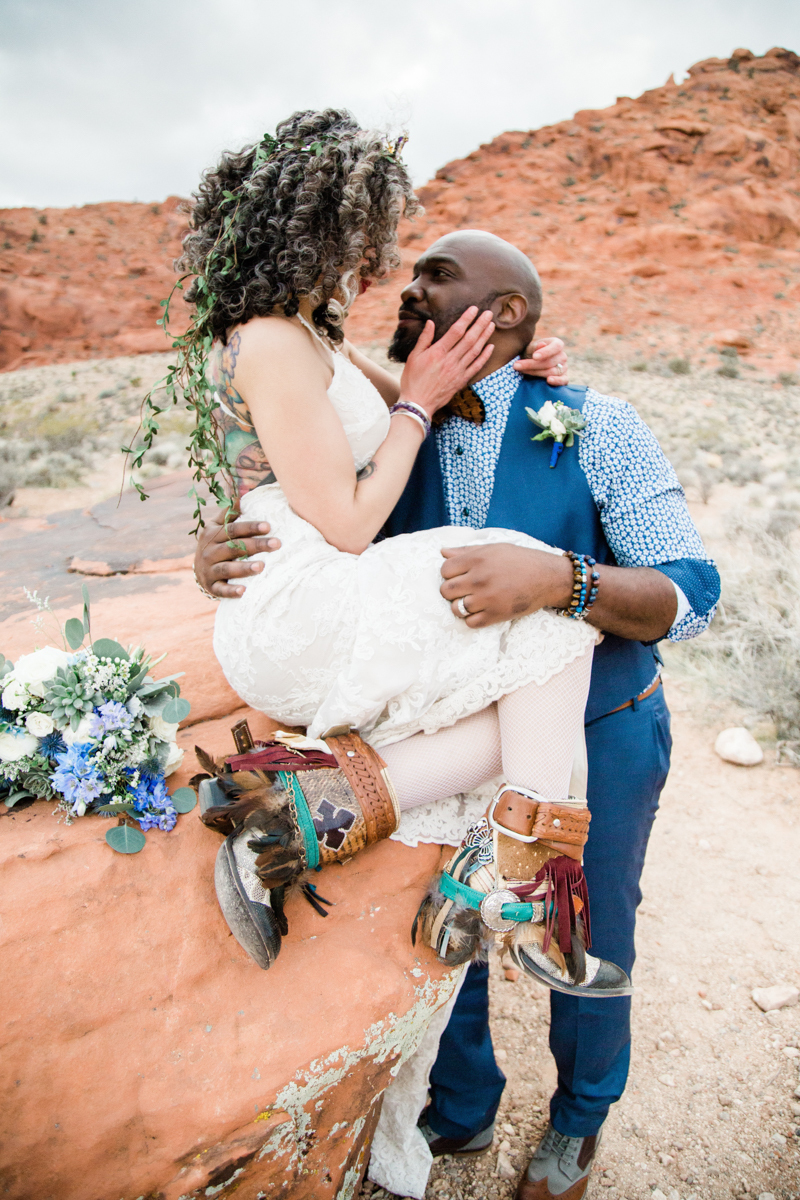 3. You Need A Permit From The Bureau Of Land Management
One of the most important Red Rock Canyon wedding tips is that you will need a permit to hold any type of event that involves commercial activity.
Weddings and elopements fall under this category since the couple will pay at least one wedding vendor.
The Bureau of Land Management issues permits for weddings through approved wedding vendors, including us here at Cactus Collective Weddings.
Heads up — we will need at least two weeks to secure the permit for your wedding date.
4. No Need To Go Through The Scenic Loop
The Scenic Loop is a fee area within Red Rock Canyon. The loop allows individuals and groups with vehicles to drive around or drive to certain hiking trails.
However, this loop tends to be crowded, especially during peak season. Fortunately, all the wedding sites are located outside the Scenic Loop.
This means you don't have to pay the fee and possibly get stuck in the traffic.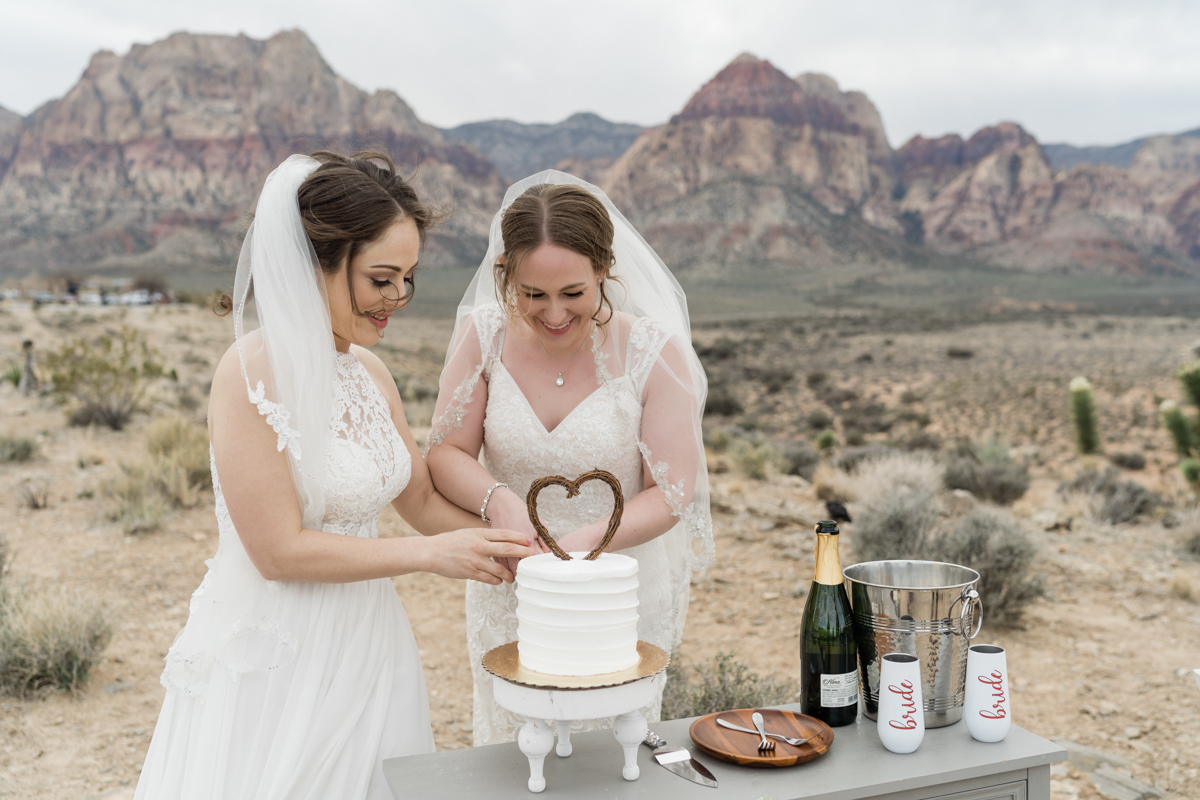 5. 45-Minute Drive From Las Vegas Strip
Red Rock Canyon, while within Las Vegas, Nevada, is a 45-minute drive from the Las Vegas Strip where the majority of hotels, casinos and other tourist spots are.
You will truly be taken away from the hustle and bustle of the city and into a natural oasis.
Consider the distance between the Red Rock Canyon and the Strip when booking accommodations for your wedding.
6. Don't Expect Cell Phone Service
The Red Rock Canyon is within the Mojave Desert. At the moment, there are no cell phone towers in the area, so there is no cell phone service in the area.
We include this in our Red Rock Canyon wedding tips because this is crucial to the planning process, especially when it comes to coordinating with wedding vendors and guests.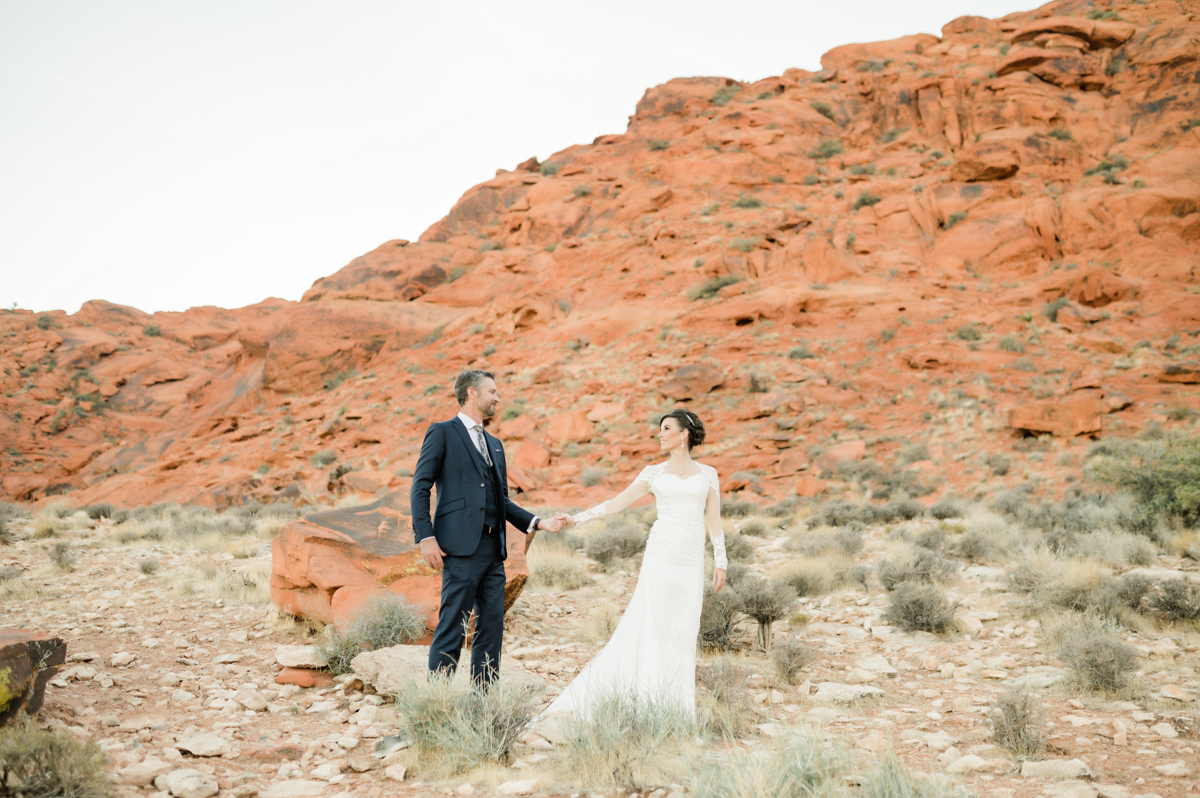 7. It's Better To Arrive Fully Ready
While not all of the ceremony sites at Red Rock Canyon have restrooms, others do.
However, do not expect much of the restrooms that are available. They are not likely to be suitable for lengthy wedding preparations.
We advise getting ready at your hotel and going to the wedding site ready to go.
8. Do Not Use Ride Share Services
This tip applies to couples, as well as guests. It is not advisable to use rideshare services that require you to go online to book a ride.
As mentioned in #6, there is no cell phone service at Red Rock Canyon, so you will not be able to book a ride back to your hotel or to the city center.
We suggest booking a ride that will pick you up at a specific time so you do not have to worry about getting out of the area.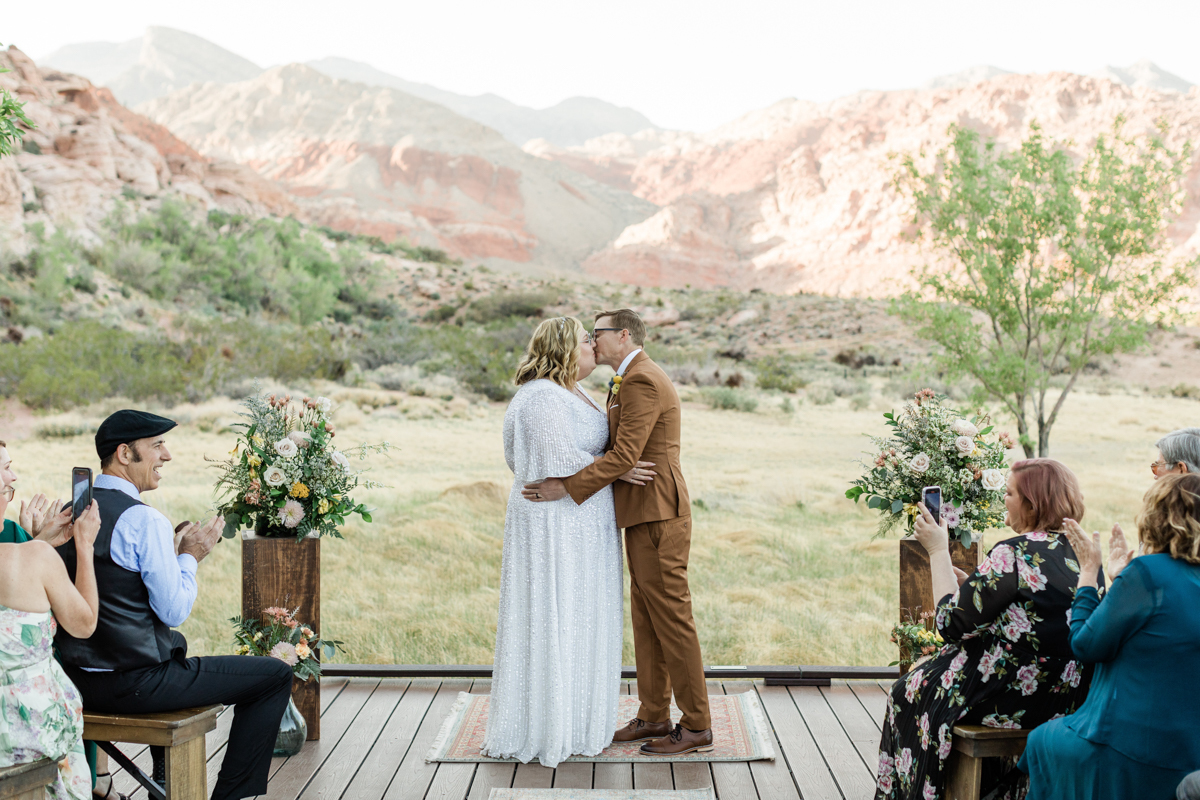 9. Red Rock Canyon Gets Really Busy
Red Rock Canyon is a top destination for both tourists and locals.
The canyon enjoys moderate temperatures all year round, so it is the go-to park for hiking, rock climbing and sightseeing.
Couples should be aware that the park's busiest months are also the busiest wedding seasons, particularly October.
Take this into consideration when you plan your wedding at Red Rock Canyon.
10. No Décor Allowed And A Limited Number Of Seats
The Bureau of Land Management is doing its best to preserve the conservation park, so they prohibit activities that will potentially leave garbage behind.
If you're planning to hold your wedding ceremony at one of the sites at Red Rock Canyon, it will be an intimate and simple wedding with a limited number of seats for the guests to ensure that wedding parties adhere to the number of guests allowed in each site and no decor.
No matter —  the stunning sites at Red Rock Canyon leave no need for more décor!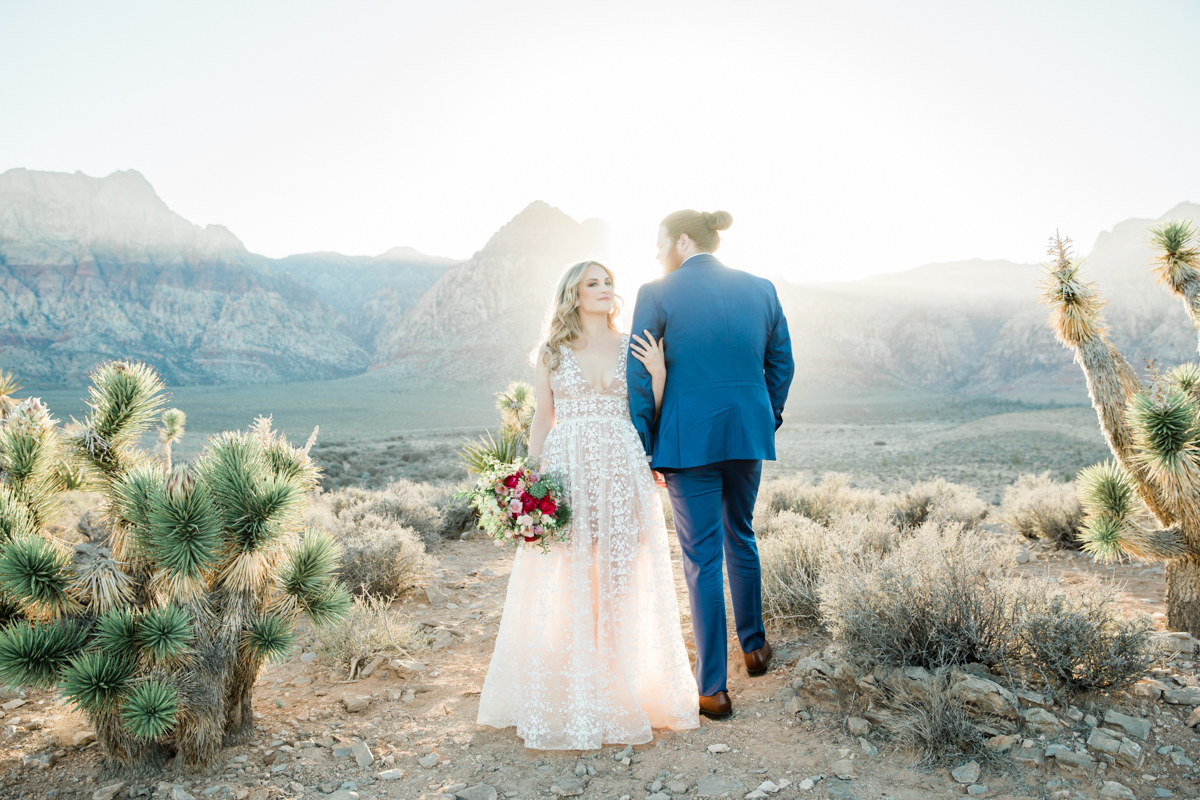 Bonus Red Rock Wedding Tips
To avoid transportation issues, hire a classic car after the ceremony. This will make for dreamy photo opportunities.
For your guests, you could also hire a coach to get them in and out of the park without a problem.
Though Red Rock Canyon is pretty far from The Strip, there are some awesome casino hotels where you can hold elegant receptions. Check out Red Rock Casino, Downtown Summerlin and JW Marriott.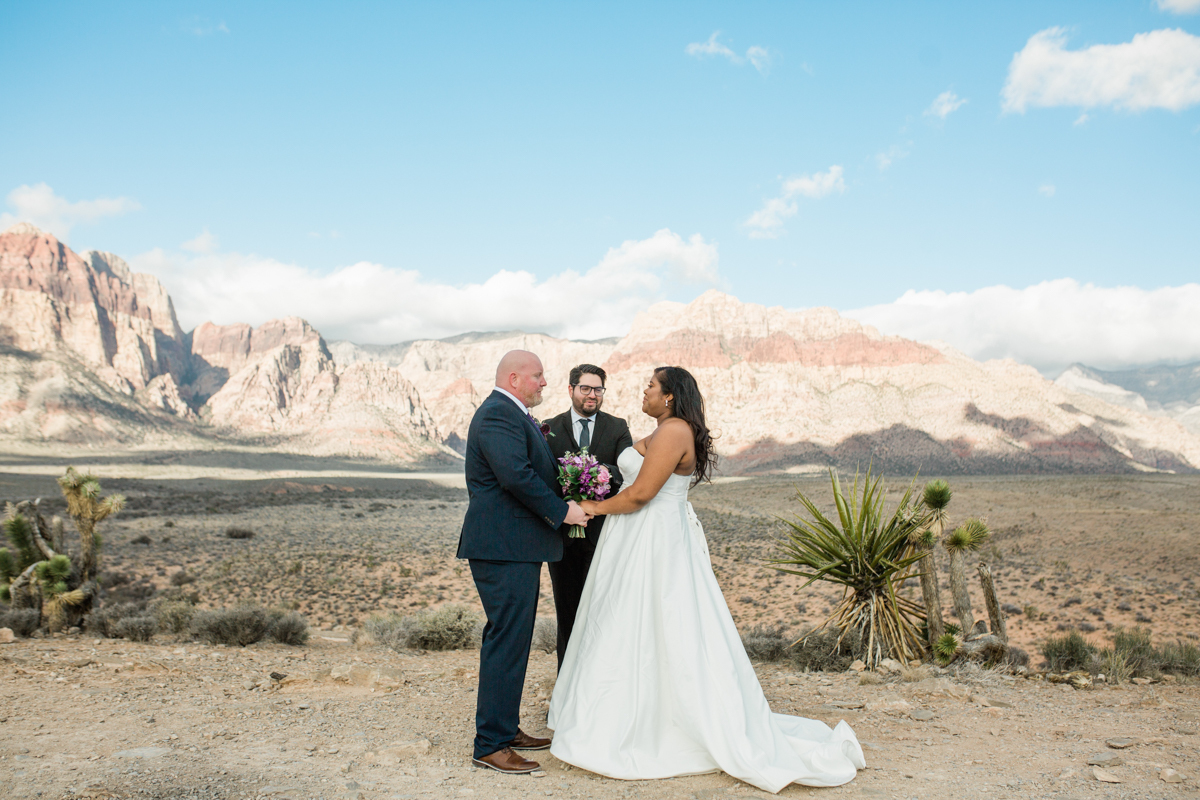 Are you interested in learning more about our Red Rock Canyon wedding packages? Click here.
McKenzi Taylor
McKenzi Taylor is America's go-to elopement and micro wedding expert, often featured in small and major media outlets, such as the New York Times. With over 15 years of wedding photography experience, it was after planning her own Las Vegas elopement in 2016 that McKenzi felt her purpose shift into elopement coordination. She started Cactus Collective Weddings soon after in 2017. Since then, she's become a WIPA board member, and has helped well over 1000 couples get hitched in style around Las Vegas, San Diego and Black Hills.