Disclosure: This post may contain affiliate links. Please see our full disclaimer to learn more.
Planning your wedding or micro wedding in Las Vegas and want your reception menu to be vegan-friendly?
There are plenty of vegan-friendly reception options in Vegas so you can comfortably celebrate your union with your friends and family.
Here are our favorite vegan-friendly reception options in the Vegas area.
Our Favorites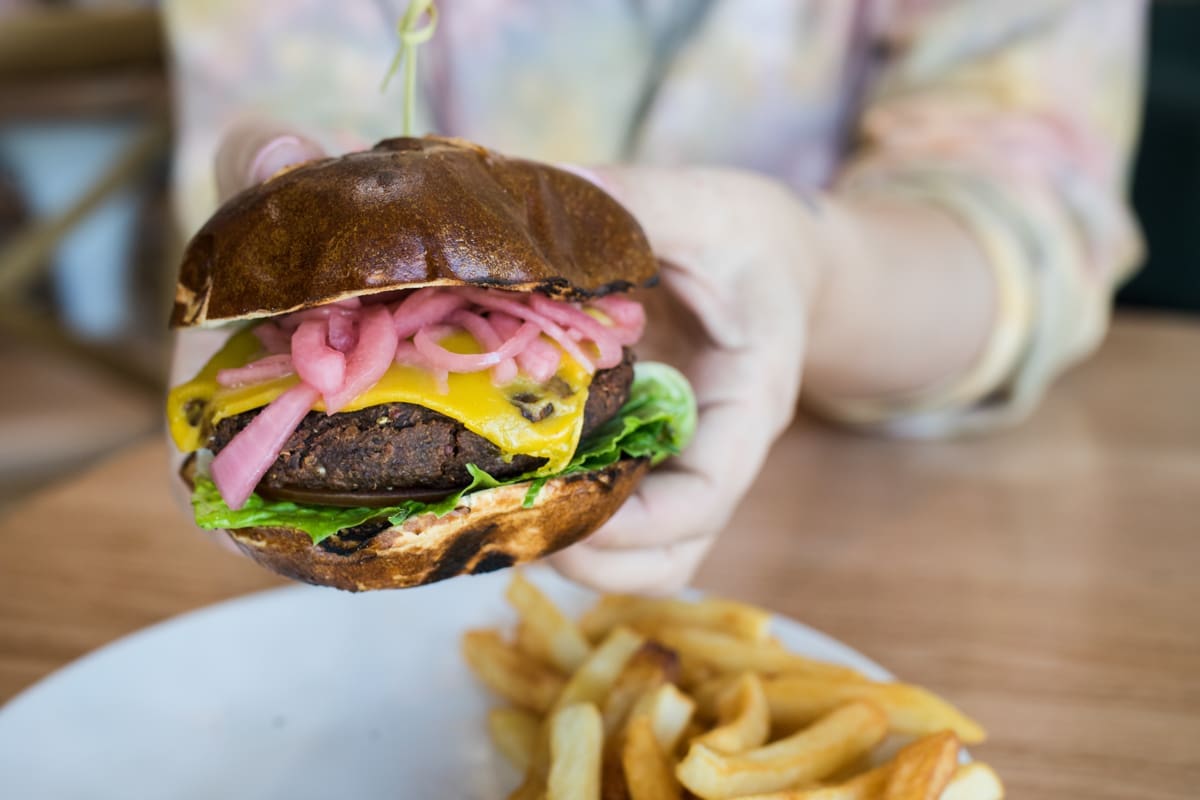 Graze is a vegan restaurant that prides itself in serving stylish and hearty plant-based meals that even meat-eaters love.
They have crab cakes, Korean BBQ nachos, their signature Graze burger, salads, and Mexican, Korean, Asian or shawarma bowls.
This stylish restaurant is located on Buffalo Drive in Vegas. Though the outside is nondescript, the interior of Graze is stylish and preppy—perfect for simple casual wedding receptions.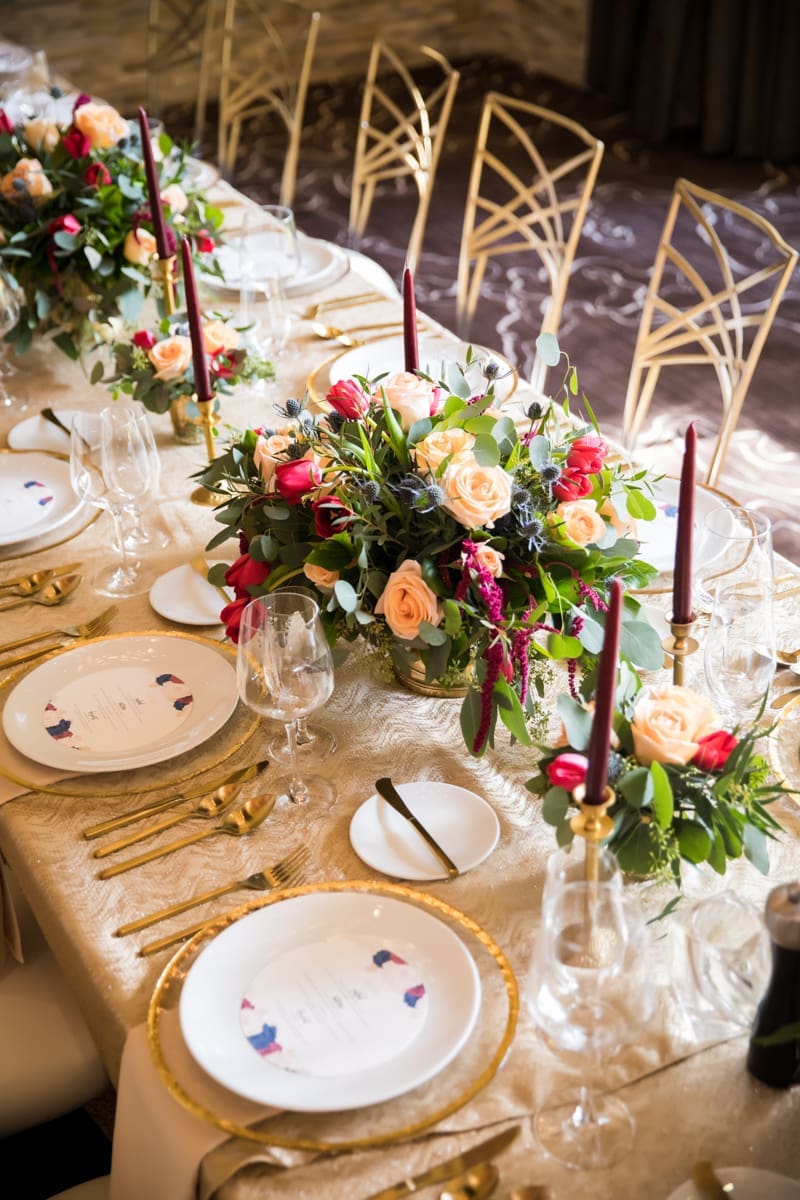 The Red Rock Resort & Casino carries multiple restaurants, all of which are vegan-friendly reception options focusing on a different cuisine—from Japanese food to Italian food to steaks and barbeques.
There's the Blue Ribbon Sushi Bar & Grill, Osteria Fiorella, T-Bones Chophouse, 8 Noodle Bar, Lucky Penny, Hearthstone Kitchen & Cellar, Lucille's Smokehouse and Yard House.
Each restaurant features a different aesthetic. Some, like the Hearthstone Kitchen & Cellar and Lucille's Smokehouse have a more relaxed, casual aesthetic while others, like the T-bones Chophouse and the Blue Ribbon Sushi Bar & Grill, have a more upscale or elegant aesthetic.
One more thing to love about the Red Rock Resort & Casino is that you always have the option to continue the fun at the casino.

For an elegant reception, the Lakeside at Wynn is an excellent option. The restaurant is located by the Wynn's lake—so it not only has a luxurious interior but also a stunning view that's perfect for photos.
The restaurant provides meat, vegan, vegetarian and gluten-free options so you can cater to all of your guests' culinary needs.
Some vegan favorites here are the crispy dumplings (with their trademarked Impossible meat) and the curried cauliflower soup.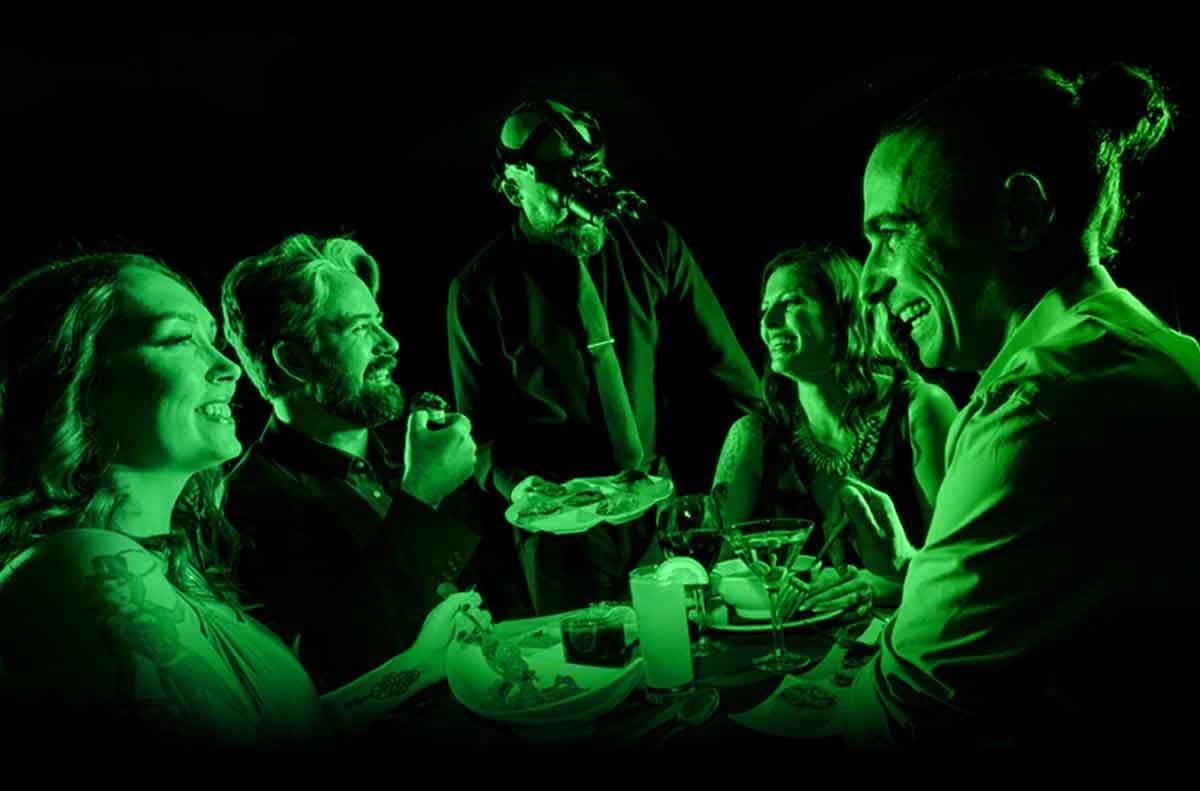 BLACKOUT is one of our favorite vegan-friendly reception options because it offers such an incredibly unique dining experience, allowing guests to focus on the full sensory experience.
Here, you dine on an exceptionally crafted 7-course meal in total darkness. All meals served are vegan, but you won't know in advance which dishes will be served.
This is the perfect once-in-a-lifetime dining experience to cap off one of the most life-changing days you'll ever experience as a couple!
An upscale casual restaurant that serves vegan versions of favorite American dishes, The Modern Vegan offers appetizers like cauliflower wings and crab cakes, main entrees like zoodle bolognese and burgers. The Modern Vegan also offers meat-based dishes for meat-eaters.
The Modern Vegan is ready to host events like your wedding reception. Their interiors are clean and minimalist, but you can upscale it to match your wedding theme if you wish.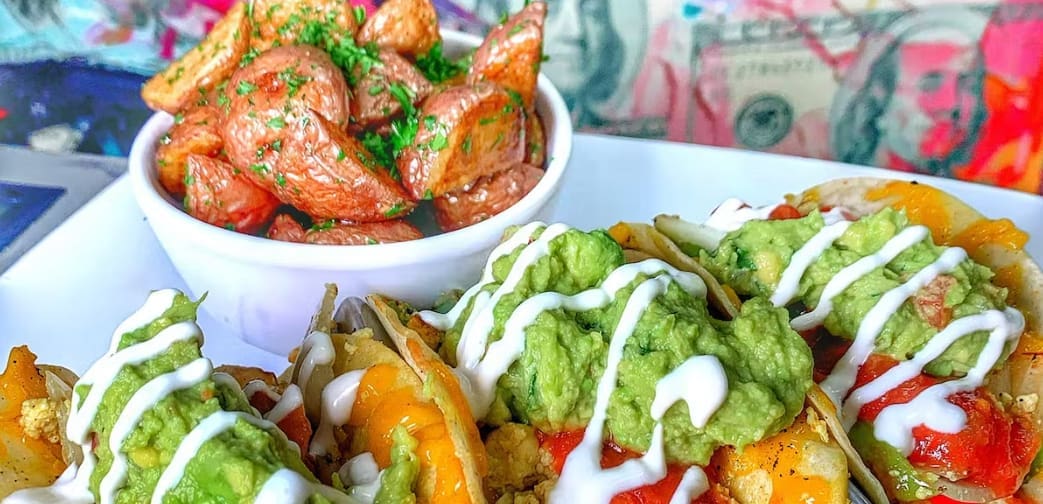 For High-End Fancy, All-Out Wedding Dinner
Panevino – gorgeous setting with a view of the Strip and of planes taking off
Pasta Shop Ristorante & Art Gallery – a quaint Italian restaurant filled with art at the center of Vegas
Beauty and Essex – an elegant venue in a turn-of-the-century townhouse
For Casual Upscale
Saffron – vegetarian Indian restaurant with a luxurious interior
Kabuki – an upscale modern restaurant serving award-winning Japanese food
Americana – a quaint venue with cozy interior and a romantic lake view
Le Thai – a fun, modern restaurant with vibrant, Thai-inspired wall art
Vintners Grill – a traditionally elegant setting with both indoor and outdoor seating
Border Grill – a spacious modernistic restaurant that specializes in grilled food
Barry's Downtown Prime (located inside CIRCA Resort & Casino) – a fabulous mid-century inspired restaurant offering an intimate space for your wedding
Wynn and Encore, all restaurants carry a vegan option – offering multiple options, each restaurant in the hotel and casino is luxurious and has gorgeous views
Fairly Casual and Still Incredible
Komol – an unassuming, cozy Thai restaurant perfect for small groups
Cornish Pasty Co – an eclectic restaurant styled as a pub serving different types of pastries
Nacho Daddy – a typical bar with a fun atmosphere and a stunning view of Las Vegas
Simply Pure – a small-scale, quaint vegan restaurant providing a cozy option for your reception
Chef Kenny's – a simple Asian restaurant combining Japanese and Chinese cultures in its interior and food
Jinya Ramen Bar – a simplistic and modern bar, offering a peaceful place for celebration
Slice of Las Vegas – for fun couples, designed as 1950s diner
Firefly Tapas Kitchen + Bar – a stylish restaurant and bar that takes from the glamor of the 1920s
Tacos & Beer – an elegant Mexican-inspired aesthetic with cozy lighting
Eldorado Cantina – inspired by Latino culture with an eclectic and luxurious setting
Tarantino's Vegan – a modest but cozy venue where you will feel welcomed and celebrated
Planning a wedding in Vegas? We can help!

McKenzi Taylor
McKenzi Taylor is America's go-to elopement and micro wedding expert, often featured in small and major media outlets, such as the New York Times. With over 15 years of wedding photography experience, it was after planning her own Las Vegas elopement in 2016 that McKenzi felt her purpose shift into elopement coordination. She started Cactus Collective Weddings soon after in 2017. Since then, she's become a WIPA board member, and has helped well over 1000 couples get hitched in style around Las Vegas, San Diego and Black Hills.