Disclosure: This post may contain affiliate links. Please see our full disclaimer to learn more.
Wedding bands come in all shapes and sizes, and there's a piece of finger bling for everyone. One size — and, in this case, style or material — doesn't have to fit all.
Wedding rings and wedding bands don't have to be made out of gold and silver, nor do they have to be adorned with diamonds.
They don't have to be metallic, gems aren't a requirement, and they don't even have to sparkle if you don't want them to.
If you're looking for the right ring for you and are unsure of some of the modern options, you'll enjoy our list of ring replacements.
Wedding Rings vs. Wedding Bands

In the old days, a wedding band was a simple ring. It wouldn't have had any jewels or decorations on it. A wedding ring, on the other hand, was more ornate than a band and included a jewel or two.

Now, the two terms are interchangeable and mean essentially the same thing.
1. Wooden Wedding Bands
Wooden rings are hypo-allergenic and eco-friendly. With a hand-engraved wood ring, you have the option of setting gemstones into the wood or adding inlay designs with various wood types or going with just wood.
Just know that wooden rings aren't as strong as metal rings and will require more care.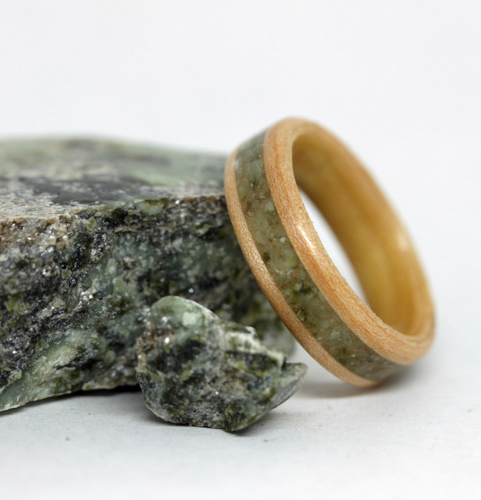 2. Textured/Faceted Metal Wedding Bands
Textured or faceted means they have many sides. The style is artsy, elegant and classy. Choose any metal — it doesn't have to be silver or gold like a traditional ring. Options even include recycled metal.
3. Resin Wedding Bands
Resin is a mix of synthetic or organic compounds and a hardener.
Few types of wedding bands or rings will give you the level of personalization that a resin ring can. They even have glow in the dark options!
Precious metals can be set into a resin ring, as can gemstones such as diamonds, sapphire and turquoise.
But you could just as easily include sand from your favorite beach, dried flowers, glitter, crushed sea shells or anything else that catches your fancy.
Resin rings are durable but will be scratched by abrasives, and they can't be exposed to acetone-based products, chlorine, lotions and perfumes that contain certain chemicals. 
4. Wedding Bands with Inset Stone
This is an especially gender-neutral option and is perfect if you're worried about having a traditionally mounted stone that will get caught on things and potentially snag on fabrics.
There's a higher level of security that comes with inset stones over raised stones because they don't stick out and can't bang into things so easily.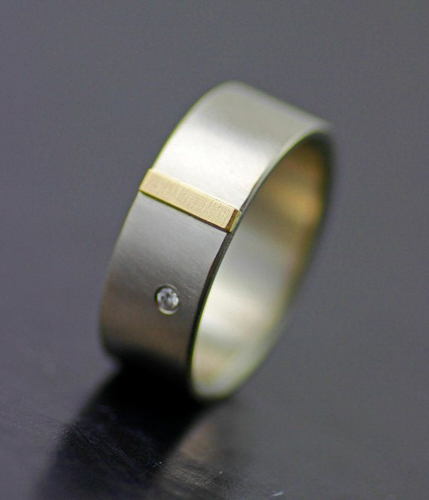 5. Silicone Wedding Bands
Silicone wedding rings are growing in popularity as people recognize the variety and uniqueness of the style, as well as the safety they afford.
Silicone is a type of rubber that's incredibly durable. Some couples get silicone bands to wear during times they can't safely or comfortably wear their original ring.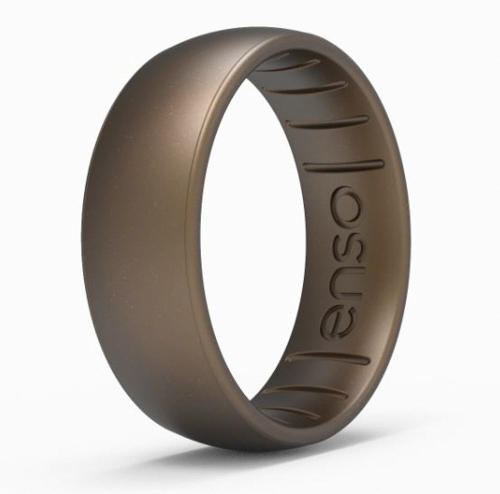 6. Eternity Wedding Bands
Eternity rings feature gems in an endless circle around the finger. The style represents never-ending love and dates back 4,000 years to ancient Egypt.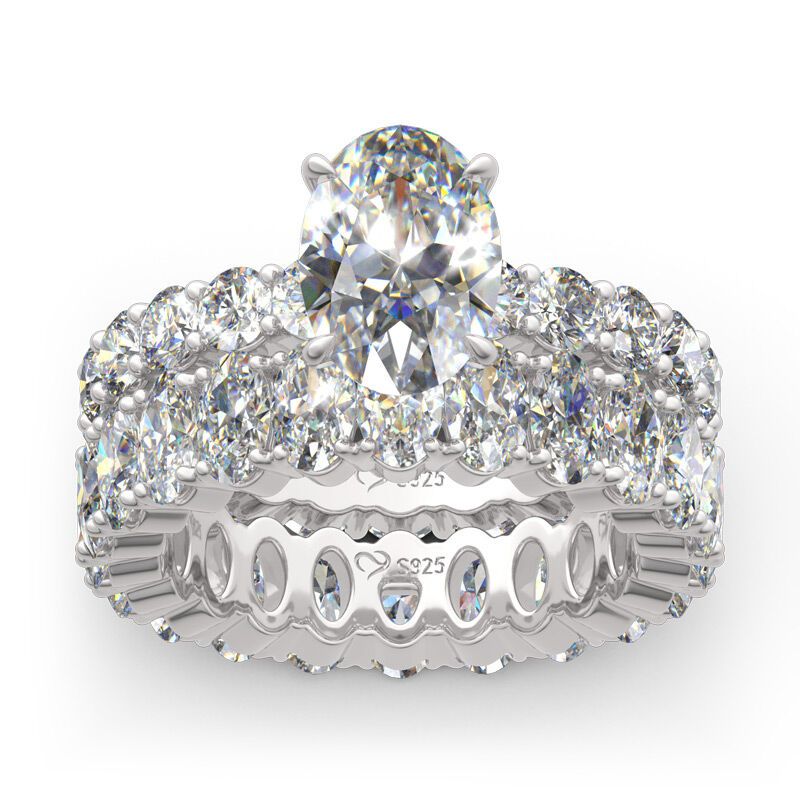 7. Petite Wedding Bands
Perfect for people with smaller hands or who prefer subtlety, these thin rings are more delicate and understated than a ring featuring a raised gemstone.
Plus, they're stackable and can be paired more easily with a wide range of engagement ring styles.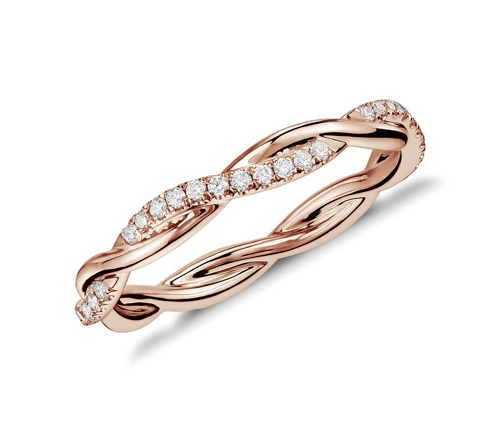 8. Art Deco Wedding Bands
Art deco rings are all about streamlined form and geometric shapes. The style calls for contrasting forms, often mixing square and round gemstones.
A style with its roots in France during the 1920s, art deco wedding bands have a distinct aesthetic vibe that's eye-catching and unique.  
9. Nature-Themed Wedding Bands
This type of band is decorated with designs inspired by and representative of nature, and they're available in many styles and metallic materials.
All sorts of flora or fauna could be wrapped around this style of band.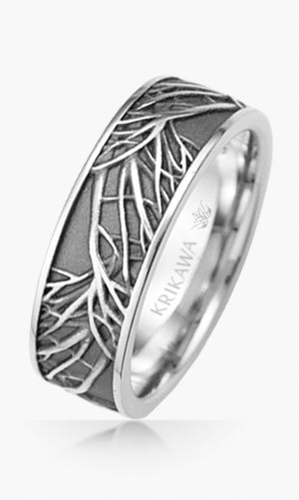 Buy at Krikawa Jewelry Designs
10. Black & White Wedding Bands
Black wedding bands, usually made from black tungsten or titanium, represent everlasting commitment.
Whether you choose black for the symbolism or merely because it looks cool, it's certainly not the traditional choice made of bright or sparkly metals like gold and silver.  
11. Moissanite Wedding Bands
Moissanite is nearly as hard as a diamond but is about one-tenth the cost of a mined diamond. Naturally occurring moissanite is a super-rare gemstone, first found in the center of a meteorite crater more than 120 years ago.
It has only been found in meteorites and upper mantle rock, so most are now created in labs.
This makes them an especially ethical choice, because they have minimal environmental impact and are conflict-free. 
12. Tattoo Wedding Bands
Getting a ring tattooed on your finger kicks ass because it doesn't require you to wear any physical ring. They weigh nothing, can't get lost, broken or stolen and will be a permanent reminder of your love.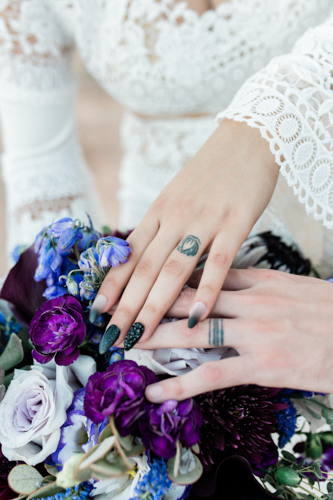 With so many options for non-traditional wedding bands, there's bound to be one that suits you. For more ideas, visit some of our favorite ring retailers: Forever Moissanite and Jeulia.

McKenzi Taylor
McKenzi Taylor is America's go-to elopement and micro wedding expert, often featured in small and major media outlets, such as the New York Times. With over 15 years of wedding photography experience, it was after planning her own Las Vegas elopement in 2016 that McKenzi felt her purpose shift into elopement coordination. She started Cactus Collective Weddings soon after in 2017. Since then, she's become a WIPA board member, and has helped well over 1000 couples get hitched in style around Las Vegas, San Diego and Black Hills.