Disclosure: This post may contain affiliate links. Please see our full disclaimer to learn more.
You are at the precipice of an important milestone of your life. Buying an engagement ring is the start of a new chapter in your lives as a couple.
Make sure you spend your hard-earned money on the right engagement ring.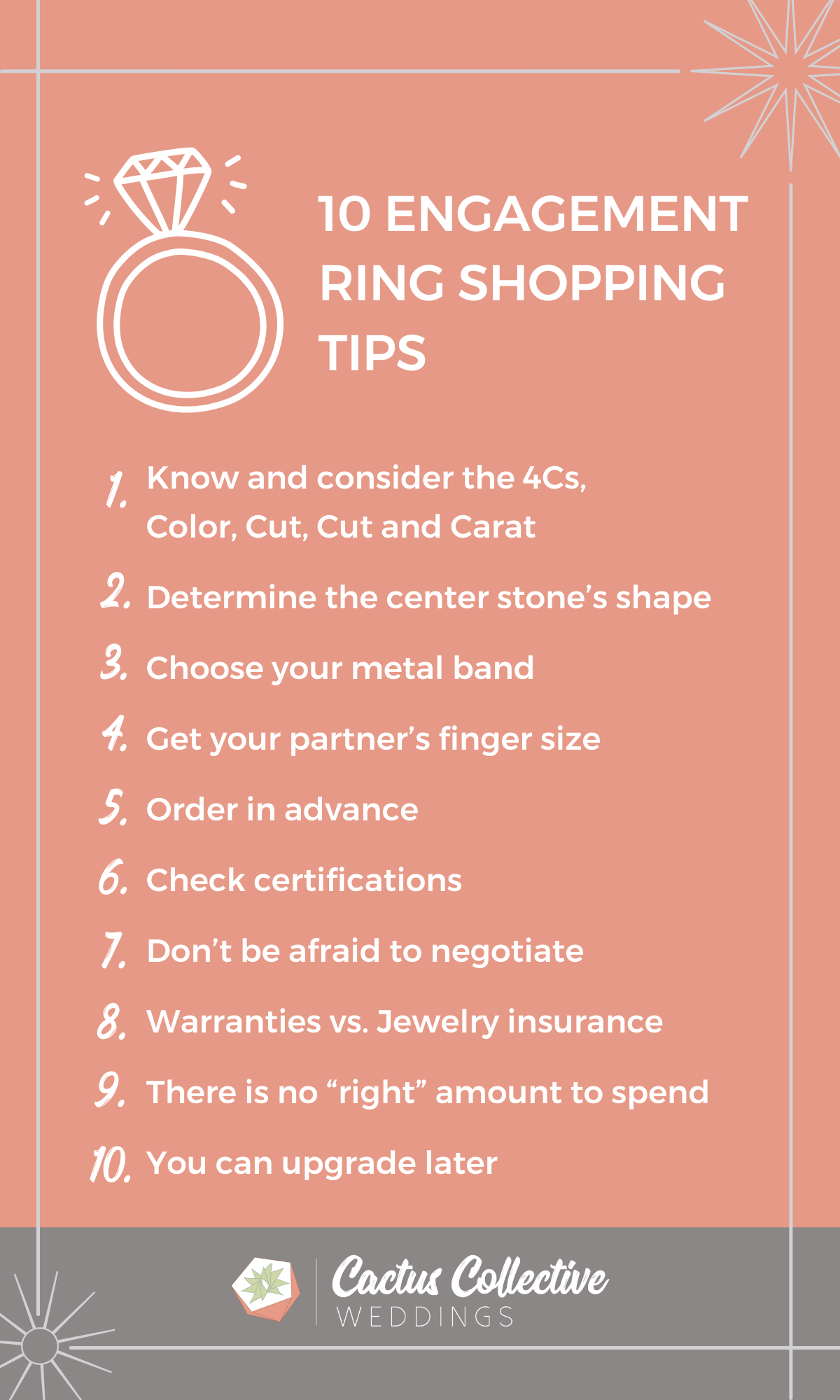 1 – Know and Consider the 4Cs
The 4Cs are the global standard for describing and evaluating diamonds, and they are color, clarity, cut and carat weight.
COLOR – Diamonds occur in different hues; the rarest and most valuable of which are colorless.
CLARITY – Clarity grade refers to any blemishes the diamond may have which affects its brilliance.
CUT – This refers to the quality of the cut, its proportionality and symmetry, which affects how well it reflects light; precisely cut diamonds, even if they are the clearest, will look just as radiant to the naked eye.
CAROT – This is the diamond's physical weight or its size.
All these factors come together to determine the quality and price of the diamond ring. If you are, however, buying a different gemstone, such as your partner's birthstone, the same considerations may apply, with some adjustments.
Depending on your budget, you may opt for a stone with lower carat or clarity, but we don't suggest compromising when choosing a well-cut stone for an engagement ring.
2 – Determine the Center Stone's Shape
It will certainly get overwhelming if you enter a jewelry store not knowing the difference between the various cuts and shapes of a precious stone.
There are so many diamond shapes to choose from: round-cut, princess-cut, cushion-cut, emerald-cut, oval-cut, pear-shaped and marquise-cut, to name a few of the most popular ones.
Do your research first — or better yet, try to determine which shape your significant other favors. It will be easier to choose when you have narrowed down your options.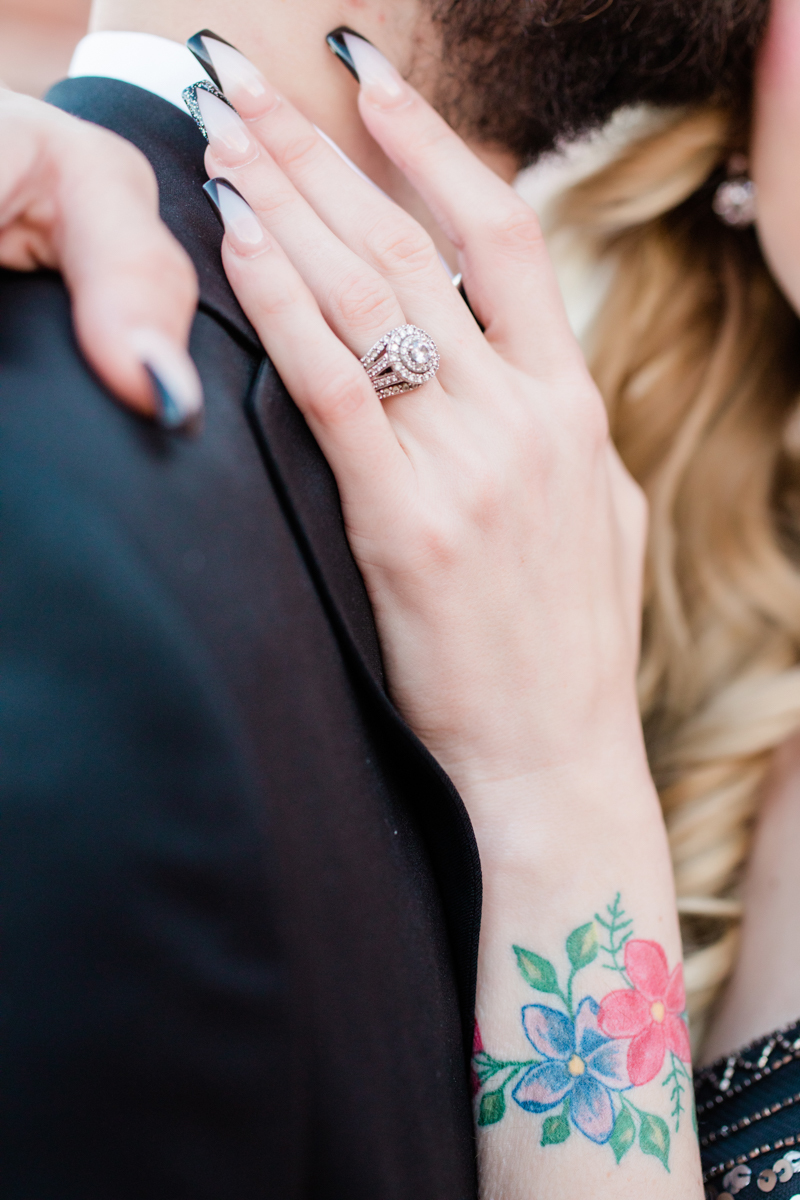 3 – Choose Your Metal Band
Some people only focus on the stone because they think that the band or setting comes with the stone, but it doesn't.
You will likely need to purchase the setting separately, so you should give as much thought to the engagement ring's metal band as you would the center stone.
Different metals have different hues, so consider your partner's skin tone or take note of the types of metals they choose for their other jewelry. Some metals also get scratched easier than others.
Another important engagement ring tip is to consider how it will look with your wedding band.
4 – Get Your Partner's Finger Size
The ring size is important when shopping for an engagement ring. You don't want to buy a ring that's too small or too big.
It should be snug onto your partner's finger. You could get your sizes measured correctly or get one of your partner's closest friends to get their size.
Alternately, you could also use a ring that fits them correctly as a reference.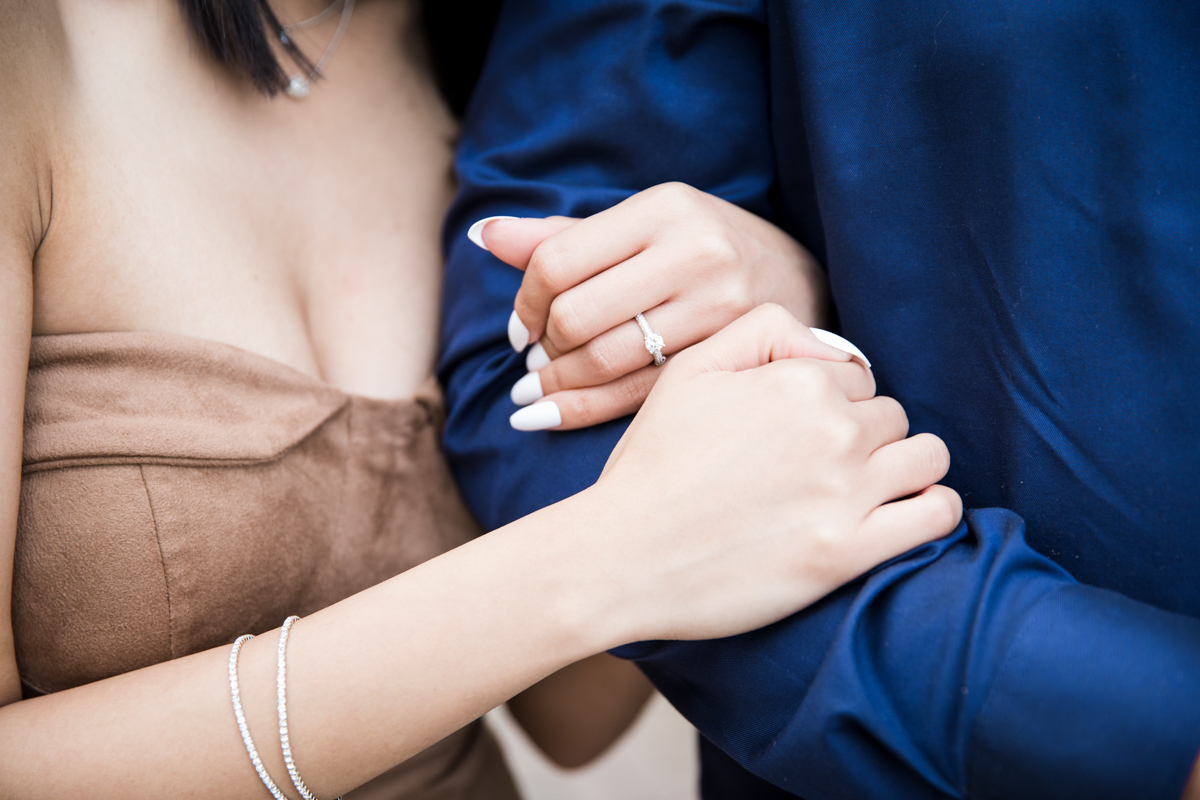 5 – Order in Advance
Most engagement rings, even preset ones, are made only after they're ordered.
For custom rings, your jeweler will likely need extra time to order the diamond you want.
In either case, it's advisable to order the engagement ring at least six weeks before your planned proposal date.
6 – Check Certifications
Make sure that the stone you purchased is certified by an accredited laboratory, such as the Gemological Institute of America (GIA) or American Gem Society (AGS).
When you buy a GIA-certified diamond, you can be sure that you are getting an objective and fair evaluation. You run the risk of getting gems with inflated value from other laboratories' certifications.
7 – Don't Be Afraid to Negotiate
Your jeweler is most likely willing to help you find the best engagement ring that fits your budget.
Research as much as you can beforehand so you know what the jeweler is talking about so you can negotiate with them appropriately.
8 – Warranties vs. Jewelry Insurance
Your engagement ring will likely come with a warranty from the jeweler. That should cover any damages that may happen to the ring for a certain timeframe.
However, that does not cover potential theft or loss, which is why you should get jewelry insurance as well.
Jewelry insurance will help cover the cost of replacing or replacing your engagement ring or parts of it for years, so you can wear your ring confidently.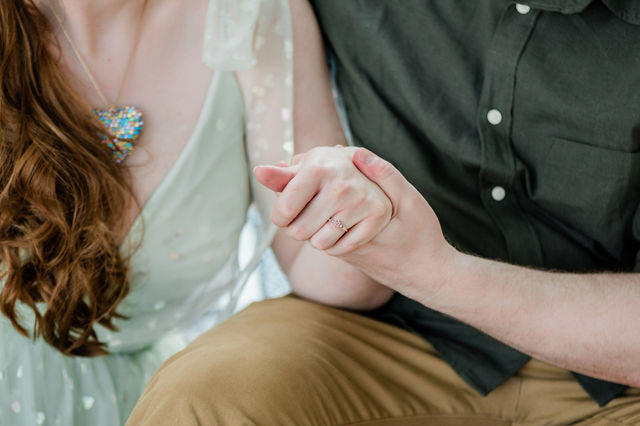 9 – There Is No "Right" Amount to Spend
This is perhaps the most important engagement ring tips we'll share.
There is a misguided notion that engagement rings must be exorbitantly expensive to showcase how much you love your significant other. That is absolutely untrue.
You should allow a reasonable budget and get the best option within that price range. Finding an engagement ring that suits your partner's style and personality is what is most important.
10 – You Can Upgrade Later
You don't need to run your bank account dry for an engagement ring. Remember that there are many more expenses to come, such as your wedding and the cost of starting a life together.
If your finances cannot afford a valuable engagement ring yet, know that you can always upgrade the ring when you can afford it or on a future anniversary.
Want to get ahead in your wedding planning? Let's connect.

McKenzi Taylor
McKenzi Taylor is America's go-to elopement and micro wedding expert, often featured in small and major media outlets, such as the New York Times. With over 15 years of wedding photography experience, it was after planning her own Las Vegas elopement in 2016 that McKenzi felt her purpose shift into elopement coordination. She started Cactus Collective Weddings soon after in 2017. Since then, she's become a WIPA board member, and has helped well over 1000 couples get hitched in style around Las Vegas, San Diego and Black Hills.