Disclosure: This post may contain affiliate links. Please see our full disclaimer to learn more.
In short, a pop-up wedding is a stress-free alternative for the couple who wants to celebrate the love without all of the headaches that can come along with it. If you have a love of adventure, a passion for "going with the flow", and you just want to make a good time out of your union – a pop-up wedding might be for you.
How Does A Pop-Up Wedding Work?
To see what a pop-up wedding really is you might want to look at traditional weddings first.
For a traditional wedding, couples will select a venue (perhaps two venues for the wedding and the reception.)
After choosing the venue couples will have to look for a photographer, hair and makeup, catering, cakes, and all those little details that make the wedding the event it's meant to be.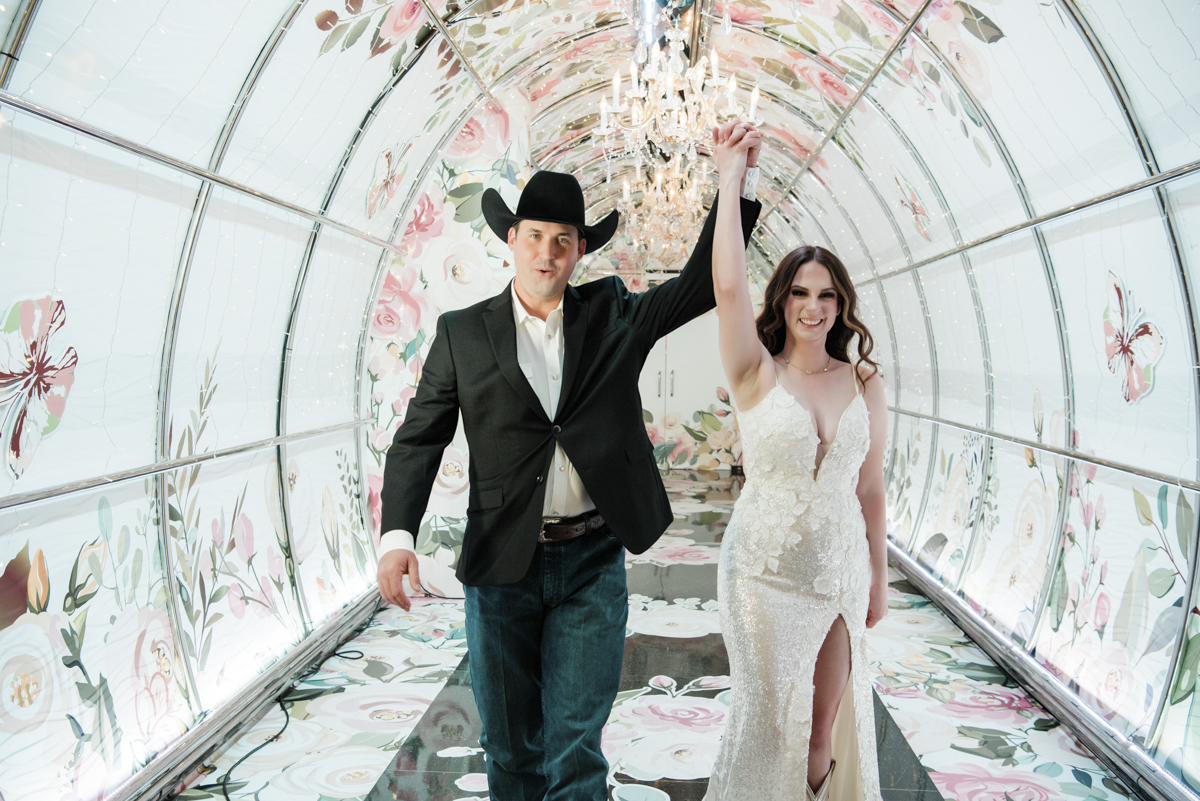 After all is said and done, couples could be spending tens of thousands of dollars. The average cost of a traditional wedding in 2019 was around $30,000.
A pop-up wedding is the antithesis of that. It's a choose your own adventure package of fun, spontaneity, and affordability that keeps the excitement in a low-key affair.
Pop-up weddings don't require the additional location fee for a venue, the guest list is kept at a minimum (typically less than ten) and everything is included in one simple-to-navigate collection.
It won't be necessary to coordinate between a handful of different vendors, and all couples need to worry about is what they're going to wear, getting their marriage license and how they're getting to the spot where all the magic happens.
Pop-up weddings can occur in all sorts of favorite locations, they last about an hour or two and your package ensures a stress-free experience.

Are Pop-Up Weddings Good?
Every couple wants a memorable wedding and pop-up weddings are perfect for promising a celebration guests won't forget.
It's not a traditional 200 guest extravaganza, but a more intimate celebration that brings together those who mean the most in a location that touches the couple's hearts.
Some key benefits of a pop-up wedding are:
Pop-up weddings are inexpensive and simple. Packages are all-inclusive and they don't require the average couple to go into debt for a single day's celebration.

If wedding planning isn't your jam, a pop-up wedding is exactly what you're looking for. Frankly,

disliking

the planning process is not an unpopular belief and most couples don't realize it until they're knee-deep in vendor contracts and business cards. Pop-up weddings take all the stress out of planning as all the details are included in your delightfully easy pop-up package.

Pop-up weddings give the unique opportunity to have a wedding that is completely personal to the couple. Couples can embrace their quirks and personalities in a celebration of love rather than getting lost in the details of a long guest list and too many considerations to keep track of.
Not all couples want to spend months coordinating a wedding; they want to get married and they want to get married fast. Pop-up weddings don't require months of planning – only a chosen package and a marriage license.
Can I Still Get Extras?
Cactus Collective Weddings first and foremost wants to make wedding ceremonies a dream come true for our couples.
We're a photography first company and whether a couple opts for a traditional package or a pop-up wedding package, they will know their photos will perfectly encapsulate the joy and excitement experienced on their special day.
Not all pop-up weddings are the same, and packages can be personalized to realize the dreams couples have for their wedding ceremonies.
What Do You Do After The Ceremony?
After the wedding ceremony, the sky is the limit! Pop-up weddings typically incorporate only the couple or a limited number of guests.
This way the couple has a manageable guest list for going out to a nice dinner, the option of taking the party back to a hotel bar or further enjoying the sights of their wedding ceremony location.
No formal celebration is required, and couples can instead just focus on going wherever the night takes them.

Is It Legal? What Are The Requirements?
The only requirement the couple needs to worry about is obtaining their marriage license. Our pop-up wedding packages take care of all the rest.
Permits are obtained and our professionals at Cactus Collective Weddings make sure your wedding ceremony is as stress-free as possible.
If you have a particular location in mind, talking with our professionals is a great way to see if we can make it happen!
Our newsletter subscribers are always the first to know about all our Cactus Collective Weddings pop-up events. Sign up below to get notified.
McKenzi Taylor
McKenzi Taylor is America's go-to elopement and micro wedding expert, often featured in small and major media outlets, such as the New York Times. With over 15 years of wedding photography experience, it was after planning her own Las Vegas elopement in 2016 that McKenzi felt her purpose shift into elopement coordination. She started Cactus Collective Weddings soon after in 2017. Since then, she's become a WIPA board member, and has helped well over 1000 couples get hitched in style around Las Vegas, San Diego and Black Hills.