Disclosure: This post may contain affiliate links. Please see our full disclaimer to learn more.
Traditional wedding cake toppers have always featured just the couple.
However, in modern times, cake toppers have begun to reflect the whole family, including our furry family members.
Wedding cake toppers with dogs can be customized to your wedding colors, dog breed, and personal style.
Here are seven of our favorite wedding cake toppers with dogs to include your furry friend:
Rather than offering an add-on, Luxtomi will make a custom cake topper that includes everything.
Made with hand-painted wood, this wedding cake topper comes in a variety of popular wedding colors. The silhouette-style cake topper features the pups, you and your names.
These add-on acrylic dog silhouette cake toppers come in both black and white to match your aesthetic.
With 48 different breeds available, you're sure to find the perfect match for your furry companion. You'll simply just add them right next to your couple cake topper.
They're also adorable on cupcakes (or should I say pupcakes).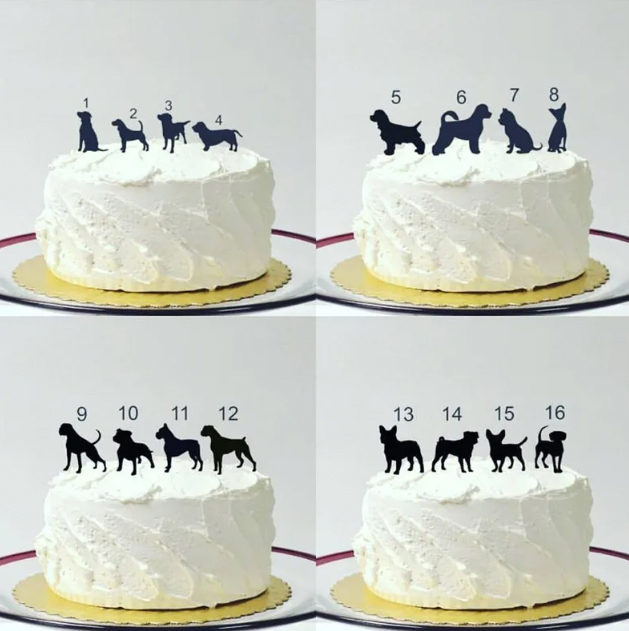 These wedding cake toppers with dogs have the most variety of customizable options.
Available in 15 colors, including unusual colors like fluorescent green and teal blue, the toppers come in both wood and acrylic options.
You can also have the cake topper laser-engraved with your wedding date. They have a ton of different couple poses like running, kissing and holding hands.
They also have poses with children and hundreds of dog breed options. No matter your family structure or style, it's a perfect option.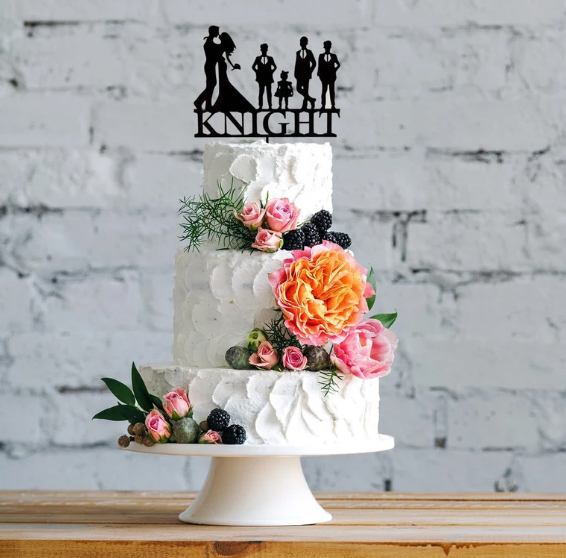 A really fun option for wedding cakes are these bobbleheads that can feature up to four of your pups. Using photos you submit, they're an exact replica of you and your pups.
These bobbleheads are highly customizable. The outfits, pose and body style can all be personalized to match who you are as a family. And you can get them as just figurines, if bobbleheads aren't your vibe.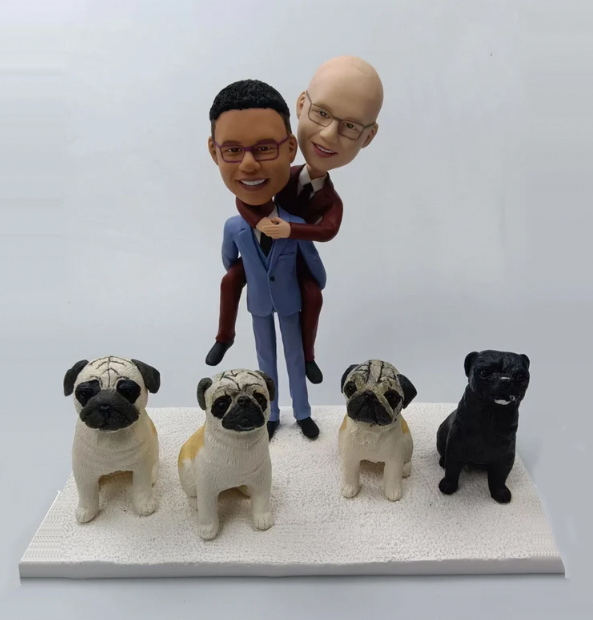 This adorable 3D model of the couple kissing can include up to three of your dogs. Made to order, they can be fully customized to look just like you and your furry companions.
Sculpted from clay, this wedding cake topper with dogs also makes a perfect keepsake for your wedding day.
You can even have them customized to match your outfits, bouquet and any other special touches to match your wedding.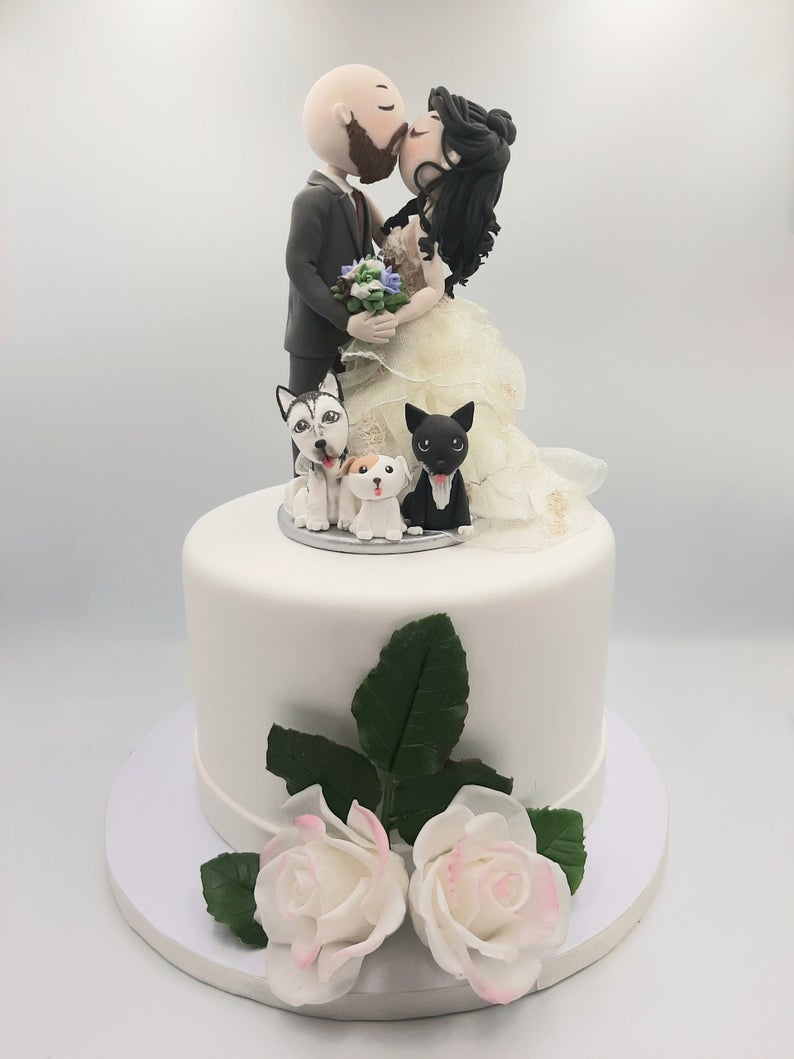 With this cake topper, you'll turn a photograph of your best friend into a perfect 3D model. These cake toppers look exactly like your pup and are an adorable keepsake for after the ceremony.
These are add-on cake toppers that can be used alone or paired with your couple cake toppers.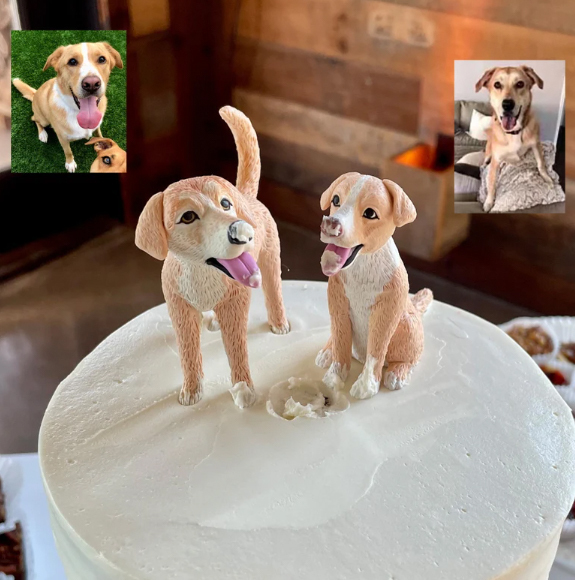 Affectionately Yours offers full custom-made sculptures of you and your dogs. They can be dressed in wedding attire, surrounded by roses or draped in lace and pearls to make your style.
Their wedding cake toppers are done in a very traditional style. They're perfect for a more elegant-style ceremony.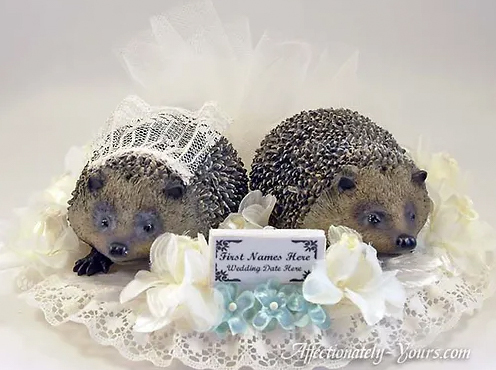 These wedding cake toppers with dogs are a wonderful way to include your pups in your ceremony.
Since they're all custom-made, they also make adorable keepsakes. Plus, these dog wedding cake toppers are a fun way to update a traditional wedding cake practice.
For more modern takes on traditional wedding cake practices, find out how to save some of your wedding cake for your anniversary.

McKenzi Taylor
McKenzi Taylor is America's go-to elopement and micro wedding expert, often featured in small and major media outlets, such as the New York Times. With over 15 years of wedding photography experience, it was after planning her own Las Vegas elopement in 2016 that McKenzi felt her purpose shift into elopement coordination. She started Cactus Collective Weddings soon after in 2017. Since then, she's become a WIPA board member, and has helped well over 1000 couples get hitched in style around Las Vegas, San Diego and Black Hills.