Disclosure: This post may contain affiliate links. Please see our full disclaimer to learn more.
Setting a date is often one of the first steps in planning your big day. But with a whole year of dates to choose from, how do decide when is the best time to get married?
You're in luck! We've created a quiz to help you narrow down the options.
Answer seven questions to reveal which wedding season is best suited to your ideal wedding style.
Will your big day look best among the spring blossoms? Or does your ideal wedding have more of a romantic winter warmer look?  
Read on for inspiration and a few more details on how to plan a Las Vegas desert wedding to suit each season. 
Location
Whether you opt for an indoor or outdoor location, venues may be dressed and styled differently throughout the year to reflect the season.
If you're thinking of tying the know in your hometown, you probably already know what the area looks like throughout each season. For adventurous couples, taking time to research the different seasons for each location is going to play a role in your wedding planning.
For example, couples who come to us should be aware that most venues are outdoors. For couples who know they want high-chance of summer sunshine no matter what the time of year, they may consider a sultry island location in the Bahamas.
Pick a location that you both feel would have sentimental value, that is ultra-comfortable to be in and is your ideal spot for getting married.
Weather
Weather always plays a role. No matter what location you choose. For instance, in the city of Chicago, IL, in the mid-western part of the United States, a lot of couples walk down the aisle in September or October because the weather is pleasant. It's right between the transition into fall, and you don't have to worry about it snowing yet.
Some folks do love the snowfall, however, and would love to plan their nuptials in an Arctic blast, and that's an amazing moment, too.
Here in Las Vegas, peak wedding season is in the fall, and our seasons are all distinct.
Read more about the Nevada weather in The Ultimate Guide to Eloping in Las Vegas.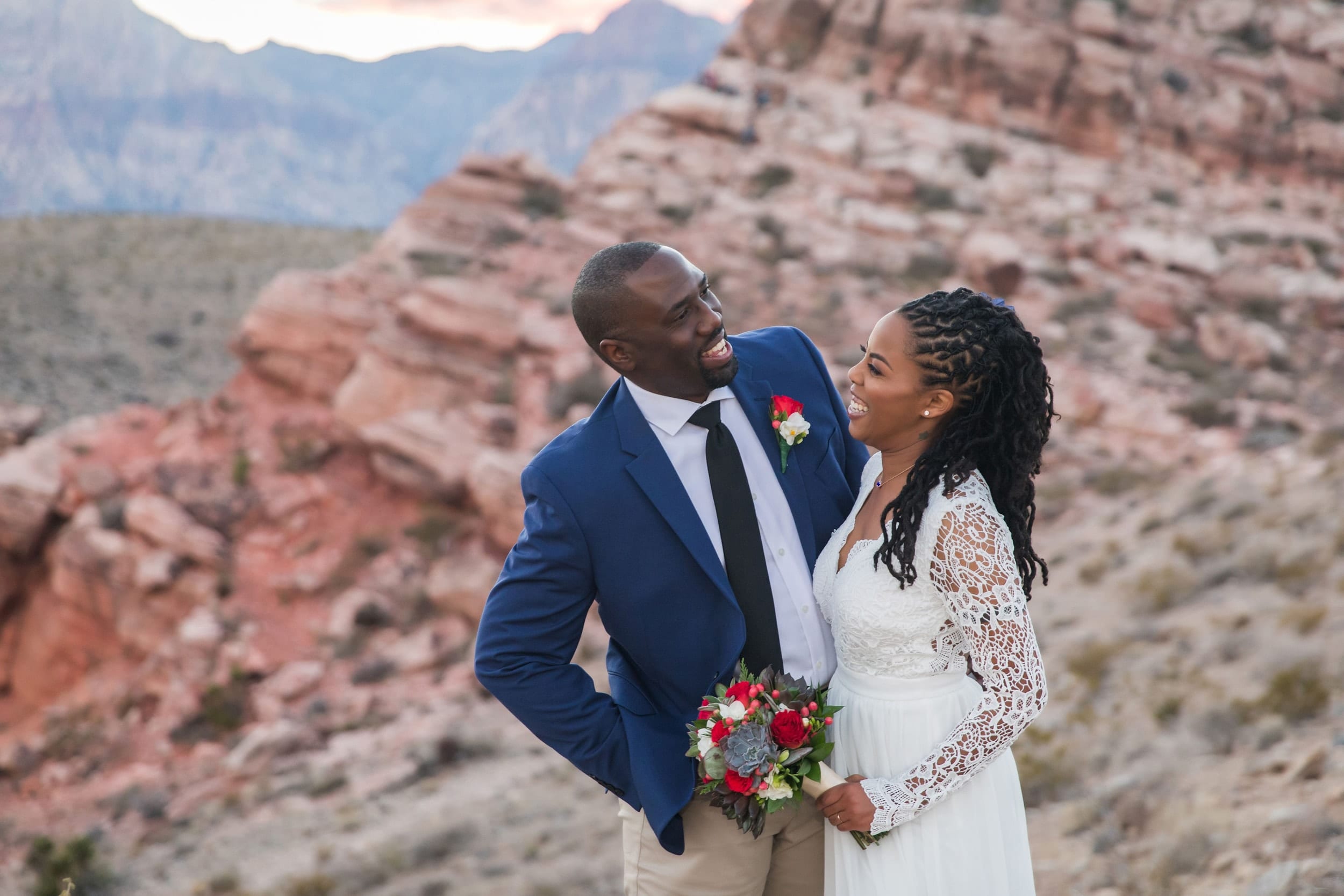 For example, as September rolls around, Vegas settles into a comfier setting with temperatures ranging from 80-90°F (27-32°C). During chilly November, you will want to prepare for daytime highs hovering around 60°F (16°C) and evening lows dipping to around 40°F (4°C). Autumn is popular for saying "I do" with crisp evenings and beautiful fall desert colors. If your dream elopement falls within September through November, we suggest booking as early as possible to avoid disappointment.
If you're tying the knot in a region you're unfamiliar with and are wondering when the "good temperatures" are happening, then do a little research.
We recommend checking out an almanac to see how the weather history has been there. Every city, state and country has different weather patterns, but you can get a good idea of how the region you choose will deliver in temperatures.
Travel
The season you say "I do" can affect the cost of travel, especially if you need to fly to your destination. For instance, a summer wedding sounds dreamy and traditional, but in certain big cities, your date down the aisle could coincide with peak summer travel times that tie in with school holidays or festivals. As such, flights can cost more.
Bear in mind that accommodation may also be at a premium during popular travel times. An example of this here in Vegas is the National Finals Rodeo. A lot of places get booked up well in advance. When organizing a destination wedding you want your out-of-town guests to easily find accommodation that's affordable and comfortable.
Travel operators and usually good people to talk to if you want an idea of peak travel times. They may even be able to give you average prices for each season.
Availability
If the attendance of your friends and family is a must for true wedding day happiness, t then try to pick a time of year when people are less likely to be tied up with other commitments.
December is a very busy one for several reasons. Plus, bad weather can mess up schedules, and there are the holidays too. A lot of folks have corporate events on tap and holiday parties to go to, and there's not a lot of time to prepare for their own family traditions and get-togethers in between the shopping and merriment.
In addition, school breaks are happening, and some families like to hop on a flight for a little vacation time themselves.
A December wedding can be gorgeous, no doubt, but if it's close to the holidays, the airport can be extremely hectic. The busiest travel times are the days between Christmas and New Year's which see the highest volume, according to airline numbers.
Attire
Weather affects wardrobe choices. If a winter wedding is in sight, then you can have fun choosing layers for your bridal and groom ensembles. An elegant wrap, cape or jacket will enhance your look, and gentlemen may want to arrive in a suit of heavier weight.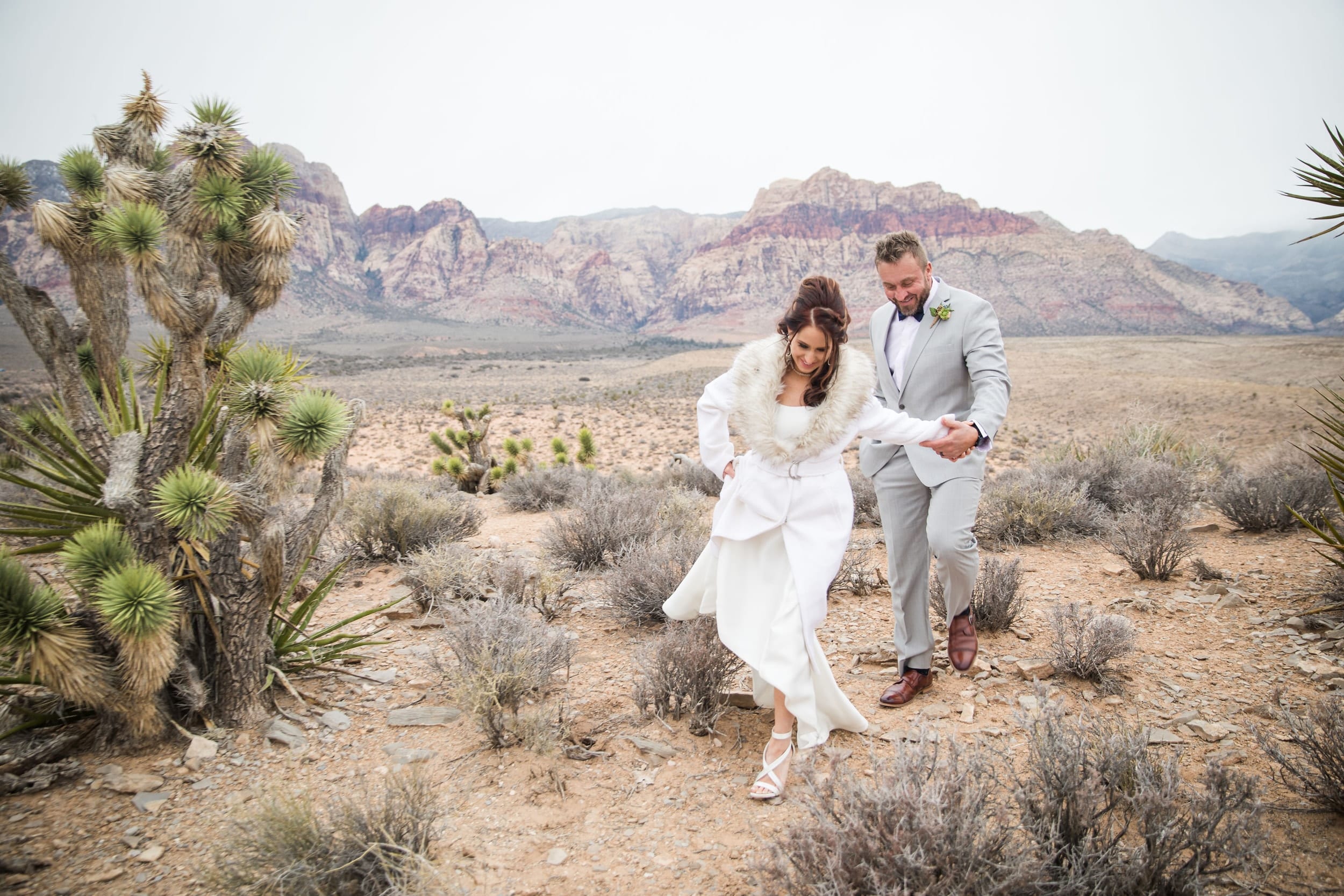 Weddings during wintertime don't always mean that there's snow falling. In Las Vegas, winter desert weddings are enchanting, especially if you choose a sunrise ceremony where drops of dew, sprinkles of frost and cool blue skies may greet you. Temperatures can drop as low as 40°F (4°C) and only reach highs of around 60°F (16°C).
You can even match the colors to your bride and groom attire and every other wedding detail by the season. In fall, for example, inviting shades of rust, burgundy, purple, green or red can set the mood for your nuptials.
Plan Ahead
Hopefully this quiz and our extra tips have shed some light on which season best suits your wedding vision. Whichever season you settle on, our advice is the same: schedule your dream date ahead of time to ensure it's available, fits into travel times and doesn't fall on a holiday.
Here at Cactus Collective Weddings, we have an excellent guide on choosing the perfect wedding date from supermoons to lucky numbers. Take a read here.

McKenzi Taylor
McKenzi Taylor is America's go-to elopement and micro wedding expert, often featured in small and major media outlets, such as the New York Times. With over 15 years of wedding photography experience, it was after planning her own Las Vegas elopement in 2016 that McKenzi felt her purpose shift into elopement coordination. She started Cactus Collective Weddings soon after in 2017. Since then, she's become a WIPA board member, and has helped well over 1000 couples get hitched in style around Las Vegas, San Diego and Black Hills.